Wimbledon Qualification
Day 4, All to Play For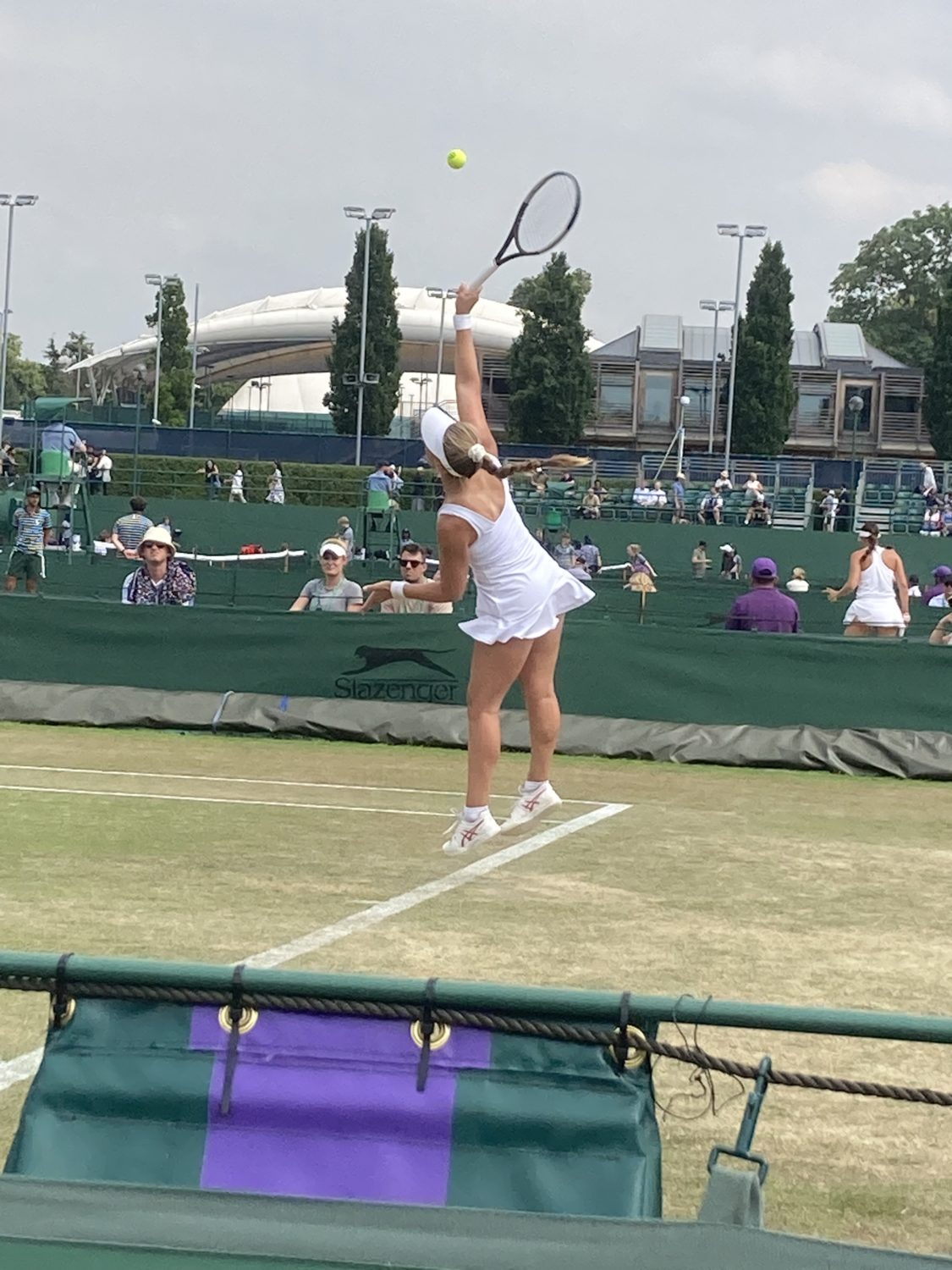 "You are a Wimbledon qualifier", on day four this is the end goal for everyone, the strive to hear these words is the motivation. This is it the final day of Wimbledon qualifications where one more result can help change your tennis life, you can say I played a grand slam.
Spectator participation was high again, the stands were packed. Today player interviews were being conducted after each match knowing there would be higher emotions with that main draw slot being the prize.
Even though this was an important day there was still a calm over the Roehampton complex, high pitched screams could only be heard over one court otherwise only the calling of the scores could be heard.There were no easy matches today, you could see by looking at the scoreboard this was hustle day!
After some mild drizzle in the morning slightly delaying the start of the day the high temperatures were still there and the sun was starting to show itself again.
Umbrellas up over the players at change of ends as they sat there contemplating their next move of the chessboard. The thought process trying not to get ahead of themselves and visualising entering that main draw. Talking it point by point, tactical move by move how could they exploit their opponents weakness to give them that end prize that they so badly wanted.
The confidence was now increasing on grass more slice was being used off both sides, the drop shots ever increasing and staying at the back of the court was becoming less of the main preference. The volley was becoming more of the players friend realising that this could be the clincher, a way to shorten the rally and help close out the point. I could hear some coaches comments "Wow ! I've never seen her come to the net like that." Grass forces you to change your patterns and go to shots you sometimes use little on other surfaces.
The results coming in it was great to see new mum Yanina Wickmayer qualify, Wickmayer said "this is honestly an amazing moment for me its been a hell of a ride."
Australia came out well with four Australian woman qualifying for the main draw, this hasn't happened since 1983. For Astra Sharma the qualify was especially sweet as last year she had been a set up and a break up before loosing, qualifying is always exciting but this year she realised just how much it meant,. For Australia this has proved a good tournament having eleven players in the draw and converting four into that converted main draw place , the goal of course is to have 11 in the main draw without having to qualify! Having Ash Barty as a role model seems to have had a golden effect !
The most emotion has to have been shown from Mexican Contreras – Gomez she beat Timea Babos in a long tough battle to get that illustrious main draw place. As she realised this was it she had done it she let out a scream and fell to her knees embracing the grass. Her native flag came out and lots of hugging was to be had from family and friends, her grandfather having played at Wimbledon made it extra special. He had reached the last 8 at Wimbledon and was part of the famous last 8 club enabling him to come and watch her in the main draw.
So there we have it as the last match was completed around 6.30 pm and those golden tickets had been handed out we come back to "the stage awaits!"
As this centinery year begins and homage is paid to centre court the proceedings will begin on Monday.
Wimbledon will enter its gates once again with no covid restrictions and the celebrations can begin. We look forward to this unique tournament beginning, the amazing atmosphere and that English heritage showing itself again, Wimbledon we embrace you and your centinery year.