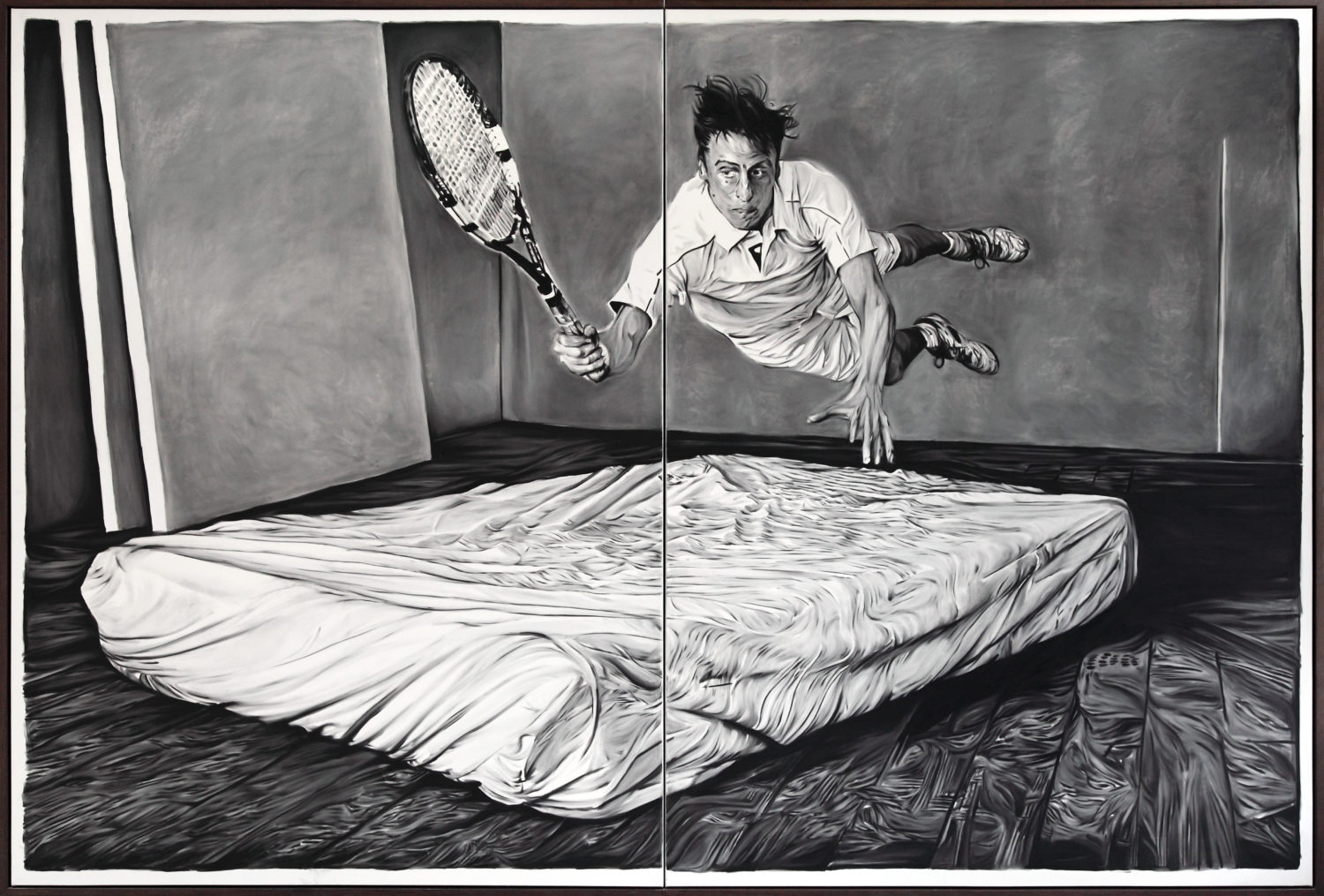 Dans l'agglutinat où s'entremêlent nos identités concurrentes, on dit qu'il faut séparer l'homme de l'artiste. Si l'on part de ce postulat, il faut tout aussi instamment séparer l'artiste de sa légende et le tennisman de l'homme, sans quoi on ne s'y retrouve pas. Malgré les apparences, cette entrée en matière fait sens. 
Cette entrée en matière fait d'autant plus sens que c'est une histoire dont on ignore dans quel sens elle doit être racontée ; nous nous fierons donc, pour dérouler le fil en évitant les nœuds, à cette entrée en matière, puisqu'elle fait sens. Quelques précisions : l'homme, c'est Rinus Van de Velde ; l'artiste, c'est à la fois Rinus Van de Velde et la représentation fantasmée qu'il livre de sa vie ; la légende, c'est celle d'un artiste contemporain qui s'épanouit dans une normalité mythifiée ; le tennisman, c'est une part de cette identité fragmentée qui irradie chez toutes les autres. Tous ces personnages se croisent quotidiennement chez Rinus Van de Velde au fil de jours qui prennent des allures de vies entières, de vies qui s'accumulent et se superposent toujours semblables et toujours différentes. Évoquer le travail de Rinus, c'est donc s'attaquer à l'écriture d'une Genèse en mouvement, c'est raconter les histoires simultanées et concurrentes vécues par celui qui s'est accaparé la réalité pour la rendre infinie en la concassant. C'est refuser de séparer qui que ce soit de qui que ce fût. Everything. Everywhere. All at once.
Au commencement était Anvers
Andre Agassi et Brad Gilbert, Pete Sampras et Paul Annacone, Rafael et Toni Nadal, Carlos Alcaraz et Juan-Carlos Ferrero, Rinus Van de Velde et Tim Van Laere. Je vous laisse le soin de fredonner silencieusement le générique d'Amicalement Vôtre à la sauce belgepour accompagner la rencontre de ces deux-là. 
A sa naissance, on ne sait pas trop si rien ne prédestinait Tim Van Laere à devenir joueur de tennis professionnel. A sa retraite sportive en 1995, en revanche, il fallait être dans le secret des dieux pour savoir que Tim préparait l'ouverture deux ans plus tard de sa propre galerie d'art contemporain et que cette galerie deviendrait, dans son écrin brutaliste adouci par la prédominance du rose, la Mecque (plus ultra) de la scène artistique européenne. En ce temps-là Rinus avait 14 ans et s'apprêtait à abandonner le tennis au profit de la consumation frénétique des premières cigarettes d'une série qui deviendrait longue comme un Mahut-Isner. Ne vous y trompez pas : j'ai beau digresser, parler de tout de rien, c'est un match de tennis qu'on est en train de vivre, voyez plutôt : 15, comme le nombre d'années depuis lesquelles Rinus et Tim collaborent, 30 comme le nombre de clopes que Rinus fume chaque jour, 40 comme l'âge actuel de Rinus Van de Velde et jeu comme celui auquel tous deux se livrent dans A Life in a Day, la dernière création de l'artiste sur laquelle nous allons revenir. 
Car avant A Life in a Day, il y a donc eu la rencontre décisive. Elle date de 2011, quand Tim et Rinus ont entamé une collaboration qui allaient les faire changer de dimension. Diplômé cinq ans auparavant de l'Académie royale des Beaux-Arts d'Anvers, Rinus s'était d'abord adonné à la sculpture avant de trouver dans le fusain le médium idéal pour raconter son autobiographie fictive. Une autobiographie nourrie des grands anciens : comme les enfants apprennent en copiant leurs aînés, Rinus a à cœur d'incorporer à son travail des tableaux de Van Gogh, de Hockney, de Rembrandt pour mieux les comprendre et créer une symbiose entre l'art et son histoire. 
Sur ces gigantesques panneaux en noir et blanc entre néo-noir lynchien et conte gothique, Rinus met en scène une version alternative de lui-même qui explore l'univers des possibles. Car Rinus aime rêver sa vie et la mettre en scène. Il est tantôt prisonnier d'une green room inquiétante, tantôt champion de tennis sur matelas, tantôt grand maître d'échecs et tantôt marin dans la tempête. Le tout depuis son atelier qu'il ne quitte pas. Cette propension à la rêverie est assez peu compatible avec les obligations de l'artiste. Rinus trouve en Tim son ancrage dans le réel, si tant est que le réel existe.
Aujourd'hui encore, Rinus décrit Tim comme son mentor, auprès de qui il peut tester ses idées et les faire rebondir. Si l'artiste est isolé dans son atelier comme le tennisman sur le court, il a besoin d'une connexion avec le monde extérieur (et d'un peu de coaching). Comme le box d'un athlète, le galeriste représente l'artiste, organise sa vie. Il est un physio, un entraîneur, un préparateur mental et un agent. Il est aussi une source de conseils précieux quand on a mal à l'épaule à force de peindre.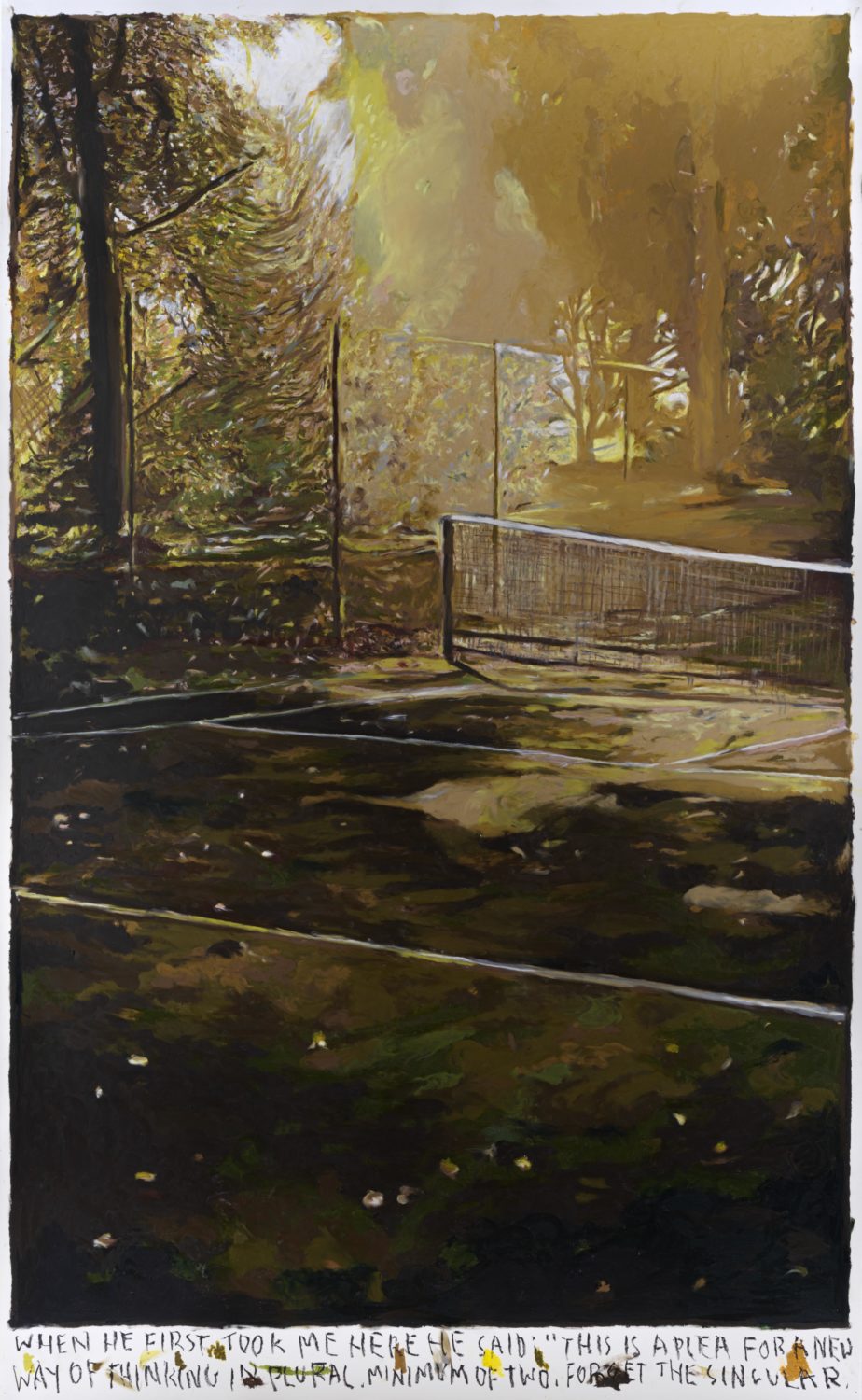 Chaque réel a son revers
En 2013, voilà l'épaule de Rinus foudroyée par la douleur façon painting elbow. Incapable désormais de tisser les fils de ses linéarités parallèles, Rinus est bien obligé d'affronter le réel. Il se tourne naturellement vers Tim qui lui conseille alors de se remettre au tennis pour se muscler le bras. L'avantage, quand on a été joueur de haut niveau, c'est qu'on a dans ses contacts un certain nombre de profs putatifs un peu plus attractifs que Michel, ancien 15/3 au Puy-en-Velay. Tom Vanhoudt est de ceux-là. Ancien 200ème en simple et 36ème en double, il a entraîné Ruben Bemelmans et donc Rinus Van de Velde qui pourrait bien atteindre le sommet de la hiérarchie dans l'une ou l'autre de ses réalités. Si les photos semblent attester que Vanhoudt avait un revers à deux mains, sachez que les sites officiels de l'ATP et de l'ITF laissent planer le doute en précisant "Unknown backhand", tout comme si en 10 ans de carrière pro il n'avait frappé que des coups droits. 
L'anecdote est savoureuse quand on sait qu'avant de se rapprocher de Tom, Rinus avait repris le tennis avec un autre coach qui lui avait conseillé le revers à une main. Mais Rinus, insatisfait de sa progression, s'était donc rapproché de Tom sans le dire à son premier coach pour prendre des cours supplémentaires. Cours pendant lesquels il faisait son revers à deux mains.
D'une séance à l'autre, la seule chose tangible était la médiocrité de son revers, à une ou à deux mains. 
Les deux coachs ignorant l'existence respective de leur alternative, Rinus pouvait transposer dans le monde réel son goût des vies parallèles, dissimulant derrière la honte d'avouer cette trahison bien innocente le plaisir immense d'être tout à la fois Federer et Nadal. 
Le tennis aidant, la douleur disparue, Rinus s'en retourna à son travail d'artiste tout en continuant le tennis avec Tom auprès de qui on ne doute pas qu'il avait signé des deux mains. 
Légendes de légende
Dans la vie ou dans ses œuvres, Van de Velde est donc un conteur de légendes qui se sert desdites (légendes) pour propulser ses travaux dans une dimension nouvelle. Car ses oeuvres sont systématiquement assorties d'un court texte en forme de voix off qui éclaire la scène d'une aura mystérieuse, promesse d'une continuité dans les pensées de son alter ego ou de ses comparses, preuve que les images que l'artiste nous donne à contempler ne sont que des instantanés arrachés à des réalités sensibles et complexes, à des histoires écrites ailleurs. Il y a sur la représentation d'un court de tennis vide cette mention : "Now I have to find my big serve". Rinus assure ne l'avoir pas encore trouvé. Force est pourtant de constater qu'il l'a rencontré en la personne de Reilly Opelka.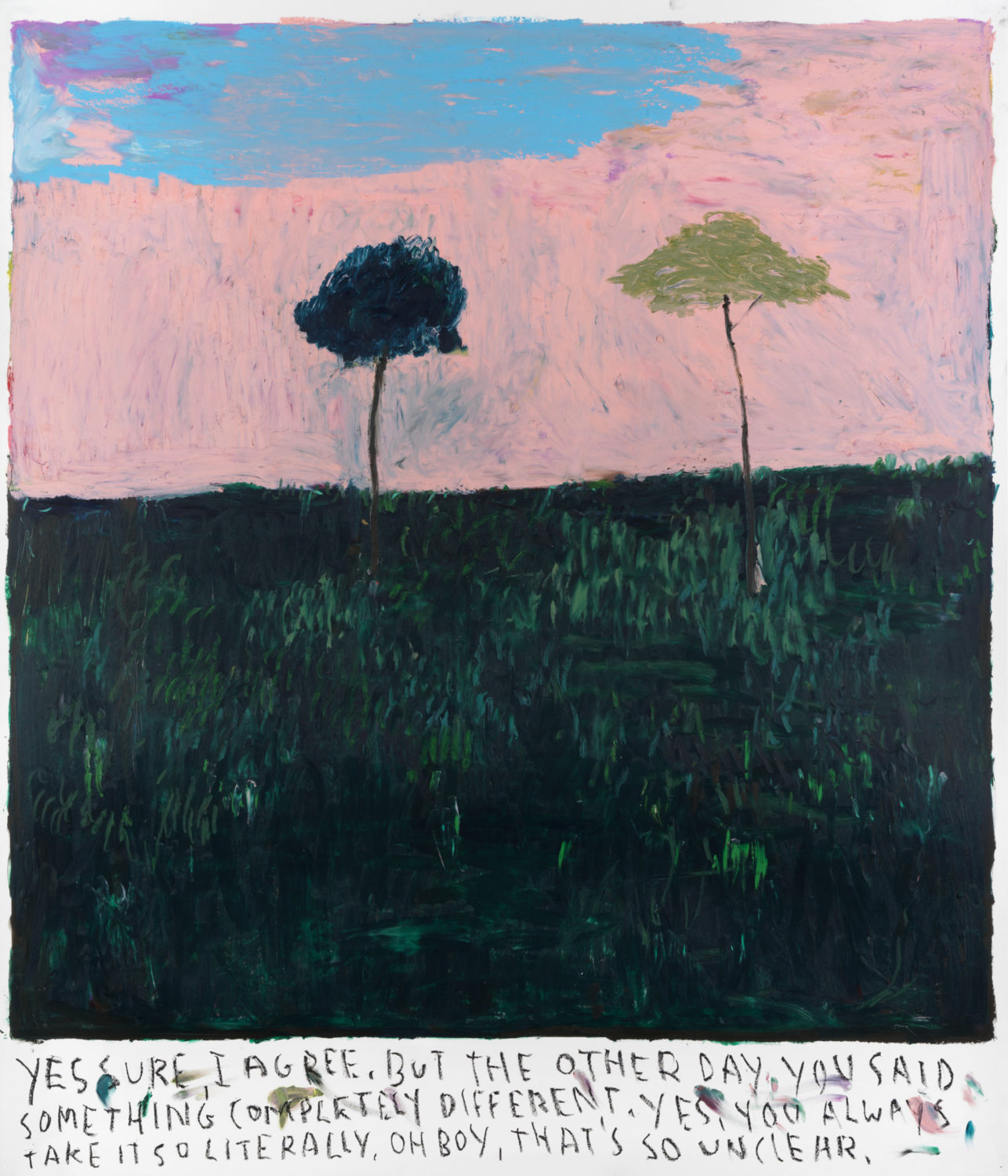 Mr. Pink
Caméra embarquée. En bon tennisman du dimanche, imaginez un peu vous tenir sur un court, aussi loin que possible de la ligne de service, le dos penché vers l'avant et les jambes ancrées dans le sol, prêt à bondir à gauche, à droite pour retourner le service de votre adversaire. Maintenant, imaginez que cet adversaire soit Reilly Opelka et qu'il décide de kicker. Est-ce que vous allez toucher la balle ? 
Non. Même toi, là, au fond, qui es sûr que si tu anticipes du bon côté et tout et tout tu vas pouvoir faire un retour gagnant bloqué en revers, je te le dis, non. Tu la touches pas, la balle.
Rinus non plus ne l'a pas touchée, mais son travail a touché Reilly. Et en trouvant son big serve, il s'est fait un ami qui, non content de lui acheter des oeuvres et de débarquer sur les courts de Flushing en 2021 avec un sac rose de la Tim Van Laere Gallery (ce qui lui vaudra une amende pour sac non conforme), lui a aussi permis de rencontrer Venus Williams et d'assister à Wimbledon l'année passée. Un ambassadeur extraordinaire pour la galerie même si Opelka, blessé, n'a plus joué depuis un an.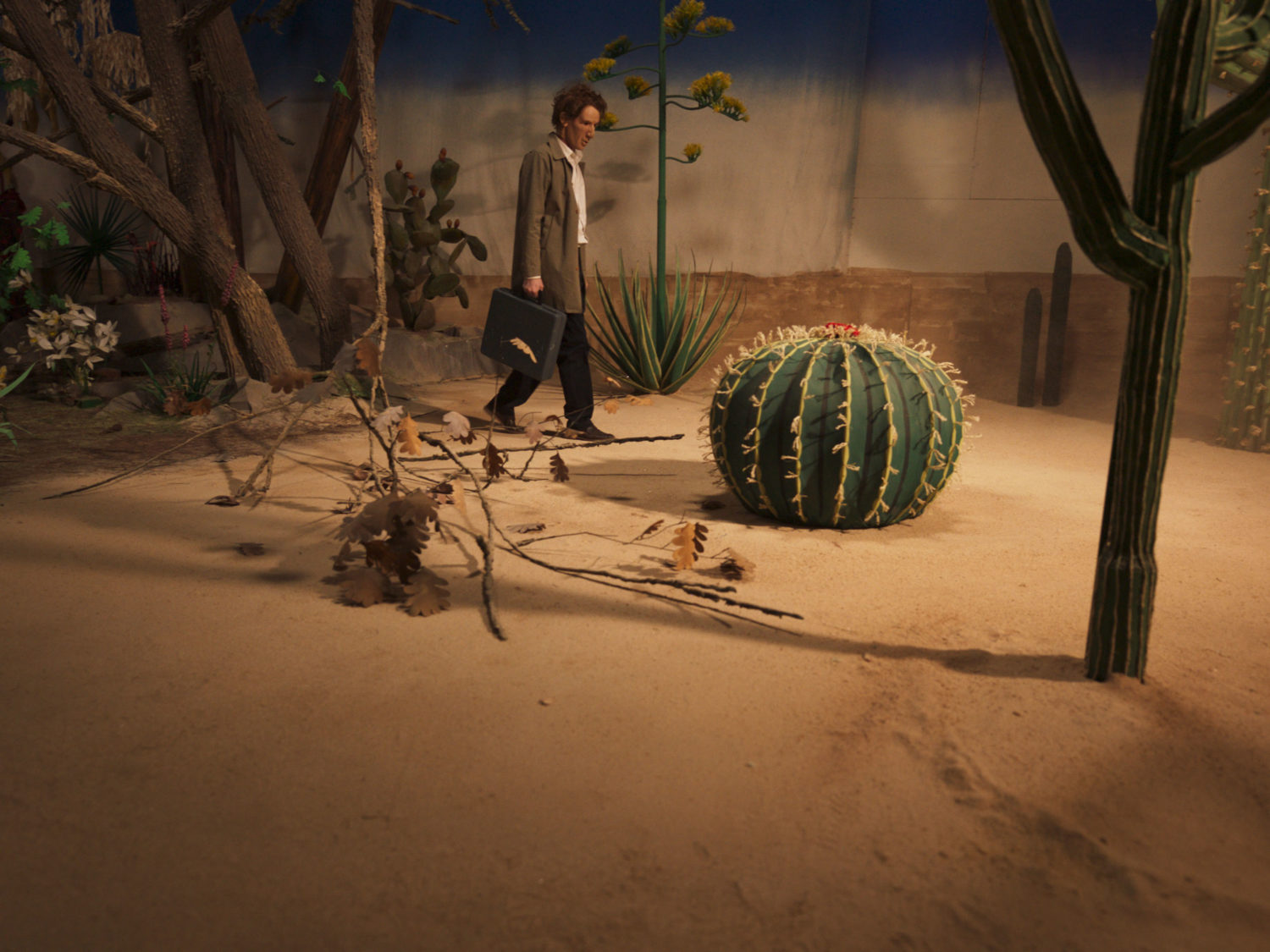 Des trains qui partent
James Dean, Reilly Opelka et Venus Williams. Glamour, la vie de Rinus ? C'est précisément pour démystifier cette idée romantique qu'il a décidé, pour sa nouvelle exposition A Life in a Day, de renverser ses habitudes. Plutôt que de livrer au public les morceaux choisis d'une autobiographie fictive, il s'est décidé à montrer la réalité de sa vie en mêlant au train-train la magie de la rêverie. Rouvert à la couleur suite à la découverte des pastels à l'huile, il s'est mis à utiliser la beauté et l'éclat pour construire dans le réel le théâtre de ses rêveries. De ses habitudes, Rinus n'a rien changé : il se lève et il fume et il peint et il fume et il ne sort de son atelier que pour rencontrer Tim avec lequel il échange sur son travail ou pour voir sa famille ou pour jouer au tennis. Une vie monotone de laquelle il s'échappe désormais physiquement en bâtissant au sein de son studio les maquettes de son imaginaire. A défaut de s'évader, Rinus voyage statique, comme le font les personnages de Lettre d'une inconnue de Max Ophuls assis à bord d'un wagon de foire et qui voient défiler aux fenêtres de leur train des paysages magiques dessinés sur rouleaux. Dans son atelier, Rinus invente des paysages, de nouvelles planètes, de nouveaux horizons. Les décors complètent les pastels, les sculptures s'y ajoutent, tout s'immortalise sur pellicule. Dans sa nouvelle exposition, il joue avec les différents médias, les différents supports, pour fabriquer le kaléidoscope intérieur/extérieur de ses vies qui s'emmêlent. Quand aucun train ne part, il ne reste qu'à rêver la destination. 
C'est que pour Rinus, le risque est de perdre le désir. Quand un désir s'accomplit, il disparaît. Il s'agit dès lors de jouer avec lui, de l'attiser sans le frustrer, d'y répondre différemment de façon à garder la flamme. Dans son film, comme Cadet-Roussel, Rinus a trois maisons de rêve : dans la première, il dort, entouré de vêtements accrochés à des séchoirs d'une étrange banalité ; d'un coup de métro il rejoint la deuxième, où il rencontre Tim autour d'un terrain de tennis ; pour gagner la troisième, entièrement constituée d'une piscine digne de Hockney, il traverse des paysages inventés qu'il reproduit sur ses Canson. 
Un fragment d'une journée d'une vie toujours semblable. Car il y a dans le travail de Rinus cette idée d'éternel recommencement à la recherche d'une perfection jamais atteinte. Comme les athlètes répètent inlassablement leurs passings à l'entraînement, l'artiste cherche encore et encore à briser les barrières qui séparent le réel de son imagination. Dans la galerie, tout est concret, établi : les maisons sculptées sont présentées au milieu des peintures, le film unit le tout. Mais c'est en suivant le cheminement de l'artiste que l'on peut réellement créer de la continuité narrative, du vivant. Le mouvement d'une vie qui se projette en mille éclats de rêve sur différents supports, s'il se décompose, doit s'envisager comme une force unifiée. Chaque étape d'un service sert à donner un sens, une énergie, une trajectoire. C'est l'interdépendance de tous ces enchaînements qui engendre la vie. Chez Rinus Van de Velde, les vies se superposent, entremêlées. Il n'y a ni homme, ni artiste à séparer : il y a une avalanche de possibles aussi puissante qu'un service d'Opelka au moment de l'impact.