Wimbledon's quintessential ingredient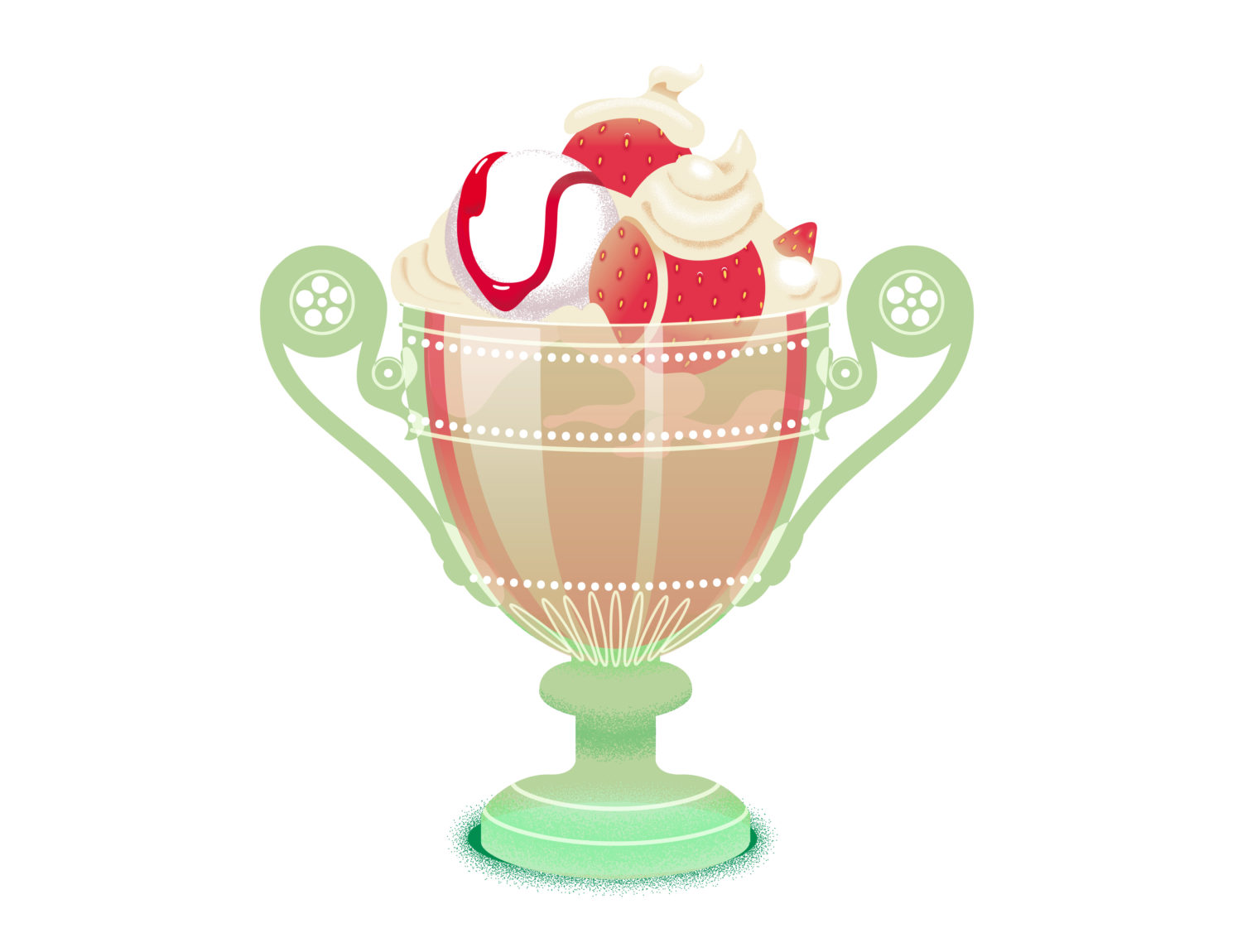 "The scene should be laid on a well-kept garden lawn. There should be bright warm sun overhead, and just sufficient breeze whispering through the trees and stirring the petals of the flowers to prevent the day from being sultry. Near at hand under the cool shadow of a tree, there should be strawberries and cream, an iced claret jug, and a few spectators who do not want to play, but are lovers of the game, intelligent and appreciative." 
Strawberries and cream are synonymous with joyful things: British summer time, high tea, picnics, lawn tennis but above all, with Wimbledon. Whilst the quintessential British tennis party scene described on the left feels so relevant today, it was in fact written in 1881 by Lieutenant- Colonel R.D. Osborn when describing the perfect tennis party in his book Lawn Tennis—Its Players and How to Play. Today, the symbiotic association between Wimbledon and strawberries is palpable even in the modern lexicon of emojis. On social media, the strawberry emoji together with the tennis ball are often enough to encapsulate one of the most famous tournaments in the world.
Arguably, no other major or professional tennis tournament is as strongly linked to a fruit, as is Wimbledon. The strawberry even has a starring role in Wimbledon's favourite cocktail, Pimm's. In terms of history and tradition, Wimbledon surpasses any other tournament. Of its many traditions, one of the most recognised is the serving and consumption of strawberries and cream. It is evident that Wimbledon upholds and values this emblematic association which has been lucrative for the brand. Browse through the Wimbledon shop on the official website, and there is a plethora of strawberry-themed merchandise for sale, including jewellery, magnets, mugs, keyrings, scented candles, babygrows, and even vibration dampeners! In 2016, British jewellery brand Links of London collaborated with Wimbledon to produce an exclusive limited- edition sterling silver collection, featuring an iconic cream-dipped strawberry charm.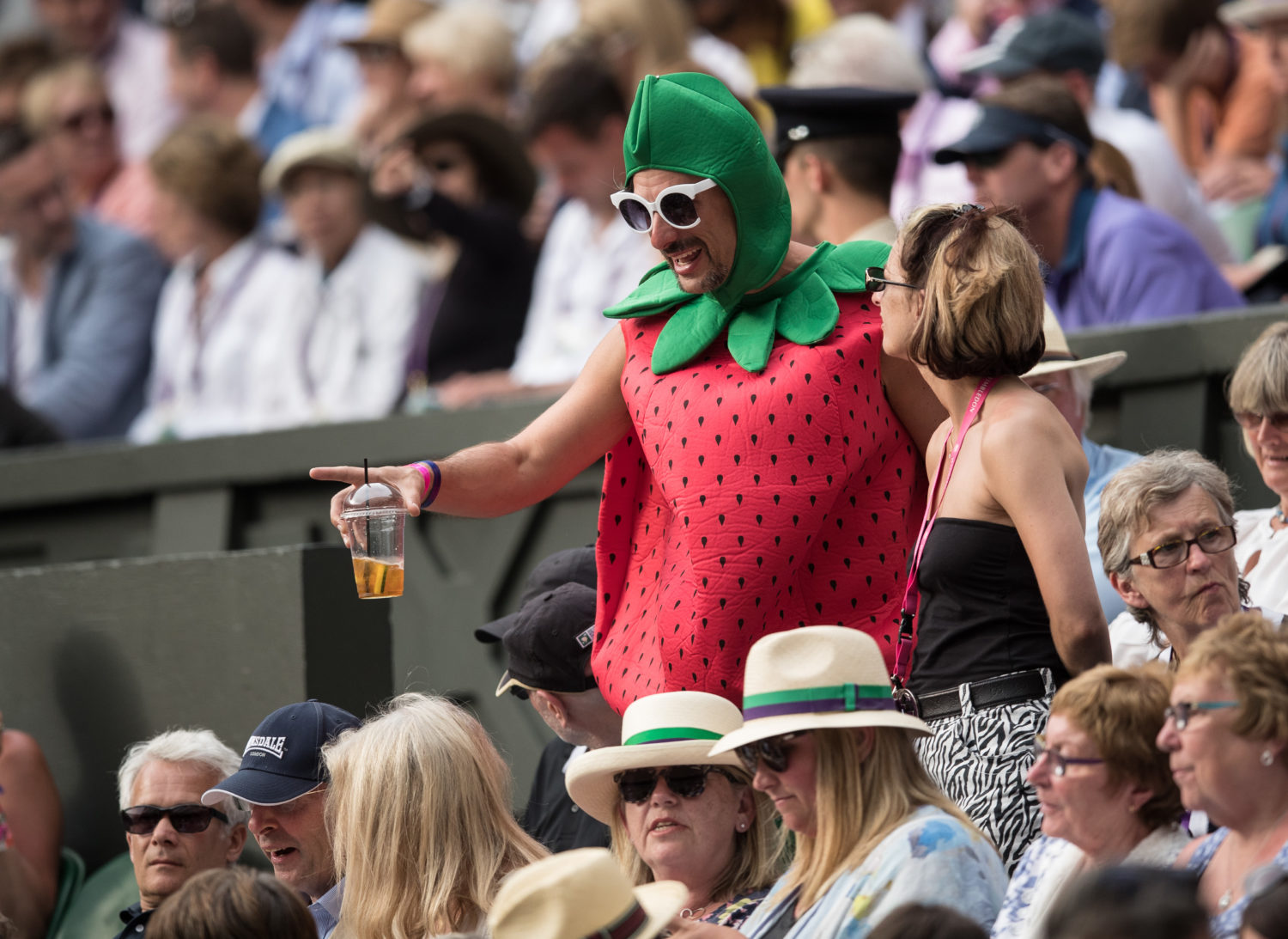 Also in 2016, Wimbledon's association with strawberries was catapulted to a whole new level, thanks to tennis superfan Chris Fava. The senior art director from California, USA queued overnight for a ticket, and arrived at the All-England Lawn Tennis Club (AELTC), dressed as 'Strawberry Man', consisting of a giant strawberry costume, accessorised perfectly with a carton of cream in one hand, and a bright green calyx-shaped hat. Fava's alter ego created such a media frenzy, that Wimbledon immortalised this unofficial strawberry mascot in much of its publicity the following year. This included a full-page photo in the official Wimbledon programme, a video animation of Strawberry Man screened on videos in The Queue, a billboard poster in The Queue, and even a feature in the 'Iconic Moments of Wimbledon' official jigsaw puzzle! Fava later donated his costume to the Wimbledon Lawn Tennis Museum, who duly displayed it next to the outfits of the 2016 men's and ladies' champions, Andy Murray and Serena Williams, thus becoming a part of Wimbledon history. When I asked him why he specifically chose the strawberry for the inspiration for his costume, Fava replied, "Because of course strawberries and cream are so symbolic of Wimbledon. The year before, I wore a different costume ('Mr Sunshine') which was far too intricate with too many components, so I needed something simpler and more impactful. Coming from an art background, I wanted to design a costume that was visually powerful, as it had to stand out in the crowd as well as for television viewers. Another important aspect about the strawberry costume was that it was red, and Wimbledon is literally all green. Red and green are complementary colours and complementary colours make each other pop. And voila, a new character was born!"1 
So how and when did the humble strawberry become so inextricably linked to Wimbledon? 
Whilst there is currently insufficient histo- rical information to definitively answer this question, some sources, although inconclusive, suggest that strawberries could have been served and enjoyed at Wimbledon as far back as the very first Championships in 1877. What is certain, is that strawberries have been enjoyed at The Championships since at least the early 1900s, as featured in books of the period. The Kenneth Ritchie Library at the AELTC, holds an intriguing and hilarious memory2 relating to former Wimbledon champion Blanche Hillyard, who reached the semi-finals at Wimbledon in 1907: "up until now, she had won six Ladies' Singles titles at the Wimbledon Championships between 1889 and 1900. As she had been nervous, she did not have any lunch and thought that she would be better off eating after her game. The match was interrupted by rain and play was stopped around teatime. A hungry Mrs. Hillyard saw this opportunity and summoned the waitress to bring her something to eat. She asked for some bread and butter, a bath bun, and a pot of tea. However, the waitress continued to be called. She ate six or seven biscuit cakes; two or three slices of other cake; two bath buns; six or seven slices of bread and butter; three plates of beautiful strawberries provided for the players and three or four cups of tea. Unaware that the rain had stopped, she took a nap, awoken by the referee to invite her back onto court. Unsurprisingly, she didn't make it to the final. She complained bitterly to the Committee and even wrote to the Daily Mail newspaper".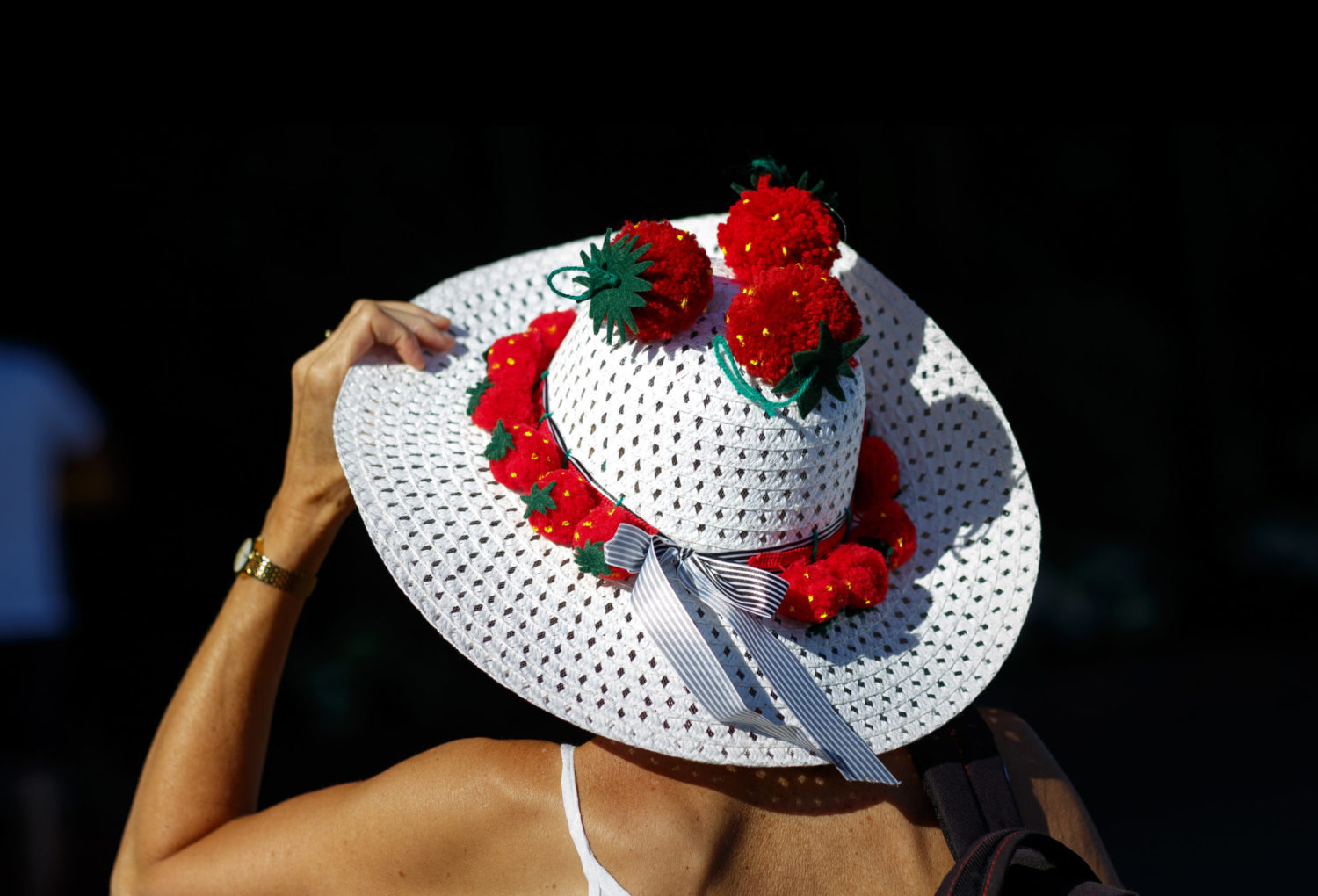 In her book Wimbledon Story, Nora Gordon Cleather (Acting Club Secretary during WW2), describes her first visit to Wimbledon in 1917: "Instead of the horse which had been grazing on the neglected tea-lawn, strawberries and cream were being served from the trestle tables to a long line of laughing people".3
But to piece the puzzle together, we have to go even further back in history and intriguingly, there is a royal connection. 
The connection between strawberries and tennis appears to have begun almost as early as that of strawberries and cream. Strawberries were brought to the UK from America during the 16th Century.4 Between 1526 and 1529, King Henry VIII had a tennis court built at Hampton Court Palace for his Lord Chancellor, Cardinal Wolsey5. It was Cardinal Wolsey who supposedly brought strawberries to Henry VIII6 who was notably fond of food, and it was also Cardinal Wolsey that introduced the combination of strawberries with cream as a dessert at the King's banquet in 1509. This would have been a most unusual and daring combination because until this moment, dairy was very much considered peasant food7. Thanks to Cardinal Wolsey, it was elevated to royal status! Strawberries were also grown at the palace, about eight miles away from Worple Road, the site of the original Championships at Wimbledon. But the 16th Century saw a very different variety of strawberry compared to the plumper, redder and sweeter version we know today. This may explain why cream was used, perhaps to sweeten the wild strawberries at the time which would have been more bitter and sour than today's variety. Either way, the combination was a gastronomical hit!
Today, we can enjoy strawberries all year round (thanks to polytunnels, refrigeration and technological advances in agriculture). But in the 19th Century when the first Wimbledon tournament began, strawberries were not so readily available, had a very short growing season and thus were a luxury. It was de rigueur to be seen to enjoy them, so it suited the fashionable upper classes to show them off at Victorian tea parties, which featured strawberries in some form or other, whether as a jam or taken as a dessert with cream after food. The most plausible theory to explain the historical Wimbledon association, is that in 1877, strawberries were only available for a few weeks a year. Most compellingly, those weeks coincided with the Wimbledon fortnight at the time. Their luxury status suited the upper-class spectators that attended The Championships in the 19th Century. Much like The Championships, they were something to look forward to, a short burst of pleasure once a year. 
With such a short season, they would have had to have been grown nearby, or certainly within railway travelling distance of The Championships. Railways had already arrived by 18778, and the land around Worple Road (the original site of The Championships) would have consisted of orchards and fields before houses were built. The English Heritage website explains: "the development of the railways during the 19th century meant the fruit could be picked and transported to London on the same day to ensure the utmost freshness. This tradition continues in the 21st century today".9 The variety we know of today was originally grown in Kew Gardens, a short five mile distance from Worple Road.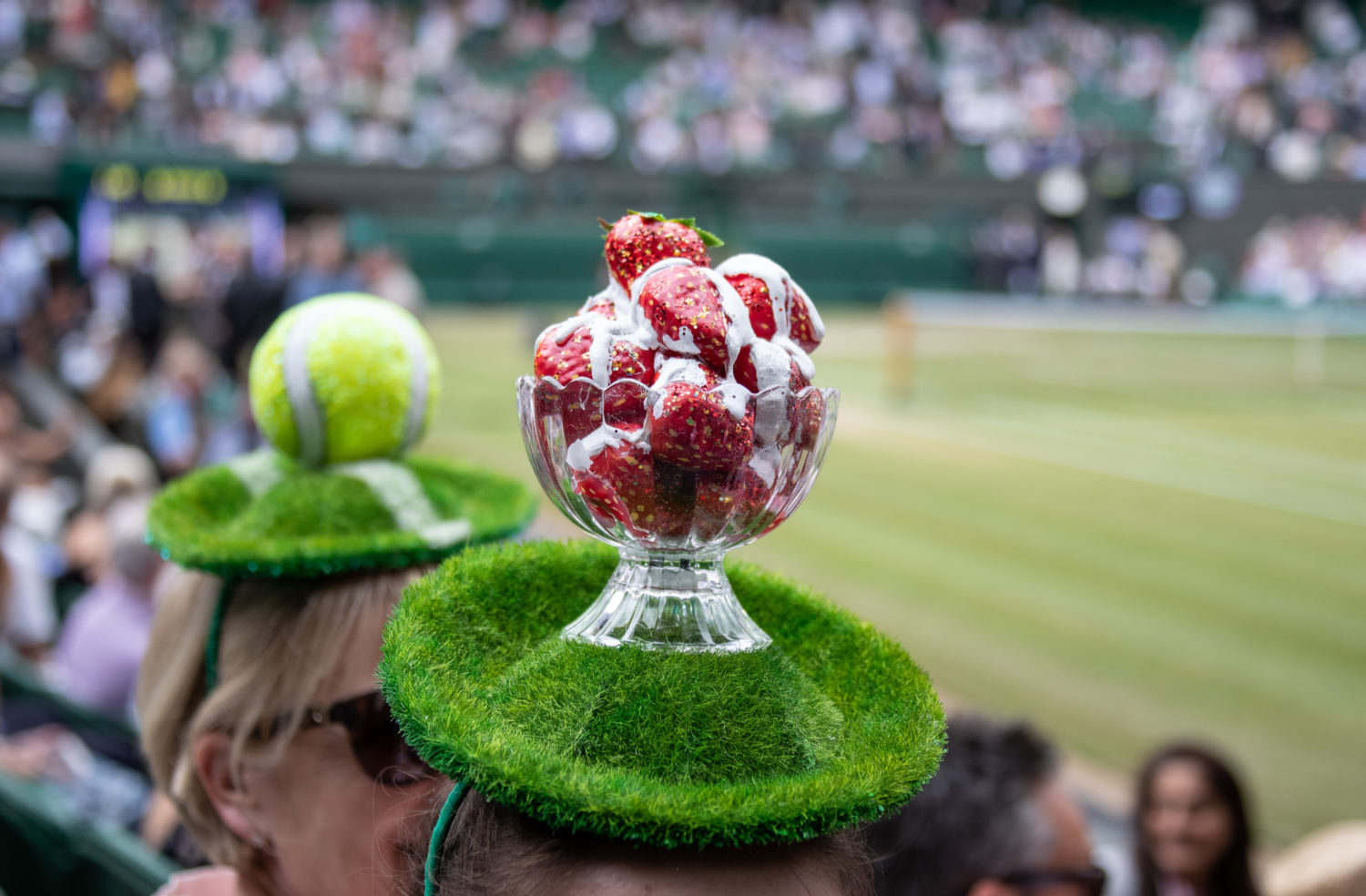 Today, Wimbledon's strawberries are provided by Hugh Lowe Farms in Kent, who have supplied the AELTC with strawberries for over 25 years10. The strawberries for Wimbledon are picked fresh at sunrise each day of The Championships, and hand selected by expert pickers to ensure that they are Wimbledon quality. Once picked, they are delivered to the AELTC by 9am where they are inspected, hulled and ready for visitors to enjoy by 11am. According to the Wimbledon website, "each year more than 38.4 tons of strawberries (1.92 million strawberries to be precise) … are picked and consumed during the tournament. That's more than 140,000 punnets!"11
As with all things associated with Wimbledon and royalty, the fashionable allure of this heart-shaped berry extended to the art world of the 19th Century. With its striking red, pink and green colour palette, it is no wonder that the strawberry was once the exotic subject for the most renowned artists of the 19th Century. Pierre Auguste Renoir's Still Life with Strawberries (1880) and Édouard Manet's Strawberries (c.1882) particularly come to mind. But one that stands out is Strawberries by American artist Robert Spear Dunning. Dunning painted this in 1877, the year of the very first Wimbledon Championships. Make of that what you will… 
The popularity of strawberries and cream at Wimbledon extends beyond the tennis spectator. The treat has also been a hit for tennis players wanting sustenance between matches and training (although perhaps with a little more restraint today, than during Blanche Hillyard's rain delay feast!) Tennis players are known for being superstitious and sticking to a routine that works for them. Some of the routines we have watched through the years have ranged from the intriguing to the downright bizarre, whether that be the avoidance of stepping onto court lines during a match, ensuring an exact number of bounces before serving, or tying shoes in a certain way, to name a few. But there was a fruitier routine by one player during Wimbledon 2022.
In her successful run up to the quarter finals, WTA player Marie Bouzková credited strawberries for her success. During her post-match interview after beating Caroline Garcia, she spoke of having "like 100 routines". One of those consisted of eating strawberries with her team after every match, "Right now, I am eating strawberries and cream with our team. That is our tradition after every match. We have to keep that going."12 
Whilst preserving its history and tradition, Wimbledon has also managed to evolve with modern times. In 2021, Wimbledon upped its strawberries and cream game by introducing a vegan plant-based cream alternative to accompany its strawberries, making them more accessible and inclusive than ever. As part of Wimbledon's drive for environmental sustainability and to reduce carbon emissions, the treat is now served in recycled cardboard packaging, replacing the plastic cartons of the past. 
Whilst the strawberry once allegedly symbolised Venus, the mythological goddess of love, due to its red heart shape, and supposed aphrodisiac qualities13, today it is the strawberry's love affair with Wimbledon that remains imperishable. Of all things served on the hallowed courts of Wimbledon, the strawberry can never be over-served! 
Story published in Courts no. 4, Summer 2023.
1 Fava, C (2023), Online Interview by Amisha Savani for Courts Magazine, 9.5.2023
2 Lancashire Evening Post, 6.07.1907 & literature provided by The Kenneth Ritchie Library, AELTC
3 Cleather, Nora Gordon, Wimbledon Story (Sporting Handbooks, 1947)
4 www.rhs.org.uk/advice/grow-your-own/features/history-of-the-strawberry
5 www.hrp.org.uk/hampton-court-palace/whats-on/royal-tennis-at-hampton-court/#gs.wsnq9i
6 www.rhs.org.uk/advice/grow-your-own/features/fascinating-facts-strawberries
7 http://news.bbc.co.uk/local/surrey/hi/people_and_places/newsid_8756000/8756132.stm
8 www.wimbledonguardian.co.uk/news/9712607.heritage-when-trains-first-arrived-at-wimbledon/
9 www.english-heritage.org.uk/visit/inspire-me/blog/blog-posts/a-brief-history-of-english-strawberries/
10 www.wimbledon.com/en_GB/about_wimbledon/2018-06-30_our_producers.html
11 www.wimbledon.com/en_GB/about_wimbledon/2018-06-30_our_producers.html
12 www.wimbledon.com/en_GB/news/articles/2022-07-03/bouzkova_dream_run_continues.html
13 www.rhs.org.uk/advice/grow-your-own/features/fascinating-facts-strawberries
With special thanks to Robert McNicol, Emma Traherne, Rachel Flaxman and Tessa Croker at the Kenneth Ritchie Library and Museum, and Sarah Frandsen at the Photo Library, the All England Lawn Tennis Club, Wimbledon.