Wimbledon Qualification
Day 2, Ladies Day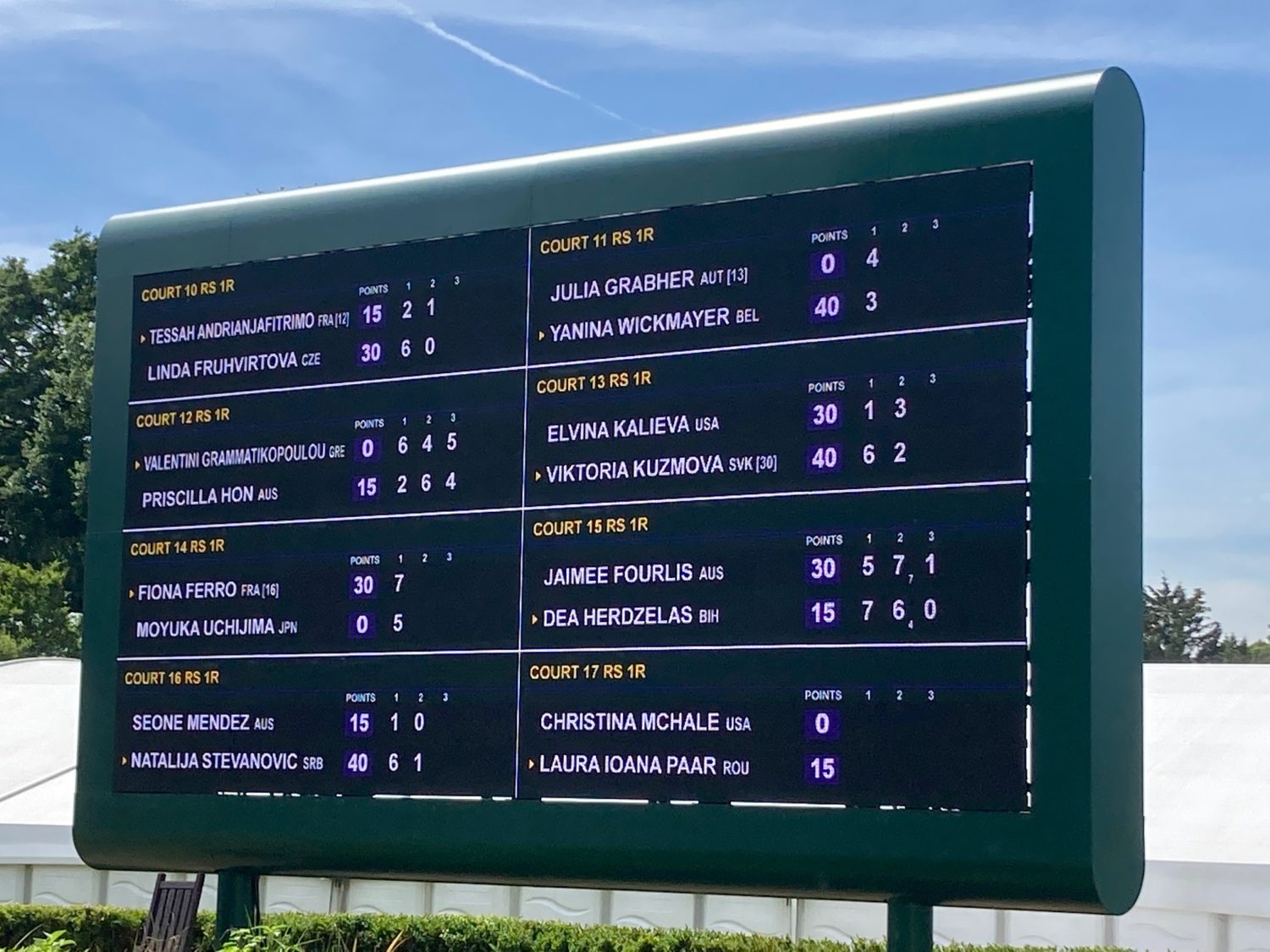 Yet again we were blessed with more glorious blue sky and radiant sunshine to start day 2 of the Wimbledon qualification process.
After entering the vast expanse of rolling green grass courts, first stop was to look at the new Centre Court that is being seeded and built for next year. A new practice area will also be built at the front of the club so spectators get to watch the warm ups of their favorite players again increasing spectator participation.
With ladies day always being Wimbledon Tuesday and in this special centenary year more female history was in the making. It was very apt that British player Sarah Beth Gray became part of Wimbledon history. Having been 1 set and 3-5 down, Beth as we know her clawed her way back to play the first 10 point tie break at 6-all in Wimbledon history to clinch the victory. Having had heart surgery only a few months ago it was also great to be part of history in a positive way. Exciting for me having known her and her tennis journey for a long time and to see this result .
Also on an injury comeback was previous doubles runner-up Timea Babos. It was good to see her return to the court having sustained the injury in last years at Wimbledon. She had a convincing 6-1 6-1 win over Katharina Gerlach. On a positive female theme It was good to see mothers competing, one of these being Yanina Wickmayer who in her 13th year playing Wimbledon confessed that she found grass her favorite surface to play on and just loved the special atmosphere that surrounded Wimbledon.
Around the courts various conversations were had about the lack of points this Wimbledon but everyone agreed that Wimbledon still came out the worthy winner of being a unique event that players wanted to compete in and of course there is still the prize money! With players from around the world competing 7 Australian women progressed to the next round strengthening their pool of players.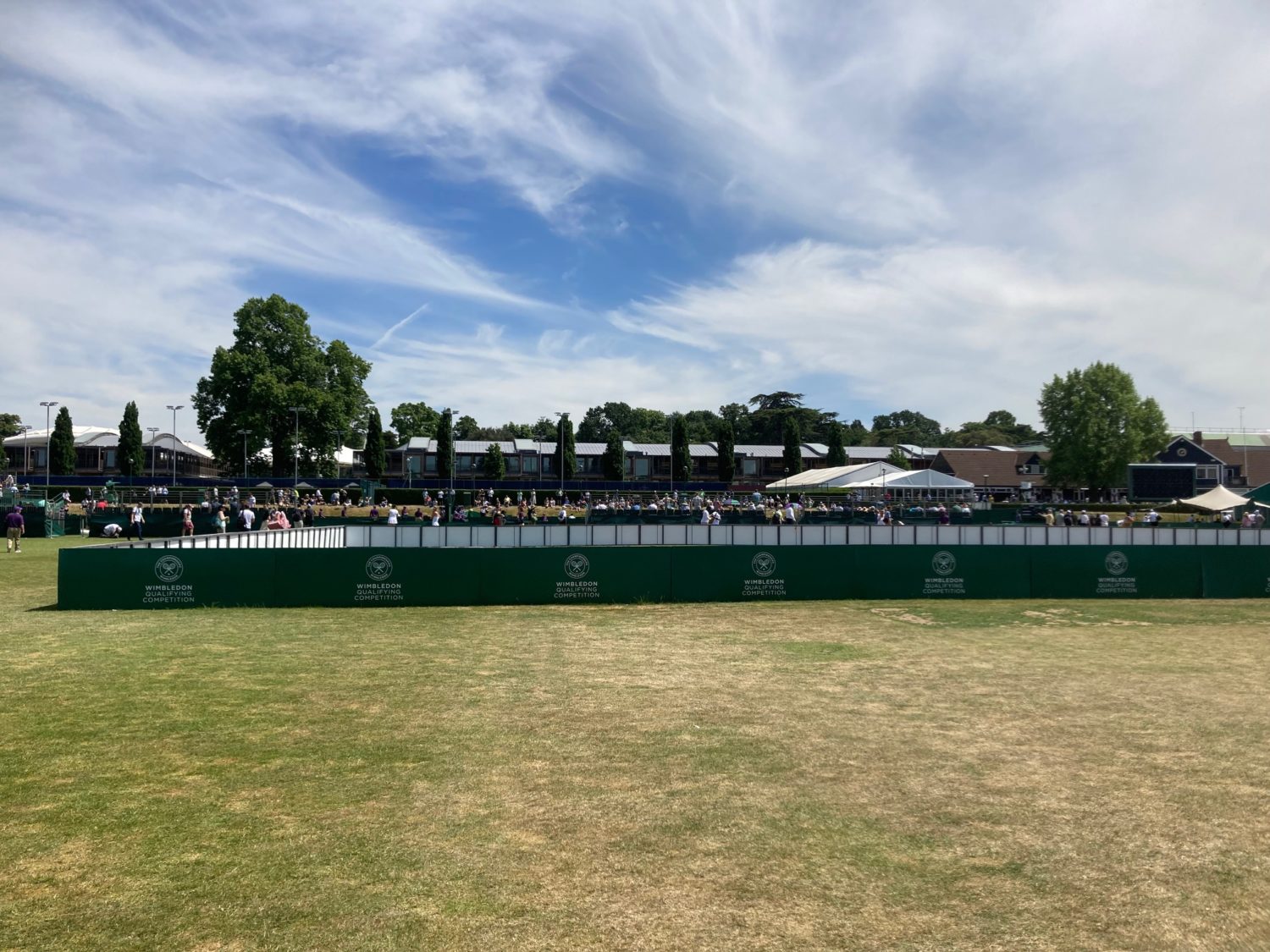 Spectators were delighted and grateful with the new spectator tents where some shade could be taken and sun lotion reapplied as the temperatures continued to soar. Though there is not so much pimms and strawberries consumed at this event you will see more enthused tennis fans not wanting to waste much time away from the competitive court. The tents provide another welcomed addition provided by the all England club for people to take a quick rest bite before heading back to the courts to watch more high quality tennis.
It was interesting to see some great grass court tennis from the likes of Argentinian player Nadia Podoroska, where you would expect to see higher clay court tennis being played. Great tactical awareness could be seen of the bounce of the ball, increased slice work and the charging of the net.
Especially pleasing for me was to see a young player I had formerly coached, Ranah Stoiber aged 17, being given a wild card into the event . Having had a good run at her first junior Wimbledon last year and a couple of good grass court weeks leading up to the qualifying she tried to make the most of her debut but narrowly missed out 7-5 in the third set. It's always nice to see the younger ones coming through when it only seems like yesterday you were starting their journey!
Day 3 looks likely to provide another filled day of tennis with both the men and women playing their second rounds and the sun yet again shining down on the courts!