Why not them?
A week at the Millennium Estoril Open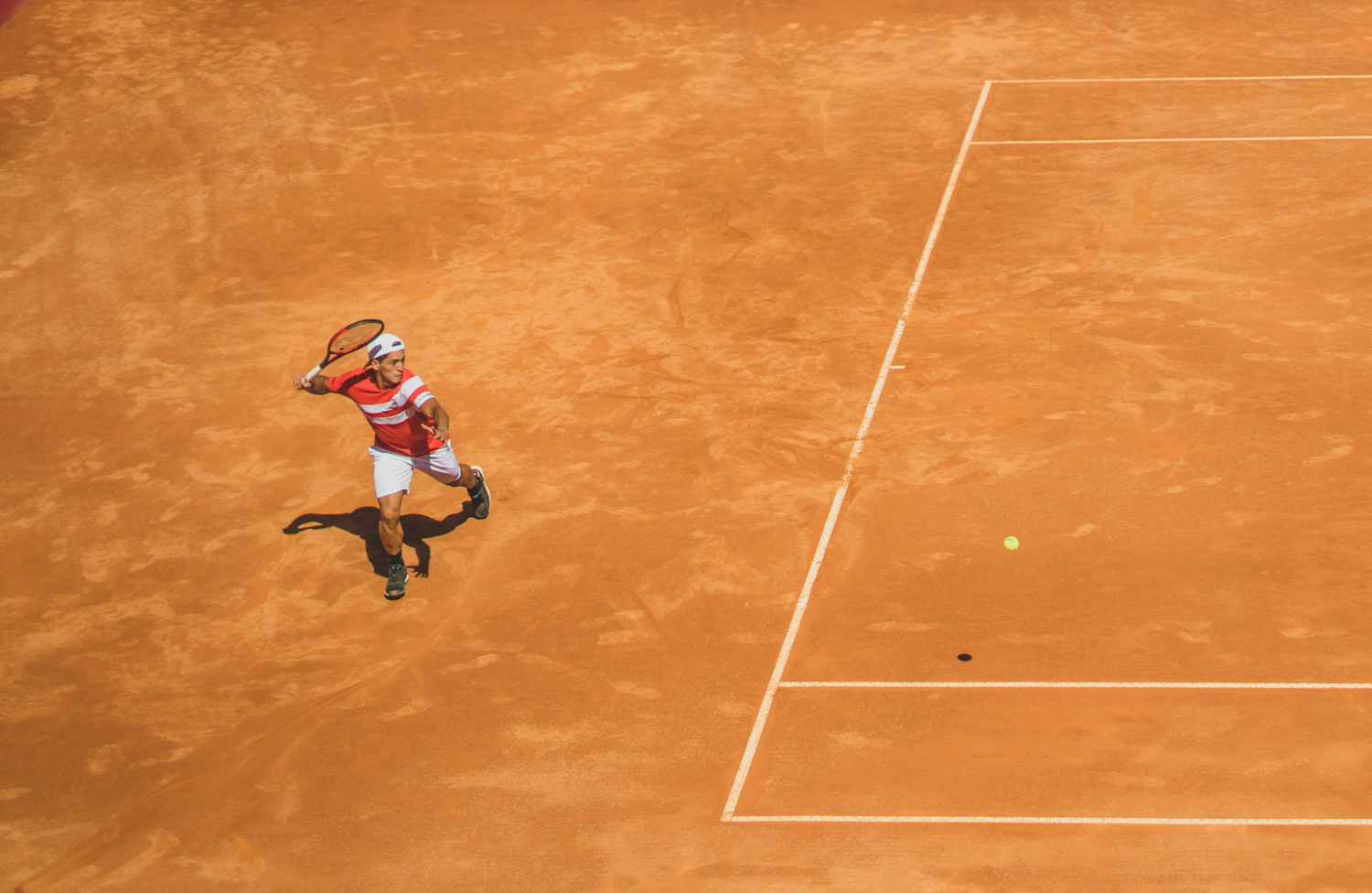 It was nearing 10.15pm, and the scorching Estoril sun had long given way to a chilly breeze blowing over from the Atlantic. 
Frances Tiafoe, having just mounted an odds-defying comeback in his quarter-final match against Alejandro Davidovich Fokina, lumbered out of the court for his post match interview. Despite the late hour, and the three hours of tennis he was feeling in his legs, Tiafoe was all smiles. 
"I knew [I can win] if I can just hold serve, make him serve for it, and hit a couple of good returns, get the crowd behind me, he said of being 2:5 down in the final set. Maybe he feels some nerves."
"You break and, all of a sudden, the crowd erupts", Tiafoe paused and cracked an infectious smile. "Then I was, like, shit, you're here now, might as well see what happens." 
Tiafoe's win against Alejandro Davidovich Fokina, however satisfying and surely a confidence boost, added yet another three hours to his time spent on court. Over the week, he had fought through two gruelling matches in the earlier rounds, defeating Dušan Lajović and Nuno Borges, and was yet to battle past his fellow American, Sebastian Korda, in a three-set thriller where he would go on to save three match points.
Struggling with a minor illness and, at times, seemingly devoid of energy, Tiafoe would suddenly leap into a blistering forehand or execute a well-timed dropshot. More than once, he looked around the stadium with a gladiatorial air as the fans stomped their feet and chanted his name. "I don't know what it is, but they love me out here", Tiafoe would laugh later.
What Millennium Estoril Open may lack in stature, it more than makes up for in electrifying atmosphere and gorgeous vistas. Tennis-goers attending the tournament get the chance to enjoy the game at the highest level, with many high-ranked players preferring sunny Estoril to Munich–the other ATP 250 tournament happening at the time–with its patchy weather and an arguably less picturesque setting. 
"We try to have, usually, one top-10, two, three top-20 players, says Pedro Keul, the Millenium Estoril Open Press Officer. This year we had Cameron Norrie scheduled to play, and he was just outside the top-10, so we were very happy, but he pulled out at the last minute. We were also so close to securing a big star but he didn't want to come back yet (later, in Madrid, Rafael Nadal revealed he wanted to play in Estoril, but he had not recovered enough from his stress fracture in his rib)."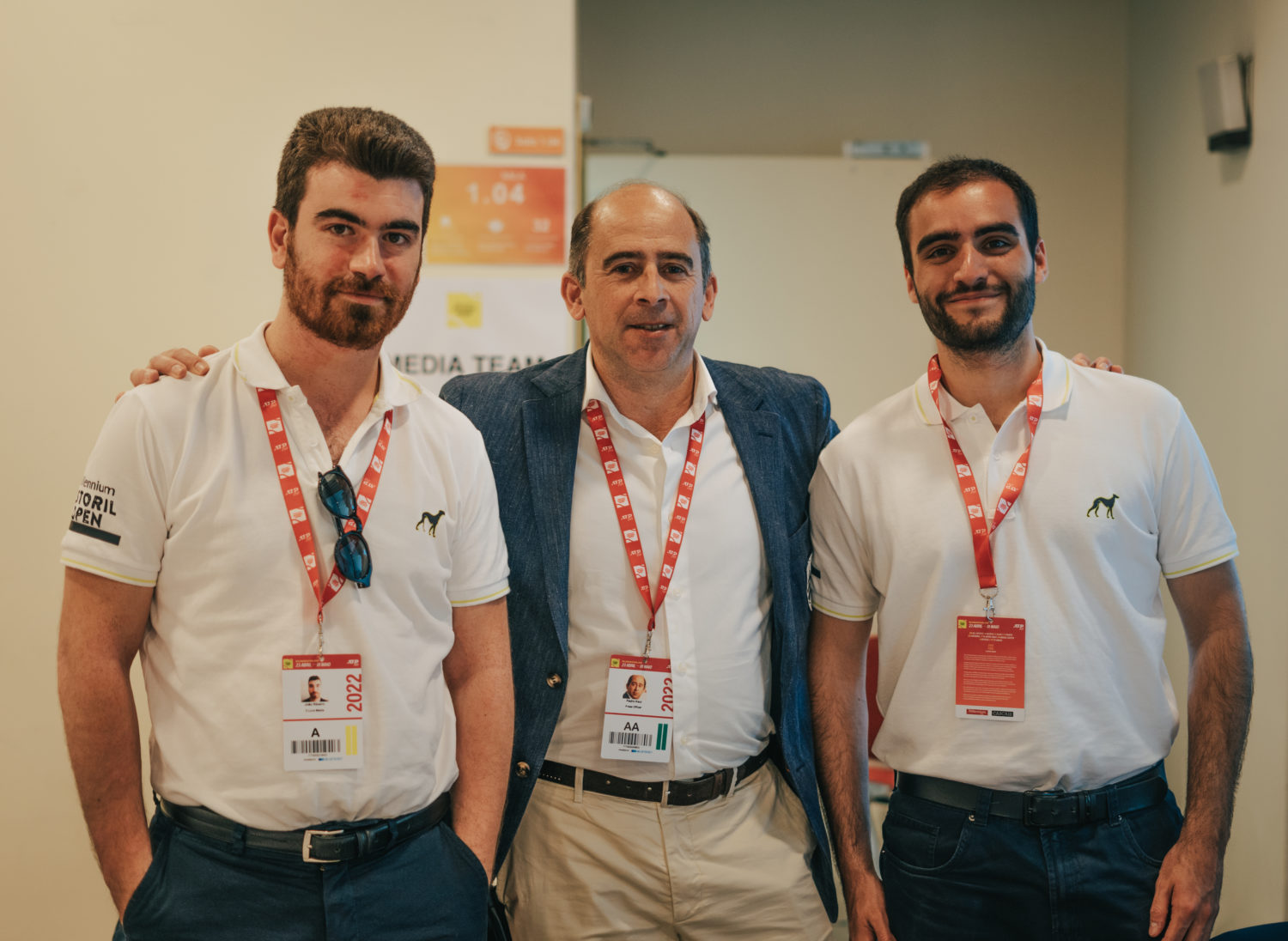 It's easy to see why Estoril makes for an enticing choice. The tournament is slotted in the week between ATP500 in Barcelona and Madrid Masters, offering players the opportunity to catch up on some much-needed clay court time before the brutal triple of Madrid-Rome-Roland Garros. The city itself, located a half-hour drive from Lisbon on the western coast of Portugal, evokes a distinct, if a bit gaudy, sense of the Old World. With its brightly coloured buildings, quaint cobblestoned streets, and numerous beaches peppered throughout the area, the region of Cascais, where Estoril is located, brings to mind images of Côte d'Azur.
"We have good hospitality, says Pedro Keul. Everybody loves to come here. It's well known over the world of tennis that Portugal is good—good seaside hotels, good places to eat. And the weather is always fantastic." He breaks out into a chuckle, "Three or four years ago, there were one or two days when the courts in Munich were white with snow. And here it was like this, Keul points to the clear skies outside. The players were joking with each other about the weather in Munich."
The Millennium Estoril Open is a spiritual successor to the Portugal Open, which for a while also operated under the name Estoril Open. The tournament was a fixture of Portuguese tennis dating back to 1990, and steeped deeply in its history. The list of players who, over the years, lifted the Estoril trophy includes such luminous talents of the game as Roger Federer, Novak Djokovic, Carlos Moyà, Juan Martin Del Potro, and Stan Wawrinka. 
In 2015, after failing to secure the sponsorship, the tournament was rebranded and moved from Oeiras to Estoril. "This is the seventh edition of the [current] tournament, Keul explains. I think, in the first few years, people were used to the old space, near Lisbon, the old Estoril Open. It was a big space, you could do everything you wanted. And when we moved here, it was a very small organisation, just a few people. So we had to do some gymnastics to accommodate everything. But I think we are getting there", he smiles. 
While Frances Tiafoe was fighting his way through the draw, on the other side of the ladder Sebastián Báez was making a name for himself. Unseeded himself, the young Argentine, fresh off the back of his Next-Gen appearance and a ATP250 Chile Open final, took down seed after seed on his way to the final. With boundless energy, ruthless devotion, and never-die attitude, he took down the home favourite João Sousa in the round of 32, followed by wins over Marin Čilić, Richard Gasquet, and Albert Ramos Viñolas. 
After each of his wins, Báez would write "Why not me?" on the TV camera's lens. An initially cryptic statement turned out to come from the most unlikely of places–Frances Tiafoe's bracelet.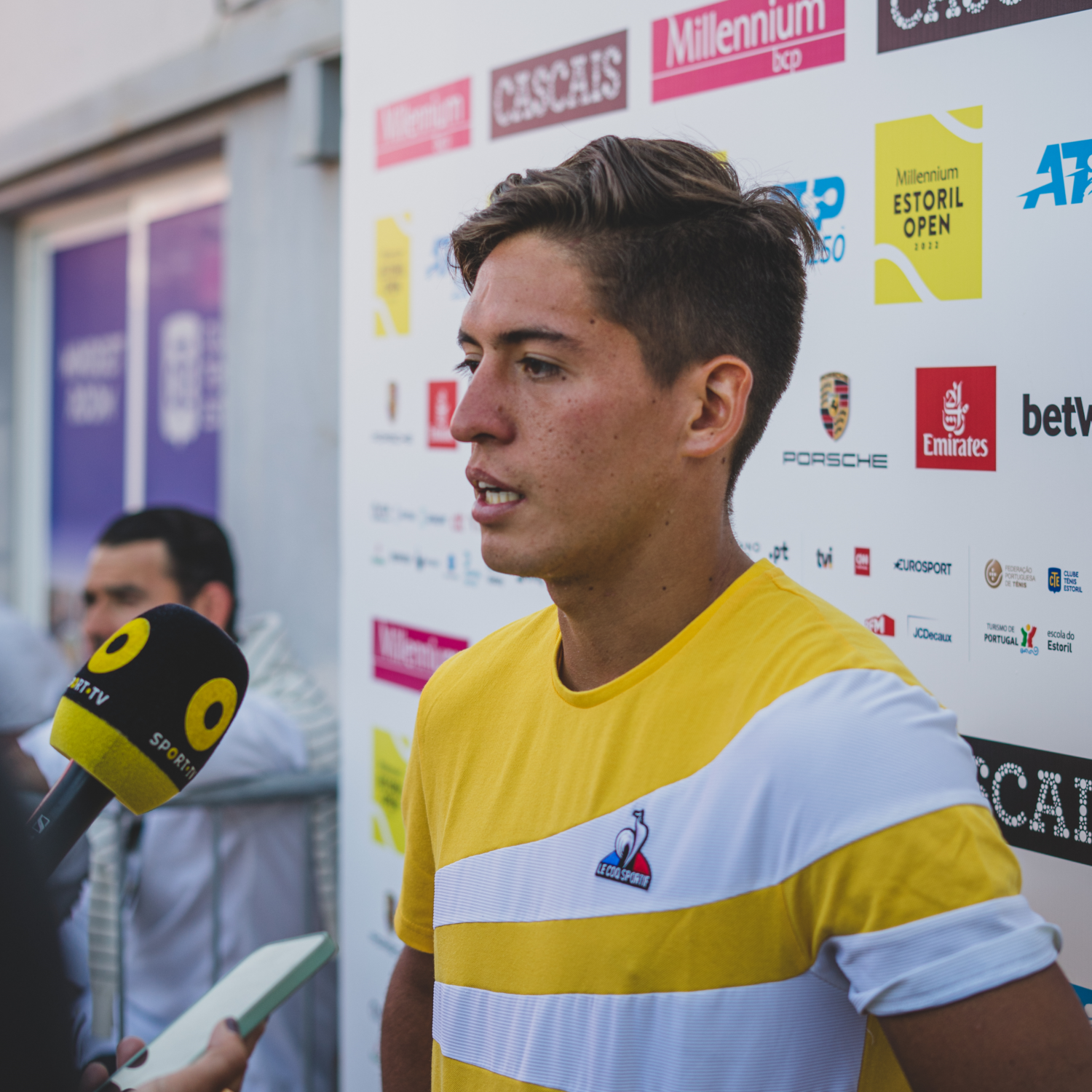 "My coach asked me, 'Have you seen his [Tiafoe's] bracelet?' You have to get a tattoo of what it says, Báez explained. The significance is to believe in yourself, in what you have, in who you are, to value yourself. And 'Why not me?' I believe it's a message of belief. And if you believe, you can."
Tiafoe himself was pleased to inspire a colleague. "He told me that in the locker room a couple of days ago, he said. I've been wearing it so long, I didn't even know what he was talking about."
"After he won today [Saturday], I said 'Why not me?' to him again. It's cool. Any kind of inspiration, that stuff matters, it goes a long way. I think belief in yourself is the biggest thing. It doesn't matter if everyone else around you doesn't believe in you. If you don't believe in yourself, it's tough to go far in life."
On the semi-final day, I ran into Pedro Keul on the tournament grounds. Looking at the forecast, I remarked on the slight overcast predicted for the next day. He jokingly brushed aside my mobile phone. "Don't look. It's going to be OK" , he laughed. He was right, too. When Francisco Cabral and Nuno Borges walked on to Estádio Millennium for their doubles final against Máximo González and Andre Goransson, the skies shone blue and, as earlier in the week, the court was bathed in brilliant sunshine. 
Cabral and Borges, a Portuguese pair making their ATP debut to an understandably enthusiastic crowd, made the most of the home support and navigated a number of tricky encounters to book their place in the final. Having battled through three sets in the first two matches, against number three seed, Austin Krajicek and Ivan Dodig in the round of 16, and unseeded Nathaniel Lammons and Tommy Paul in the quarter-finals, Cabral and Borges eased into the tournament and closed out the remaining two matches in a seemingly routine fashion. The semi-final saw them cruise past number one seed, Jamie Murray and Michael Venus, in straight sets before claiming the trophy against Máximo González and Andre Goransson, also in two sets. 
"It's an unreal feeling winning on home soil, Cabral said during celebrations. First ATP event, first main draw, first title with Nuno, my childhood best friend. I couldn't be happier." The pair entered the media centre for their final press conference of the tournament to a standing ovation. 
When Tiafoe stepped on court to face Báez for the trophy, he was offered a chance at redemption for his 2018 Millennium Estoril Open final loss to João Sousa. But the week's matches taking a toll on his body, he showed little of his usual fire. His game peppered with uncharacteristic errors and far-too-few winners, Tiafoe gave Báez space to play his best game, the Argentine winning 6-3, 6-2. It is a measure of Tiafoe's success over the course of the tournament–the hearts he had captured, the imaginations he had inspired–that even at 2-5 down in the second set, having lost the first, the crowd still hooted and hollered in his support. This went beyond the usual let's-keep-the-show-going attitude often exhibited by the fans at the end of tournaments. They truly believed, even when Tiafoe no longer did.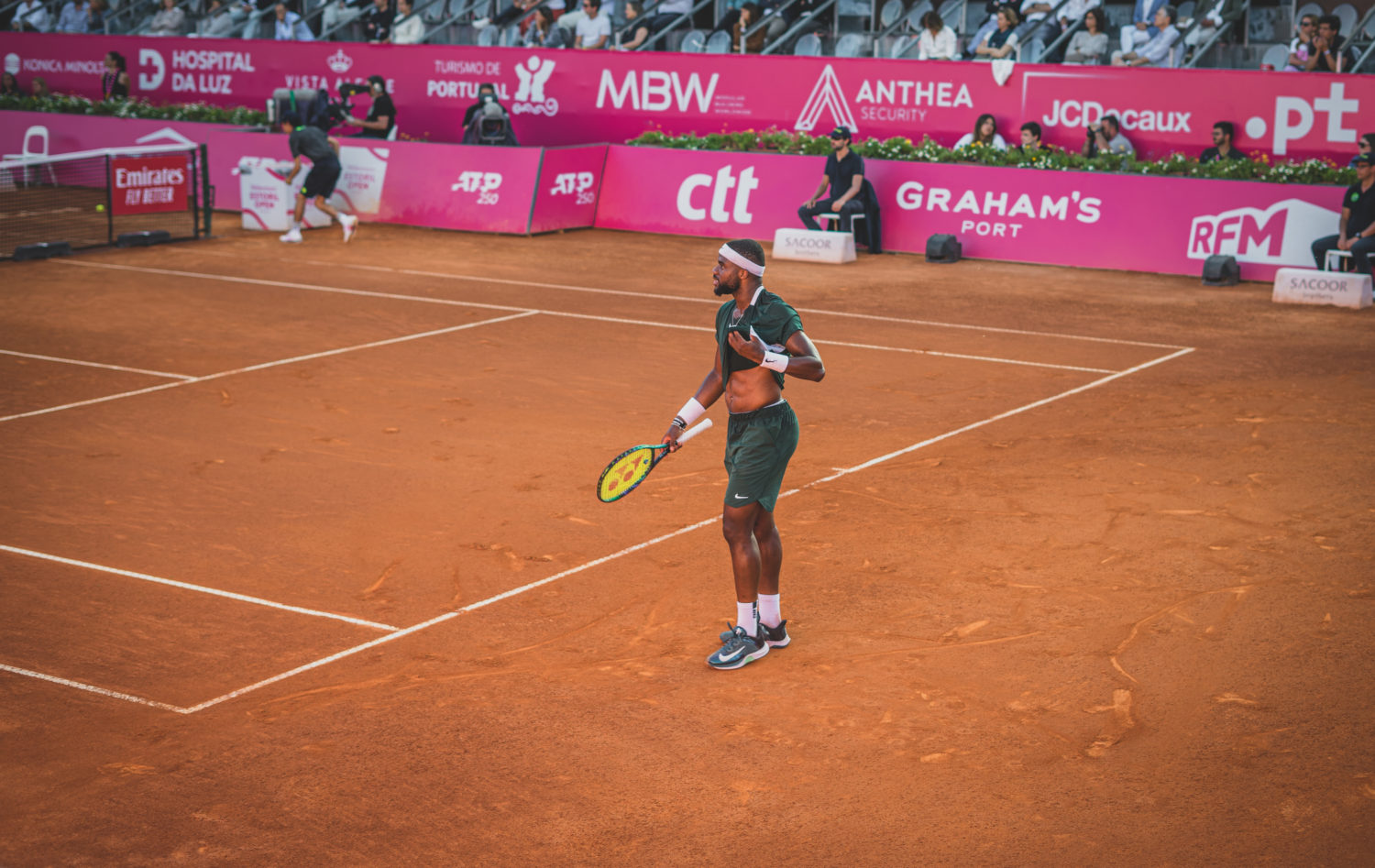 Pedro Keul smiled, "They wanted blood. They got sweat instead."  
Quizzed in the post-match interview on what went wrong, Tiafoe gave full credit to his opponent. "Unbelievable job by Sebastian. He deserved it. He played better than me today", he said. Sebastian Báez, for his part, asked what was going through his mind, as he dropped to his knees in victory, offered, "A lot of things, a lot of words. But I think the best words were 'so proud'."
With the clay dust settled, and the booming sound of forehands slowly fading from memory, Báez scribbled his final on-lens statement: "Yes, it's me".
The young Argentine, having defeated three past Estoril champions on his way to the final, would wake up the next day as number 40 in the ATP rankings–a jump of 19 places compared to his position at the start of the tournament (and one above Roger Federer for what it's worth). For the moment, however, his mind was solely on enjoying the moment. With the trophy in his hands, Báez turned to Tiafoe and smiled, "Why not me? And why not you, man?"
As the tournament wound down, and the sun set on Clube de Ténis do Estoril, Tiafoe was wrapping up his last media duties. With few journalists left in the room, he ruminated on his now-two missed shots at the Estoril trophy. "I've got to win this fucking tournament", he joked. After all, why not him?