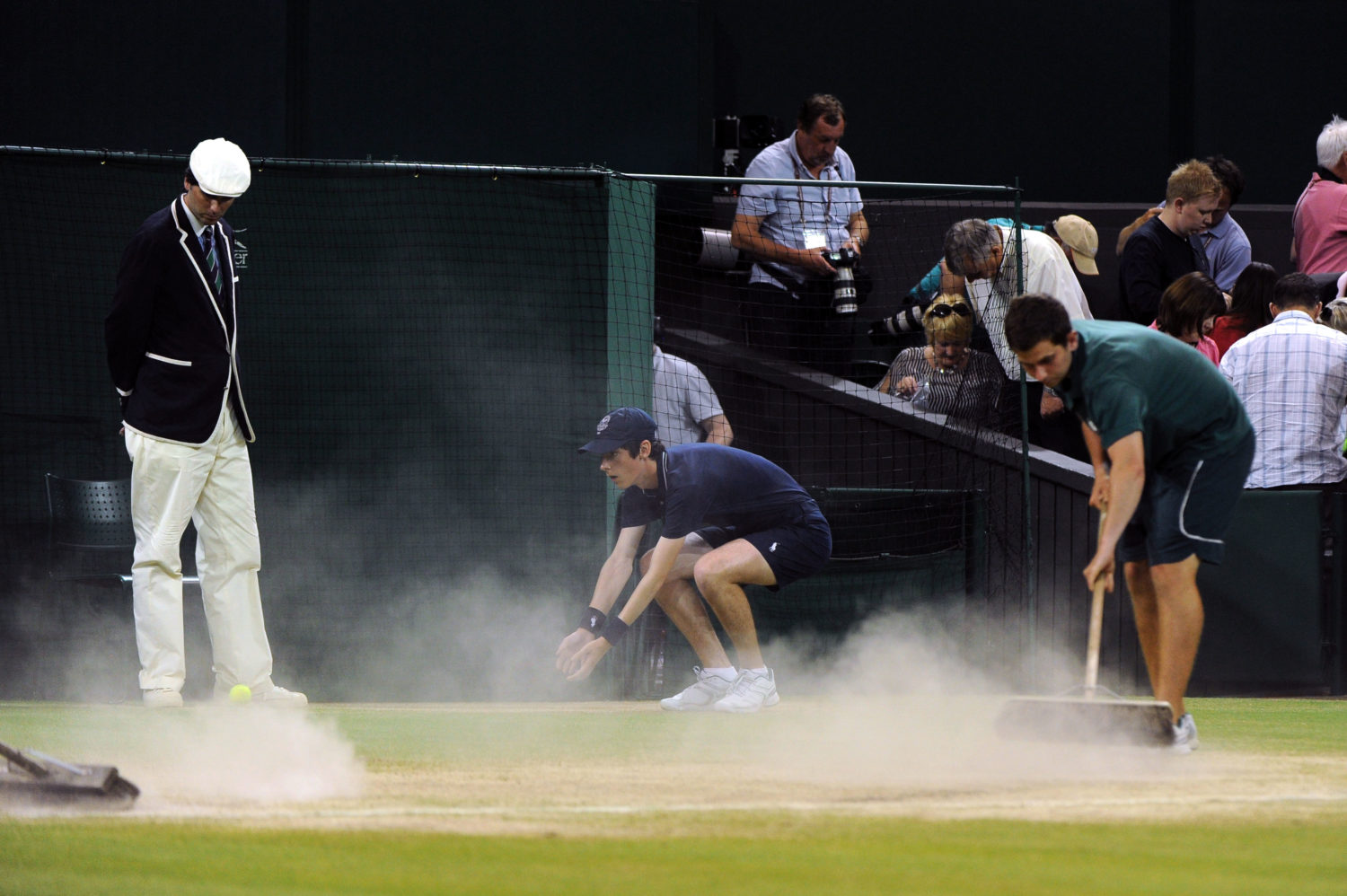 England and France. The French and the English. Two countries and cultures separated only by 20.7 British imperial miles of the English Channel, or 33 French metric kilometres of "la manche". One small time zone separates them, one long tunnel joins them. Wars have divided them, and "l'entente cordiale" has then reunited them depending on which century it is. Distant cousins, old lovers, near neighbours, take your pick.
It's basically a love-hate thing.
Until a few years ago, even their respective Grand Slam tournaments, Roland-Garros and Wimbledon, were only two weeks apart  (as they are again this year) and yet they could not be more different in just about every single way possible for a tennis event. And those differences reflect beautifully, well… "la différence".
Let's start with the basics. Roland-Garros, sometimes called the French Open, is more accurately known in France as "les Internationaux de France de tennis". There is something very egalitarian and municipal sounding about that title, fitting for a republic and her "citoyens", her citizens. It takes place at the "Stade Roland-Garros", a site in the west of Paris named after a renowned French aviator. The tournament is hosted and run by the national tennis federation, "la Fédération Francaise de Tennis", the FFT. In that respect it is like the US and Australian Opens. 
In sharp contrast to all that, Wimbledon is simply named after the suburb of South West London where it takes place. It has recently branded itself as "The Championships", which is how it is known to the locals of its SW19 post code. There is no recognition in its title of it being a national tennis tournament. And there's a very good reason for that, because this Grand Slam is hosted and run by a private members' club – the All England Lawn Tennis & Croquet Club (yes, croquet), the AELTC. It is sometimes said that it is easier to become a member of the AELTC, which has about 300 full members, by winning the men's or women's singles event and becoming an honorary member, than being admitted to the club after a long wait on its hugely selective 20-year waiting list. Not very egalitarian or municipal, but that is perhaps fitting for a country that has a monarchy and where its citizens are in fact "subjects". The club and its committees run the event, and boy, do they like their traditions, and perhaps for good reason. More of that later.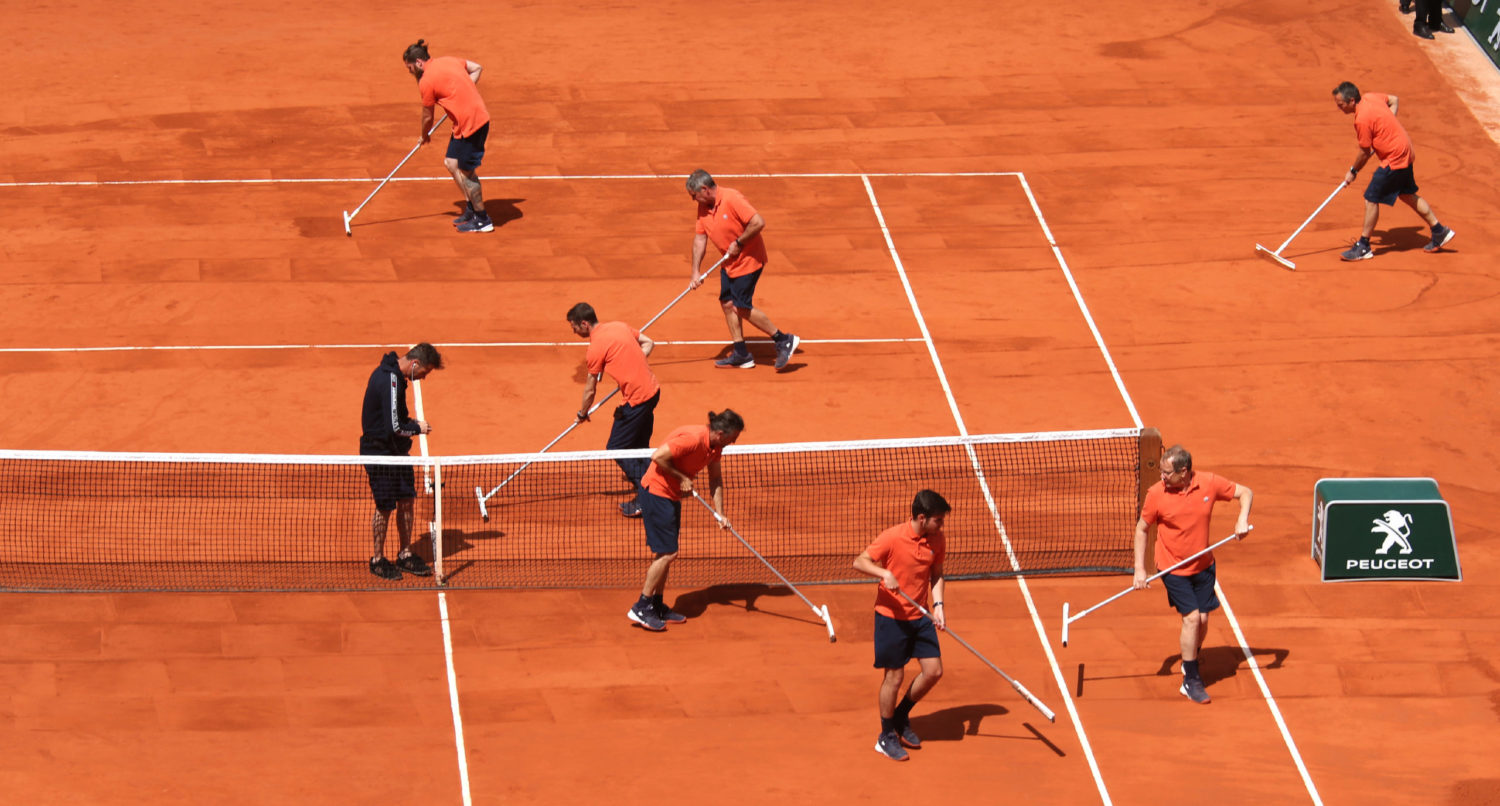 If you lose track of the summer tennis calendar, just switch on the TV at home and you will know immediately if you are watching Roland-Garros or Wimbledon. The colours alone give it away in a second. 
The terracotta-coloured French red clay, "la terre battue", is made from crushed red bricks. Dusty and dirty, it either gets whipped up in the Parisian wind or provides stained evidence on a player's clothing of a long, hard afternoon battling brutal shoulder high balls from the baseline and sprinting to the net to salvage feathery drop shops. Nothing stains your clothes like red clay. And then there are those instantly recognisable light green advertising boards that have been a feature of what is now known as Court Philippe-Chatrier, for decades catching our eyes with the likes of "Orangina" or "Perrier" slogans. 
Equally eye-catching is a signature feature of the French television production that is transmitted globally – the French cameraman instructed to locate in the crowd the most attractive men and women (mainly the latter, this is French coverage after all) who are then the close-up focus of attention on our screens each time the players sit down. 
Alternatively, a few weeks later you might be forgiven for thinking you have tuned in to watch a sporting event taking place in the 1930s at a beautiful English manor house. Wimbledon conjures up such a specific image of tennis and its heritage. It's called 'tradition' and the players and spectators alike love it. The beautiful green lawns that fade over the fortnight, the dark green "advertising" boards that barely display any advertising at all: 'Slazenger' in the faintest of black lettering. The 'tennis whites' clothing rule that forces the clothing brands to manufacture and sell a line of clothes that is worn by the professionals for maybe three weeks of the year. It also has the Royal Box on Centre Court, a club members' area and military personnel guarding all entrances leading to Centre Court – all very English. 
The instructions to the English cameraman are to focus on ladies from the 'shires eating strawberries and cream or anyone wearing a loud Union Jack outfit. It all still has a feel of Dad's Army about it, and we are all very fond of it. It is a part of the English social fabric – 'Wimbledon Fortnight'. There is wall to wall coverage on BBC1 and BBC2 for those 2 weeks when everyone in England becomes a tennis fan. And if (a big if these days) a British player gets into the second week, the country grinds to a stop when the match is on.
And that takes us to the spectators in the crowd, those lucky enough to get tickets through public ballots, their tennis clubs or corporate hospitality to sit and watch the best players at these most prestigious of tournaments steeped in history. If you've been fortunate enough to experience the show courts of both tournaments, that is when you really feel and hear "la différence". National identities could not be more clearly defined and delineated. Take out the international visitors, press, sponsors, and tennis people, and you are left with the local domestic crowds. The home fans.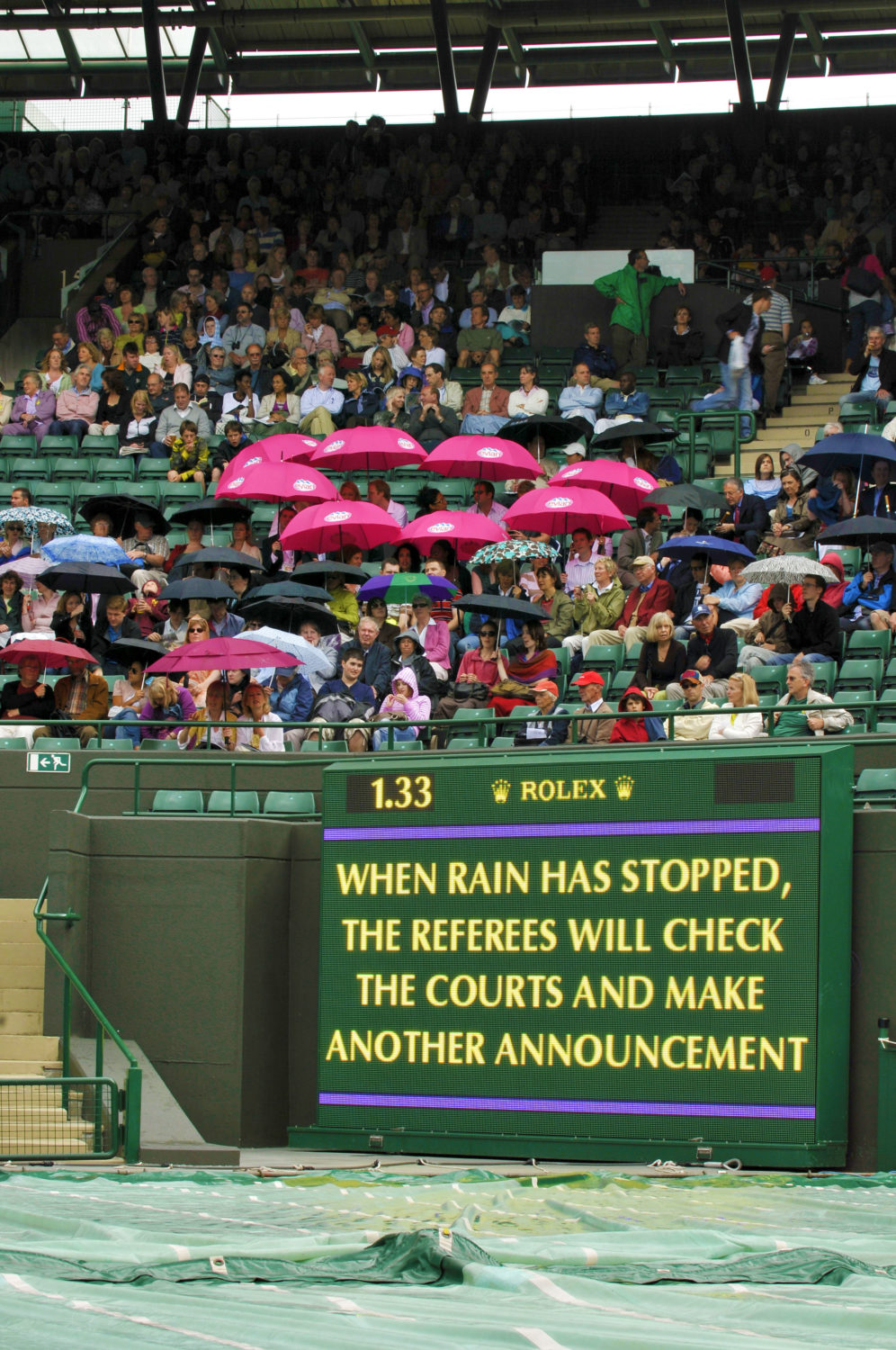 The Parisian crowd is sophisticated on a number of levels. Dare we say that there is a touch arrogance to it, but it is well merited. Let's not forget that this crowd's ancestors once revolted and turned their country from being an absolute monarchy into a republic that has never looked back. Even today, when the Parisians are not happy, they don't march peacefully and achieve nothing, they riot at night and usually get what they want. The Parisian crowd is not to be messed with. Just ask Martina Hingis who suffered mercilessly at its hands in 1999, breaking down in tears in the women's final against Steffi Graf when the crowd reacted to her "Swiss Miss" petulance. The boos and whistles were deafening. 
But its sophistication is not borne out of its emotions or how effortlessly elegant everyone is; it's not all rive gauche Serge Gainsbourg chic. Yes, by all means grab yourself a "baguette jambon et fromage", some sunglasses, and blend in, just don't try too hard. In fact, the crowd's sophistication comes about because in France, red clay is still a dominant surface at many clubs and local courts, including the hundreds of indoor facilities. What that means is that the Parisian crowd understands the match it is watching because it is played on the same surface and that is the case all year round. You can overhear the conversations about the finer points of what is happening on court, the tactics, and the strategies. These folk understand heavy topspin, slice, drop shots, the effect of the weather conditions and sliding into the ball, because it's the same game they play at their local clubs, it's what they were brought up on: building the point on a slow, high bouncing surface; dealing with the frustration of the irregular bounce when the ball hits the line tape nailed into the court or a small mound of powder, and then the contrast of the Zen-like experience of sweeping and watering the court after your match. 
Grass court tennis, on the other hand, is a vastly different game of tennis and one that very few people actually have the opportunity to learn to play, or to adapt their game to. There are many good reasons for that. First, it's very seasonal – it is, after all, grass and has to be outside and dry. Second, a grass court requires huge maintenance and that is prohibitively expensive other than for wealthier clubs. Third, there are grass courts and there are grass courts – a bad one is like playing on a bed of marbles. It is therefore a minor part of the tennis calendar these days, and likewise a minor part of club tennis in England. Apparently, the best grass court in France is at the British Embassy in Paris. But it might also be the only one.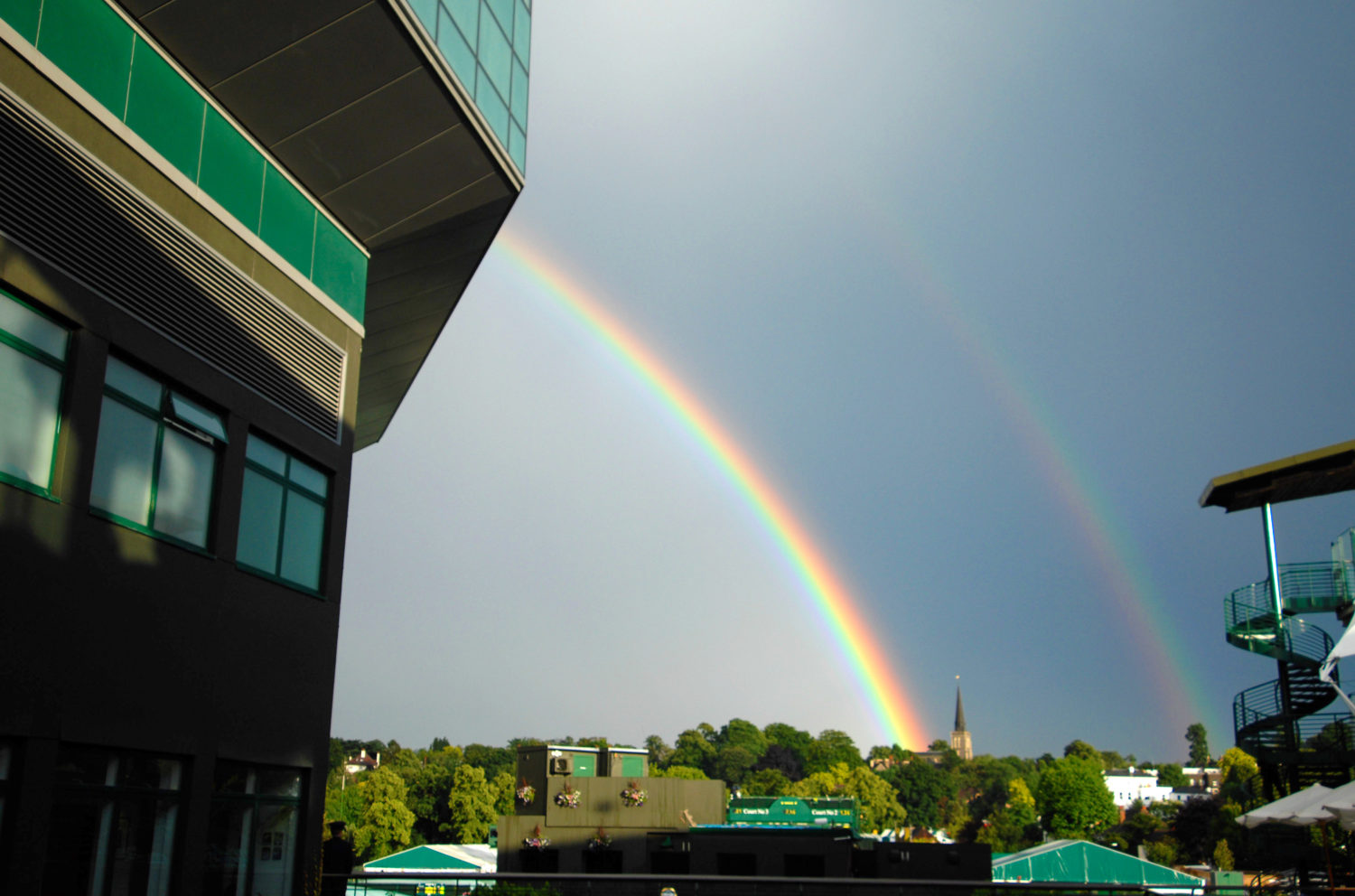 There are of course some grass court warm- up tournaments before Wimbledon, and some exhibition events too, but that's it. So, when you take a surface that has limited exposure in the tennis calendar and also at the local clubs in the country which hosts the major event on that surface, there is always going to be an element of just spectating for enjoyment's sake, rather than really, truly understanding what is happening on court. The Powers That Be in tennis have tried to align the professional grass courts to play more like hard courts, but they are still a very distinct breed. Of course, you don't need to play grass court tennis to enjoy the spectacle of Wimbledon, to appreciate the tennis on display, it's just that you're missing a key piece of the experience. 
Getting back to the Wimbledon crowd, the conversations you overhear on the courts of SW19 are therefore understandably quite different to those you overhear in Paris. And I don't mean the language. The Wimbledon crowd provides plenty of polite, joyful enthusiasm, a sense of having fun "at the tennis", of appreciating the finesse on display when the likes of Roger take to the court, the crowd loyalty when half the British players lose on day one (because like the public, they hardly ever play on grass), and an overriding sense of not taking it too seriously, win or lose, rain or shine, roof or no roof. Other than for the die-hard fans, it's a bit of tennis and a picnic, and there's absolutely nothing wrong with that. It's comfortable. 
Unlike in France, tennis is England's second summer sport. Cricket takes first place and the crowd atmosphere of being at Wimbledon is quite different to being at an international cricket match, for two reasons. First, while there is still a pervasive Englishness about it that really captures one stereotypical view of the country's national identity, an important international 'test' match is much more like a Davis Cup tie: partisan, irreverent and loud – very unlike Wimbledon. Second, cricket at all levels in England is only played on grass in the summer months and so the crowd's knowledge level and understanding of what is happening 'at the crease' is elevated because of that shared experience. In that respect, it is more like the Parisian crowd at Roland-Garros. Equally, put that Parisian crowd at Lord's Cricket Ground for England v Australia and there would still be the Parisian whistles and boos, but also a riot from the boredom of not having a clue what is going on. The baguettes and Perrier-branded sunhats would be thrown all over the pitch. An international cricket match between England and France is a difficult concept to imagine.
The four Grand Slams are said to showcase the game of tennis internationally, and they certainly do that very well. Eight wonderful weeks of tennis. There are of course differences between the Australian Open and the US Open for sure, but there is something romantic about the two contrasting European events and the cultures in which they take place that for four of those weeks, make those differences as entertaining as the tennis itself. 
And this article has not even mentioned Brexit once… Doh!
Story published in Courts no. 1, summer 2021.