Virgil Abloh
the reinventor, Quote Unquote, Remembered
Trailblazer, visionary,
 

polymath,

 

genius.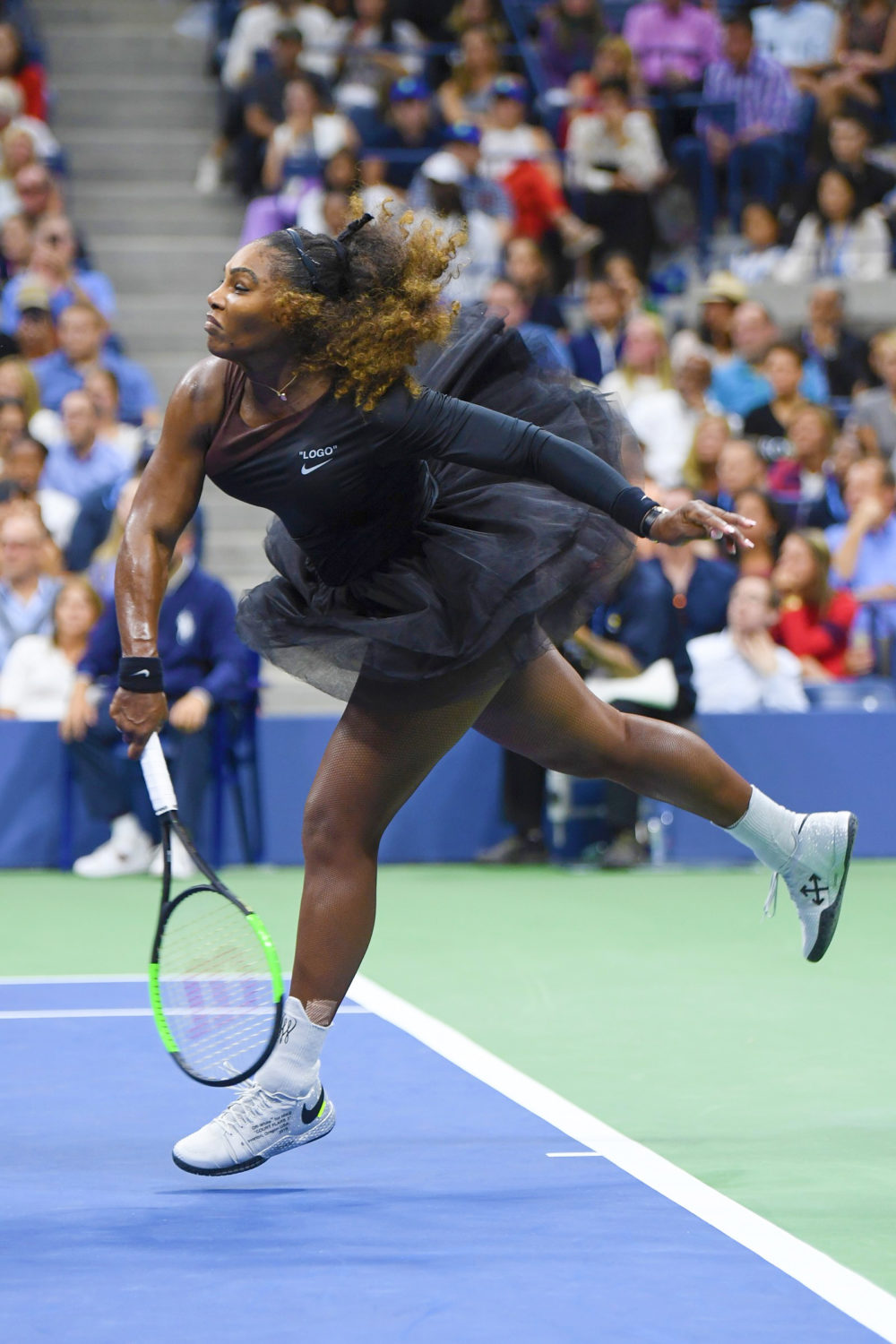 These are just some of the words that have been used to describe the late, brilliant fashion designer and entrepreneur Virgil Abloh. His passing on 28 November 2021, after battling a rare form of cancer at the tender age of 41 has created an inextinguishable void in the art and fashion world. But the void is also felt in the tennis world, particularly through a short but impactful collaboration which produced some of the most iconic and dramatic tennis outfits to grace today's professional tour. 
Fast forward to March 2022, when Abloh's final collection from his luxury label Off-White was unveiled posthumously at Paris Fashion Week to emotional applause. Showcasing his final designs on the catwalk were names from fashion's aristocracy: Cindy Crawford, Naomi Campbell, Kendall Jenner, and Karlie Kloss. Amongst them, walked none other than tennis's aristocracy, Abloh's dear friend and muse—Serena Williams. On her Instagram account, Serena shared a clip, commenting that "it was truly an honor being part of my good friend Virgil's last Off-White show".
Abloh and Serena had become close friends since their first Nike collaboration for the 2018 US Open. Just 4 months earlier, Serena had worn a black Nike catsuit at the French Open to much controversy debating whether it was suitable tennis attire. The outfit choice was based on her health. After a history of blood clots and experiencing life-threatening complications during childbirth, the catsuit provided body compression. However, it was later banned, as announced by the French Tennis Federation president. Serena's stylish response to the criticism materialized 4 months later, thanks to Abloh. The collection was aptly named "The Queen collection", which was unveiled (of course), in Queens, New York. The collaboration had been much hyped throughout the fashion press. Abloh was the man of the moment. 2018 was his year: the year that he was named by Time Magazine as one of the 100 most influential people in the world. It was also the year that Abloh became Artistic Director of Louis Vuitton menswear. His stock was rapidly rising.
This marked the beginning of Serena's revolutionary and emblematic look, breaking the boundaries of what defined tennis wear. These on-court outfits became a metaphor for the way she felt at the time. As she walked out onto Arthur Ashe Stadium, Serena sensationally emerged from the tunnel to rapturous applause. She wore a dress, the skirt of which had—of all things: a tulle tutu. This was an outfit unlike anything previously seen on tour. Unlike the other outfits that year at Flushing Meadows, this did not look like tennis wear. Was it fashion, or was it sport? It was both: a fashion-sport hybrid.
The dress was a homage to Serena's love of dancing and ballet. It was about having fun, whilst showcasing her personality, passion, and strength. Cut asymmetrically on the body, the outfit had Abloh's recognisable nuance: quoted words. The Nike swoosh logo on the chest had the words "logo" printed above it. "Serena" was embellished on a single sleeve. Fishnet compression tights completed the ensemble. Abloh had designed two colourways: lilac for daytime matches, and black for night. As with many of Abloh's creations, this was a tennis dress reimagined, as he explained: "I was trying to embody her spirit and bring something compelling and fresh to tennis…So the dress is feminine but combines her aggression. It's partially revealing. It's asymmetrical. It has a sort of ballerina-esque silhouette to symbolize her grace. It's not about bells and whistles and tricks. It's just about it living on the body and expressing Serena's spirit with each swing of the racket."1 That tutu was the embodiment of Serena Williams. It represented grace, power, and determination. Its beauty lay in its silhouette whilst in motion. Nobody else could have carried it off as perfectly as her. The photographs of a balletic Serena in action wearing that dress are breathtakingly dramatic. Only Serena could do it. Only Abloh could do it for her. And together, like some of the world's best artist/muse collaborations, they did. 
Their second collaboration happened the following year, for the 2019 French Open. In true Abloh style, this outfit also seemed inconceivable on a tennis court. The black and white press preview photographs showed Serena and Abloh together; Abloh in ripped jeans and a Nike hoodie, Serena in a black and white zebra print ensemble including a floor length skirt with a high side split. It had a matching crop top and jacket. When she walked onto the French red clay that May, the floor length skirt was replaced by a short skirt, paired with the crop top and jacket. Mesh netting showcased her impressively toned abs. Once again, Abloh had embellished the outfit with his signature quoted words. Serena's superhero style caped jacket shouted female empowerment, with "mother, champion, queen and goddess" in French. This was a direct response to her previous year's critics. The point was made, stylishly and clearly. When Jon Wertheim asked Serena post-match what she thought of the outfit, she said "it's all positive reinforcement for me. And I kind of love that".2 This, she said, made her feel like a warrior. She later commented that "it talks about me being a mom and me being a queen, as all women are. A champion".3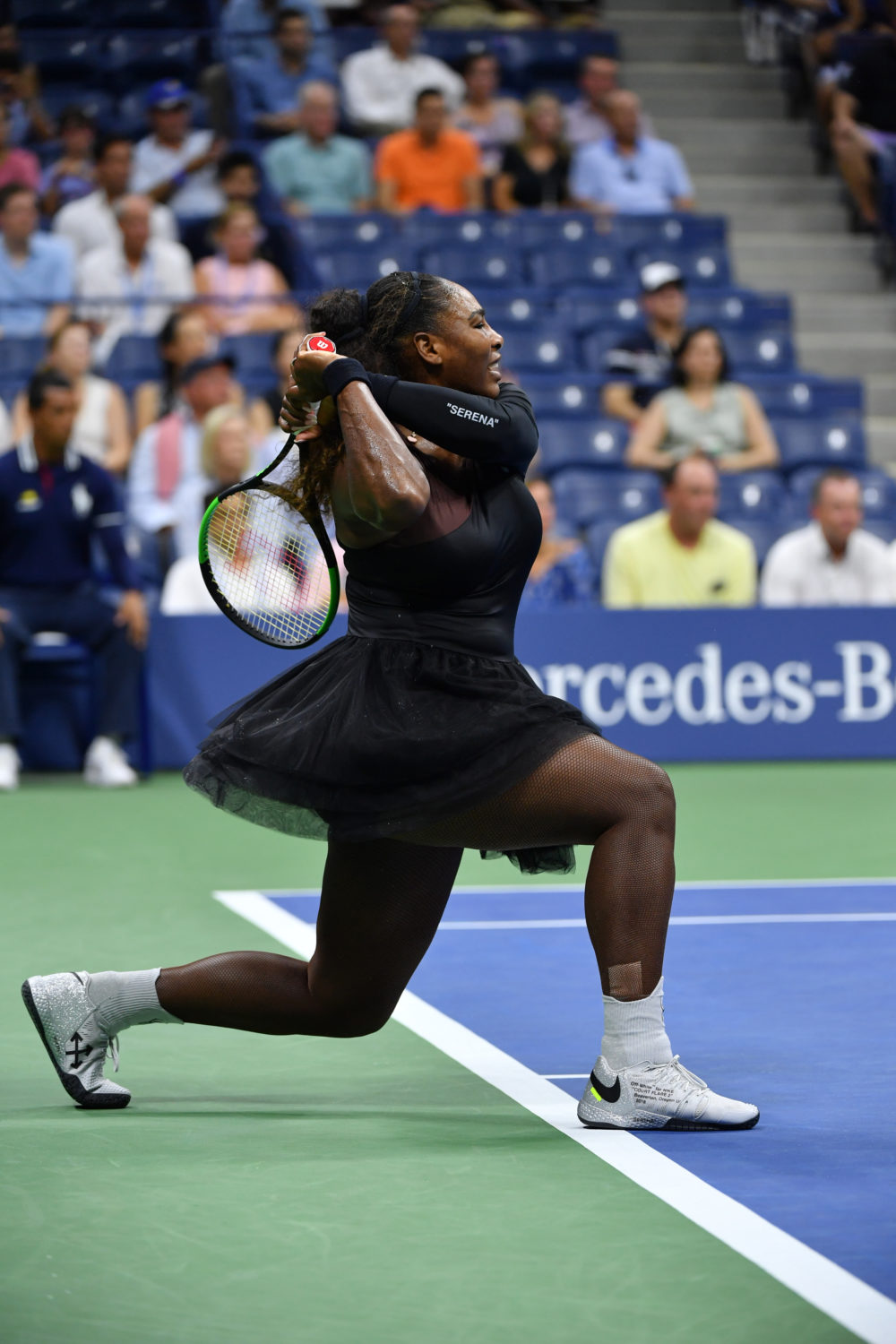 In tennis, there was no better partnership. Both had much in common: unorthodox, breaking boundaries, and successful upon their own merits. Abloh considered Serena a leader for future generations. He wanted to work with people like him who saw no limits, who could help lift and inspire others. He once said, "What I've learned … with design is that there is an inherent style and focus that exists amongst athletes and designers alike: What propels them to be the best comes from deep within."4 Like Abloh, Serena has always been a moderniser. Her unconventional fashion sense goes back years. Think back to the short micro jumpsuit from US Open 2002, or the denim skirt and knee-high (yes, knee-high!) biker style boots in 2004. Nobody had quite dressed like this before on court. Their collaboration was destiny. 
But Abloh's foray into the tennis world didn't start with Serena. He had always wanted to work with Nike. So, in 2016, he collaborated with Nike to design 'The Ten': a range of Nike's classic sneaker styles. But rebuilt and 'remixed' by Abloh. They were an outstanding success, quadrupling the retail price in the secondary market, making them highly collectable. The following year, Abloh redesigned an Off-White x Nike Air Jordan 1 pair, in a classic red and white colourway for Roger Federer. They had Abloh's trademark flourish. Right there, unmistakably on the midsole, was a hand scribbled "Federer", quoted and in permanent marker. Federer wore the sneakers at the 2017 US Open's Arthur Ashe Kids Day. Last summer, Abloh designed wedding outfits for the lavender-themed wedding of Elina Svitolina with Gael Monfils, in custom Off-White. Svitolina wore a cream gown with lavender tulle. Monfils wore a 3-piece lavender suit to match. Upon the news of Abloh's death, Monfils paid a touching tribute on Instagram: "I am so devastated by the news and still can't believe it. I had the privilege to talk with you during those years and you were a true inspiration for me. Only a few months ago you gave us the honor to design Elina wedding dress. I'm forever grateful for our connection. My prayers go to your family".
On 8 April, Nike released a posthumous collaboration sneaker with Off-White, "in accordance with Abloh's wishes".5 Unsurprisingly, it sold out immediately. Only a month later, on 21 May, another posthumous sneaker was unveiled at an exhibition at the Greenpoint Terminal Warehouse in Brooklyn, USA. Abloh had masterminded one of his most ambitious projects just before his death: a collaboration between Nike and Louis Vuitton. The product of that marriage is the "Air Force 1", with 47 editions released for Spring/Summer 2022. The pieces are museum collection worthy, showpieces in their own right. We can certainly expect these investables to be traded and re-traded for years to come in the grey market. Described as "a heritage Nike design, tweaked with Louis Vuitton iconography, and manufactured in the Louis Vuitton atelier in Venice6", this sneaker is pure Abloh: a juxtaposition of streetwear and luxury. 9 of the 47 editions will be on sale from June.
 This July marks another milestone in Abloh's chronology. Coinciding with Wimbledon, 1 July 2022 will also be the opening day of the exhibition that Abloh will sadly never see. Before his death, Abloh had been meticulously planning every detail of his retrospective exhibition at the Brooklyn Museum entitled "Virgil Abloh: Figures of Speech". What began as a travelling exhibition, was scheduled to culminate in its final iteration at the museum. And to appreciate the concept of this exhibition is to understand the man behind it. 
Abloh named his successful label Off-White, because it is "the gray area between black and white as the color Off-White."7 Perhaps also reflective of himself, who wanted no compartmentalisation. He was much more than a fashion designer. In a sense, a jack of all trades. Trained as an architect, Abloh had an unconventional start in the fashion world. He didn't go to fashion school, but worked in street fashion, with young creatives, graffiti artists and hip-hop DJs. Through an internship at Fendi, Abloh met and eventually collaborated with rapper Kanye West before setting up his own labels, including Off-White and becoming the groundbreaking artistic director of Louis Vuitton, where he wanted to "define the title of artistic director for a new and different era".8 His very first collection made an impact, blurring the lines between fashion, art, music, politics. His collaborations through the years have showcased his diversity, from Ikea furniture to Rimowa luggage to music. Abloh once collaborated and DJ'd for Pioneer, designing transparent DJ consoles, which were then exhibited at the Chicago Museum for the Figures of Speech exhibition.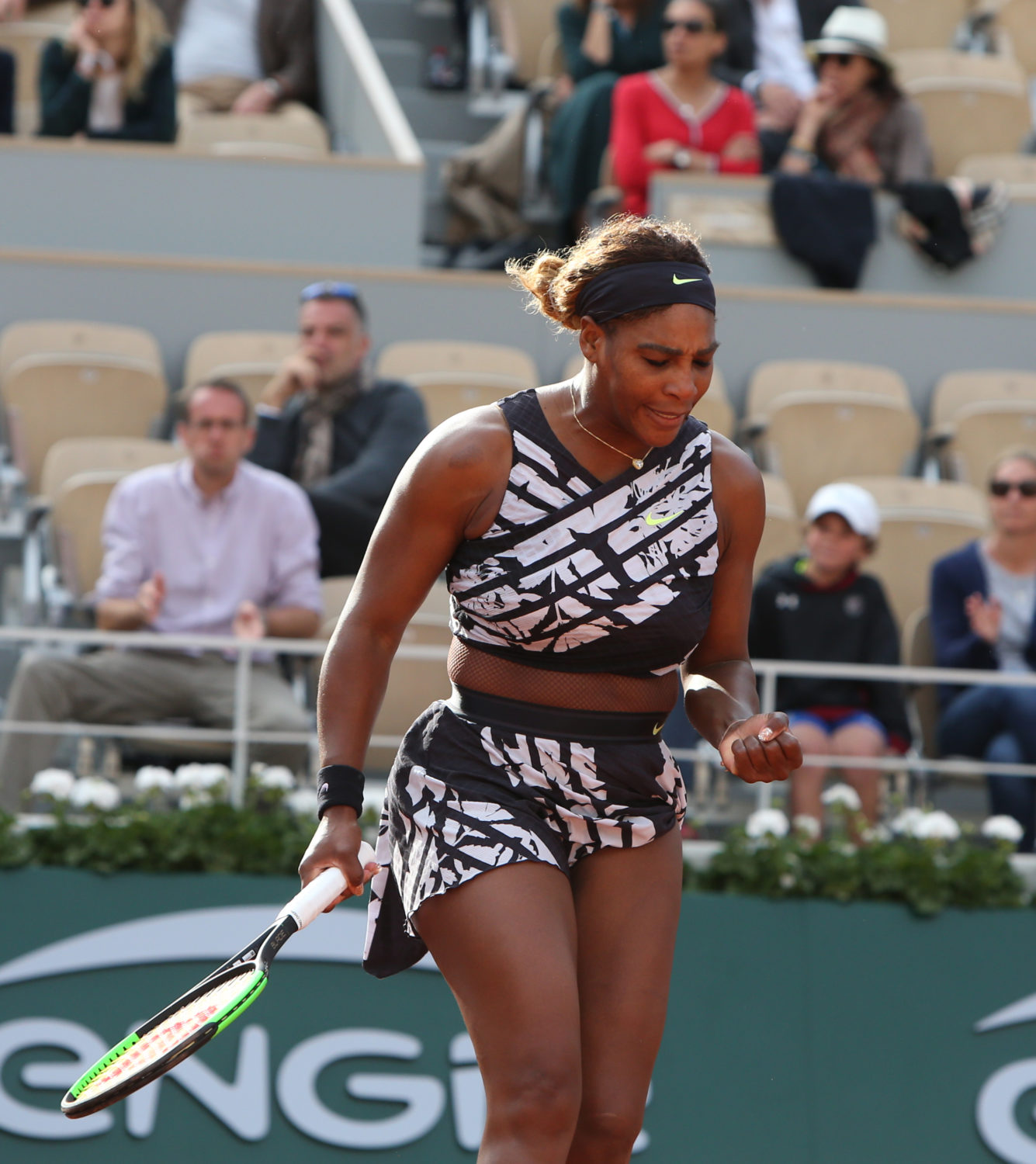 Arguably, the quoted words in his creations are amongst the most recognisable characteristics. They were to provide irony, make people think, and to strip things back to their basic function. He labelled some of the most prosaic things, like shoelaces (with the label "shoelaces" in quotes), plastic zip ties, furniture and even bottles of Evian water! Rihanna once wore a pair of $1,000 stiletto over-the-knee white leather boots embellished with "For Walking" up the back of the boots. She wore them on stage, but they were for anything but walking. To Abloh, these ordinary objects were sculptures or pieces of art9. 
And art was everything to Abloh. In some respects, he was today's Andy Warhol. Like Warhol, he brought a fresh new look and value to everyday objects by reworking them into new pieces of art. Much like Warhol's soup cans, this reworking caused controversy throughout his career but also brought great success. Like resampling an old song in hip-hop, Abloh was the DJ of his creations, remixing images of old masterpieces, and showing them in a fresh modern light. He loved 17th century baroque paintings as much as he loved graffiti art. Each season became a lesson in art history, as he focused on a single artist, from Édouard Manet to Leonardo da Vinci to Jean-Michel Basquiat. (Naomi Osaka has been spotted wearing one of the Mona Lisa Off-White hoodies when off court)! But the most referenced artist in Abloh's collections was the Italian master of chiaroscuro, Michelangelo Merisi da Caravaggio. 
Abloh printed Caravaggio's The Entombment of Christ, Madonna of the Rosary, Annunciation, Narcissus, Saint Jerome Writing and The Seven Works of Mercy across his collections—on t-shirts, sweatshirts, and hoodies. Perhaps one reason why Abloh liked Caravaggio so much was because, like himself, Caravaggio was controversial. Michael Darling, of the Museum of Contemporary Art in Chicago wrote in the Forward of the "Figures of Speech" exhibition book, that "Abloh was "blown away" by Caravaggio's innovative use of the painting technique known as chiaroscuro and how it changed history … Abloh says that studying the Renaissance "rewired" his brain and that chiaroscuro made him realize that art wasn't just for rich people"10. Intriguingly, there is a tennis connection. Allegedly, Caravaggio was so passionate about tennis, that shortly before his death he was on the run from killing a man over a tennis match!
The July exhibition is about much more than just design or fashion. The pandemic and 2020 racial protests in the US made Abloh rethink the plan to make it more political. Consequently, the museum's centrepiece will be a black house. The house has been constructed with unmatched doors/windows. Although everything works, nothing fits. The construction is symbolic of "negritude architecture… Or the way Black people make things, houses or magazine stands in Harlem, for instance".11 Things are deconstructed, and re-designed, like converting a tutu into a tennis skirt. This transformative approach was applied at Louis Vuitton. He once repurposed a classic Louis Vuitton trunk into a boombox. Louis Vuitton's origins were as a trunk maker. Abloh's reinvention attracted a new demographic. This exhibition is certain to make a lasting impact.
Both collections that Abloh designed for Serena show his profound understanding and respect for one of the greatest athletes of our time. Only an artist who knows their muse well can bring out the best in them, and vice versa. Art history has shown us the best examples: Frida Kahlo and Diego Rivera, Pablo Picasso and Dora Maar or Andy Warhol and Edie Sedgwick amongst others. Likewise in fashion, collaborations between Ines de la Fressange and Karl Lagerfeld for Chanel, Hubert de Givenchy, and Audrey Hepburn, Azzedine Alaïa and Grace Jones have produced the most iconic looks still admired today.
Amongst the most notable tennis muse collaborations from the past were the creations of fashion designer Ted Tinling, throughout the 1960s and 1970s. Like Abloh, Tinling created tennis dresses that were considered daring and ahead of their time. He too had deep rapport with his muses, who were champions: Billie Jean King, Martina Navratilova, and Chris Evert. Over 50 years later, the tennis world was treated albeit briefly, to Abloh-Serena. There could have been many more outfits to come. 
Virgil Abloh had so much more to give to the world. Whether we hear of an imminent posthumous tennis collection or not, one thing is certain: Serena and Abloh had only just begun.
Story published in Courts no. 3, Summer 2022.