Tie Break Tens
where competition gives way to celebration
In 2023, Tie Break Tens gave the fans what they wanted—mixed doubles!—as it kick-started an epic party at Indian Wells.
London, Vienna, Melbourne, New York. Indian Wells, Dubai and back again. With 11 successful editions in the books, Tie Break Tens has been blazing a trail on the tennis circuit since 2015, pitting greats of the game—think Serena Williams, Rafael Nadal, Maria Sharapova, Andy Murray and Iga Swiatek—against one another in a fast and furious winner-take-all format that shines a different light on our beautiful sport.
The rules? No games, no sets—just tiebreaks.
The mantra? Every point counts, and so does every smile.
Tie Break Tens is more than a tennis competition. It is a celebration of the sport in its stripped-down glory, and a gateway that helps the fan base skew younger and scream louder.
Part single-elimination showdown, part Netflix's Break Point after-party, Tie Break Tens excels at offering fans a glimpse into the lighter side of tennis. The event has a way of teasing out the endearing, authentic personalities of the players and sending fans home with an indelible experience.
This year at Indian Wells, fans were also sent home with something never seen before at a Masters 1000 event—mixed doubles! On a Tuesday night, on the eve of main draw play, the BNP Paribas Open kicked off in style as Tie Break Tens took centre stage.
When it was over, the tone was set for an incredible Indian Wells fortnight.
"Tie Break Tens in Indian Wells feels like the unofficial kickoff party for the Sunshine Double, and it's made even better by the fact that proceeds go to charity," Blair Henley, who co-hosted the event along with Andrew Krasny, told Courts. "The crowd turnout has historically been incredible and, judging by the players' smiles on the sidelines and in our post-tiebreak interviews, they genuinely seem to be having fun."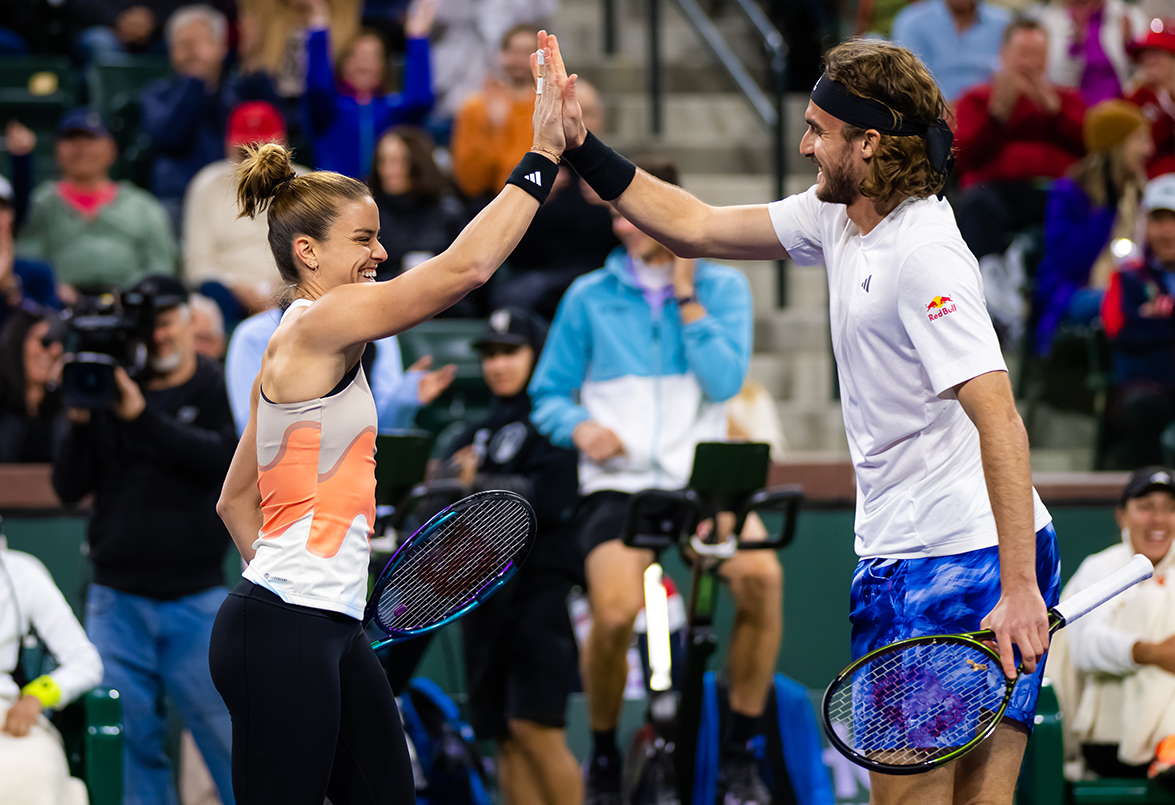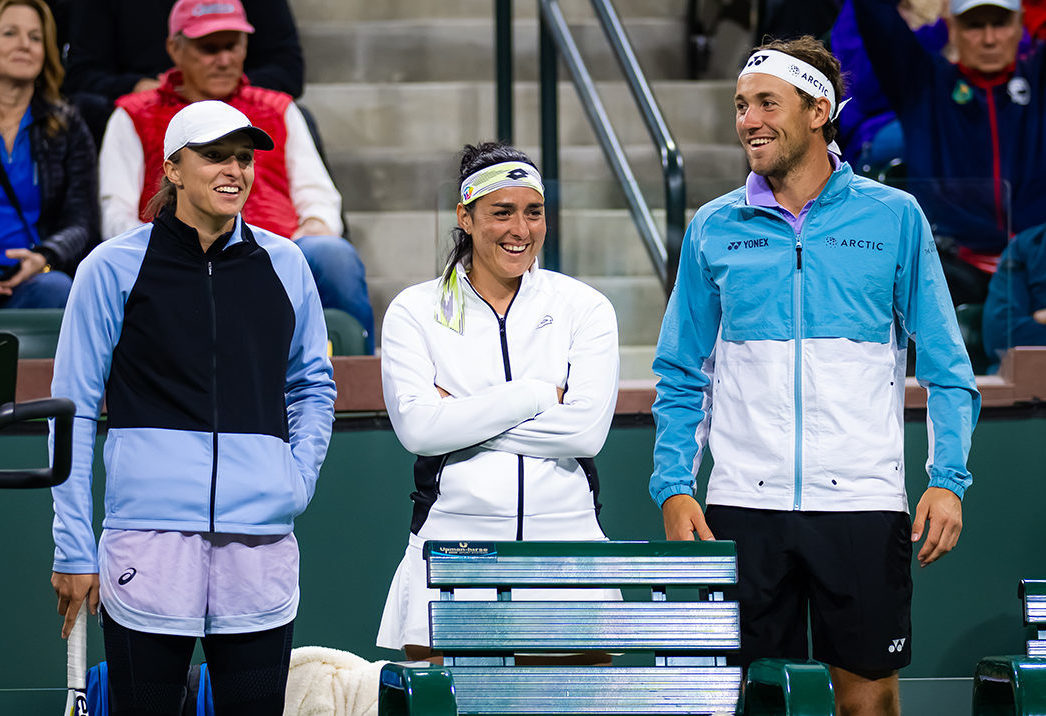 Inside iconic Stadium 2 at the BNP Paribas Open, eight elite doubles teams—a veritable who's who of modern tennis that featured Ons Jabeur, Stan Wawrinka, Iga Swiatek, Stefanos Tsitsipas and Aryna Sabalenka—lined up to take part in the historical event.
In tennis circles there is a constant call for more mixed doubles on tour. Fans love it, players relish it; but sadly, we hardly ever see it on the circuit. Credit Tie Break Tens for reading the room and delivering a star-studded mixed mélange to Southern California.
"It's one of the best tennis experiences that you can get," Tsitsipas, the highest-ranked Greek player in tennis history, said.
The charismatic Athenian, a two-time Grand Slam finalist, was thrilled to pair with his childhood friend and compatriot Maria Sakkari in the competition. 
"I've had the privilege to play this sport for a few years now and one of the moments that brings me the most joy is to share the court with Maria and get to play on big stages like this—I've seen the Tie Break Tens concept before and I'm glad I'm part of it for the first time," he said.
Lucky enough to be sitting in the photographers' pit that evening, while working for the tournament as a journalist, I was blown away by my up-close-and-personal vantage point as I watched powerhouse mixed doubles teams like Swiatek and Hubert Hurkacz and Tsitsipas and Sakkari go full-tilt for the title.
To witness the four best players from Poland and Greece competing alongside their compatriots, in addition to other high-octane pairings such as Canada's Felix Auger-Aliassime and Leylah Fernandez, added a special flavor to the evening. It was a dream come true for many tennis fans, and an emotional high point. It's not every day that we see shapeshifting players that have put their respective tennis nations on the map competing side by side. This edition of Tie Break Tens served to remind us of the global scope of our sport, as well as the magnetic bond that the athletes and their fans share.
Swiatek and Hurkacz defeated Tsitsipas and Sakkari 10-7 to reach the final. I won't remember the score forever, but like many of the 5,000 spectators who were in attendance that evening, I will remember the vibe. So will Maria Sakkari, who took pleasure in the event's unique ability to condense an unthinkable amount of star power and personality into one hot ticket.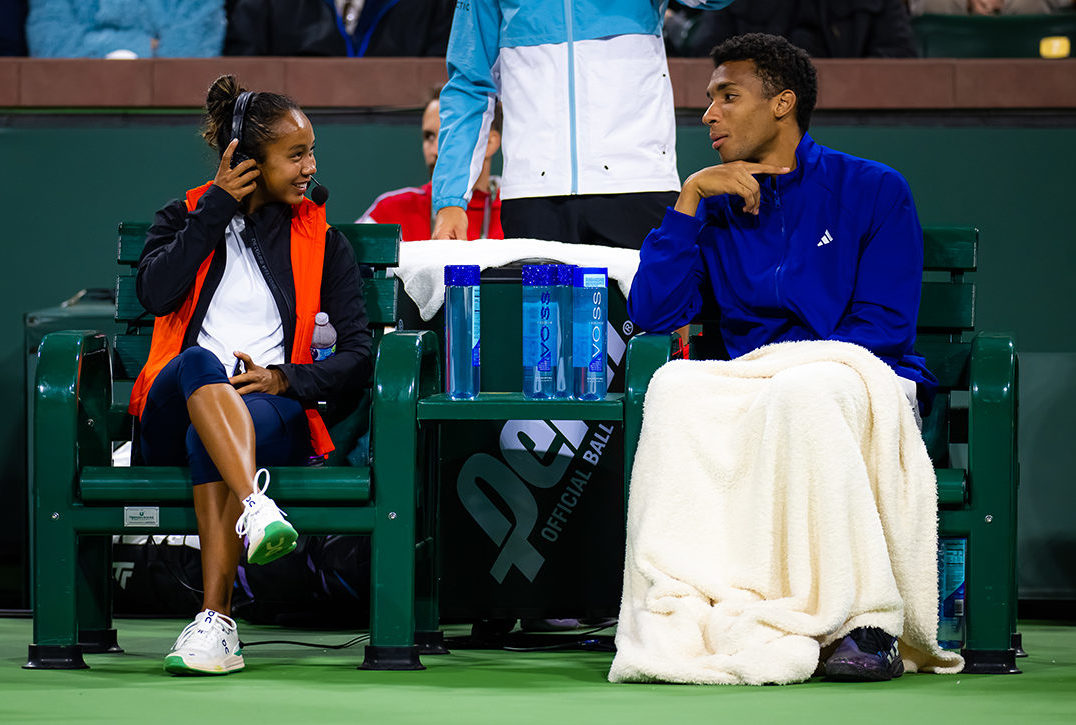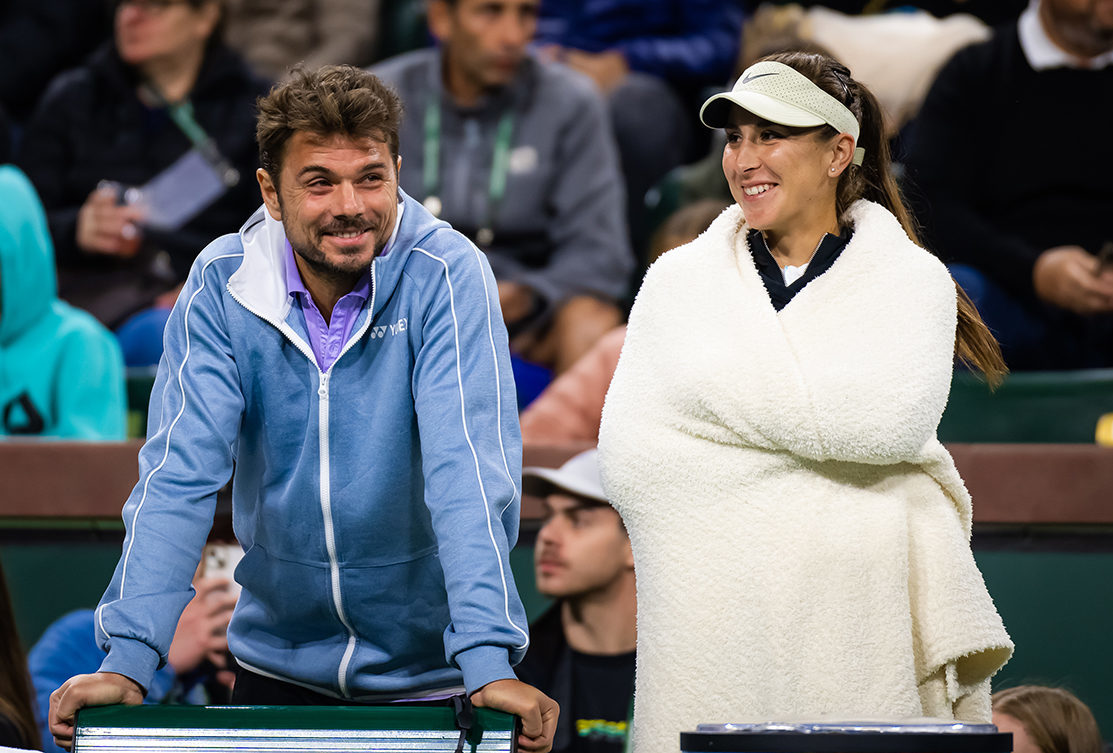 "I think actually it's great entertainment when you have both Tours united, very high level players from WTA and ATP playing together," she said. "I think it's great for the sport. The level is pretty high. The lineup is unreal."
In the end Aryna Sabalenka and Taylor Fritz took home the title (and the $200,000 winner- take-all prize money purse) and the throngs filed out of Stadium 2 happy that they were there to witness the perfect beginning to an unforgettable fortnight in tennis paradise.
That's the allure of Tie Break Tens. It simplifies the competition and shortens the scoreline so that it may expand horizons and present the sport as more than a match with a winner and a loser. Instead it comes across as a celebration of tennis' culture and camaraderie, its soul and its sense of humour.
There are many other things to like about Tie Break Tens.
First, the event has a reduced carbon footprint compared to other short format exhibitions that operate as stand-alone events. The organisers seamlessly integrate Tie Break Tens with bigger events, where infrastructure is already in place, and the world's top players have already gathered.
Second, the simplicity of the format allows new fans a chance to grasp the gravity of the drama of tennis without getting bogged down in the complex scoring system. Once newbies are won over, they can then matriculate into the realm of the die-hard fans.
Finally, the event always gives a significant portion of its proceeds to charity.
Always at the core is the most valuable entity of all: the players—and their personalities—make everything click wonderfully into place. The fun factor is high, and the fans feel the good vibrations, as do the players.
"It's a good time," Felix Auger-Aliassime concludes. "It's nice to step out on court with all these great players in a packed stadium—it's really cool."
Indeed… 
Story published in Courts no. 4, Summer 2023.