The Tennis Bookshelf
Two long-awaited
 

publications about

 

two much-loved icons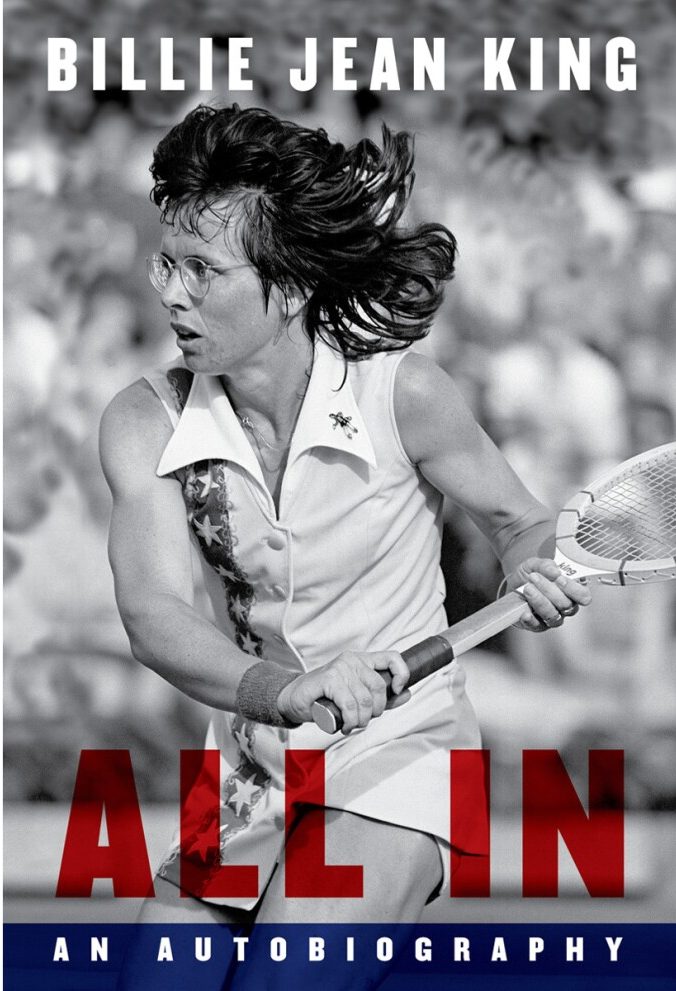 All In
The Autobiography of Billie Jean King by Billie Jean King.
Published by Alfred A. Knopf, September 2021.
As the September sun sets on Arthur Ashe stadium after a bewitching US Open 2021, and the net is put to bed until 2022, two long-awaited new books have arisen to curl up with as the autumn nights draw in. Both are fresh off the press at the time of writing this piece, having been written and completed during the COVID-19 pandemic. Both subjects, Billie Jean King and Roger Federer, are icons of their time. They are rewriting history and breaking records; both have played into their forties, crediting diversity in their lives for their longevity and motivation; and both have been plagued with the same questions about retirement, although decades apart. 
These are the stories of Billie Jean King and Roger Federer.
I spotted Billie Jean King at Wimbledon in 2018, surprisingly with no entourage. She was standing inconspicuously with a friend between Courts 5 and 6, doing what the rest of us die-hard fans were doing: catching any remaining matches on a warm summer evening, after most spectators had left. The grounds looked hallowed under the glow of the evening sun, the church steeple in the distance, and notably the charismatic presence of the queen of Wimbledon herself. I was too starstruck to approach her even though I was within volleying distance. What would I say? I regret it now, especially after reading this book. Billie Jean King is undoubtedly one of the greatest tennis players of all time, having won 39 grand slam titles between the 1960s and 1970s. But her achievements as a pioneering history-maker go beyond tennis.
King's autobiography is written in her distinctively frank, no-nonsense prose and dedicated "to everyone who continues to fight for equity, inclusion and freedom". 1 Her enthusiasm is infectious, leaving us to question whether we are doing enough to make the world a better place. Although this is by no means King's first autobiography, it is the latest and includes key political events such as LGBT, Me Too, and Black Lives Matter movements through to the present day. 
King's childhood epiphany became her raison d'être: she would use tennis and sport as an equalizer to do good. She recounts the cultural and historical backdrop which shaped her views: the civil rights movement, the 1963 Equal Pay Act, the Vietnam War, and President Kennedy's assassination amongst others. These influences inspired King to make a long-term change for tennis to be equitable for all sections of society: "I want things to be better fifty years from now, one hundred years from now. I want to create change that lasts.2"
As one of the Original 9 pioneers, who created the professional women's tennis tour, King fought for equal prize money, so that "tennis would never be the same again" 3. She highlights two notable facts. Firstly, she did not want to separate from the men's tour. She tried to convince male players that they would be stronger as one body. At the time, the male and female players toured and enjoyed the fraternity as one tennis family. She fondly reminisces about her friendships with Arthur Ashe and Rod Laver. Secondly, women played the best of five sets between 1984 and 1998 to settle the equal pay debate. She stresses that the equal pay fight was less about money, and more about the message that women's sport should have an equal platform to men. Thanks to King's negotiation, the US Open became the first major to pay men and women equal prize money.
Arguably, King is most famously known for her participation in the 1973 "Battle of the Sexes" match against male player Bobby Riggs, watched by an estimated 90 million people. Her dramatic point-by-point commentary and resulting win helps us relive the match, including its build up and lasting political impact, which was transformative. Chris Evert commented that, as a result, King had become a "mother to millions" 4 with examples showing how King's influence helped change people's lives.
Racism is high on her agenda, championing the black athletes of her time like Althea Gibson. There are many examples throughout the book, but one stands out. She once threatened to withdraw from a tournament after discovering that a group of black female players were told to enter the stadium through the service entrance and were refused accommodation. She ensured tournament officials provided suitable accommodation. 
As evidenced throughout the book, King is universally admired both in and outside the tennis world, and by past and present presidents – she is the first female athlete to have won the prestigious Presidential Medal of Freedom. President Obama informed her that she inspired him both as a child and later when he raised his daughters.
Alongside the accolades and achievements, King's candid accounts of her personal dilemmas are humanising. Whilst she may be a superhero, she is not superhuman. She expresses her innermost guilt and struggle with the hypocrisy she felt when she was refusing to admit her own sexual identity for years, yet publicly encouraging people to be themselves, and to be open and honest. Further personal setbacks are revealed: sexual abuse, her on-court temper, abortion, her eating disorder including details of her therapy sessions, financial and health issues including multiple knee surgeries, and finally being outed in the media during a time when being gay was widely unaccepted. She lost most of her sponsorship deals as a result.
This autobiography is money well spent because like King herself, it is not one-dimensional. King kept many plates spinning even whilst at the peak of her tennis career. Although at times this was to her detriment, leading to health issues and exhaustion, it is those very spinning plates which have continued to reap rewards and bring diversity and purpose to her life, long after her professional tennis playing days were over. The world needs more superheroes like Billie Jean King, and as she emphasizes: "we are not done yet". 5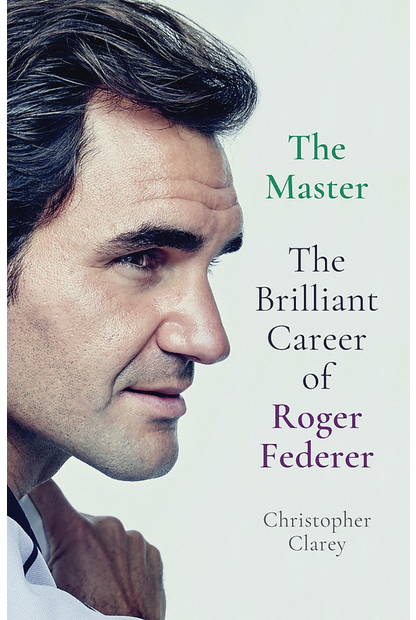 The Master
The Brilliant Career of Roger Federer, by Christopher Clarey.
Published by John Murray Publishing, August 2021. 
Writing a book about Roger Federer is a brave feat. Federer books are a saturated market, yet publications of Federer books continue. But Clarey rightfully stresses that this is not a Federer encyclopedia – there are plenty of those. Only months before this book was published, two others were released, and he hasn't even hung up his Wilson Pro Staff yet! So, is there anything new in there that will satiate the Federer fanatics? Until Mr Federer pens his own biography, this fascinating insight by Christopher Clarey is certainly worth the read. 
Clarey is a tennis correspondent who has covered tennis since 1990 for the International Herald Tribune and the New York Times. He has interviewed Federer many times over the past twenty years. The book stands out because of his privileged access to both the man himself and his inner circle, having developed a trusting rapport over decades. When Federer had glandular fever in 2007, it was Clarey he first entrusted with the news. In this book, 82 people were interviewed, including past and present coaches, family, and rivals. It, therefore, comes with serious street cred. 
The author's worldwide meetings with Federer have taken place in the most diverse locations: Federer's chauffeur-driven car, a court at Wimbledon, Times Square, restaurants in Switzerland, a van ride with Federer and Nadal after Laver Cup, Federer's Parisian suite at the Hôtel de Crillon whilst Mirka tried on designer outfits. And most glamorously, a private jet: "that I had been invited to report from one of his sanctums was a sign that Federer and I had a good working relationship."6
Clarey's exploration of the topics that whet the appetite of every Federer fan does not disappoint. The evolution of that backhand and the secret to Federer's career longevity and motivation are all discussed. By interviewing trusted sources like Federer's coaches, agents, and physiotherapists, several combining factors to his longevity and motivation are discussed in detail with much credit given to wife Mirka. Pierre Paganini, Federer's fitness trainer is credited for keeping him (until recently), fairly injury free. Andy Roddick distinguishes that Federer has preserved his body through "body control", involving less body moves for each action, compared to players like Nadal. 
Clarey focuses on Federer's legacy-defining billion dollar empire. The virtuoso has shown prowess both in the boardroom and on court, and this combination of tennis and business is also explored, thanks to Clarey's access to key tennis agents. The origins of the "RF" monogram were fortuitous, as they were adapted from the failed Roger Federer perfume brand. Although that fragrance investment was futile, the sweet scent of success certainly permeated through to his sponsors, Nike and now Uniqlo. But this success was slow, as Federer initially avoided appointing an agent, informing Clarey that he enjoyed the independence of handling his own business. 
The delay in appointing an agent notably cost Federer millions in sponsorship negotiations. Clarey discusses and compares this with Roddick's and Sharapova's significantly higher off-court earnings in 2005, both of whom had agents (Ken Meyerson and Max Eisenbud respectively). 
Federer's hiring of Tony Godsick more than tripled his earnings thanks to Godsick's shrewd negotiations with the Nike "RF" brand, followed by many more lucrative contracts. This earned Godsick a reputation for being one of the leading tennis agents.
The intricacies behind the Nike renegotiation versus Uniqlo contracts are explored, thanks to Clarey's 'little black book'. The Uniqlo contract catapulted Federer to becoming one of the world's highest paid athletes. But Eisenbud informs Clarey that there is more to the formula. Federer presents the complete package, untarnished by Tiger Woods-like personal indiscretions causing reputational damage. Former Nike director, Mike Nakajima left Nike before the attempted renegotiation. He reveals to Clarey that although the deal fell through because Nike were reportedly unwilling to meet Federer's fee, Nike may regret this if Federer's post-tennis career is successful. The Laver Cup is an example of this legacy.
As "peRFect"7 as Federer's public profile is, we learn that, off camera, he is less polished, often goofy, and enjoys pranking friends, colleagues, even sponsors. He is an extrovert and an empath, getting his energy from others, making lifelong friends through his travels. Clarey interviews Federer's host family from his early touring days, where a teenage Federer's daily diet consisted of bowls of cornflakes and pasta. His bedroom was so messy that it was difficult to decipher whether he was in or out! Mirka is credited throughout the book with bringing much-needed order to his life. Another revelation is that for the man who looks like he was born and bred on grass and averse to clay, clay was Federer's original surface – a common indoor surface in Switzerland.
Federer's memorable matches are analysed in detail. Clarey has had in-depth conversations with rivals like Agassi, Sampras, Roddick, Nadal, Djokovic, as recently as 2020. Early Hewitt versus Federer matches paralleling their temper tantrums are intriguing, as is the comparison of play and personality between Federer (extrovert) and Sampras (introvert), including their blossoming friendship during a 2007 exhibition match in Asia, and a private dinner conversation in Beverly Hills, where Sampras grilled Paul Annacone and Federer about the decline of 'serve and volley' tennis. 
In his 1992 essay How Tracy Austin Broke My Heart, David Foster Wallace discusses the mass market appeal of athletes' memoirs, expressing his disappointment in a humorous yet damning critique of Austin's autobiography, because despite the promise, "these autobiographies rarely deliver" 8 as they fail to reveal much. These two books are proof that much has changed since then. 
King and Federer have a mutual admiration for each other. King told Clarey that Federer is "the most beautiful and balletic player I've ever seen". 9 Both icons have recently supported each other publicly in favouring the merging of the WTA and ATP tours, wanting tennis to evolve and be more equitable. Federer revived the idea in 2020 in a tweet, calling King a "trailblazer". The two allegedly had a private conversation following the tweet. Whether this merge comes to fruition remains to be seen. If it does, the two will rewrite the history books, once again. 
1 King, B.J., All In: An Autobiography, opening dedication page.
2-5 King, B.J., All In: An Autobiography, pg. 274, pg. 166, pg. 262, pg. 428.
6 Clarey, C., The Master: The Brilliant Career of Roger Federer, pg. 350.
7 Reference to Roger Federer's RF logo, initially started with sponsor Nike.
8 Wallace, DF., String Theory, pg. 28.
9 Clarey, C., The Master: The Brilliant Career of Roger Federer, pg. 8.
Story published in Courts no. 2, autumn 2021.