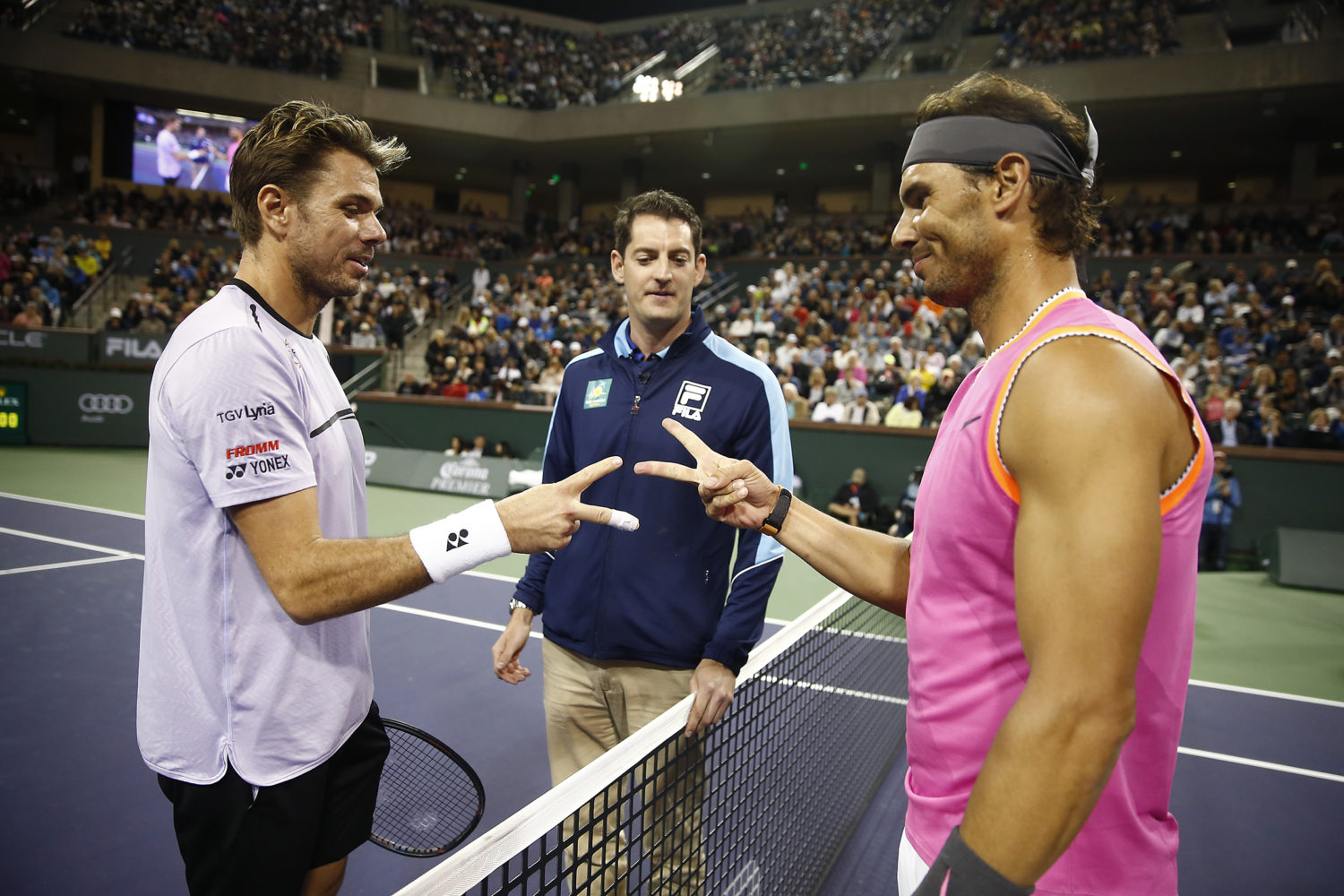 In April last year – on the day when it was announced human vaccine trials were set to begin in Oxford – Roger Federer posed an unprompted question on social media. 
"Just wondering…" Federer, the 20-time Grand Slam champion from Switzerland, wrote to his Twitter following of more than 12 million. "Am I the only one thinking that now is the time for men's and women's tennis to be united and come together as one?"
This, clearly, was not Federer thinking aloud over a bowl of cornflakes. Rafael Nadal, his great rival from Spain and fellow elder statesman of the men's tennis tour, quickly chimed in: "As you know per our discussions, I completely agree that it would be great to get out of this world crisis with the union of men's and women's tennis in one single organisation." 
Unity has long been desired in tennis. But one year on, the sport is as fractured as ever – despite the noble intentions of its two biggest male stars.
Sure, there have been more joint statements from the Association of Tennis Professionals (ATP) and the Women's Tennis Association (WTA), the governing bodies of the men's and women's games, and there has been some progress in strategic moves – the most rational of which being the WTA tour rebranding its tournament categories to duplicate the structure of the ATP's 1000, 500 and 250 events.
But a handful of tweets and statements have done little to paper over the cracks of the deep-rooted disharmony within tennis, and broken relationships have boiled to the surface like never before. 
Few sports are fractured quite as significantly as tennis. Rather than one overarching body governing the game, there are seven predominant powers: the ATP, the WTA, the four Grand Slam tournaments and the International Tennis Federation. All seven bodies have their own interests and, traditionally, communication between the groups has been – to put it mildly – far from streamlined. 
To take the most obvious recent example, during the coronavirus pandemic – a time, one would hope, where organisers would see the bigger picture and work together – the French Tennis Federation (FFT) changed the dates of the French Open, plonking its event later in the calendar without consultation, forcing other governing bodies to release statements saying they were none the wiser. Hardly the 'united' feel Federer was hoping for.
There has, at least, been some attempt to improve communication channels: the formation of the T-7 group, which has been established for the seven stakeholders to explore options for a unified calendar and shared commercial offerings, sponsorships, and TV deals. There have also been times during the pandemic where they proved they can work together. Last May, for example, the governing bodies collectively raised and distributed $6million in relief funds to support lower-level players.
In-fighting between players and tournaments, however, continues to simmer beneath the surface. Last August, Federer and Nadal's great rival Novak Djokovic stepped down as president of the ATP player council, after co-founding a tearaway player faction: the Professional Tennis Players Association (PTPA). Unhappy with prize money and the structure of ATP governance – which sees tournaments and players hold a 50% share of voting powers – the world No. 1 decided the time had come for a new body to represent the players, although only male players were on the initial invite list.
The group has failed to lure Federer, Nadal, and Andy Murray – all of whom now sit on the ATP player council, pushing for change from within rather than in an external group – and has yet to convince the wider player body to formally threaten strike action. 
Full-blown civil war never feels far away in the men's game, but there remain serious financial concerns for both tours, triggered largely by the lack of crowds. With ticket sales accounting for around 45-50% of the ATP Tour's income stream, ATP president Andrea Gaudenzi has openly admitted the organisation has lost around half its revenues. While WTA Tour chiefs have been less transparent about their finances, they are believed to have suffered even greater hits – particularly having been unable to gain access to China, where a large and cash-heavy portion of their calendar is based.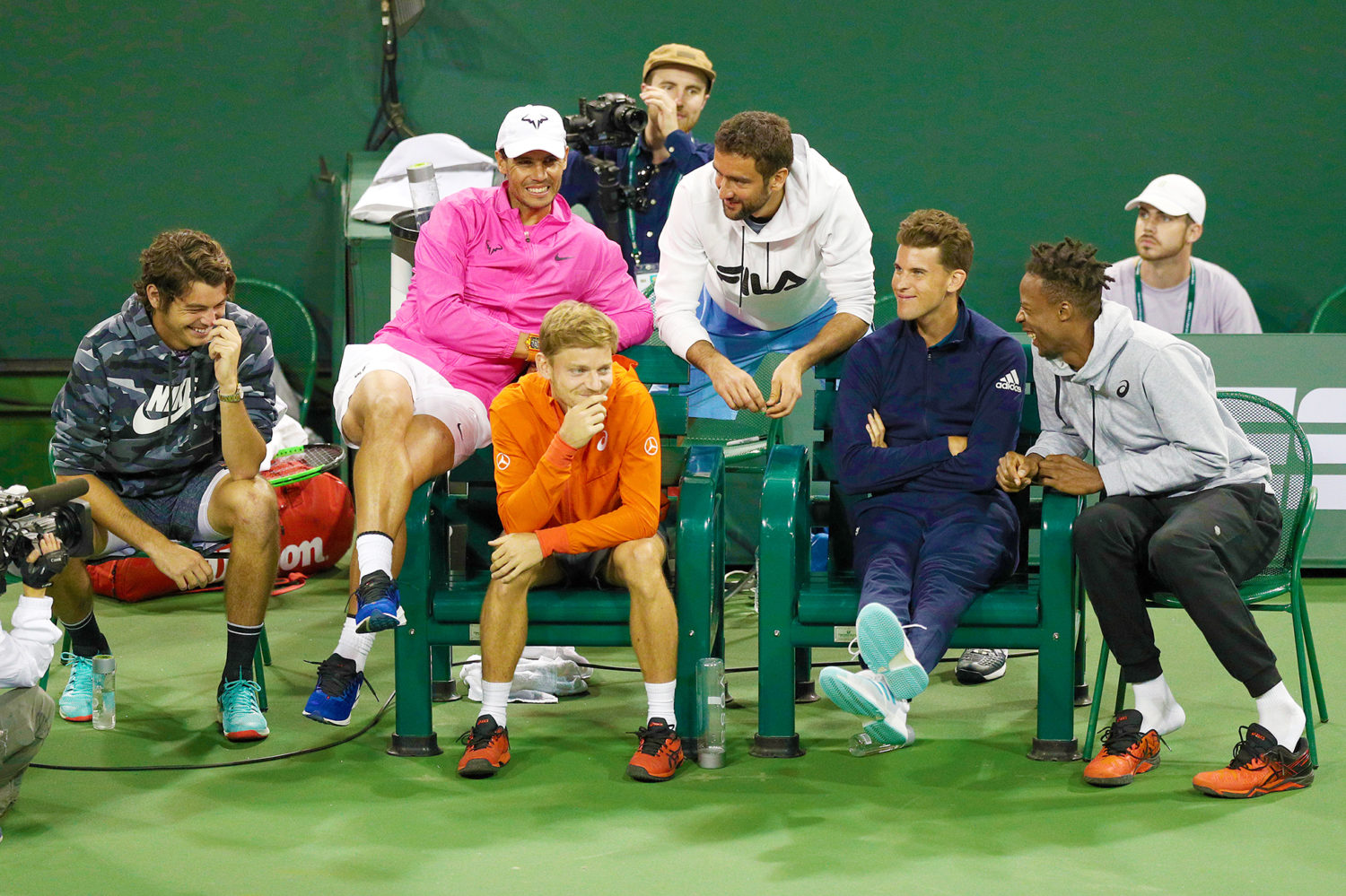 Long before the pandemic, the sport's future had been of concern for many within the game, with the end of a golden generation boasting Federer, Nadal, Djokovic, Murray, and Serena Williams on the horizon.
With an ageing fan base and more competition in the entertainment industry than ever before, is tennis doing enough to draw young supporters to the game?
"The majors will always be fine," says Mark Petchey, the well-known commentator who has previously coached Murray and Greece's Maria Sakkari. "They will always be attractive propositions, they will always be valuable commodities. 
"But the rest of the tour, definitely. Especially when you're going to see the exodus of some major stars of our game that have globally transcended tennis… we need to get ahead of the curve of what this looks like for the decade coming up. 
"If you have traditionalists always in positions of power in those seven organisations, they're going to be loath to make a change. I love the sport and I will watch it regardless of the rules, but that person is becoming another decade older and what does that leave behind? That's our challenge."
New scoring formats have been suggested as one potential avenue, with best-of-five sets tennis coming under attack in some quarters.
Two-time Wimbledon champion Murray is among those who suspects that tennis's longest format has had its day.
"When I sat and watched the match – that Nadal-del Potro [Wimbledon 2018 semi-final] match in the commentary booth – it was an amazing match, but it was really long to sit there as a spectator for the first time," he told the New York Times in 2019. "That evening I had a meeting planned and I missed my dinner. People that are sitting there during the week watching all that, I don't think you can plan to do that. A lot of people are going to be getting up and leaving the matches and not actually watching the whole thing." Djokovic is also not convinced best-of-five sets tennis has a place in the modern age, telling Tennis Channel: "This new generation of tennis fans and Millennials, they don't have a great attention span and they want things to happen very quickly… to attract more people and viewers of a younger audience we have to keep tennis matches dynamic and shorter."
Innovators have trialled new formats in a bid to speed up matches. The ATP Next Gen Finals has been using a version of the Fast4 scoring system – where sets are first to four games rather than six – while exhibition events such as the Laver Cup, the Ryder-Cup style brainchild of Federer, have swapped out third sets in best-of-three contests for match tiebreaks.
Following the lead of Twenty20 cricket in providing a shorter format to traditional test matches, Tie Break Tens was established in 2015. Largely tagging itself onto the biggest tour events, it has scrapped tennis's standard 15, 30, 40 scoring system to help new fans follow the sport easier, with the hope of providing a gateway to more traditional formats. 
But are shorter formats solving a problem that doesn't exist?
"It's a complete fallacy to say people don't have time span and focus," says Petchey. "They absolutely do but they now have the luxury of choice. When they are bored, they can go and watch something else".
"These are the old chestnuts that tennis loves to throw out. When people say let's get rid of best-of-five matches, what's your second consequence? Well, you've got very short days at majors, finishing up at 5 o'clock when people are coming home from work and want to pop out and watch these matches or watch from home and you're basically finished for the day if you go for best-of-three. You've got to be careful what you wish for. 
"You can cram a major into fewer days, but you'll lose a lot of revenue and a lot of support for grassroots tennis and the sport visually. It's very easy to toss out "these matches are too long" and, to be honest, we've got rid of best-of-five on the tour. They are only at majors and majors are completely separate entities. They are social events. They are having exponential growth because people love going to them regardless because of their history and everything else.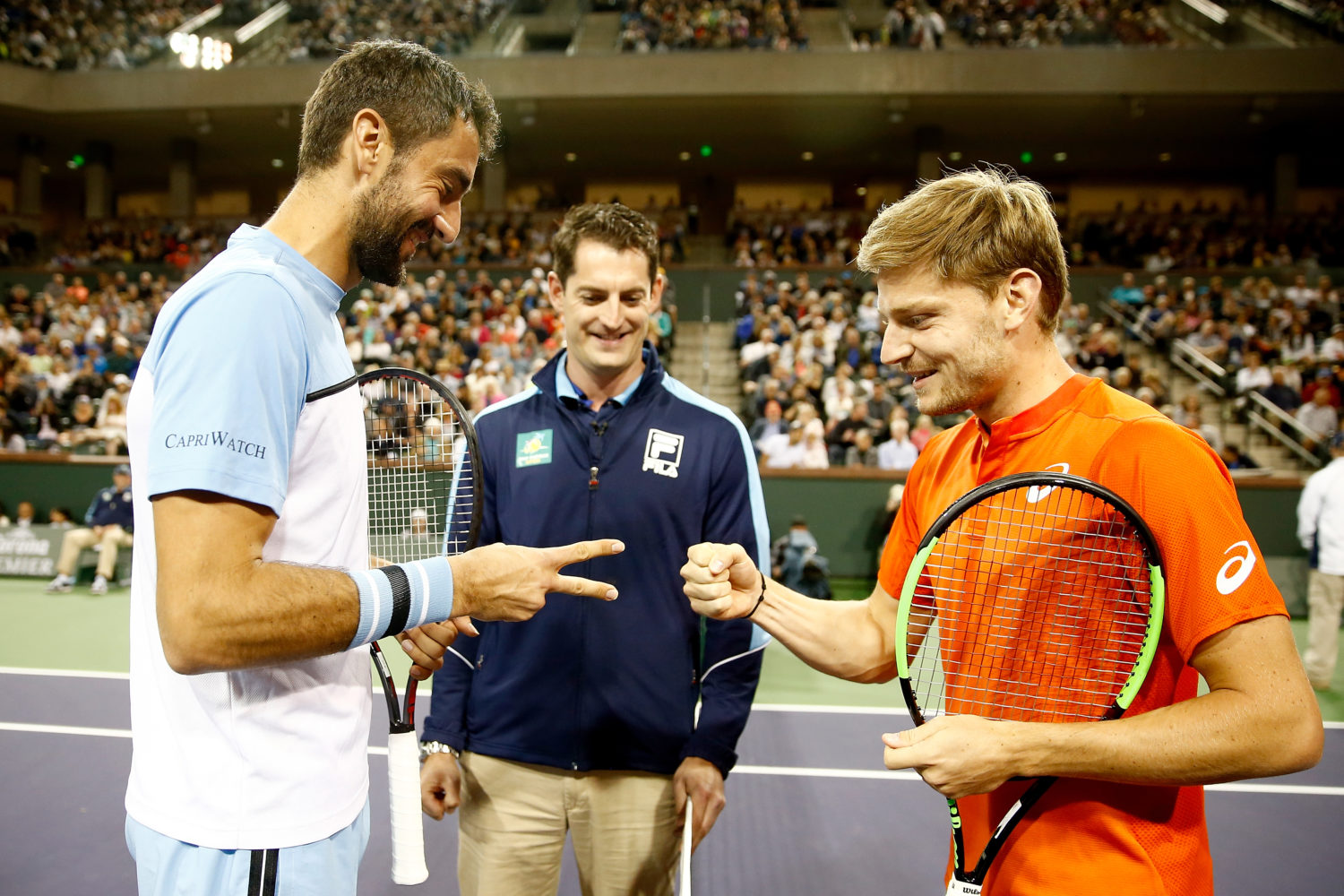 "I don't even see that as an issue. It is the most insignificant conversation that tennis has and a complete waste of hot air. It's a non-entity in terms of the growth of the sport."
Petchey is instead convinced that the pace of play is the true criminal inside the sport's walls.
"For me personally the one thing that Covid has brought into focus without crowds is how much dead time there is," he says. "Why can't we get rid of sit-downs and keep the ball in play a lot longer? If you are talking about speeding the game up, that is the number one way to go."
Petchey thinks warm-ups and changeovers should be scrapped and wants a set time between matches to be implemented. He is frustrated that an innovation designed to speed up the game, the shot clock, is actually slowing it down.
"Get rid of changeovers, get rid of warm-ups and go to a staggered time before points," he continues. "Why in men's tennis when 70% of the points are 0-4 shots do you get 25 seconds' rest? It does not make sense. 
"One thing we know the shot clock has done is slow the game down because people are looking at the clock, thinking I've got another 10 seconds, I'll take it."
Petchey proposes a system where points 0-4 shots in length would allow players only 10 seconds after, with that increasing to 15 or 20 seconds for 5-8 shots and 25 or 30 for the 9+ shot category.
"You do not want to get rid of longer points in tennis," he stresses. "Like longer matches, they're the things people remember. No one remembers the fast food, 0-4. What they remember is this incredible rally where Rafa is hitting an incredible running forehand after having been outmanoeuvred. 
"If you ruin that you're basically ruining our sport forever. I would never advocate speeding it up for the extent that players cannot play 30-shot rallies. But you have to try and figure out a way to make the ball be in play more often.
"You're asking me how we get younger people more involved, they're the people who don't watch tennis. If you give them something quicker and more punchy, you've got more chance of grabbing their attention. Those are the things tennis needs to look at."
In this regard, there are perhaps lessons that can be learnt from shorter formats. For example, the televised Tie Break Tens tournaments – which boast two-and-a-half hours of continuous play – has clearly appealed to a younger audience with DJs on court, playful fan engagement and non-stop action. Tennis Australia and Indian Wells have not only staged Tie Break Tens events to sold out stadiums as curtain raisers for their tournaments but have then seen an uplift in ticket sales beyond it. 
In partnership with Tennis SA, the first TB10 on the African continent will be staged in Cape Town on 19th December 2021, bringing short format tennis to South African tennis fans. 
Having already attracted some of the sport's biggest stars – including Murray, Djokovic, Nadal, the Williams sisters, and Maria Sharapova – could it even perhaps have the additional benefit of persuading some of them to play on beyond a time when their bodies can handle the rigours of regular tour tennis?
Whether that's wishful thinking or not, the coming years beyond the 'Big Four' and Serena Williams – where the sport transitions into life after its greatest stars of the modern age – are set to be a serious challenge. One that may well require everyone involved pulling together.
Tennis – with its lack of unity and penchant for in-fighting – is perhaps distracted from the task at hand. Despite Roger and Rafa's efforts, it will take more than a few tweets to resolve. 
Story published in Courts no. 1, summer 2021.