The Meeting of
Melle van Gemerden's Art and Tennis
Melle van Gemerden like many ex-professional tennis players has stayed in the sport. He has however separated himself from that crowd by doing something utterly unique. Alongside his status as a coach to a younger crop of Dutch players, Melle explores a world of vibrant colours – in part inspired by rebel artist David Hockney – inserting tennis courts from various angles into iconic settings with trees, hills, fields and multicolour stands, thereby ensuring a new dynamic light is brought to the art of the sport. 
These recent creations of vivacity a la Hockney, just one of his series of prints, are a welcome contribution to the worlds of both tennis and art as the two collide gloriously. Additionally, these are dreary and challenging times and he has added a refreshing splash of inspiration and made us dream of tennis set in an altogether spellbinding and strange parallel dimension. 
Art like tennis is a part of Melle's life and has been since his formative years, in which he grew up with his parents collecting artworks from the De Stijl movement and with a fascination for the surrounding neighbourhood architecture by Berlage, owing to his mother's love of art and design. He was also introduced as a child to a more physical domain and the world of tennis by his father. Now the two passions have once again come together in a natural but startling union, flourishing entwined in a symbiotic relationship of great beauty, acknowledging the common traits of a tennis court and the aforementioned artistic movement and architectural influences. Melle's wife is a freelance designer and artist, ensuring there is no doubt as to creativity being a huge part of his family's daily life. He mentions Mondrian and several others, and you can see the influence, whilst still sensing something new and fresh in his modern-made craft.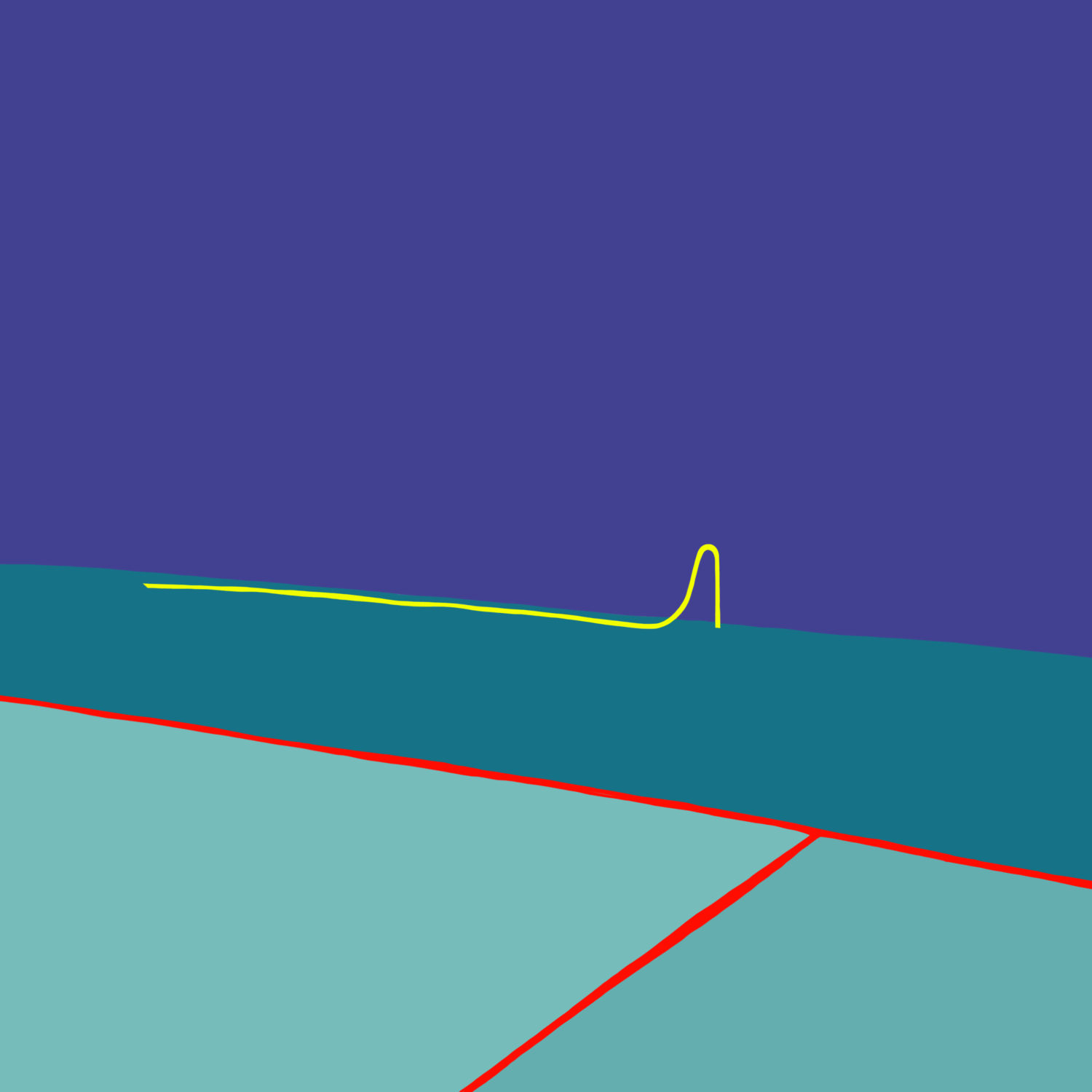 Hailing from Amsterdam, where his family resided near the museum square, and now based in Marbella, van Gemerden's promising tennis career was hampered by a back injury that led to hernia operations and eventually put his time as a professional player to bed. He had attended Grand Slams (reaching round two at Wimbledon in 2006 before injury had struck) in a playing capacity and peaked as high as 100 in the world. While he now coaches – with his transition into coaching something he attributes to his good friend Sven Groeneveld – and has a positive impact on a new generation of hopefuls, he has always had further interests than those simply within the sport. His art works are faithful to the sport, whilst introducing several other inspirations upon him, branching out as he acquires the wisdom of life, always retaining the positive and resilient notion that the best is yet to come. He enjoys coaching, stating that it is a great feeling to aid players in winning, but his craft beyond the court shows an unexpected dimension to the sport that had remained previously hidden.
Tennis is structured, has algorithms and fixed rules; art is open and provides limitless opportunity to explore. This latest Hockney-influenced series was started when the lockdown kicked in and brings a strong sense of brightening gloomy and uncertain days. Hockney's use of an iPad to make art, as well as many other tools, was an attractive proposition to van Gemerden, for whom it clicked that he as a travelling coach could work on his own new digi-scapes in between coaching sessions, matches, and in downtime for players. It was a revelation that he could make art on the go, and anywhere at all – surely the ultimate symbol of our times. Melle uses his iPhone and draws with his finger. Each image is a diary entry in Melle's life, a collection of digitally bottled memories that are building into a fascinating oeuvre of the Dutchman's work.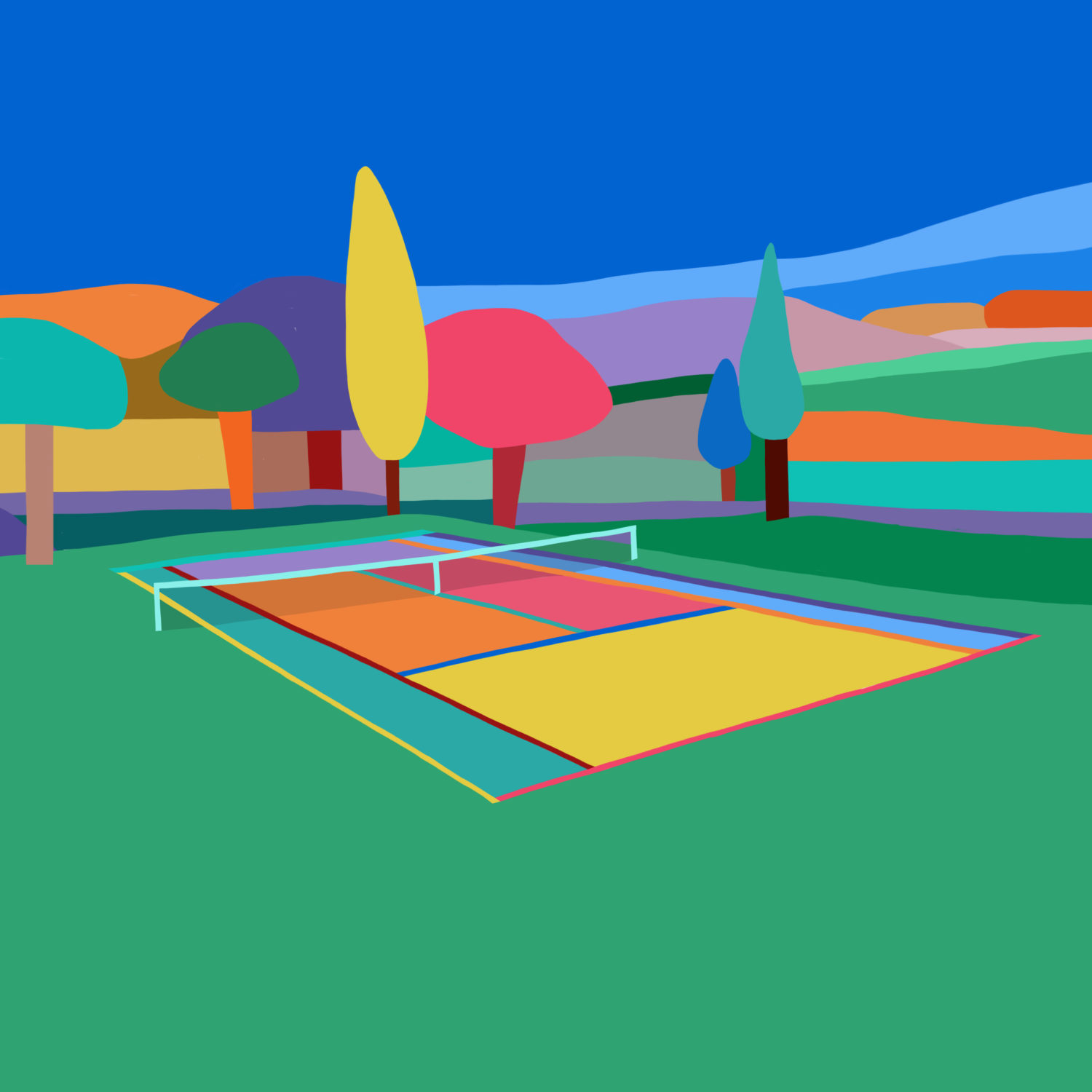 It doesn't end there, and if a tennis court can be imagined in a different way, perhaps floating in space, through a kaleidoscope of cracked magic, as the pages of a book, blossoming and ever transforming, then Melle can do it, and his numerous different series of artworks so far attests to that.
His 'Fractured' series focuses on the current state of the world and echoes with familiarity, having an immediate impact on the spectator. It almost moves before the eyes, broken shards of tennis courts representing life in an endless maze of obstacles. 
Melle is an affable man who talks freely about the two passions that he is now managing so well to combine. He possesses an excitement regarding the future and his desire to have a studio space in which to truly get his artistic hands dirty making sculptures and more traditional paintings. Melle's art is striking, full of rich and classy angles, expanding the tennis universe. His blue eyes pierce me as we discuss his work briefly, making me think he can see through me to what lies behind my own face. Those same eyes have seen and fashioned a distinctly bright world in which tennis is set in a melded half-painting and half-cartoon dreamscape, a mind-blowing modern place. Melle is passionate, motivated and everything that has come before has constructed a valiantly fashioned contemporary artist with the lessons of tennis and the accompanying hardships aiding in contributing to his expedition into the art world.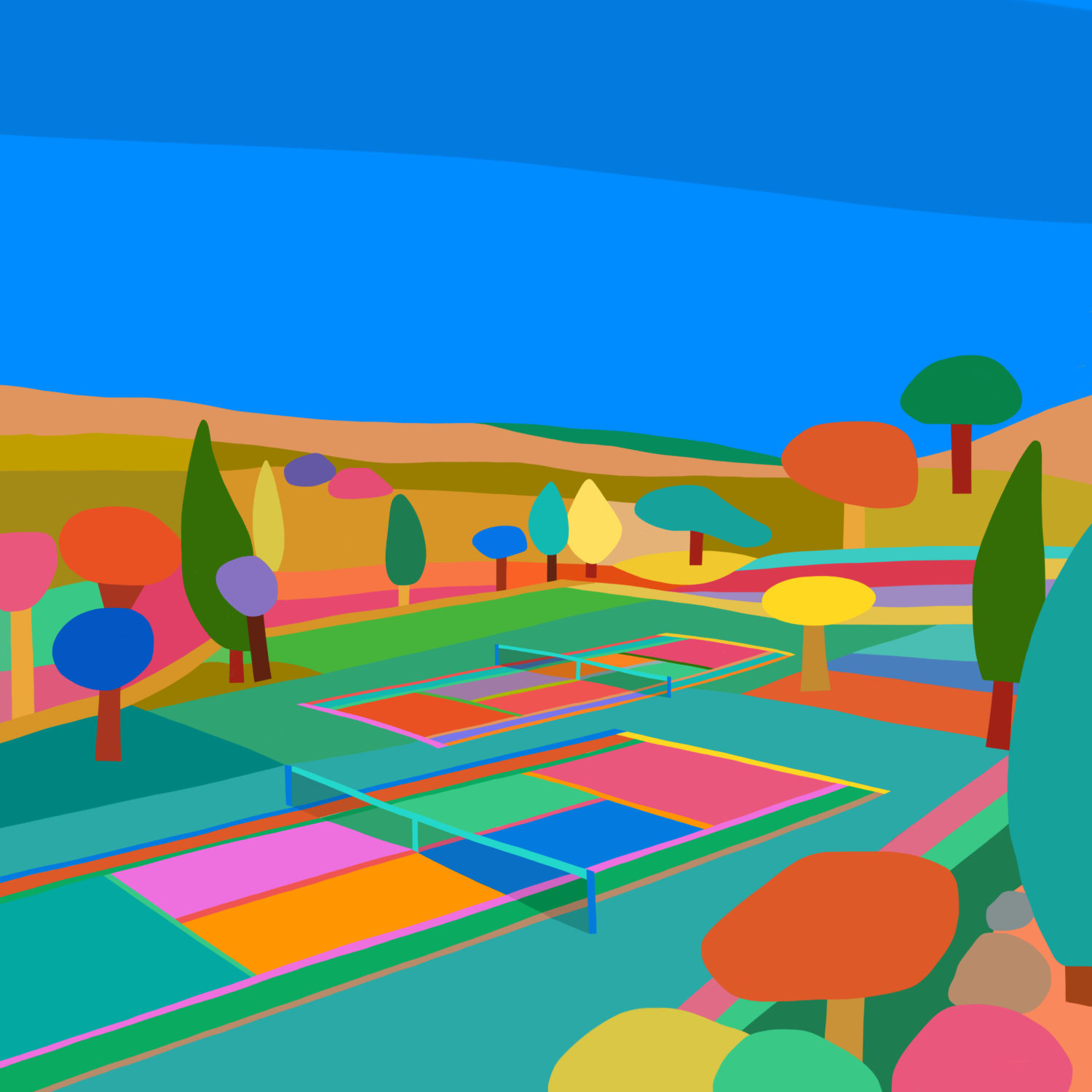 A digital painter who then sets the works using archival ink on paper at a specialist printer in nearby Málaga, Melle has amassed over one hundred pieces of his vivid art, selling some to art collectors but otherwise retaining the secret of his creative foray until now. With the 'Ode to Hockney' series, van Gemerden's work makes its exclusive premiere, reaching towards the planets of tennis and art from the very pages of their collective soul. 
For now, Melle's designs are a perfect snapshot of a time and a place, memoirs of, if you will, the tennis courts of the world in all their special glory, be they at the lower level events or the more renowned venues and stadia of tennis. The prints take him back in time to tournaments and locations, each court part of the landscape of his own personal history. You get the feeling if he captured the same court on a different day, it too would look unique again, just as the contrasting moods of a person shift as we move through life and evolve and no two days are the same for us either.
Inspired by his peers in both art and tennis, Melle drops a quote from Romanian sculptor and painter Constantin Brâncuşi that "simplicity is complexity resolved". It is incredibly succinct and is perhaps the perfect encapsulation of the Dutchman's work. Do not forget, he is just getting started! While Melle hopes the future holds further opportunities to expand into his own artistic sphere, he assures me that tennis will always be a part of his life.