Rick Macci
The Last of the Mohicans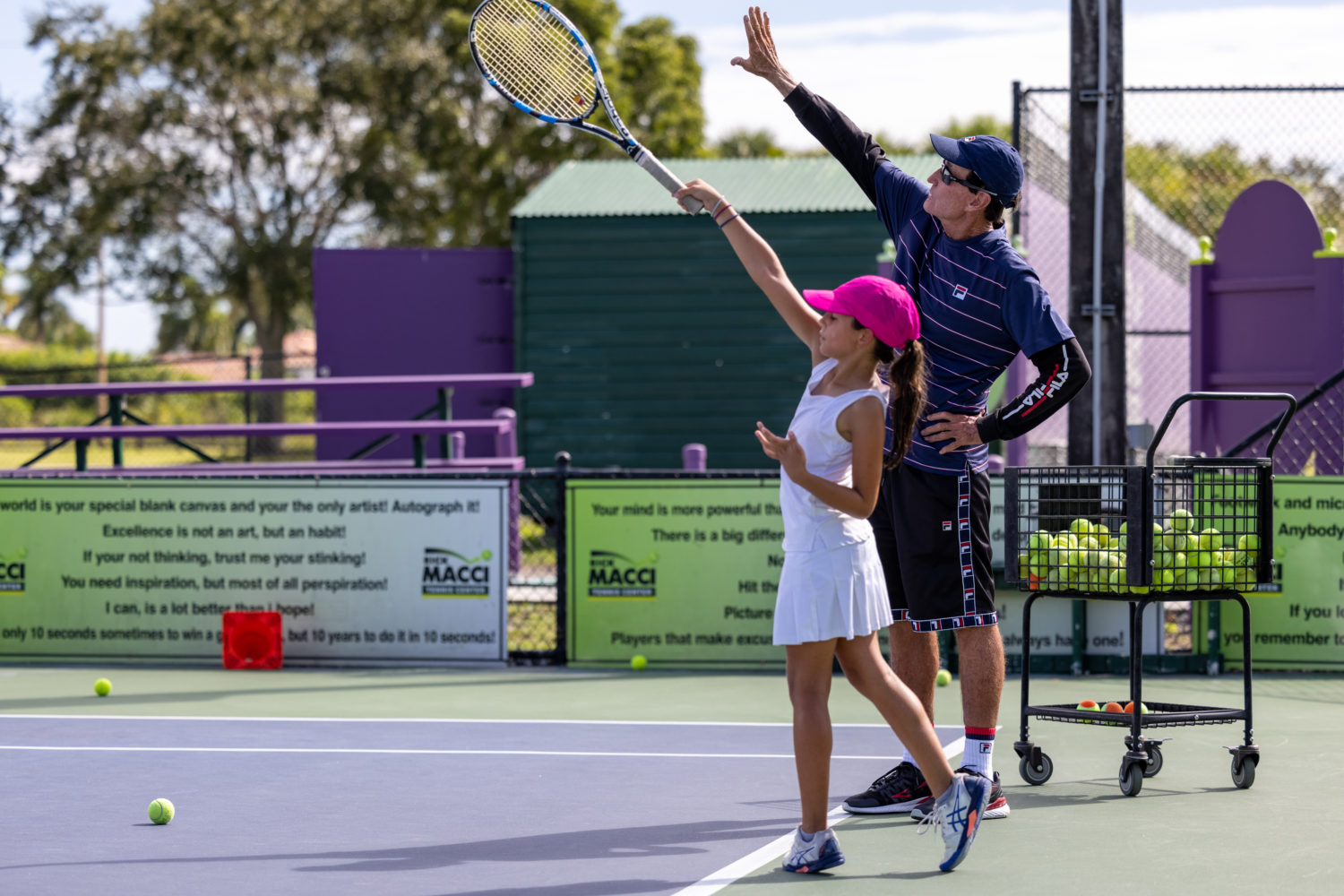 "I'm one of the last of the Mohicans," Rick Macci states matter-of-factly. "I started this in 1985. It's still going strong, and there is no billion-dollar corporation behind me," he says. "And I've had a lot of players, at a young age, you know, become real good, real quick." At 67, there is no false modesty to the Florida-based coach, but he doesn't brag, either. Sporting a white cap and a yellow top with his academy's logo, he is bursting with the energy of a man 20 years younger. His amiable face, bronzed by the years spent on Californian sun-baked courts, frequently breaks into a smile. He talks with the easy self-assuredness of someone who believes in what he does, and for good reason. In the business of creating tennis players, Rick Macci is the kingmaker. The list of tennis stars Rick had a hand in creating reads like an ensemble of a tennis-themed Avengers movie: Andy Roddick, Jennifer Capriati, Mary Pierce, Anastasia Myskina, Maria Sharapova, Sofia Kenin, and, perhaps most famously, Serena and Venus Williams.
The Rick Macci International Tennis Academy was founded in 1985, but the story of Rick's origin dates back even earlier. "I picked up a racquet when I was 12 years old. No one taught me how to play, I taught myself," Rick says. "I became really good, real quick. But by 21, I knew I wanted to get into teaching. I like to help others more than to help myself." Although tennis is undoubtedly Rick's truest love, he did flirt around in his younger days. "I played a lot of sports: football, baseball, basketball, golf, hockey," Rick enumerates. "I was very good at golf. When I was little, my parents belonged to a country club. And they were both county champions. I had, I don't know, a four or five handicap when I was 12 years old. I thought I was going to be a pro golfer. And then my dad passed away when I was around 12, and we couldn't afford to go join the country club and play golf. I fell in love with the game because it was convenient," Rick says. "I lived a half-mile from a park. And in the park, there were six tennis courts—steel net, no windscreen, the courts chipped up. I went down there, and I don't even know if I had a racquet, and I hit the ball against the wall. And what I really liked, it came back to me. I said, 'I kind of like this. I love this sound: bang, bang, bang. I just love the sound.' And it was close to my house and didn't cost anything. I would go out there for hours. This was the late 60s. What's crazy is the full circle," Rick points out with a smile. "As I sit here today, I live a half-mile from the park where I work. How crazy is that?"
After hours spent facing the wall and then honing his skills against local opposition, Rick entertained the idea of going professional, but, by his own admission, he wasn't good enough. "I just didn't have the experience in the technical part," he says. "I was winning on mental toughness, athleticism, you know, great groundstrokes, a good serve, but you need more. I love the game of tennis. I just love to be on a tennis court. I have a gift, you know, to communicate, and I love to analyse things," Rick explains. An impish smile creeps up on his face as he recounts, "Even as a kid, I would go to the movies with my friends, and we sit there, and five minutes into the movie, I'm telling them how it's going to end. No one wanted to sit with me," he laughs. "But I always wanted to figure things out. I was around Dr Jim Loehr, a pioneer in sports psychology in the early 80s," Rick continues. "I was always intrigued by that. So I have a deep, vast knowledge of cutting-edge stuff, and I always keep improving. That's the sign of a great coach: a smart coach is smart because he knows he's not that smart," Rick muses. "He keeps wanting to learn every day, you know. So yeah, I knew I wasn't going to be that good. So early on, I dove into teaching, and it's the best decision I ever made."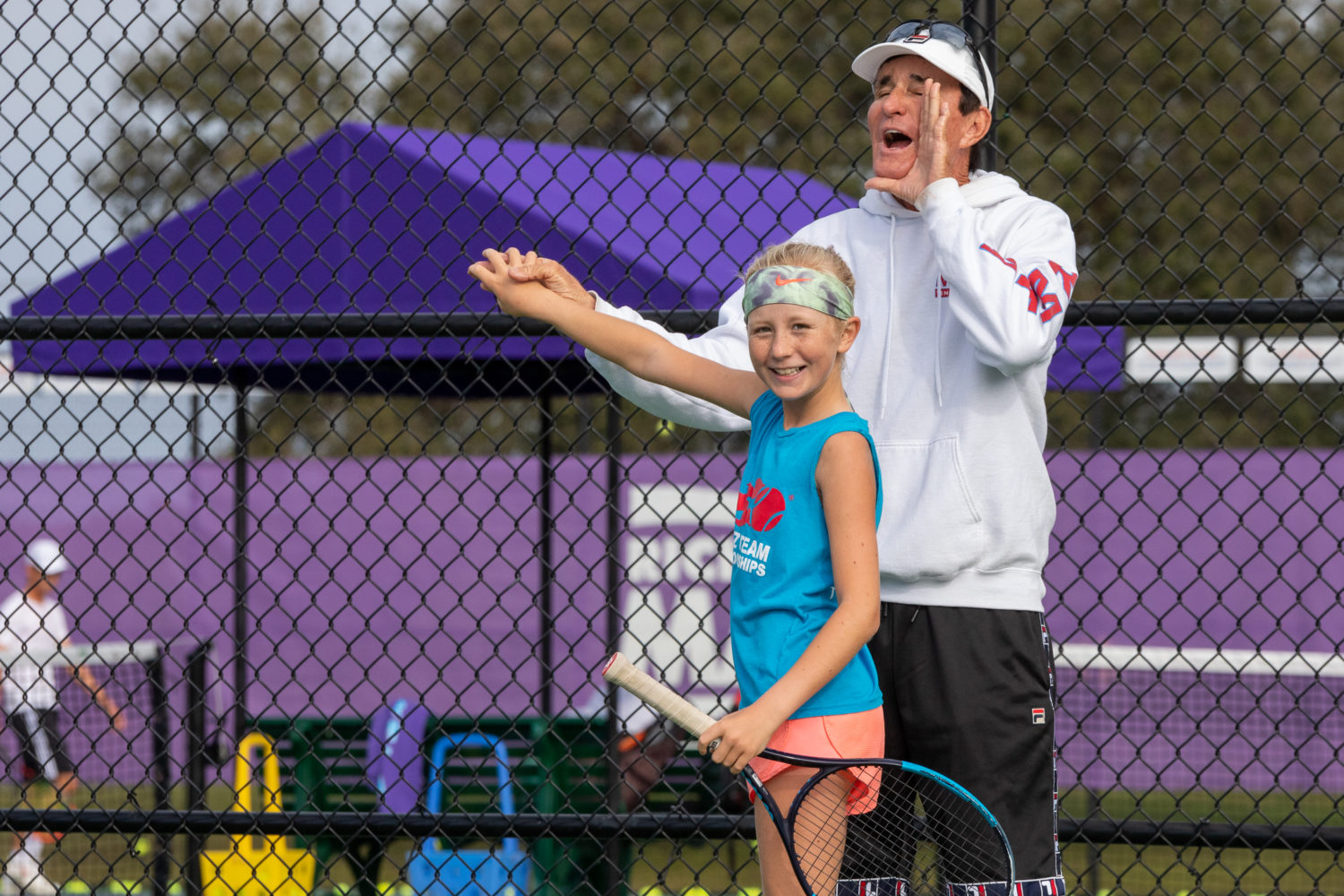 Today, the Rick Macci International Tennis Academy is a household name in the world of tennis. Located on the lush grounds of Boca Lago Country Club in Boca Raton, Florida, the academy provides the same facilities and level of involvement for all its players—be it a 12-year-old phenom or an 80-year-old enthusiast. What sets it apart from the rest of similar establishments is Rick himself. "It's a different model, but it's one that works. And the fact that my name is on the door, and I'm very much involved, is a big part of the reason why," Rick explains. "When people call, because my phone number is out there, they don't think it's me answering the phone. And they go, 'Why do you answer the phone?' Well, it rang," he laughs.
Tennis is an immensely expensive sport to play on a serious level, and the chances of making it professionally are infinitesimal. According to a report published by the International Tennis Federation in October 2019, a total of 87 million people play tennis globally. How many make a living by plying their trade on the tour? About 200 from the ATP and WTA each. I ask Rick, why would anyone even try? "Because you never know. It's a dream," is his immediate answer. "You never know where this is going to end up. You work hard, and if you have the ability and good coaching, you can get a free education, which is powerful. Then, you'll know at 17—do I go to college? Am I mature enough? Am I not? You figure it out from there, but you just never know," Rick explains. "I knew what Venus and Serena would become when they were 9 and 10. I knew what Capriati was going to be at 10. I knew what Sharapova was at 11. If someone had told me when I had Roddick, at 12, that he was going to win the US Open at 19, I would have taken that bet. There's no playbook," Rick says.
There is no playbook. But, over the years, Rick does seem to have scribbled a few lines of notes on the subject. His work at the Academy has produced an undeniable collection of talent, and while they all took different paths to success, Rick's guidance was a constant in their lives. A few years ago, a chance meeting with two tennis enthusiasts from Bahamas and Switzerland led to founding EDGE— "a tennis agency different from any other" that provides representation and support to young tennis players hoping to join the professional tour. "I get an email from this guy named Daniel-Sacha, and he wants to come and take lessons from me. He wants to learn the ATP forehand," Rick recalls. "And he goes, 'I'm going to be there eight straight days, and I want, like, over 30 hours of lessons'. And he said, 'A couple of my buddies are coming.' So they came and I worked them out. I taught them all—great time. Great bunch of guys. They saw kids playing at the Academy, some very good kids. We started talking, and I told Daniel-Sacha that one time I had a girl, and I did something with T Management, I did something with Donald Trump for four years. We stayed in contact after they left and were discussing every other day for weeks. One morning I said, 'I have this girl, I think she could become one of the best juniors in the world, but she would need help.' One thing led to another, and we ended up forming a company called EDGE. But it was on the brainstorm of Rick Macci to sign players," Rick says. "It started off with a couple of players—four or five years later, EDGE has 12 or 13 of some of the best juniors in the world. It's been a great thing for the players," he says. Rick pauses and shrugs as if to say it is what it is, the way one would describe one of the unpleasant but unavoidable realities of life. "It's a very expensive sport," he says. "You go from Florida to Australia and back—that's like 10 grand. And you might lose in the first round. So it's a very, very expensive sport to develop. And then, when you get on the tour, it's brutal, it's really tough. That's why I love my relationship with EDGE. The agency is a game changer for a lot of young talent who need an opportunity and to have a support system."
For all of Rick's natural ebullience, the role he assumes in the creation of his stars is a surprisingly behind-the-scenes one. Unlike some of his fellow high-level coaches, such as Nick Bollettieri or Patrick Mouratoglou, who seem to relish the spotlight offered by the player's box, the majority of Rick's work is done away from the crowds. "I teach about 50 hours a week—private lessons, seven days a week," Rick says. "People, often parents, who think they have the next Venus or Serena or the next Roddick, or Sharapova or Capriati—I get the great athlete, a kid with potential, and that's up to me to put Humpty Dumpty together," he explains. "But it's really anybody, anytime, anywhere—whether it be a five-year-old, someone top-20 in the world, or Sofia Kenin—I help them all." Rick pauses for a moment and a grin lights up his face. "Today, I had an 80-year-old who's 10 in the nation, and he wants to get better on his forehand. He's 80 years old!" he exclaims with a smile. "And they all come back. So I think that's telling you that you're doing something right."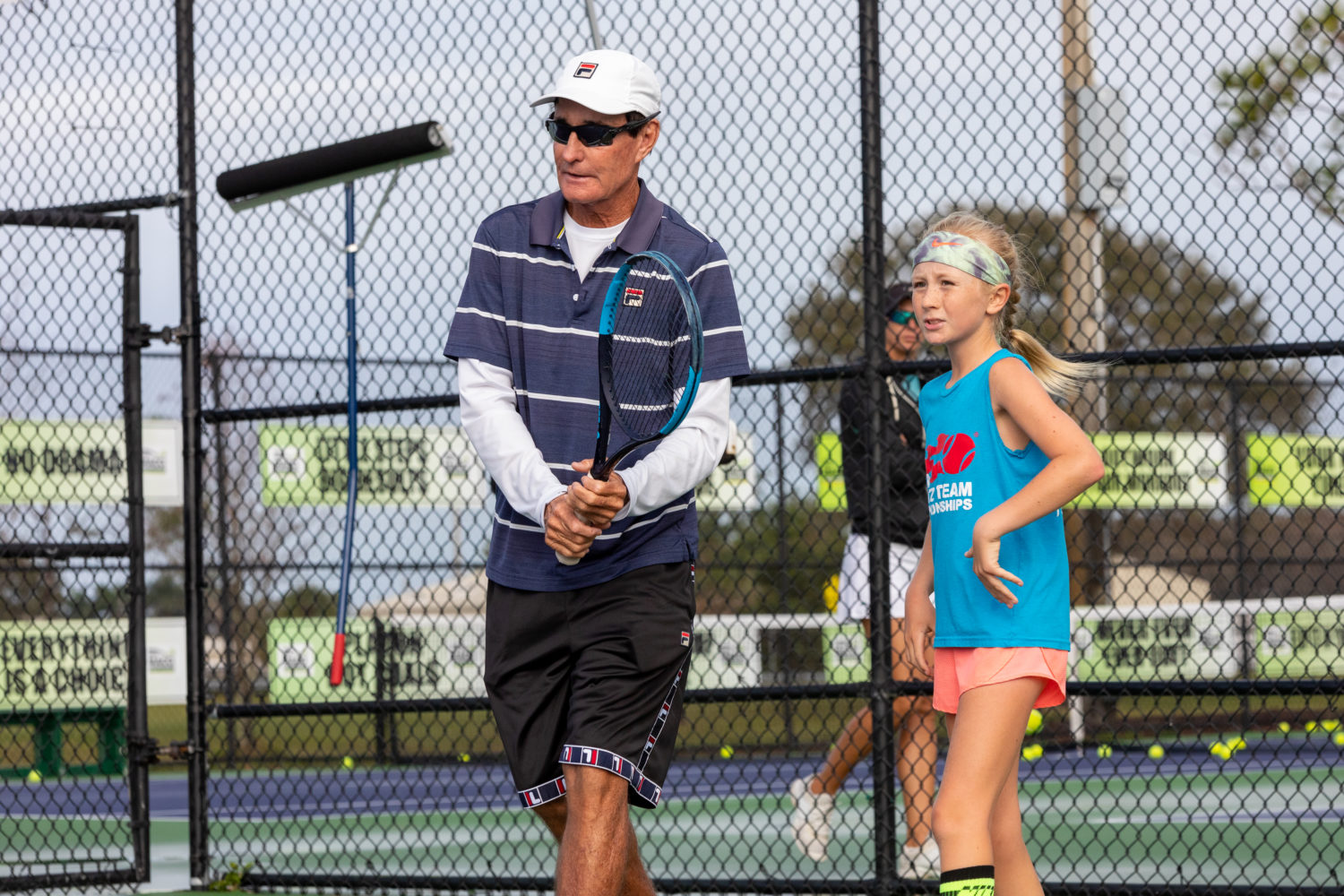 I ask Rick if he's ever been tempted to travel the tour with one of his pupils. "I've never had the desire. I bake the cake, I put it in the oven, I put the icing on it," he says. "You know, I did take Venus to make her debut. And I've had opportunities to go with people top-10 in the world," Rick explains. "But to me, that's never been real. Four bad losses, you get fired. I'd rather put it together, you know, build the house, make it amazing," he continues. "The motivation, the passion, and to extract greatness out of other people has always been my gift." Rick Macci's self-assumed role of tennis's éminence grise meant that, apart from a coterie of tennis zealots, his name had been, until recently, largely obscured from most fans. But the premiere of King Richard, a biopic about Serena and Venus Williams's spirited journey into the world of professional tennis, under the guidance of their father, Richard, has put Rick squarely in the middle of the silver screen. Despite playing a significant part in the story, Rick tells me that he wasn't involved in the making of the movie. "It surprised me," he admits. "I was surprised because I could have told so many stories, people would laugh and cry and be on their knees. I've got 100 stories to tell, all positive. And only maybe a couple were in the movie. It would have made the movie even better," he says. Rick Macci's character, portrayed by Jon Bernthal, features prominently in the story, for the most part trying to rein in Richard Williams's unfettered drive. "I spoke to Jon Bernthal a few times," Rick says. "He's got my mannerisms right, the similar profile. Other than the moustache, no one could have played me better," he laughs. "I told him, 'Your moustache looks like a shrubbery on your face. And mine was like a little piece of AstroTurf—it took me 30 years to grow it! But the movie blew me away because it showed how much I care," Rick says earnestly. "It was amazing. It was about the power of family. A lot of love. That's the way that family was. Venus and Serena are like two peas in a pod. They're still like that. But it was the power of family love, inspiration, dedication, education, perspiration, one nation, you know… It was so powerful. And people don't realise how hard these two girls work. We take that for granted. I mean, this doesn't happen. I'm not throwing magic dust. It didn't happen because of Rick Macci. That mental toughness which I saw, and that rage to get to the ball, these two little girls, when they competed, that changed it all, that was put in there from birth—I stabilised it."
The movie seems to play up the friction between Rick and Richard, with both men unwavering in their vision for the development of the girls. While Rick assures me that the on-screen drama was exaggerated and that he remains friends with Richard, it makes me wonder about navigating difficult parents in Rick's line of work. Does that happen often? "Every day, all year round, my whole life… How's that for an answer?" he quips. "Stefano Capriati, Jim Pierce… I tell people, just for putting up with Richard for four years I should be in the Hall of Fame," Rick laughs. "I not only train the kids—I train the parents. And if you're going to challenge them on every little thing…," Rick takes a beat before continuing. "Listen, if I had done that when I went to Compton, I would have never done what I did with Venus and Serena. I knew what I was getting into. But it wasn't about Richard. It was about me helping the girls. I knew what I was going to have to deal with. And if you saw the movie, I'm bulletproof. At 67 years of age, with everything I've been through, I'm bulletproof. At the end of the day, I'm just here to help the kid."
Story published in Courts no. 3, Summer 2022.