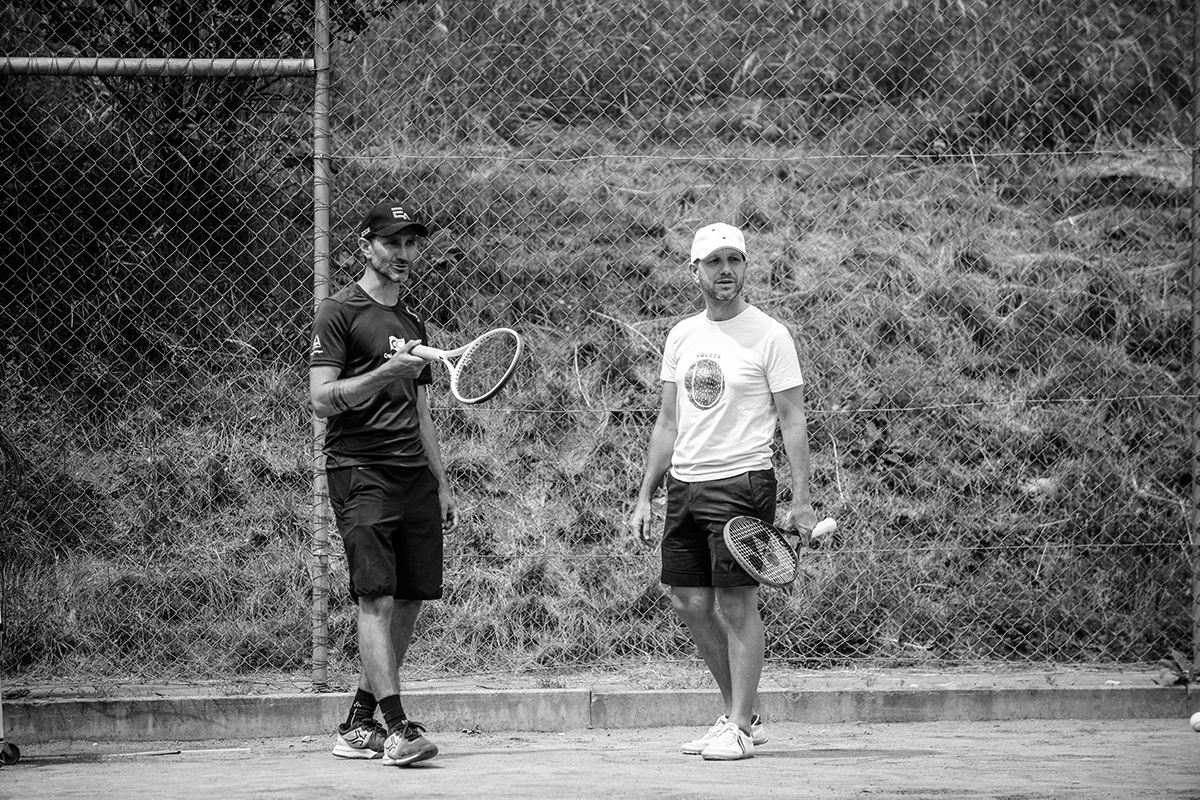 Tennis, in its essence, is a fundamentally egalitarian sport. Two players enter the court and the best of them that day wins—at least in theory. There is not much left to ambiguity. The rules of the game are clearly defined and, with the advent of line calling technology, there's not much left to interpret: the ball is either in or out, the stroke is legal or not, a player has or hasn't committed a breach of the rules of the game—such as by touching the net during play. Only when we zoom out from the micro level to the macro level, from the heat of the action to how both players earned their place in the match, is when the true realities of the game come to the fore.
The game itself is an egalitarian sport but the forces shaping a player's career, the inertia of their trajectory—or to put it simply, the route by virtue of which they were allowed to enter the court, is quite often beyond their direct control.
"Eat what you kill" is the mantra of every tennis player. If you win a match, you earn points and progress in your career. If you lose, you go home hoping for a better tomorrow. But as professionals realise at the early stages of their careers, no effort is rewarded in the same way as another. A three-set, four-hour victory in the Round of 16 at a Challenger 75 event, which earned you 16 ranking points, would have enabled you to pick up 45 points at an ATP 250 tournament. That may not seem like much of a difference, but if you're ranked 300 on the pro circuit, it means around 60 places in the ranking—and a potential place in the qualifying round of one of the year's four Grand Slams.
Tennis is an egalitarian sport. All players are afforded the same chances to become the best. But between all the equals, there are those who are a bit more equal than others. Just as in a video game, some are given the opportunity to skip a few levels and test their mettle at a higher tier of the game, where the same amount of effort may yield inordinately better results. 
An article in The Guardian from April 2021 draws an interesting parallel between Clara Tauson and Holger Rune, two Danish tennis prodigies. Despite coming from humble beginnings, and although both fly the flag for a federation with little influence on the sport, their paths couldn't be more different. "While Tauson has had to grind to the top 100, Holger Rune, 17 and ranked 323, has had the red carpet laid out for him. Since March he has received a wildcard at seven of the eight events he has played, including a main-draw wildcard at the Monte Carlo Masters. For Rune, those opportunities stem from the influence of his sponsors, agency and the prominent French academy at which he trains", continues the article.  Even without a large sponsorship base, belonging to a strong federation is an undeniable advantage. Promising players benefit from financial support, wildcards for events organised in their country and access to top coaches. In an environment where leapfrogging the professional ladder has become the norm for the sport's young elite, the absence of support from home isn't just a lack of advantage, it's often a distinct disadvantage.
I spoke to Daniel-Sacha Fradkoff, one of the masterminds behind EDGE International—along with his partners Clement Ducasse, Luca Bassi and Gabriella Ferraz—a tennis agency that represents promising young players. Courts has featured them in previous issues of the magazine to enable its readers to get a regular behind-the-scenes look at the world of tennis. The agency goes to great lengths to provide its players with the logistical, coaching and sometimes legal support they need to fight their way to the top of the game.
Most players under contract with EDGE cannot expect significant support from their respective federations. Apart from a handful of American players, the majority hail from countries such as Belarus, Slovenia, Croatia, Ukraine or Russia—all of which have limited tennis clout. How can less eminent federations develop their players? In the words of Daniel-Sacha, "If you're not a Grand Slam federation like France or a prosperous federation like Germany, the question becomes, how do you really help your players?"
EDGE believe they have found an innovative solution, as evidenced by its collaboration with Tenis Slovenija. The Slovenian tennis federation regularly produces good players in both the men's and women's categories. How does it manage to adapt to the realities of the tennis world? To find out, Courts contacted Gregor Krusic, the current Director and CEO of Tenis Slovenija. 
The federation promotes tennis in a variety of ways, including by organising a large number of tournaments. In addition, former top-100 players mentor promising teenagers. They have also built modern facilities where players can train on a variety of surfaces, both indoor and outdoor. And this year, the Fed Cup team qualified for the BJK Cup finals for the first time. Yet, despite these impressive achievements, Tenis Slovenija was looking for more expertise and resources to support its players. 
"At Tenis Slovenija," explained Gregor, "having done all the groundwork, we started focusing on top-level tennis in 2021. We did so by staging 15 professional tournaments, including a WTA 250 as well as 23 Tennis Europe and ITF events for juniors. We also began actively collaborating with our member clubs by hiring coaches specialised in developing young players. In youth competitions, we generously support budding players through the National Youth Teams Programme, which provides coaching assistance, funding for international tournaments and additional financial support for development needs."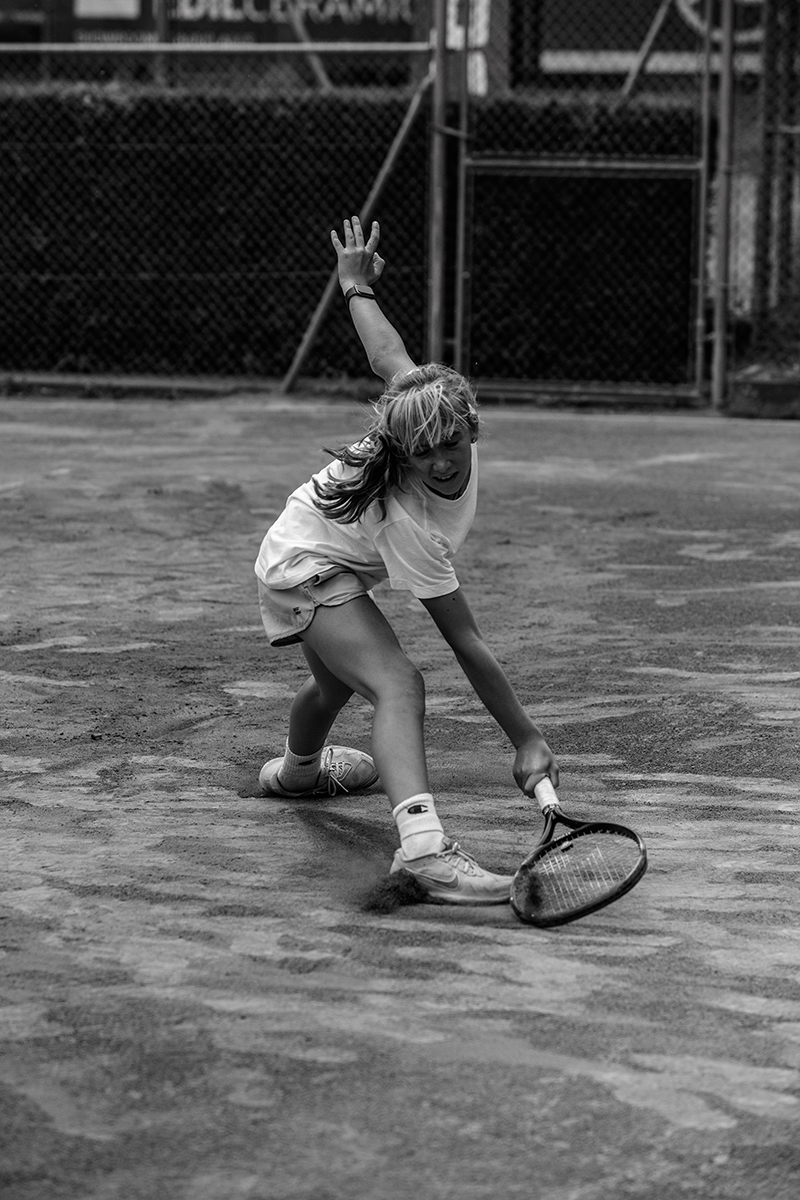 After a short pause, Gregor added that they needed to find something more specific for their top players transitioning from the junior to the professional level. "Could we set up a special form of cooperation, for instance by taking over—financially or in kind—the costs of a player's expert team, which represent a large part of a season's expenditure? Players would no longer have to meet the expenses of a head coach, assistant coach and fitness trainer, nor travel costs for tournaments or training camps. The investments would be used for other important aspects of a player's development, such as physiotherapy, psychology, nutrition and the like. We believe that all these aspects are essential to a player's development, and that it's not just hard work that leads to better results. And of course, we do our best to provide wildcards to our players, which are important opportunities/milestones in their journey."
All this explains why Tenis Slovenija has entered into a new type of partnership with EDGE. Henceforth, the two entities have been working more and more closely together with the sole aim of promoting the players they select and offering them the tools needed in today's professional tennis world. "Tenis Slovenija comes to us and says that it firmly believes in this 17-year-old boy or that 14-year-old girl", said Daniel-Sacha. "It knows the players, it knows their families and it knows how best to help them. Of course, EDGE does its own due diligence which, if successful, leads to the signing of a tripartite agreement."
In such a case, both Tenis Slovenija and EDGE commit to providing a range of services aimed at enabling the players who are selected to follow the best possible path in order to reach the pinnacle of their talent. "Although Tenis Slovenija invests money and in-kind benefits to help its players, the goal isn't to increase the federation's capital assets", he explained. "If things go well, the money it gets back is invested in other Slovenian players." 
Gregor observed that "EDGE indeed also invests money along with us, but that's not really the point nor what this is about. What they bring to the table are all those services which are normally reserved for top-10 players and that are provided by a world-class team of experts. Our Slovenian players typically benefit from statistical reports and use analytical tools that serve both to better understand the opponent's game and to identify their own strengths and weaknesses."
He then gave me another example of the services provided by EDGE: "Our players have access to Dieter Calle, the 'Belgium Wizard' in charge of racquet customisation. They then understand that even a mere tweaking can change the balance of their racquet, the resulting ball strike and, ultimately, their feel. This bespoke work isn't just a whim, nor is it simply about optimising a piece of equipment: it enables physiological and biomechanical work, which in turn identifies areas where players can improve their performance."
"In addition, EDGE regularly sends tennis specialists to observe and help our players and offer a range of services such as stringing and physiotherapy at major events. They also have access to EDGE's training facilities and experts around the world: for example in Florida with legendary coach Rick Macci; in Switzerland with a world-class fitness trainer as well as a nutritionist; or in Germany with the opportunity to take part in Bundesliga team matches, for which they receive financial compensation." 
With or without such partnerships, the objectives remain the same. A federation benefits from the success of its athletes, the sum of their players' achievement constituting their raison d'être. As soon as the agreement between the player, the federation and EDGE is signed, the latter's professionals set out to work in order to meet any ad hoc requests which that player may have. At this point, let's go back a few years in time. In November 2019, Alycia Parks—not yet part of the EDGE team—was involved in a quasi-physical altercation with her opponent during the ITF W60 Round of 16 in Las Vegas. She was initially fined at the event (as was the other girl), but then suspended by the ITF a few months after the incident had been reviewed. EDGE's legal team successfully appealed the decision to a court of arbitration in London and she was able to continue to play instead of falling in the rankings.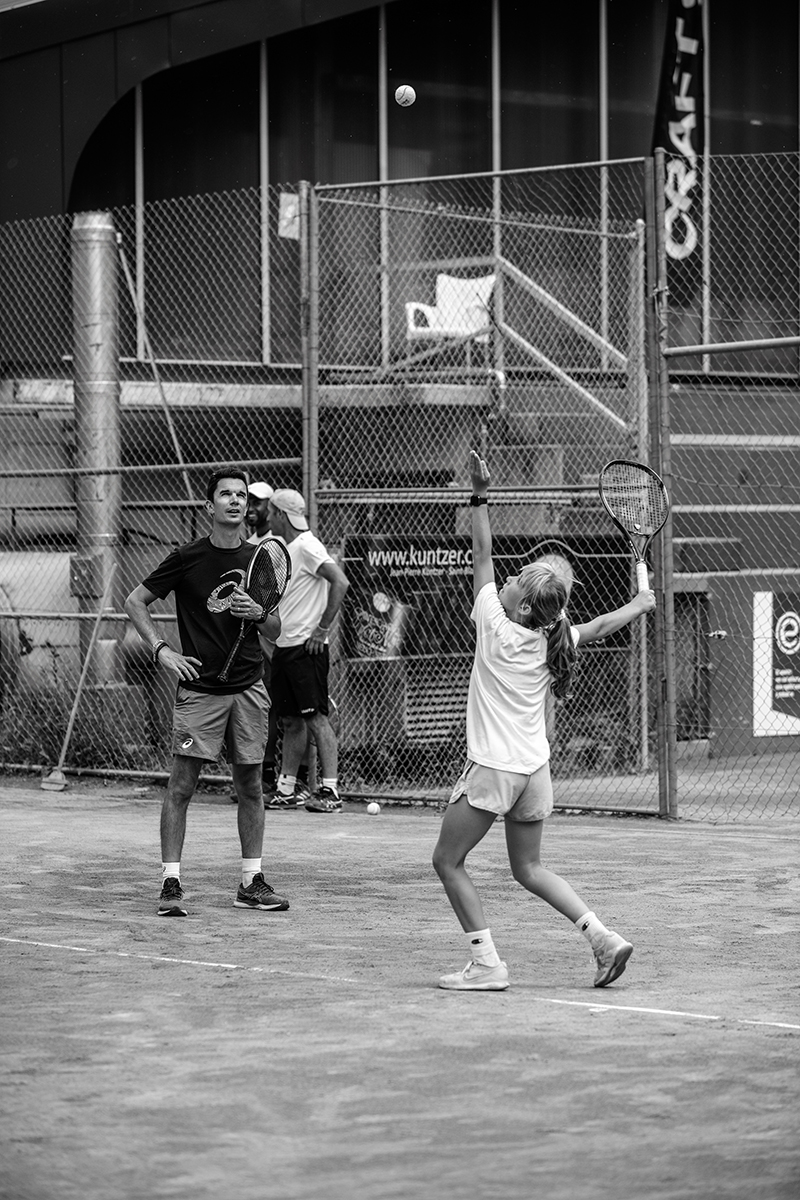 Another episode illustrates the previous remarks about the helping hand of federations. Although Parks is American—and the USTA is one of the major planets in the tennis universe—she obtained her very first WTA wildcard with EDGE's help, via a main draw in a European tournament. It was there that Parks (then ranked 300th) earned her first victory over a top-100 player, beating Anna-Lena Friedsam, prior to losing in three sets to a top 50 player. At the time of writing, Parks is ranked in the top-50 in singles and top-40 in doubles, both career highs. 
Tenis Slovenija hopes that those of its players who have signed with EDGE will enjoy the same support and follow similar paths. "When Tenis Slovenija organises tournaments in Slovenia, they help some of our players by providing them with training facilities and opportunities. At the same time, we help their players in other parts of the world, for example in Florida before the Orange Bowl. As fully-fledged partners, we really do our utmost to succeed together."
The depth of the relationship is best illustrated by Daniel-Sacha's next piece of information. "We have players from all over the world", he pointed out. "And it helps when federations send us an invitation in which they offer them the possibility of taking part in a tournament or training session in their country. The heart of the partnership is whatever one party sees it can help the other with. I'll give you another example. Slovenia stages a great tournament in Portoroz, which used to be a WTA 125. We came up with extra resources and support, and that's how it became a WTA 250 tournament last year, which is obviously interesting for all of us."
To help its players, EDGE is currently developing the network of federations with which it has entered into agreements. And that's not all. When Daniel-Sacha explained his agency's project in more detail, involving a complicated and extensive network of contacts and opportunities, it became clear to me just how much it takes to get to the top. While tennis is by its very nature an individualistic sport, it's obvious that no player can reach the top alone. 
In a 2021 Sports Interview documentary on Andrey Rublev, the Russian player revealed that he spent $600,000 a year on his team (for the record, he earned $2.1 million in prize money in 2020). This amount includes the salaries of two trainers, a physiotherapist and a fitness expert, as well as flights and accommodation for his entourage. But even in the lowest rungs of the professional tennis ladder, it takes an average of over $50,000 a year to really be able to compete. 
Professional tennis is a highly complex machine. To succeed, promising players need to surround themselves with people who are aware of how this machine actually operates: well-connected industry experts who know not only what its various gears and cogs do, but also how to make it run smoothly and ensure it doesn't break down. 
To be honest, the way most of the big traditional players in the tennis industry operate today makes me somewhat uncomfortable. It's a far cry from the situation where two players send a ball over the net and the better of the two wins. The tennis world they live in is made up of favours, back scratching, arrangements, promises and money. Lots and lots of money. 
Under the current system, organic opportunities rewarding players for their performances aren't allocated equally. When world number one Iga Swiatek broke into the top-100 rankings in 2019 by reaching the Lugano final, she did so without having received a single wildcard up to that point. By comparison, The Guardian refers in its April 2021 report to the 71 wildcards awarded to Ryan Harrison, a former American prodigy who peaked at world No 40 and is currently ranked 590th. 
Sustained professional tennis is a game within a game, which EDGE is beginning to master with great skill. Partnering with federations is just one way among others of playing this intricate game. The French, Australian and American federations are known for exchanging wildcards to give their players access to the world's major tennis tournaments, while the big tennis agencies own a number of other events. The result is a closed circuit that is difficult to break as an outsider. 
Through its partnerships, EDGE opens doors to young talents. As it expands, the network of this "invisible hand" might well overturn the current hierarchy of influence in tennis, leading to new opportunities for players hailing from second-tier countries. 
Story published in Courts no. 4, Summer 2023.