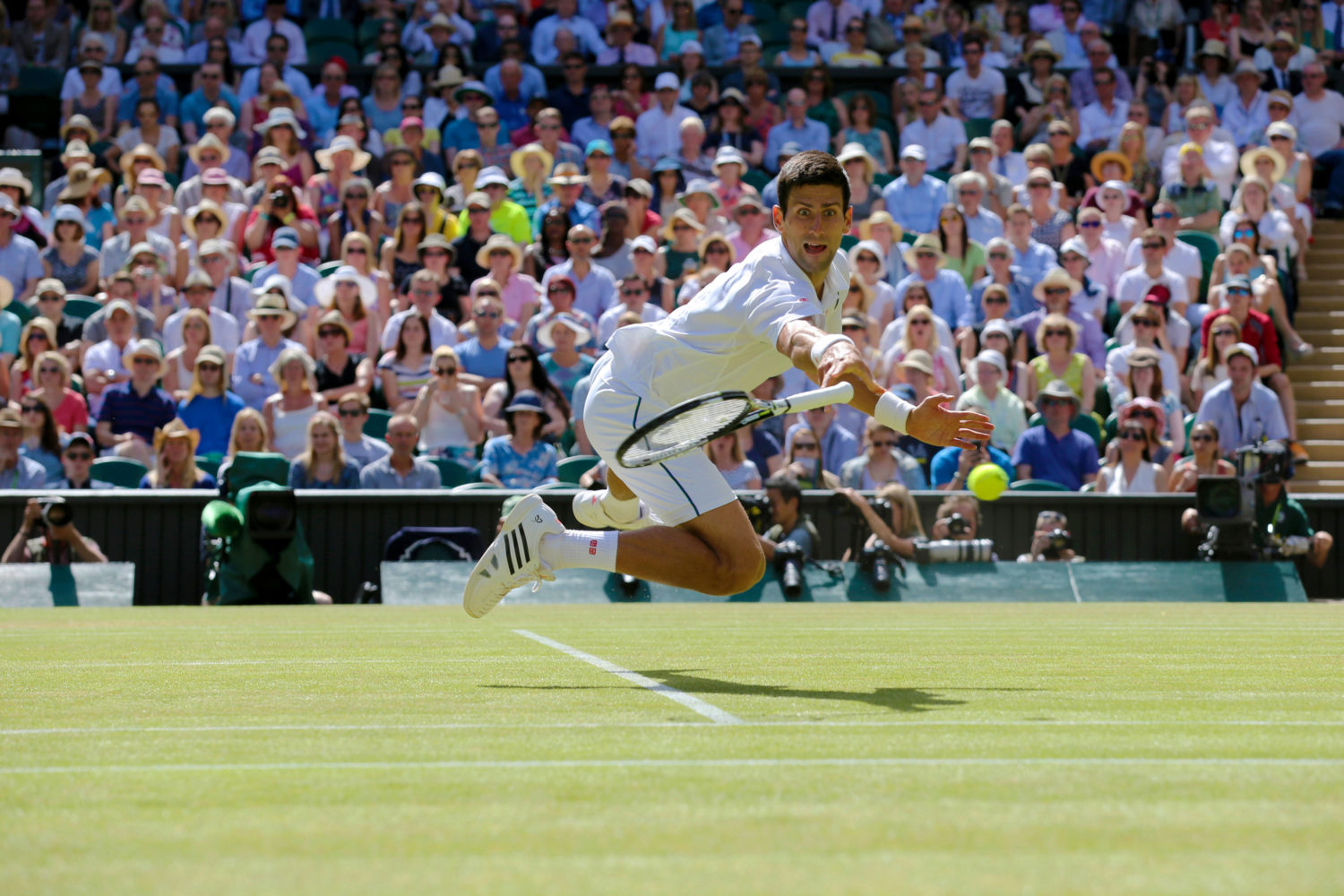 Throwing caution to the wind and defying gravity – all for a perfect volley. At Wimbledon, the dives are as delicious as the strawberries and cream. 
Stretched out on the grass, soaking in the applause of the Wimbledon faithful. Could there be a sweeter moment for a tennis player? Life and limb have been risked, the body a projectile, a summer-white rocket launched through the air and crashing down on the grass after a picture-perfect volley.
Grigor Dimitrov experienced that perfection in 2017, closing a hard-earned victory over fellow crowd pleaser Marcos Baghdatis with a diving winner that was met with rousing applause.
"It brings back good memories," Dimitrov told Courts, when asked how he lived the experience. "When you do it at Wimbledon – it's such a big venue – when you do it in such a big moment, when it happens, you really feel like one with everything, with nature, with the court, with yourself, with the racquet, with the ball, with the crowd, with the grass."
Dimitrov is a man that knows a thing or two about the time-honoured tradition of stretching out for a dive volley on Wimbledon's grass. Heck, he even does it on the clay and hard courts, if the situation calls for it.
We were curious to know how he got so good at it. What did we find? There are those who dream, and those who do. And then there is Dimitrov, who does both:
"Honestly, it's instinct," he said. "You can't really practice something like that. For me it's pure instinct, you just don't know when it's going to happen, you dream about it sometimes. I've often had interesting dreams of me finishing matches certain ways, to be completely honest. Some have happened, the way I've imagined it, so I'm incredibly grateful for that."
Not all great tennis players have the same dream. World No.1 Ash Barty is an absolute ringer on the grass. But when it comes to diving, she's not applying for the job.
"No, I don't think it's in my repertoire, I don't think I have that ability to be able to dive and actually stay in control of my body," she said, smiling, "but it is obviously a spectacle, and it's pretty cool when guys and girls can pull it off."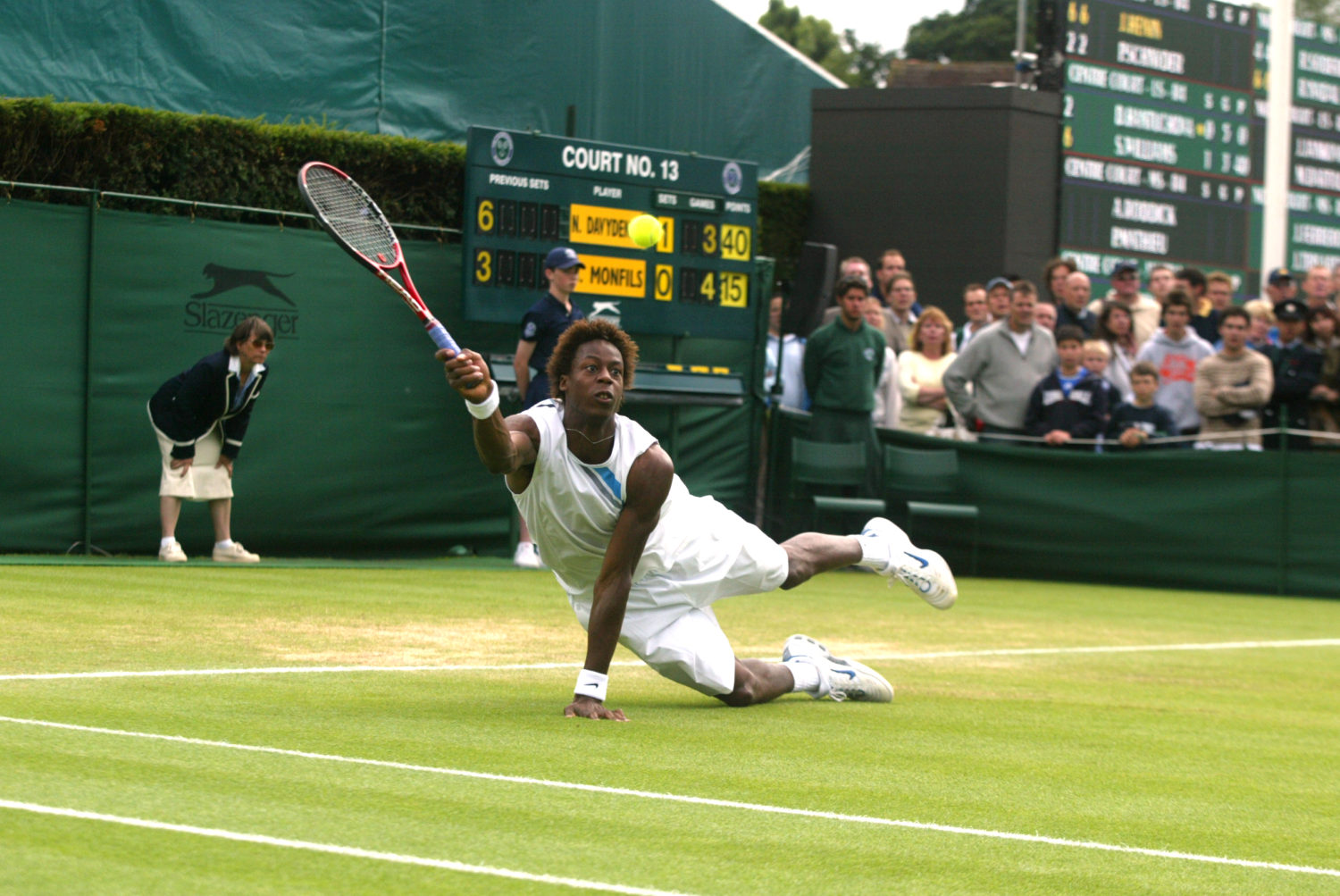 Has Barty, a tried-and-true Aussie who adores the grass, ever tried diving? It seems she was surprised we even asked.
"I can't say that I have ever… no I don't think I have."
Grace under pressure, improvisation, FLIGHT! There's so much about diving on grass that appeals to the tennis connoisseur. For that rare, precious moment, your favourite player is Superman, lunging through the air to save a point. Pure poetry.
It may seem like it is done with the crowd in mind, but the real showstoppers have only one focus: chasing that yellow tennis ball to the ends of the earth.
"I'm trying to make the point," says Dustin Brown, one of the most awe-inspiring dive volleyers in the sport today. "Zero-zero, it's probably not that important but on a break point or a set point, or an important point like that, where I really want to finish it and I need the point, I will definitely dive."
Brown executed a jaw-dropping forehand volley on set point against former champion Lleyton Hewitt at Wimbledon during a second-round win in 2013. It was a made for YouTube beauty, a pure gem, and the crowd went wild. At Wimbledon, Hewitt is revered. He's a fabulous fighter and a sporting legend. But who do you think drove the fans out of their seats on that day?
Brown told Courts that practicing judo as a youngster has actually helped his diving technique. He says he learned how to fall doing judo and that skill is one of the most important elements of a proper dive.
"That might be a reason why I land and roll off so quickly and get back up, in judo one of the first things you learn is how to fall and how to not hurt yourself while falling," he says.
Diving is one thing, but winning the point is another completely. You can get style points for the dive, but if the volley is botched, legendary status may not be achieved. Take it from Brown. "You just have to be crazy to dive, but to stick the landing – and the volley – you have to be exceptional," he says. 
"Not only concentrating on the dive and not trying to kill yourself, but also trying to put the volley where it needs to be," is the key according to the German. "If you dive and you just pop up the volley and you get hit with the next ball, that doesn't help."
And that brings us to another element of the Wimbledon dive that adds to the magnetic allure: danger! One must be fearless to dive, ready to accept the fact that you are going to get up close and personal with the fabled perennial ryegrass of the All England Tennis Club. That is not a sacrifice that all players are willing to make.
"No, I would break my bones," former Wimbledon finalist Marin Cilic says.
"I'm not gonna be diving," American giant Reilly Opelka adds. "I'm 240 pounds. Doesn't make much sense. I think it's different now. The grass isn't as soft."
Cilic and Opelka are not the only ones that shudder at the thought of taking the plunge. It may be grass, but it's not much softer than a clay court. How do you think the tennis ball bounces so high when it comes off the surface?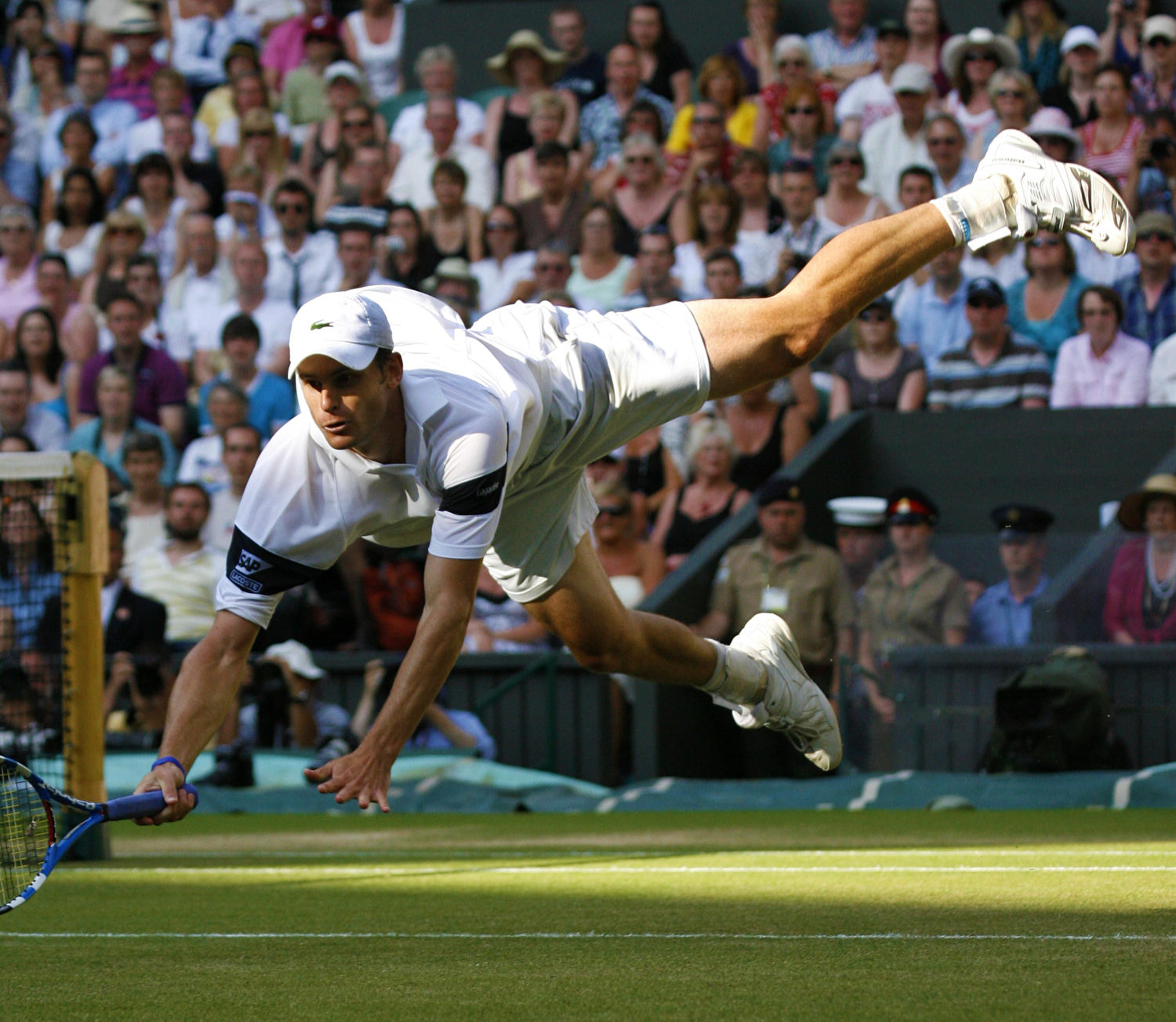 "It's still painful," Dominic Thiem says. "Not as painful as clay or hard, but the grass is not as soft as you think it is, so it's still painful, but at the same time, it's one of the most fun things to do, and whenever there is a chance to dive, I'll do it."
Thiem is one of the brave warriors that cannot resist the allure of going for it. Framing that perfect tennis moment like a picture, taking that leap of faith, letting go of the worry. In a split second the only concern is: see ball, dive for ball.
When one thinks of diving on the Wimbledon grass, legendary names come to mind. And magical moments. There are some that get burned into our memory the moment they happen. Jo-Wilfried Tsonga was a part of one a decade ago. 
Many tennis fans will remember the rambunctious points that Tsonga and Novak Djokovic played on Centre Court during their epic Wimbledon semi-final in 2011. There is a timeless photograph that captures the essence. Both Tsonga and Djokovic, exhausted, laying on the grass at the moment the point had ended. They are separated by the net, but forever linked in this photogenic nirvana.
"Today I'm not sure I will do it, that I will put myself on the floor like this," Tsonga said, a tinge of melancholy in his tone. "But anyway, in the past it was something I did a lot, it was not about doing something special, it was during the game, the ball is far, you have no more options, the ball is too far, and you have to go because you want to win the point, and that's it, and that's why I used to dive."
Thankfully, the younger generation seems intent on pushing the tradition forward. They have taken an interest in the art of the dive. Take Stefanos Tsitsipas, a young bombardier that is ready to put his life on the line at Wimbledon each year. The Greek has already developed quite a reputation of his own accord, but he respects his elders and gives props to one of the greatest to ever fly through the sky at Wimbledon.
"I've watched Boris Becker for sure, I mean who hasn't, on grass?" Tsitsipas says. "It's mandatory, if you wanted to be a tennis player."
John Isner is another player who would not dare dive on the grass, but he expresses a keen appreciation for those who create the magic as well.
"I can see those Becker highlights right now, of him diving on the court," he said, sounding more like a fan than a former semi-finalist and living Wimbledon legend. "Sampras has done it. Dustin Brown is incredible. I think it's so unique. It's really the only surface that you can pull it off on because you're going to land on a nice, soft, plush grass court. It's what makes that tournament so special. Every year you're going to get a handful of special moments with players diving."
Tsonga is also a Wimbledon legend, but he's a big fan of the dive as well. And even though he's not keen to dive so much anymore, he is confident that tennis' next generation will take good care of this fine tradition.
"Gael Monfils, Boris Becker, Dustin Brown, so many guys, Andy Roddick a few times, and many others," he said. "I'm not the first one and I will not be the last, for sure."
Pay it forward, honour the history. Long live the Wimbledon dive. 
Story published in Courts no. 1, summer 2021.