Swapping the Shoes
Andrea Gaudenzi on the many shades of his career, his life, and his vision for the future of tennis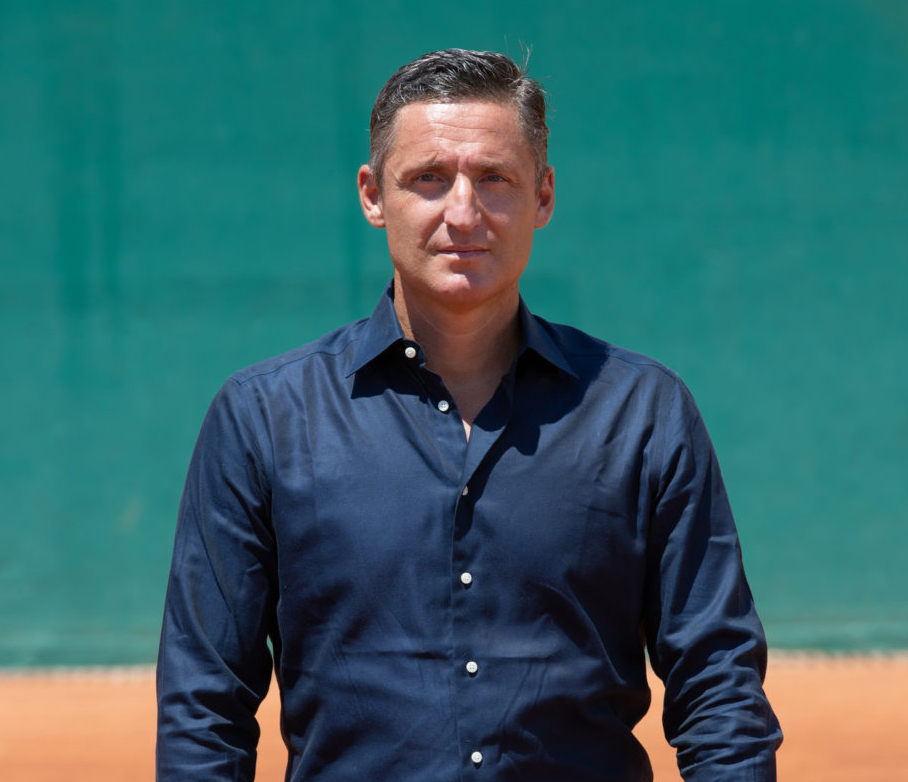 "It's an incredible emotion," Andrea Gaudenzi recalls his first ATP point. "And very hard work. I was playing five rounds of qualies and then the main draw—it's a full month of grinding. It's extremely tough but extremely rewarding," he says with a smile. 
For a political figure in the tennis world, the Executive Chairman of the ATP is surprisingly down to earth. He joins our Zoom call with apologies, in case he's late (he's not), and invites me to start firing off questions. During our chat he is relaxed and talkative, frequently flashing a handsome smile. Like most Italian exports he projects class. I mention the Globe Tennis Club, a small venue in a leafy suburb in Northwest London, which Gaudenzi was a member of for a while. On any given morning, players at the Globe could enjoy the surreal experience of having a hit next to a former world number 18. Gaudenzi is amused by the memory. "Are people still fighting over the courts?" he laughs. 
In many ways, Gaudenzi's journey from a successful junior player into professional tennis and the upper echelons of the ATP encapsulates the focus that the organisation places on developing storylines. At its very core, tennis is a simple game of trying to outhit your opponent, but as points turn into matches, matches into tournaments, and tournaments into seasons, the centre of attention shifts to the narrative and the lives it chronicles. 
Coming from a sport-minded family, Gaudenzi's first contact with tennis, and by extension, the start of his journey, happened at a young age. "I played with my dad almost every day since I was on court, probably [from] five years old. When I was three, I was playing in my courtyard against the wall," he recalls. "I was quite successful in the Juniors because I won the [Junior] French Open and the [Junior] US Open. I was number one [in Junior rankings]," Gaudenzi continues. "But [that is] no guarantee of turning pro. And I struggled a lot, the year after [graduating from] Juniors to actually win matches on the tour," he remembers. Eventually, he did start winning matches. During the 13 years on the tour, Gaudenzi reached nine singles and six doubles ATP finals, winning three and two of them respectively. His career highlights include wins over such legends of the sport as Roger Federer, Pete Sampras, and Jim Courier, and a career-best ranking of 18 in 1995. That was also the year he lost to Thomas Muster in a Monte-Carlo semifinal. "My best performance in a Masters," he smiles.
After hanging up his racquet, Gaudenzi graduated with a degree in law from the University of Bologna, before eventually obtaining a Master in Business Administration at the International University of Monaco. The seeds of that decision, owing to a deal he made with his parents, were planted quite early in his career. "My parents created the awareness that the career [of a tennis player] was short and I needed to think about [what to do] post that," he says. "I had to make a compromise with my parents and they said, 'Look, you can try for a couple of years to get to the top 100, and if you don't succeed, you have to enrol into university.'"
"I set myself a deadline," Gaudenzi recalls. "Which I, sort of, achieved because I was top 100 in 1993. But in the meantime, it made me think, 'Look, why not give a try with university anyway.' At the time, Borg, McEnroe, Becker, they were retiring around 26, 27, 28 years old. So you go into that career, maybe starting a bit earlier, like [Michael] Chang and [Boris] Becker, starting at 17-18 but you had in mind that you had 10 years—you weren't thinking about 35, 40 at the time. So my mindset was always a long term view. 'Okay, what do I do next?' And what do I do even after that? What do I do when I retire?' And I always had that sort of long term thinking. Even though I was doing well, that was my main concern."
Going from the hyper-active world of professional tennis to a more sedentary environment is never an easy change for someone accustomed to the daily routine of running until their legs burn. "One of the most difficult things in life," Gaudenzi confesses. "It was even more difficult than actually breaking through as a pro because I was prepared for that lifestyle. Since the early days, you train since you're 12-14 years old, you're ready for that life," he says. "But going from five hours of activity every day, outdoors, playing the tour, to an MBA which I did in 2003, which was basically eight hours of indoor class in a year-long programme, and then working, interacting with people via computer, email and all of that—it was a bit of a shock, mentally and physically."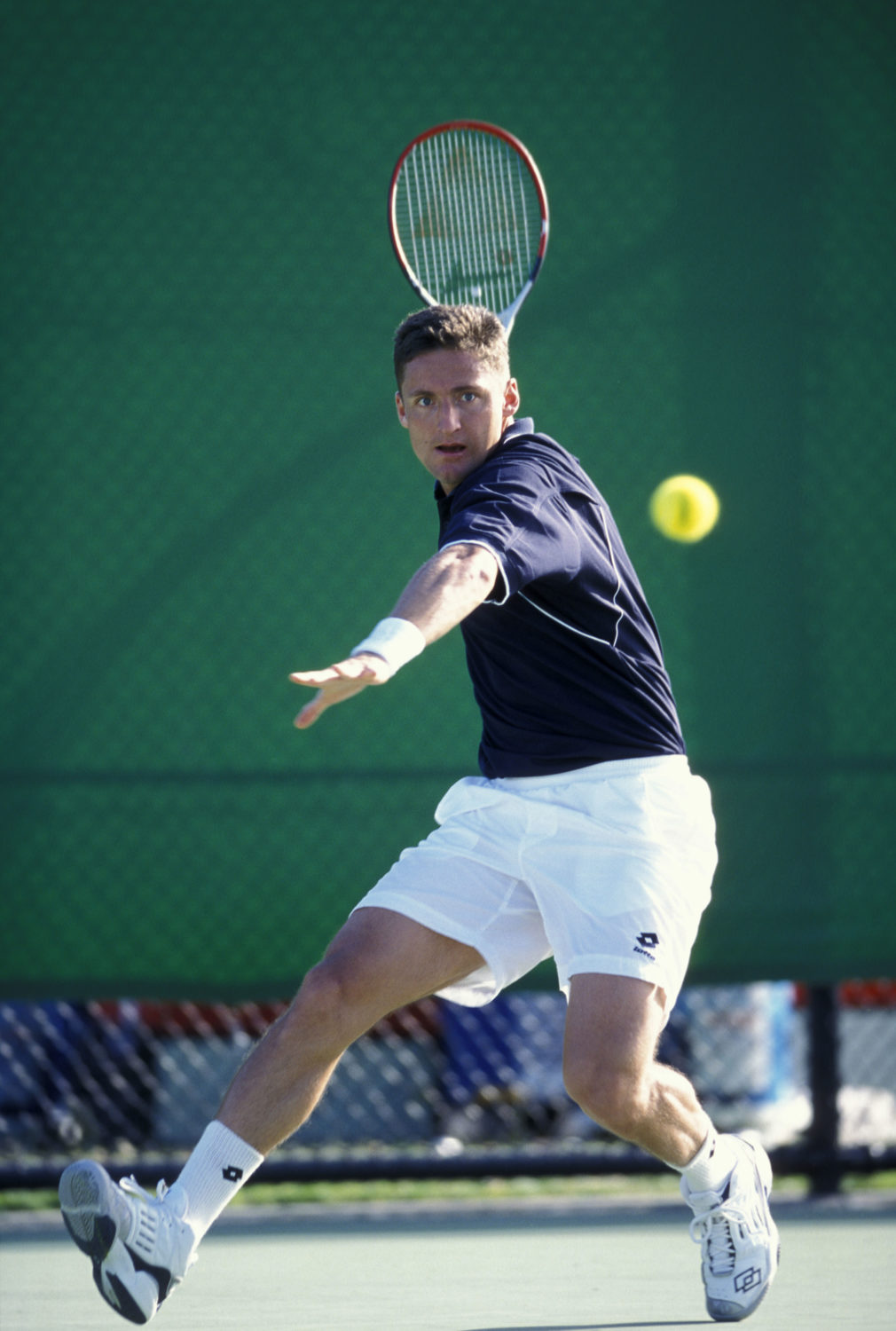 When on a tennis court, Gaudenzi exhibited all the qualities required of an elite athlete—featherlight footwork, impeccable technique, unwavering confidence in his own ability. None of which prepared him for the transition from raucous stadiums to sleek boardrooms. "You basically start from zero," he says. "So no matter what your ranking is, who you were. You are basically going back to the Futures," Gaudenzi laughs. "You're one in a million. You're actually starting 0-15 every game because people have this perception of, okay, you've been an athlete, done a good job, but you're not prepared to be here, you don't have the education and the experience," he explains.
Still, has the decade-long grind on the tennis tour helped him adjust? "Yes, absolutely," Gaudenzi answers without hesitation. "Mainly the skill set of perseverance, discipline, resilience, the fact that you set yourself a goal and you're persistent in trying to reach it. I think that's the [right] mentality. I always thought, if athletes could get an education, they would take over the business world," he says. "The problem is that what most of us, these guys, lack is the basics. Once you have that skill set, and you combine it with education, then the sky's the limit."
As the conversation shifts to the craft of hitting ball, Gaudenzi slides into his comfort zone. His position as the Executive Chairman of the ATP, overseeing the wellbeing of the sport, lends him an undeniable level of political clout, but it is clear that the game itself remains his passion. From his debut in 1990 to his retirement in 2003, he had a first-row view of the dusk of one tennis era and the dawn of another. I ask Gaudenzi whether tennis has changed much in the last 30 years. "A lot of people tell me, 'You see how different they [players] are? And I keep saying, I'm not sure," he says with a doubtful smile. "Until five, six years ago, many of the guys that were on tour also played in my generation. You know, even David Ferrer [only] just retired a few years ago. I played him three, four times. So I don't think there has been a fundamental change in the game. Not, at least, as much as there was from the 80s to the 90s."
Gaudenzi relaxes into a measured tone of somewhere between a former player and a custodian of the sport. "From the 80s to the 90s, there was a shift in, first of all, equipment. You moved to different racquets. But also in the professionality of the players," he explains. "I think in the 90s, starting probably with [Björn] Borg and [Ivan] Lendl, the players became really professional. I'm not saying that the previous generation, [Guillermo] Villas and [Adriano] Panatta and Illie [Năstase], were not professional. It was just a different mindset. So it became also [about the] medical, science, training—it was more of a [change in] scientific preparation," he says. "I think we were one of the first generations to apply that with Thomas Muster, Ivan Lendl and all these guys. With the evolution of physical preparation, I think, tennis players became real athletes during the 90s. But what has mostly changed in the last 20 years, in my personal opinion, obviously it's subjective and debatable, is that science and [injury] prevention got a lot better so that's the reason players' longevity has changed. There is less injury, they're better at preventing it, they're more careful about nutrition, about all the details to do with taking care of your body. That's the main change. The second change is more similarity across the surfaces. The difference between clay, hard court, the indoor courts, when we were playing, was massive. Now, which I think is a positive factor, you've got Roger [Federer], Rafa [Nadal], Novak [Djokovic], and Andy [Murray] being able to play and win on all the surfaces. Obviously, Rafa has won 13 slams on clay but he also won six on hard courts. At the time, when we were playing, there was more of a set cohort of players playing mainly on slow clay courts, and then you had the fast court big servers—[Richard] Krajíček, [Goran] Ivanišević, [Pete] Sampras. Because the balls were fast, the court was fast, there were almost, I'm not saying two different games, but let's say that a clay court player would struggle [on hard courts] and a non-clay court player would struggle on clay because the difference was too great," Gaudenzi explains. "That, in my opinion, has also changed the way the players play. I mean, you definitely see less serve and volley now. You don't see many [players] of the Edberg and Rafter style. It's more unified. The courts are average-medium speed, which I think is good for the game." From a personal point of view, he adds "For example, I used to be a clay-court player. Clay, in general, makes for a minority of the points on the tour. I mean, it used to be more, back in the days, but you were limited. If you were playing well on hard courts, you had more chances—70% of the [ATP] points were on hard courts. So, I think it's giving the chance to every player regardless of the [preferred] surface. I still would keep the differences, their value—clay, grass, and hard court—but no massive difference in the style required [to compete]. Because the fans want to see the same set of players competing for the top events, and for everybody to have a chance," Gaudenzi says.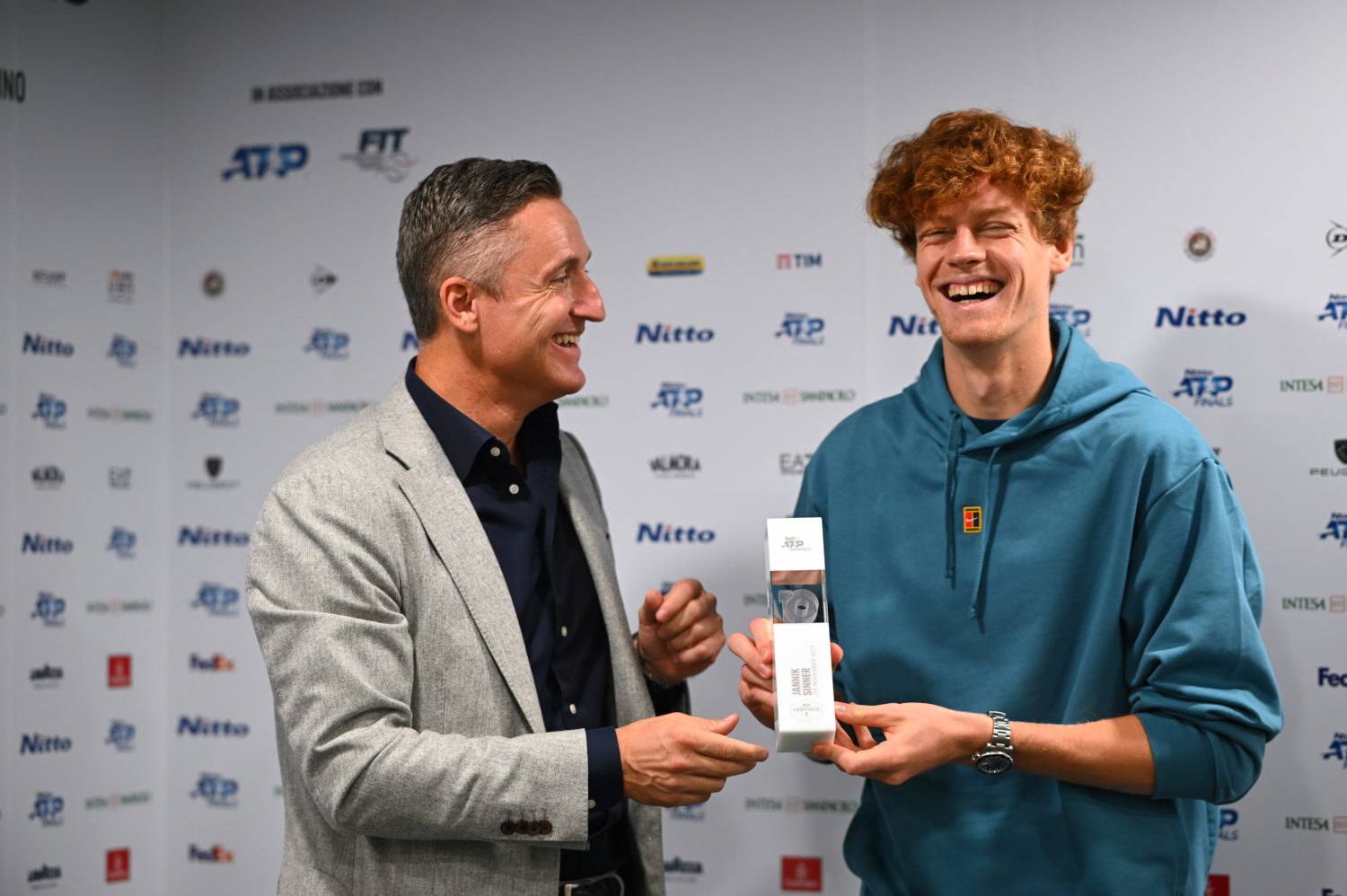 Gaudenzi's wealth of experience with high-level tennis and business start-ups meant that when the ATP were looking to appoint a new chairman, his name made it on the shortlist. In October 2019, they announced that he would serve as the next Executive Chairman on a four-year term. At the time, Gaudenzi called it a "true honour". Right from the start, Gaudenzi's focus was set on "getting the house in order" and aligning the interests between players and tournaments. "That's step one," he says. In September 2021, the ATP announced an update to the Strategic Plan, an outline of their vision for the future of the sport, at the time 18 months in the works. Some of the key aspects included an increased focus on fan engagement, calendar scheduling, and content distribution—all designed around improving access for the fans. "Part of the plan is to try and provide a simpler narrative and a simpler story," Gaudenzi explains. "Ultimately, what the fans want to see is the top players competing in the top events around the world. And so we need to build a story around those main events," he says. "The other tournaments are still very important, and they are relevant," he adds. "But I think we need to try to simplify the narrative, making it a little bit easier for the fans."
Gaudenzi pinpoints digital distribution as another area with potential for improvement. "The fact that we go to the market selling our rights separately creates a problem where you might have women's tennis in one place and two Slams in another and the Masters in yet another," Gaudenzi says. "It's complicated at the moment and that, for me, creates a barrier that pushes the fans away. You don't have a 'house of tennis', sort of destination, where you could say, 'Okay, I love this [sport]. I want to watch it now, how much do I pay?',» he continues. «In some markets, the broadcasters have done the job of aggregation. But it's random and decided by the broadcaster and not led by tennis. That's where I think we can do a much better job."
The problem points to a bigger issue, one that Gaudenzi believes to be a threat to the future of the sport. «Our own, let's say, fragmentation and complexity in coming to a decision but somehow in aligned governance [is a problem]," he says. "Our fragmentation between ATP, WTA, the four Slams, and ITF, I think, is potentially the biggest threat. "Every discussion you have is always isolated in different silos, and you never come to a forum. It's also difficult because it should be data-driven—it cannot just be the opinion of the people around the table," Gaudenzi says. "Ultimately, every entertainment product needs to evolve over time. And without the ability of evolution and innovation, you risk falling behind. That's why we have created the T7 working group, as we call it," he says. «We are already working a lot closer with WTA, and we have a much closer relationship to the four Grand Slams and the ITF," Gaudenzi explains. "We started the discussion, I think, two years ago, and it's progressing, but it's challenging at the same time."
Nevertheless, Gaudenzi remains upbeat. He believes that the organisation is in the right place to think positively about the future, which, according to him, will be teeming with demand for premium content. «There's going to be massive competition between the tech, media, digital platforms for this premium content,» Gaudenzi says. «I think the future will be extremely bright, but also extremely competitive. Our inability to adapt and make decisions due to our structure could be the only reason why we, it wouldn't be fair to say we fail, but we lose market share or we lose share of voice or attention share,» he warns nonetheless.
On the subject of capturing the viewers' attention, I mention some of the game's personalities, such as Novak Djokovic or Patrick Mouratoglou, who have recently expressed their concerns regarding the average age of a tennis fan. Is this something that worries Gaudenzi? «Generally, I think it's an issue for every sport,» he says. «Obviously it varies, but we need to be mindful that we are targeting a 35-40 plus audience in terms of core fans. It's difficult nowadays, to engage the 13 to 25 cohort. They live on TikTok, Instagram, different platforms with short-form video. Their attention span is a lot shorter than people going into the second stage of life,» he explains. Gaudenzi believes that his view on the issue differs from the commonly-held belief. "Everybody focuses on Gen Z and we need to be there, I fully agree," he says. "We need to create awareness very early, but what we need is to be able to engage the people that will be 35 years old in 10 years' time. Because these people are native millennials, they will behave differently from how we behave. And I still think we will always be a 35-40 plus [fanbase], but the 35-40 plus will be different—the 20-year-olds will behave differently, the technology will be different, our life will be different," Gaudenzi continues. "I don't think you will ever get through to the majority of the fans in the 13-25 cohort. I think you need to prepare them for what's coming [in order] to get their engagement."
As the conversation winds down, I reflect on the man in front of me. Inhabiting a space in between the worlds of sport and business, Andrea Gaudenzi has shed the professional insecurities of his post-playing career. Speaking eloquently and with confidence, he no longer starts games from 0-15. "I hope that I can inspire the future leadership, and other entities of this sport, to actually say, 'look ahead of you'," he says. "That's where we need to focus. We need to be mindful of the speed of change around us. It's what, I think, is lacking in our sport." 
Article publié dans COURTS n° 12, printemps 2022.