Stefan 
The Classy Gentleman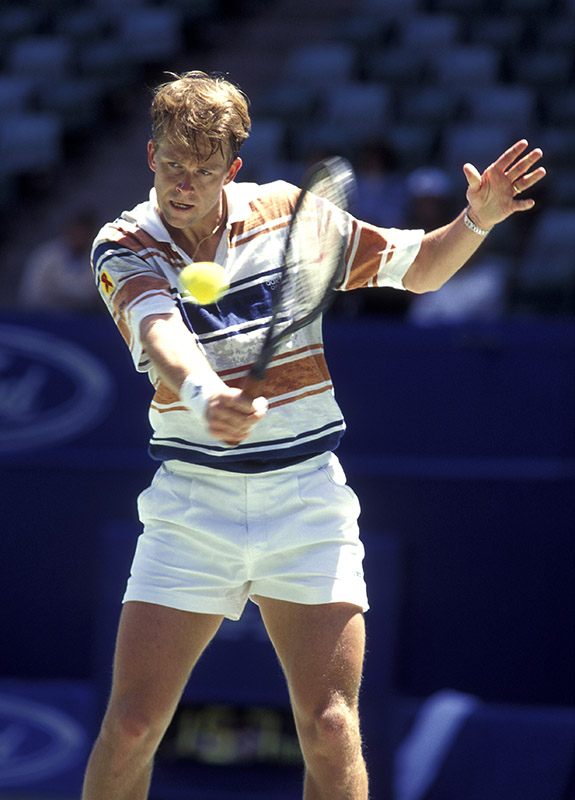 Calm, controlled, measured. Blond hair, blue eyes, permanently bronzed skin. Likeable, understated, courteous. An unassuming Swede with a quiet charm and perfect English. Always with Adidas and Wilson even today-a sponsor's dream. The perfect foil to his nemesis Boris Becker. Mothers and grandmothers loved him. A "gentleman player."
But underneath all that was in fact a tennis player of quite remarkable tactical aggression. He didn't play tennis by trying to win a baseline war of attrition like other Swedish players such as Björn Borg and Mats Wilander, the defensive kings, the counter-punchers. 
No, Edberg was the prince of offensive tennis. A serve and volley maestro. A fast-court fast finisher. That huge kicking serve of his devised purposefully to draw a short or high return from his opponent so that he could spring into action with a first, surgical volley. And then there was that single-handed backhand. It was a thing of such fluid beauty, with which he could either goad an opponent with slice or laser the ball with topspin. Playing Edberg was much like playing John McEnroe: death by one thousand cuts. No vulgar hammer blows but the opponent covered in his own blood. 
In some ways, he was therefore not a gentleman player at all. Edberg killed off opponents with quick points, making adversaries look slow, out of position and vulnerable. That knee-bent, clenched-fist celebration he broke into was a smack in the face to the guy on the other side of the net. It wasn't intended to be of course, but it was. We saw it many times on his way to a track-record that includes 41 singles titles with 6 Grand Slams and 4 Davis Cup wins for Sweden. He was World Number 1. In total he won 3 of every 4 singles matches he played. 
Then fast forward twenty years from his quiet retirement in Sweden where he became a seriously good squash player. In 2014, in what was yet another stroke of genius by the other "gentleman player" Roger Federer, Edberg's services were called on to help him develop a more aggressive game with shorter points as Roger entered his thirties. Watching them hit together, swinging their Wilsons on the practice courts of Indian Wells, is the best twenty minutes you'll ever spend on YouTube. It is the epitome of "classy tennis". The rhythm with which they hit the ball together is mesmerizing and metronomic. And remember, Federer is practicing with his boyhood idol who had become his coach-the stuff of Roger's childhood dreams no doubt. 
It was in their time together that Federer made some changes to his game. He introduced us to the "SABR", the "Sneak Attack By Roger" when he suddenly advances to the service line for a snatched return of his opponent's serve. It was an all-new tennis stroke. Others have since copied it but never with the same panache or effectiveness.
More significantly though, it was also in their time together that Federer switched to playing with a new racket. Both men had learned their craft using Wilson Pro Staff rackets with small 85 and 90 square inch head sizes, and both men had found high-bouncing clay courts the most challenging surface (Edberg, like Sampras who used the same racket, never won Roland Garros). Under Edberg's stewardship, however, Roger helped develop Wilson's Pro Staff lineage by specifying a more modern 97 square inch head size for his new signature racket. His switch to what became known as the Wilson Pro Staff RF97 Autograph had the tennis world chattering and it is already in the bracket of iconic tennis rackets. The quiet Swede's hidden influence was visible for us all to see as Roger was then able to ramp up his own brand of aggressive tennis, rejuvenated and with an improved, even more reliable backhand for good measure. 
When the Edberg/Federer coaching relationship came to an elegant end in 2015, having accomplished what he set out to do, the Swede returned to the place where he seems most comfortable, out of plain sight. No cameras, no fanfare, just the occasional appearance here and there. How very "Edberg" of him. 
So what's his legacy? There is a lot to say about that but perhaps it can be distilled into two very important codes which don't just apply to tennis. 
First, let your skills and talent do the talking, not your mouth. In open era tennis, Edberg, with Steffi Graf from the women's game, are best-in-class examples of players who followed that code. 
Second, nice guys don't always finish last. If you unpack that sentence and think about what it really means, it's the legacy we should all aspire to leave behind.