Stan Smith
The Tennis Ambassador
On tour with Arthur Ashe in the 1960s, Smith advocated for tennis in Africa and beyond.
A new film highlights his role in ground-breaking social and athletic change.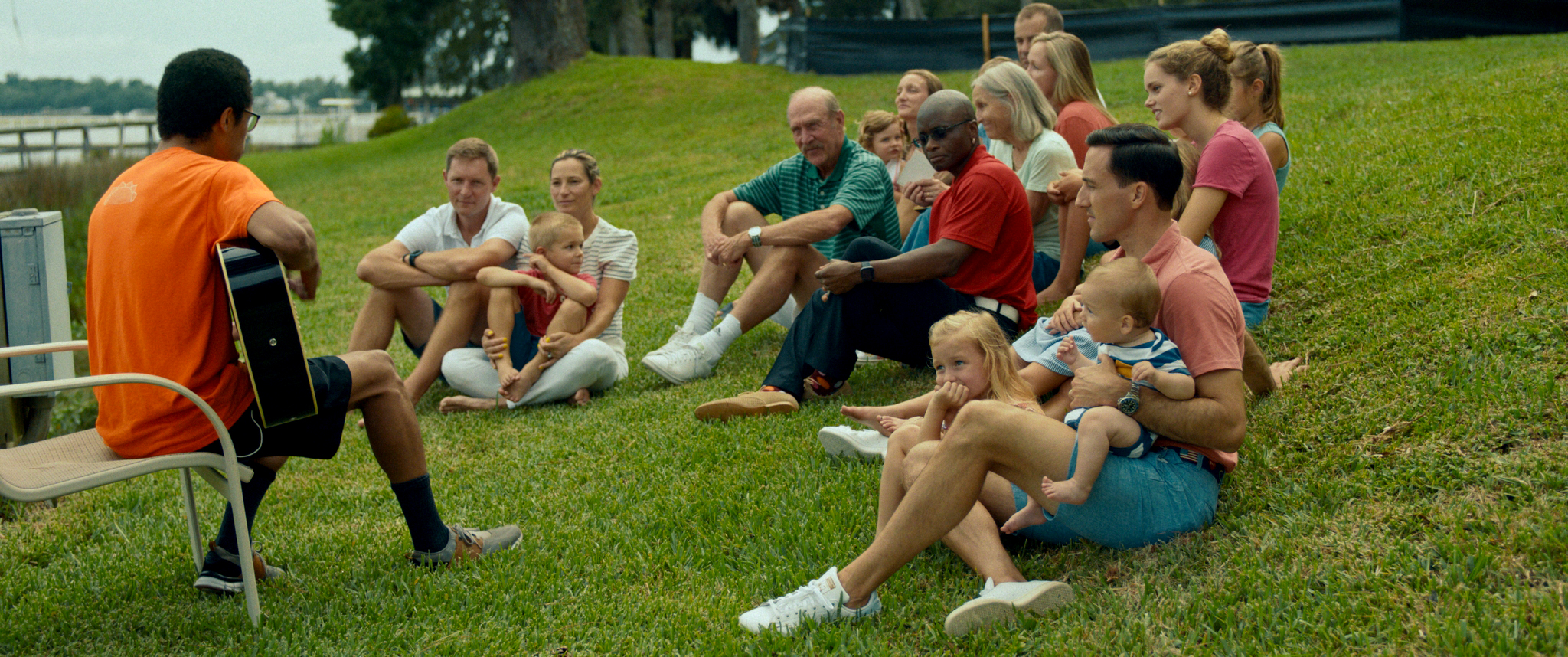 A picture is worth 1,000 words, or so say most filmmakers. In this case, one particular 1968 photograph by renowned sports photojournalist John Zimmerman explains many things about the renowned tennis champion Stan Smith.
Smith and his close friend, Arthur Ashe had just arrived in Las Vegas, Nevada and while both waited by the Hertz Rental Car stand with their luggage, a porter appeared. Off to the side, the ramrod straight, towering Army-Lieutenant-turned-unlikely-activist-icon dressed in a porkpie hat and sport coat holds four or five wooden tennis racquets for Ashe. But the porter — and most  of the other people the pair came across in the countries they visited for a U.S. State Department tour — thought that Smith, by then a US Open and Wimbledon champion, had come along as Ashe's "caddie."
"When we went to Africa, I was the other guy who played against Ashe in all these exhibitions," said Smith, who was ranked No. 1 in the U.S. at the time. "They would introduce him as Arthur Ashe, No. 1 player in the U.S., No. 1 in the world, one of the greatest players to ever play the game … and Stan Smith, his opponent.
"Arthur came up to me and said, 'I'm sorry about that. If we do a tour of Alabama, I'll carry your rackets for you,'" Smith added. "He was in tune with everything."
Even though Horst Dassler, the founding chairman of Adidas, had a vision of Smith as the ultimate player — and less the sidekick (pardon the shoe pun) — few really know Smith, the man the classic green-and-white shoes forever bearing his face and name. A new documentary, "Who is Stan Smith?" produced by Lebron James and Maverick Carter's Spring Hill Company, aims to delve into the long, illustrious life of the famously understated, unassuming "regular guy" from Pasadena, California, who somehow found himself on the front lines of the Civil Rights movement with Ashe, the Vietnam War through this work with the United Service Organizations (USO) and lastly, the players movement to found the Association of Tennis Professionals (ATP) — also known as the modern pro tour. 
"I always had an interest in trying to improve mankind," Smith said via Zoom interview from his home near Hilton Head, South Carolina. "And it's always been an interest of mine to get people playing — the World Cup is on right now, and many people don't realize that tennis is right behind soccer in global popularity.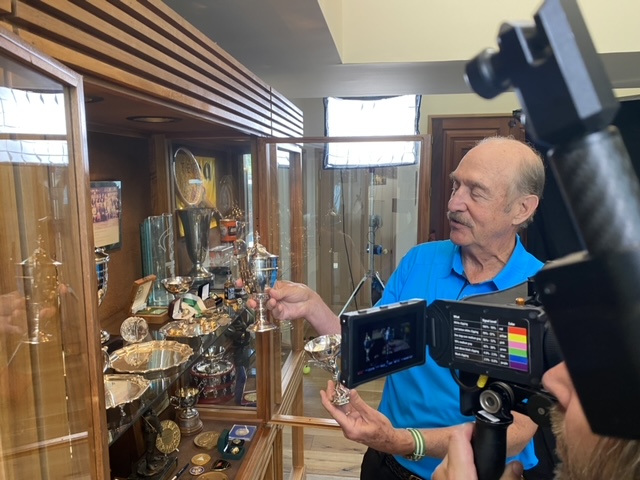 "All you need is a court to play on and a few balls —Arthur and I did those tours as a way of proving that. But going to Africa and to China and to Vietnam was an eye-opener for me, and I really came to appreciate all people there, from the military to the civilians to the aid workers and I wanted to do more."
Directed by Danny Lee, "Who is Stan Smith?" premiered at the IFC Center in New York in November and will turn up on ESPN sometime this spring. Interviews with Smith, along with his family and friends, as well as never-before-seen footage follow the tennis journeyman from youth to college tennis, to the Grand Slams to the International Tennis Hall of Fame — as an inductee and later president — and his "retirement" at the Smith Stearns Tennis Academy in North Carolina, which has turned out sectional, national, and international and college tennis title-holders since TK. The film also touches on Smith's previously unknown humanitarian efforts, including his family's adoption of Mark Mathabane, a young student and tennis player whom Smith and his wife, Marjory Gengler Smith, helped escape from apartheid in South Africa.
"During the pandemic, I had picked up tennis right away, so when I was offered the chance to direct the film, my eyes popped out of my head" says Lee, whose previous documentaries delve into subcultures, such as electronic music, skateboarding and former NBA players who become fathers to NBA players. "My take very simple: unpack the mythology — his is the name on the sneaker but what is the story behind it?
"It was initiation going to be just a sports biopic, like who is Jordan behind his shoe? But it became a story about this obsessive athlete determined to be the best in the world and in the course of that, stumbled upon his own humanity and the lesson he learned: being the best is great and but doing good leaves a more lasting legacy." 
But first, the story of the shoe. After coaching Smith at University of Southern California and helming the U.S. Davis Cup team on which Smith played, Donald Dell became the agent of Smith and a number of his contemporaries, including Ashe, Jimmy Connors, and Ivan Lendl. Eager to expand Adidas "beyond France, especially to the United States," according to Smith, Dassler snagged Dell during the 1971 French Open and the three men met at a Parisian nightclub, Elle et Lui in Montparnasse. Among cabaret singers and women dressed as male waiters, Dassler suggested that Smith wear the now classic shoe, only that, at the time, it carried the name of Robert Haillet, a very popular former French No. 1. "Horst suggested that I start wearing the shoe while they initiated a slow change. Robert's name would remain on the heel while mine would be on the side." Smith agreed, but the deal wouldn't do for Dell. Within the year, Smith's face and signature was added to the tongue of the shoe and Haillet's connection to it was completely dropped. 
By the mid-1970s, the Stan Smiths had arrived on courts, in sporting goods stores around the world and on the feet of celebrities such as David Bowie, John Lennon and Yoko Ono, Damon Albarn, the members of New Order and Naomi Campbell.  "One of the few disappointments in my tennis career were my big size 13 feet — yet the shoe I eventually wrapped around them enabled me to become better known than I have ever envisaged," wrote smith in his 2018 book, Some People Think I'm a Shoe.  While for Smith, the shoe has been a definitely been a blessing, sometimes it could be a bit of a curse. Billie Jean King had a shoe — a royal blue suede Adidas flat sole — as did Arthur Ashe (as version of the Stan Smith), but none have ever been as popular or immortal as the Stan Smiths. "I had a racquet for about 10 years with my name on it, then the non-wood racquet came along…," Smith mused. "The shoe was a great opportunity for me at the time, but first of all, when you do these things, you have to realize that whatever comes of it, you are not in control. Whatever happens, happens. Maybe people remember you, maybe they just remember your shoes.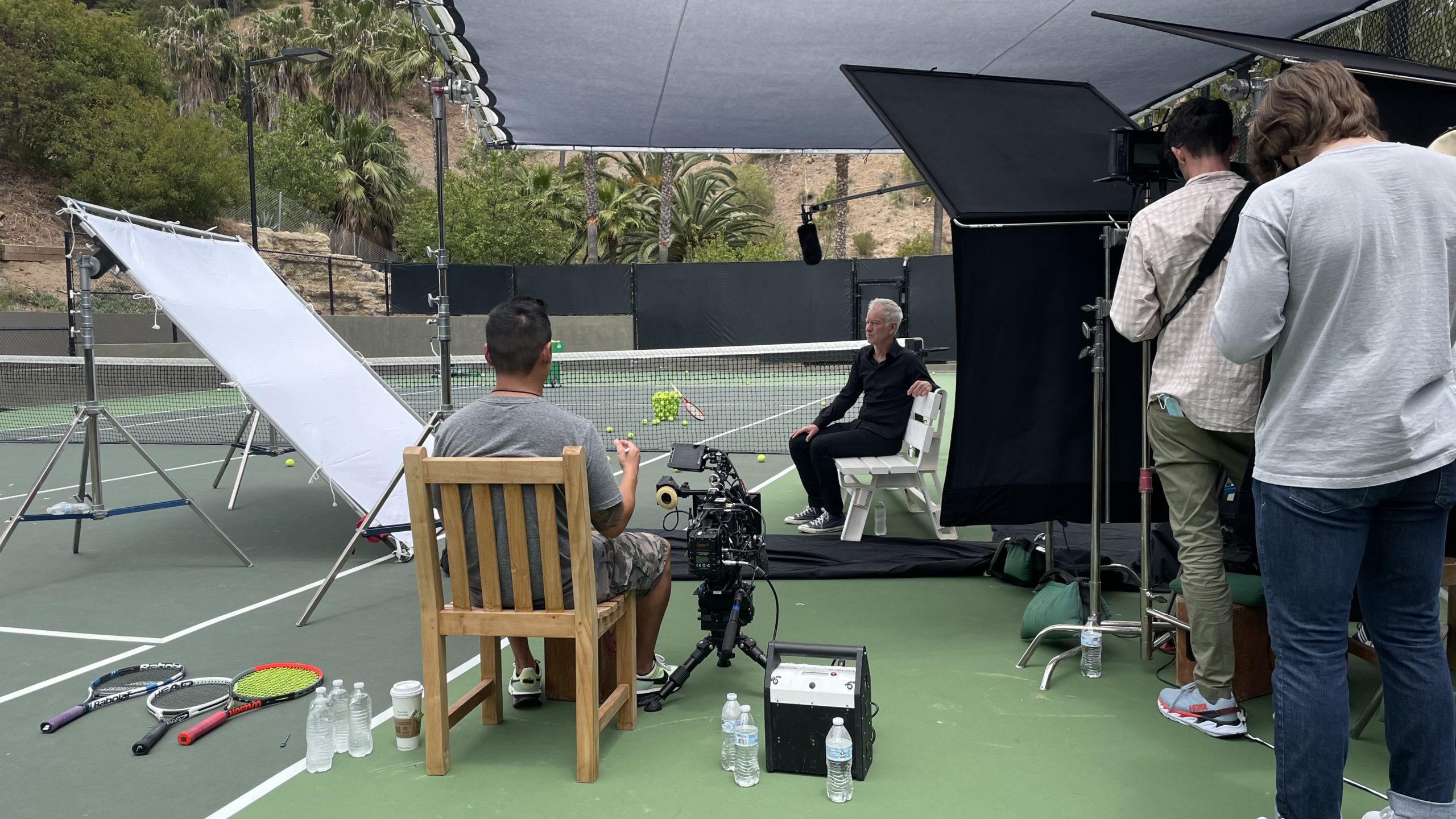 "A few years back, I was doing a clinic for some 12- to 13-year-old kids  and used Bjorn Borg, as an example as a player. At the time ,I thought people who know who he was, but unless a young person was into tennis history, they wouldn't necessarily know Borg was or I was or anyone else of that era. It doesn't bother me anymore: I don't have a huge ego. I just try to do as much as I can to help people." 
Now the story of the first "Stan the man" (hint: not Stanislas Wawrinka). Although Smith's father worked as a tennis coach in the LA suburb of Pasadena, he "did not take to tennis immediately," Smith said. Rather, he played basketball. Makes sense. Smith is still six feet, four inches tall, even at age 78. But after switching gears, he volunteered as a ball boy at the LA Tennis Club for a Davis Cup match and… was rejected. "I was, apparently, too awkward and  clumsy," he said. So smith started jumping rope for ten minutes a day and out of the blue, won a sanctioned tournament and caught the eye of the Pasadena Tennis Patrons, a community tennis organization that helped promising juniors with coaching from Pancho Segura travel fees, kits and other expenses. After winning the U.S. National Junior title in Kalamazoo, Michigan, Smith was on his way.
Wikipedia can provide the titles the details, but after four years at USC, Smith hit the tour. "I heard Ken Rosewall… saying in an interview (during the 1970 Tokyo Masters) that he considered me one of the favorites for the title," Smith recalled in Some People Think I'm a Shoe. "That gave me a big boost and I went out and proved him right by beating him." That, and ten thousand Japanese people singing Happy Birthday put Smith, but "less gratifying" was the notice he received to report for the draft in LA the next day. "I played a lot of tennis in the Army and was given special dispensation to represent the United States in the Davis Cup." 
Smith beat the combustible Ilie Nastase — nicknamed "Nasty" by the U.S. coterie — for a Wimbledon singles title in 1972, and he and former USC teammate Bob Lutz dominated the storied tournament in doubles, winning in 1972, '74, '80 and '81.In 1973, he came to Wimbledon as the defending champion, yet he joined 80 other men in boycotting the event to stand in solidarity with Niki Pilic, who had been banned by the Yugoslavian Tennis Association — and subsequently the AELTC — for not playing Davis Cup. And while he could play the straight man — the guy who never rumbled the status quo — Smith eventually broke with his brothers in arms to change the way tennis was played in the late 1960s.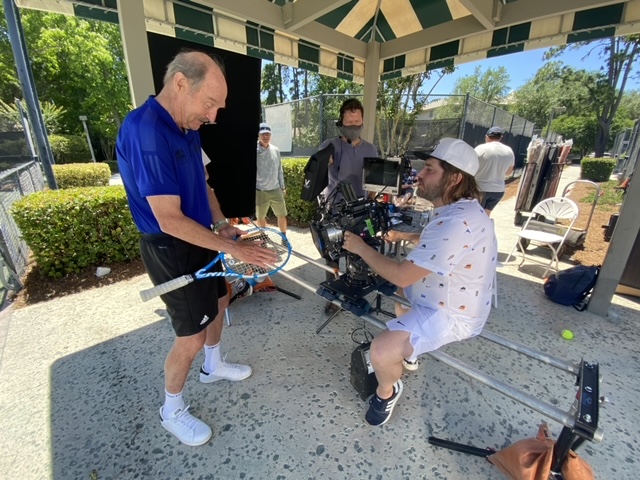 But two seminal events changed Smith's life: his tour of Africa with Arthur Ashe and Ashe's death in 1994. In June 1968 at the Queens Club outside London, Arthur Ashe attended a meeting of top players to discuss the formation of the ATP. There, Cliff Drysdale mentioned that Johannesburg wanted to host a "South African Open". He then turned to Ashe and stated, "They'd never let you play," meaning that the apartheid government would never grant Ashe a visa. Ashe nonetheless mailed in South African visa applications for 1969 and 1970, which South African Prime Minister John Vorster promptly rejected. In response, Ashe hit the road. For 18 days in 1971, he and Smith went on a 2,500-mile tennis expedition of six African countries — Kenya, Tanzania, Zambia, Uganda, Nigeria and Ghana — giving tennis clinics, granting interviews and playing exhibition matches. 
On a return trip in 1977, Stan and his wife, Margie, met Mark Mathabane, a young tennis player born to a life of poverty, racism, abuse and little hope in apartheid  South Africa. At age six, Mathabane joined his first gang and by ten, he was on the brink of suicide. The Smiths took in Mathabane and helped him gain a tennis scholarship to Limestone College in South Carolina. "When I met Stan… I was filled with hatred for white people because of the life I had led under racism and oppression," Mathabane said.  "Stan had the uncanny ability to spontaneously relate to anyone… his sneaker was the perfect metaphor for enabling those to walk in the shoes of anyone they met ." Mathabane went on to be a successful author writing his first book, Kaffir Boy, an autobiography in 1986. He and his wife had three children — the youngest one named Stanley — all of whom attended Margie's alma mater, Princeton University. 
Losing Ashe to AIDS in 1993, however, probably had the greatest effect on Smith's own life. "I keep thinking what would it be like if Arthur was here today. He had strong opinions and he had to walk a tightrope; he could be considered an Uncle Tom by the public, but he was always well-respected and popular with tennis players," Smith said.  "In his last years, Arthur has a t-shirt that said "Citizen of the World" and he was campaigning until the end. 
"I think that if his heart problems ad happened just a bit later and even if he would have contracted HIV, he would be able to handle it — there would be some medicines that could have helped and he would have done some amazing things." 
But Ashe's death has given Smith a mandate to live to the fullest, the filmmaker said. "Stan's storyline is chock full of events and condensing the timeline and tracking the shoe inside the career then making them converge was a challenge," Lee said. "But his humanitarian efforts were never a checkbox or talking point, but rather an organic pillar to his story.
The shoes reflect that, as well. In 50 years, Stan Smiths have come in a LGBT version, a vegan edition, a Paul Smith—Manchester United specialty shoe, Stella McCartney and Moana (for the kids) styles. Smith is often game to go to a Ballenciaga or a Gucci or a Pharrell Williams runway show, but he doesn't collect them like some fans.
"A friend of mine called the other day and told me he had just picked up his 350th pair," Smith said. "I only have about 130."