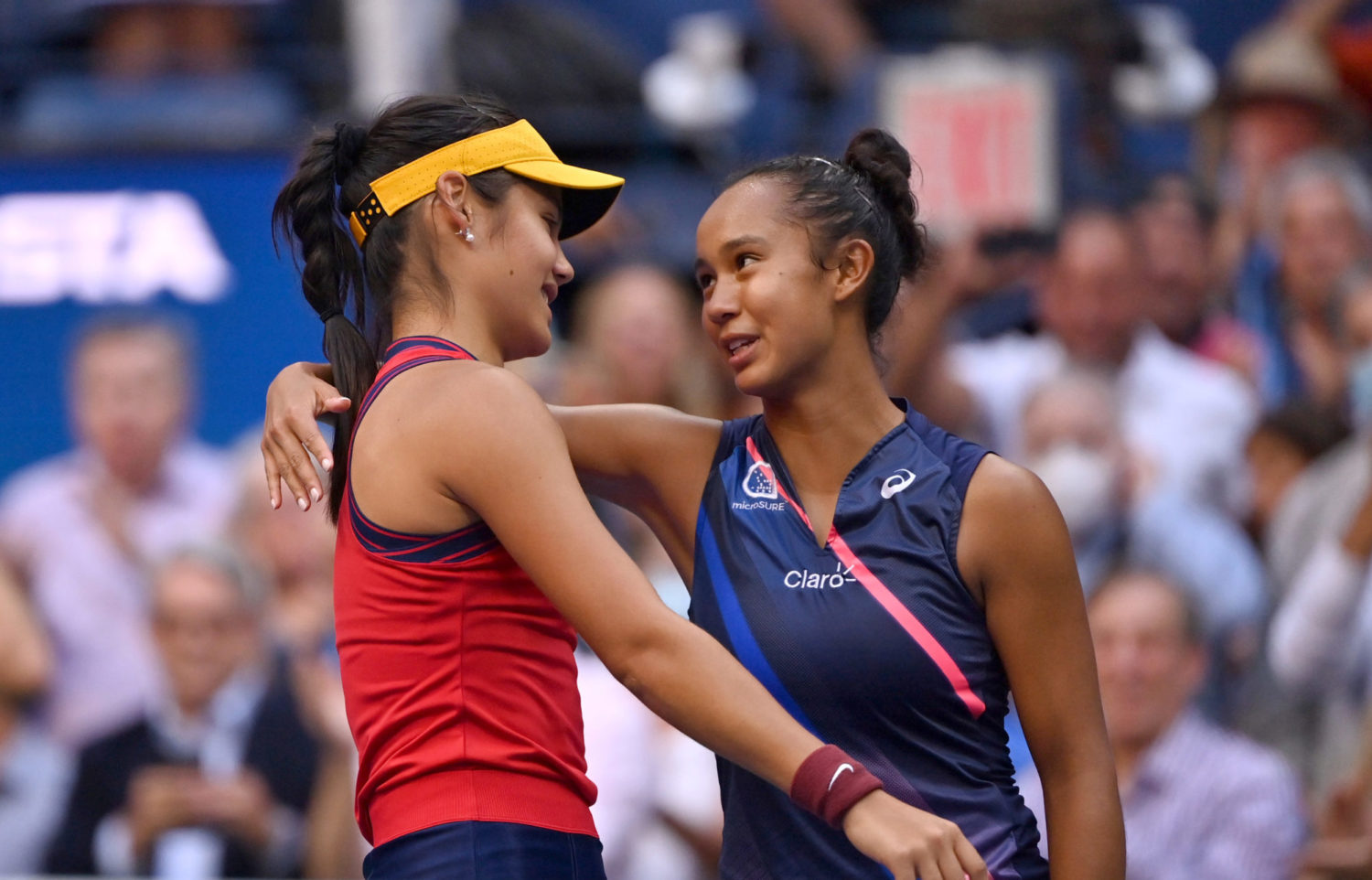 The whole thrill of the ride is how slowly it starts.
When Leylah Fernandez entered this year's US Open, 19-years-old and ranked 73 in the world, few tennis fanatics were paying attention. But as the tournament went on, heads turned, and butts moved closer to the edge of the seat. Naomi Osaka, Angelique Kerber, Elina Svitolina, Aryna Sabalenka – over the course of the fortnight, the WTA heavyweights came wearing the mantle of favourites only to leave vanquished at the hands of the talented teenager. Fernandez's dream run eventually ended in the final against equally talented Emma Raducanu (and an arguably bigger Cinderella story), but the young Canadian's stock nevertheless continues to rise. 
As Leylah Fernandez continues her impressive season, with each performance a cry of belonging, one man is not surprised. 
"From the start, I saw that she could be a very special player," says Francisco Sanchez. "Here, in Canada, not many people believed in her – it's all about height and power – and she was a small lefty. But I come from Europe," he smiles. 
For the fans of chaos theory, the butterfly of Leylah's story flapped its wings in December 2012. Francisco Sanchez's move from his hometown of Brussels to Montreal, set in motion a chain of events that could very well have put Leylah Fernandez on the road to stardom. "I was born in Brussels, but my parents are from Spain, so I speak both languages," Francisco Sanchez explains. "After my junior playing career, I started coaching at a young age – I must have been about 18-years-old. I coached at clubs in Brussels, and I also knew Justine Henin's coach very well, so, from time to time, I worked as her sparring partner." 
Years later, when Sanchez and his fiancé had been looking for a change of scenery, they decided to move to Canada. "The first person I met when I arrived in Montreal was Jorge Fernandez, Leylah's father," Francisco Sanchez recalls. "I had just arrived from Brussels and, by instinct, went for a walk to the nearest tennis club. I even remember the date – it was the 3rd January 2013."
On the courts of the National Tennis Centre, Sanchez's attention was drawn to a burly South American man coaching a young girl. He could hear snippets of a familiar language and stopped to watch. "I could see that he didn't know a lot about tennis [coaching], but he showed a lot of passion," Sanchez says. The men started talking and hit it off quickly, their love for tennis and shared language a bonding factor. Jorge Fernandez introduced Sanchez to his daughter, Bianca, and after a short conversation, mentioned that he also has an older daughter, Leylah, who was practising a few courts over. He asked Sanchez for his professional opinion. 
"From the very first sight, Leylah reminded me of Justine [Henin] – small stature, good hands, determination, and very courageous," Francisco Sanchez recalls with a smile. "She was so keen, always early for practice. You didn't have to prod her to collect the tennis balls, either. It was crazy. You'd tell her to drop down and do 35 push-ups, and she'll go, 'Ok, Ok'."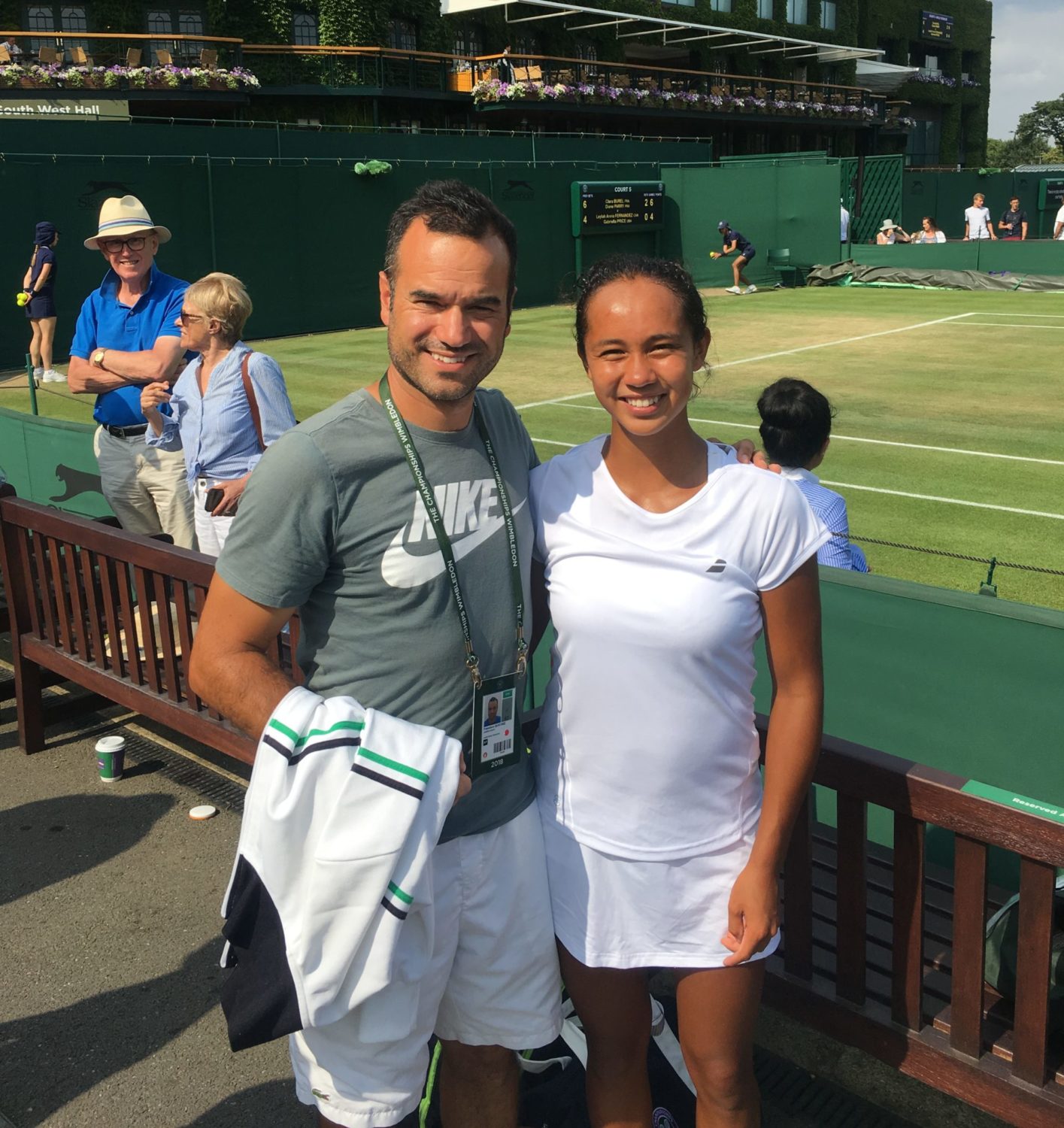 Both men agreed that Leylah had the potential to become a very good player – the words 'number one' hanging in the air like a mirage. Jorge Fernandez was looking for a Spanish speaking coach for Leylah. Francisco Sanchez, freshly arrived in Montreal, was looking for something to do. As the men spoke, the shuffling of the stars could almost be heard above their heads. There was only one problem – Sanchez was in Canada on a 6-month visitor's visa which he would then have to renew. This made the longevity of the agreement uncertain. Not only that, but being 'a tourist', Sanchez was not technically allowed to work. The pair agreed to trial the partnership on a 6-month basis, with Sanchez working for free while he tried to sort out his legal status. What started as a simple favour turned into a six-year-long partnership. 
Sanchez became Leylah Fernandez's full-time coach. Spending long hours on the court for six days a week, the two grew very close. Although Leylah was training at the National Tennis Centre in Montreal, she wasn't part of Tennis Canada's junior programme which meant that securing sponsorship proved challenging. Money being tight, Sanchez served as both the girl's coach and a sparring partner. 
"Jorge didn't want to go to Tennis Canada. He didn't like the way they trained," Sanchez says. "At the time, in Canada, training was all about power. A lot of [feeding from] baskets. We did none of that. We played from the baseline, from inside the court, taking the ball on early. We practised a lot of volleys, slices, dropshots even – a lot of angles. Jorge loved it, but people told us that we were crazy," Sanchez laughs. 
"The progress was fast," he says. "We had no money for sparring partners, so I hit with her myself. It was easy, she soaked up every little bit of information. From the start, I explained to Jorge the way I wanted to teach Leylah play – the way I thought she should play."
Despite the guidance of a committed coach, Leylah Fernandez's young career followed a serpentine path, having to dodge one obstacle after another. Most of them were caused by the lack of funds. As any parent of an aspiring tennis star will know, the price of raising a professional player quickly spirals into hundreds of thousands of dollars. Jorge Fernandez had two on his hands. Even with a coach who worked pro bono, the cost of travel, accommodation, equipment, and the myriad  tiny cogs that go into the machinery of a player, put him under a heavy strain. In fact, there were times when Jorge Fernandez was close to giving up. 
"In Europe, you have a lot of tournaments and a lot of clubs," Francisco Sanchez says of their struggles. "In Canada, it's not that easy to play tennis. The summers are fine because you can play in parks. But during winter, we only had the National Tennis Centre, and they were not giving us many hours on court. Initially, when Leylah was 12-years-old, we were only given two hours a week." The alternative was a private club, the cost of which Sanchez estimates to be around $60,000 a year. "It's just not something that we could afford to do," he says. 
Looking after his young charge, Francisco Sanchez fought many battles with a friend of his, Louis Borfiga, who served as the vice president of Tennis Canada. "Over time, we started getting more court time. From one hour a week to two, then four, then six, and so on." 
Louis Borfiga is a retired player and coach who, during his time at the Monte-Carlo Country Club, worked as a sparring partner for Björn Borg. After ending his playing career, he joined the French Tennis Federation as a performance coach and had a pivotal role in the rise of many of today's stars such as Jo-Wilfried Tsonga, Gaël Monfils, Gilles Simon, and Nicolas Mahut. After coming to Canada in 2006, he joined the National Tennis Centre in Montreal as the Vice President of High Performance and established an elite tennis programme for young athletes. Over the next 15 years, he had a hand in the development of some of Canada's brightest tennis stars – he overlooked the progress of the country's first wave of talent in Milos Raonic, Eugénie Bouchard, and Rebecca Marino, as well as their more recent products, Félix Auger-Aliassime and Bianca Andreescu.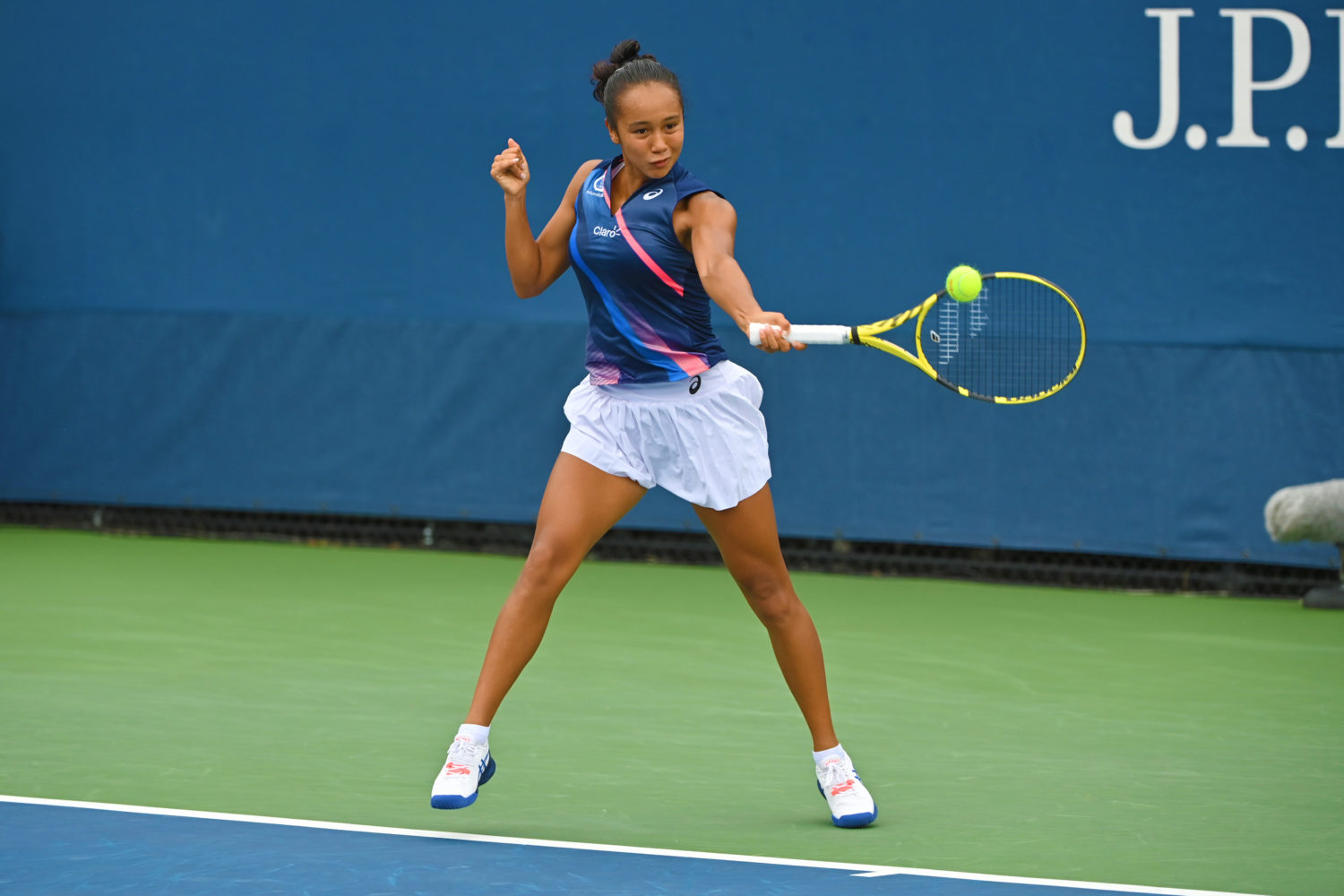 "It's interesting. During our time at the National Tennis Centre, we saw Félix everyday training on a court next to us," Francisco says. "Very humble guy. His hard work and attitude were a huge inspiration." Although Leylah had the federation's curiosity from a very young age, it wasn't until she turned 15 that she had their attention. "Tennis Canada liked Leylah," Sanchez explains. "They always believed she could be a good player, but they didn't think she could be a great one. They wanted her to play in a particular style that Jorge disagreed with." 
The breakthrough came in 2018. Leylah Fernandez was finally enjoying a good season – years of hard work started to pay off, uncovering glimpses of the fierce player she is today. "She made the semi-finals of the Junior Roland Garros," Francisco Sanchez remembers. "She lost to Coco Gauff. It was a good match. That's when Tennis Canada realised, 'Okay, there is something special here.'"
A few months later, Jorge Fernandez moved his family to Miami. The lifestyle, weather, and tennis facilities on offer make it the perfect training base for many tennis players – it made sense from a career point of view. Francisco Sanchez was offered to move, too, but he couldn't justify uprooting his two children. And thus, a journey of six years, while not technically over, took on a new chapter. Although no longer working together, Sanchez stayed in touch with Jorge and Leylah. "We grew very close," he says of their six years together. "We're like a family."
In August this year, Jorge Fernandez called on Francisco Sanchez once again. "They needed a coach for the Rogers Cup in August," Sanchez says. "They asked me to come and train with Leylah. It was good to be back." 
Less than two weeks later, Leylah Fernandez was holding the runner-up's plate of the 2021 US Open – an incredible achievement only momentarily soured by the sting of defeat. 
"I was with Leylah at Junior Wimbledon in 2018, and she played Emma [Raducanu] in the round of 32," Francisco Sanchez remembers. "Leylah lost in the very same fashion. Every match, I always tell her, 'You are the boss, remember.'" he continues. "Both in that match and in the US Open final, Emma was the boss." 
But when Leylah Fernandez was carving her way through the US Open's main draw, Francisco Sanchez watched from his home in Montreal with a deep sense of pride. As she punched through her opponents, one after another, gone was the 10-year-old girl he first met on that cold January day – the young woman before his eyes was bursting with power, guile, and unbreakable spirit. 
Francisco Sanchez's voice softens when he recalls the time spent on the court with Leylah – the drills, the exercises, the thousands of hours of repetition. None of it had to be forced. "Leylah is crazy about tennis," Sanchez says. "Absolutely crazy. She remembers every winner of every tournament. She's also superstitious. If you watch her play, you will notice that her tennis bag is always closed. Always ready to go."
After the end of the adventure, Francisco Sanchez's career pivoted in a different direction, but tennis is never far from his thoughts. Asked if he sees himself coaching Leylah again, he responds with a diplomatic smile, "You never know. I'm in real estate now, but I'm still helping Tennis Canada from time to time. I'm always involved in tennis. It's impossible to stop." 
Story published in Courts no. 2, autumn 2021.