NIKE
Four Decades of Smashing Ads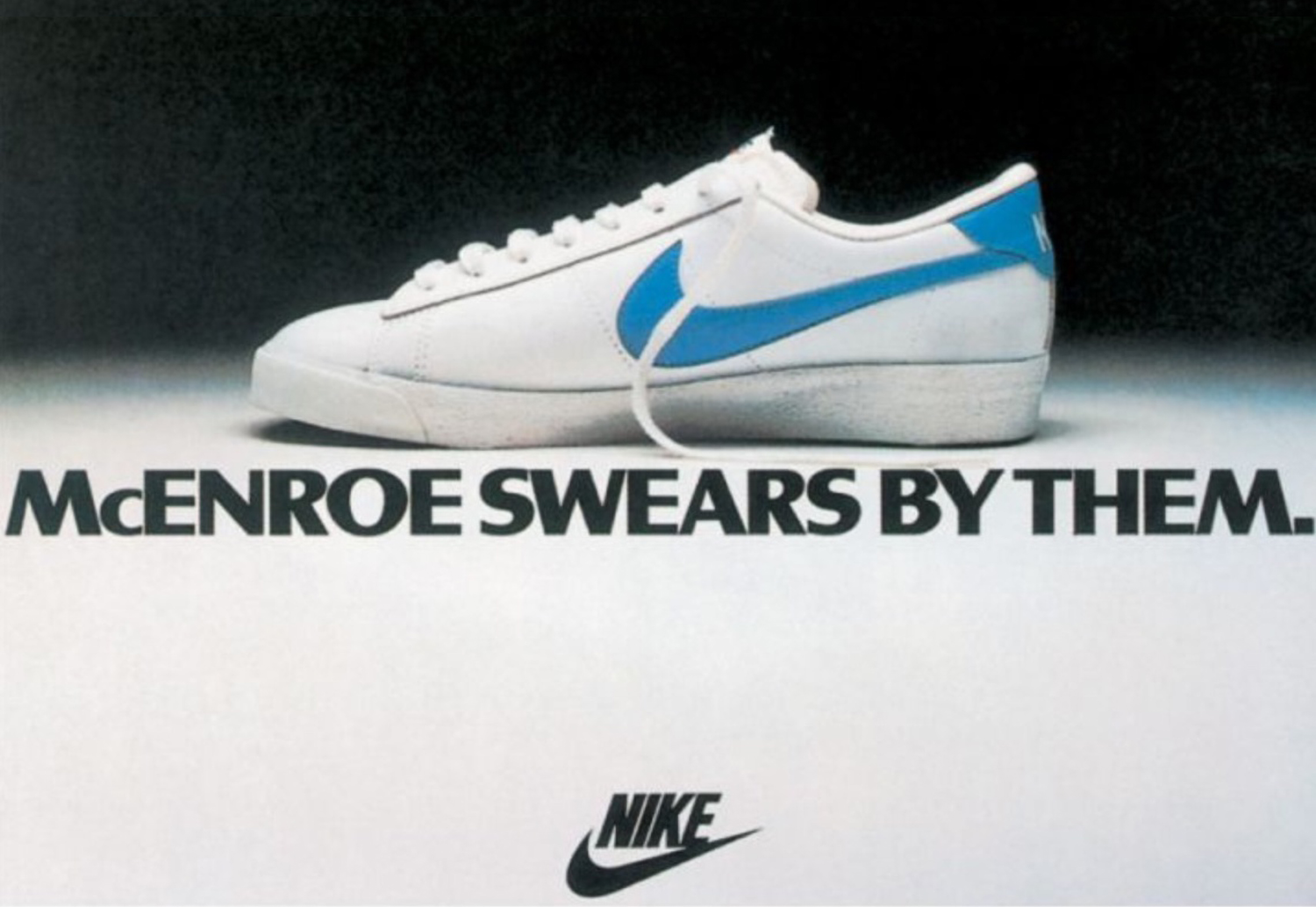 Nike is currently the largest sports equipment supplier in the world. They entered the tennis scene officially in 1973. Few remember this, but Nike's first professional athlete endorser was a Romanian tennis player, Ilie Năstase (now more remembered for an Adidas shoe that wears his name). The company soon broke ground with bold and distinctive design, textile innovation, and iconic shoe models. It's almost impossible to compile a complete list of all top tennis players they endorsed during the years, but we can name a few who had climbed to the top of the rankings: John McEnroe, Andre Agassi, Pete Sampras, Roger Federer, Rafael Nadal, Serena Williams, Maria Sharapova…
Nike is a combination of the American spirit, iconic products, and bold personalities – a mix of all-time champions and charismatic young talents with attitude such as Nick Kyrgios, Denis Shapovalov, and Emma Raducanu.
What's the winning recipe of Nike's advertising history? Strong and high quality photos and powerful, inspiring words – all served with striking simplicity, a brutally honest and motivating tone with, sometimes, a twist of irreverence. And above all, the highly recognisable swoosh emblem with memorable, right-to-the-point, and simple slogan that everyone remembers: Just do it. Quite possibly the best known tagline in the world, from the beginning, it fit the brand's every message.t
Nike's creative advertising history is also full of memorable, high budget films (with such superstars as Andre Agassi, John McEnroe, and Serena Williams) and groundbreaking events (famously playing tennis on the streets of New York or creating a tennis court in an abandoned swimming pool in Paris), but as this is a magazine, I am privileged to showcase some of the graphic prints and projects. For your eyes only…
1985 - Inside John Mc Enroe's head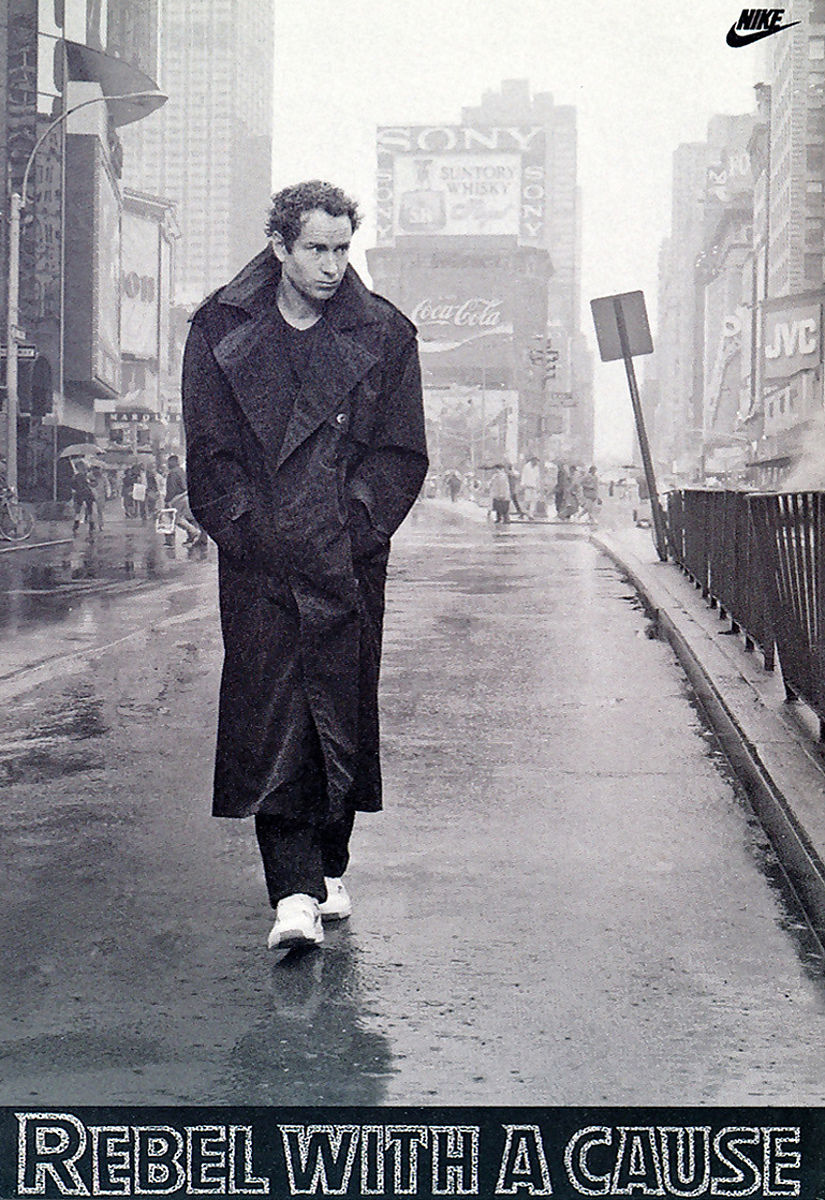 1986 
Rebel with a cause. At that time Nike produced a lot of great posters for teenage tennis fans to pin in their rooms. This one became an instant classic.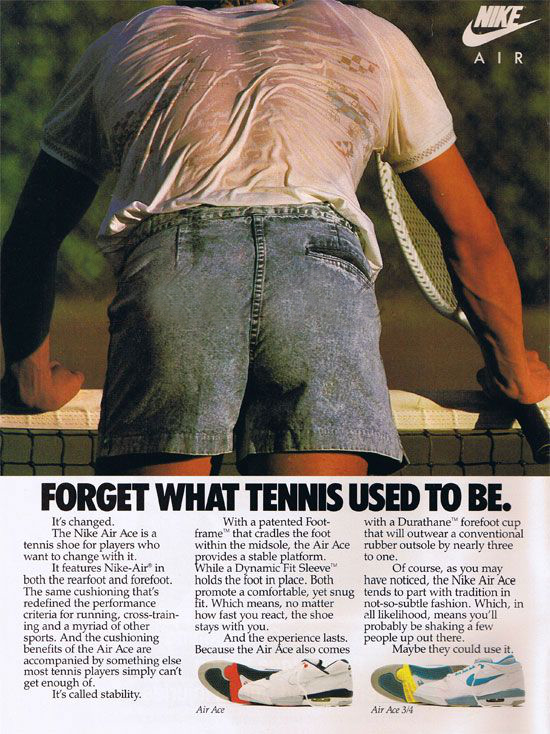 1988 
Air Ace showing the famous denim tennis shorts. Promising young American star, Andre Agassi, signed with Nike in 1986.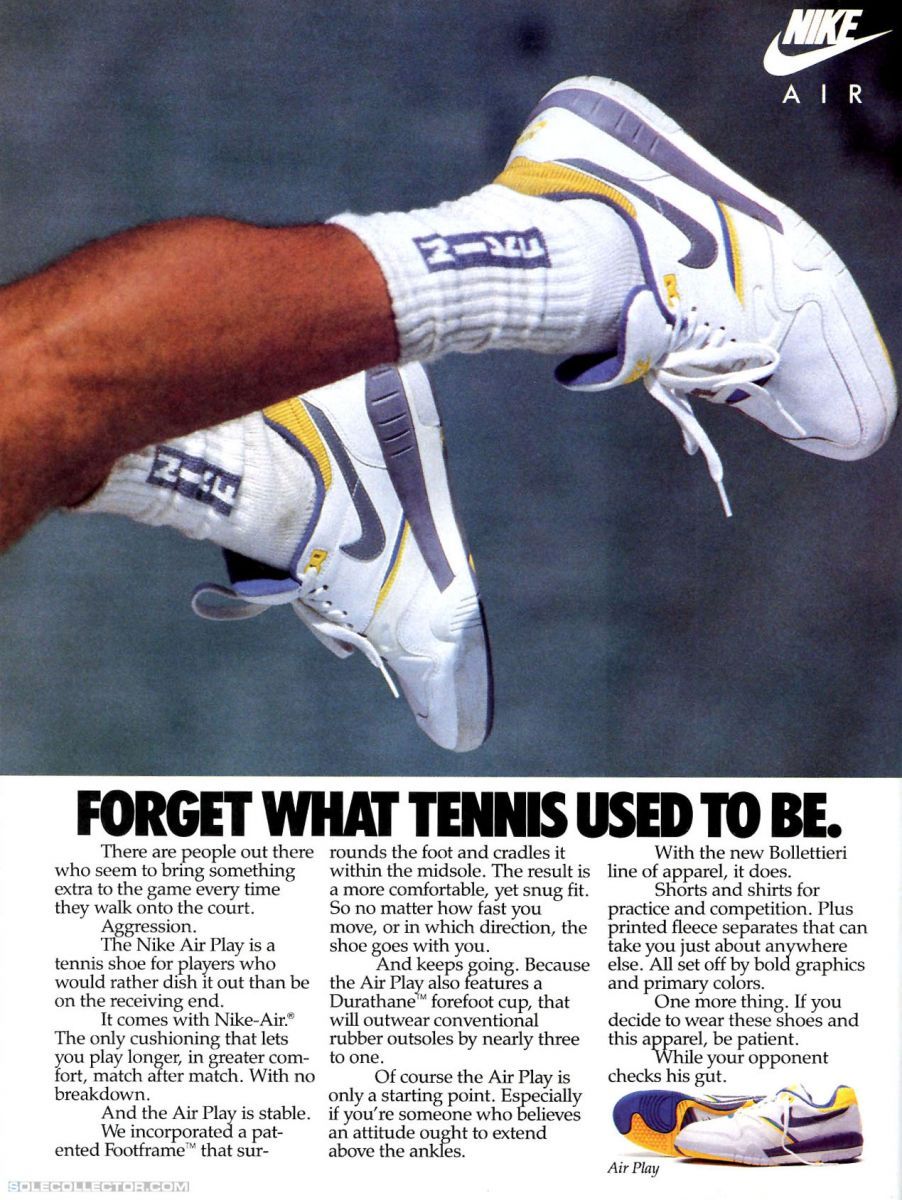 1988 
Air Play shoe with a spectacular angle. You can imagine someone jumping with both feet in the air. Air is coming to tennis shoes and it is a revolutionary innovation from Nike at that time.

1987
Air Trainer. One of the iconic Nike shoes suitable for several sports, including tennis.
1990 - Agassi « Rock'n Roll Tennis camp »
1992 - Agassi breaks the TV - Air Tech Challenge
1995 Guerrilla Tennis with Agassi & Pete Sampras
1993 - Jim Courier "really intense young man"
1992 - Agassi breaks the TV - Air Tech Challenge
1996 - Sampras / Agassi "Epic Point"
1997 - Virtual André Agassi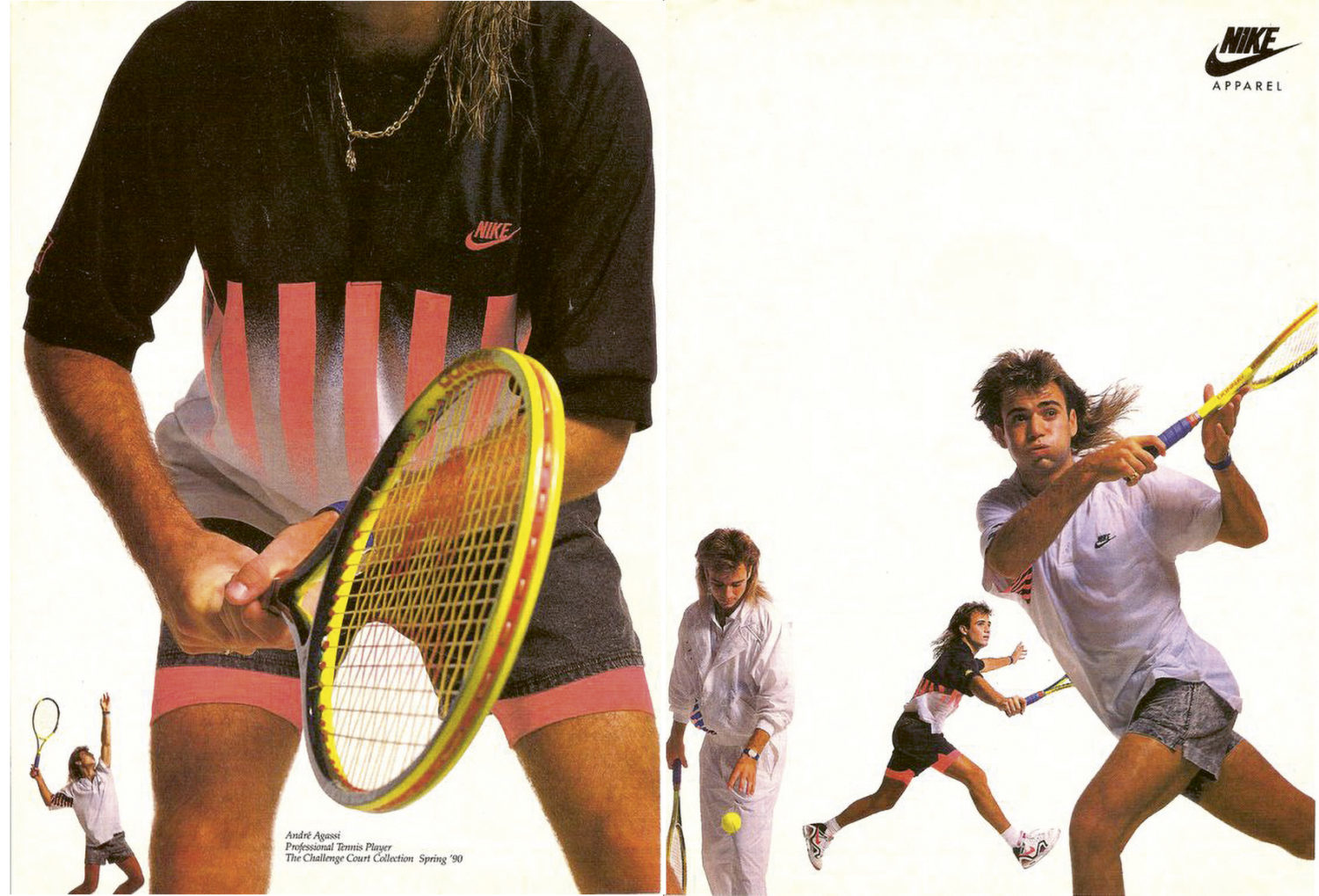 1990
Challenge Court Collection. Uncommon fluorescent apparel, with crazy patterns, stripes, and denim bright Lycra under regular shorts. Never seen before!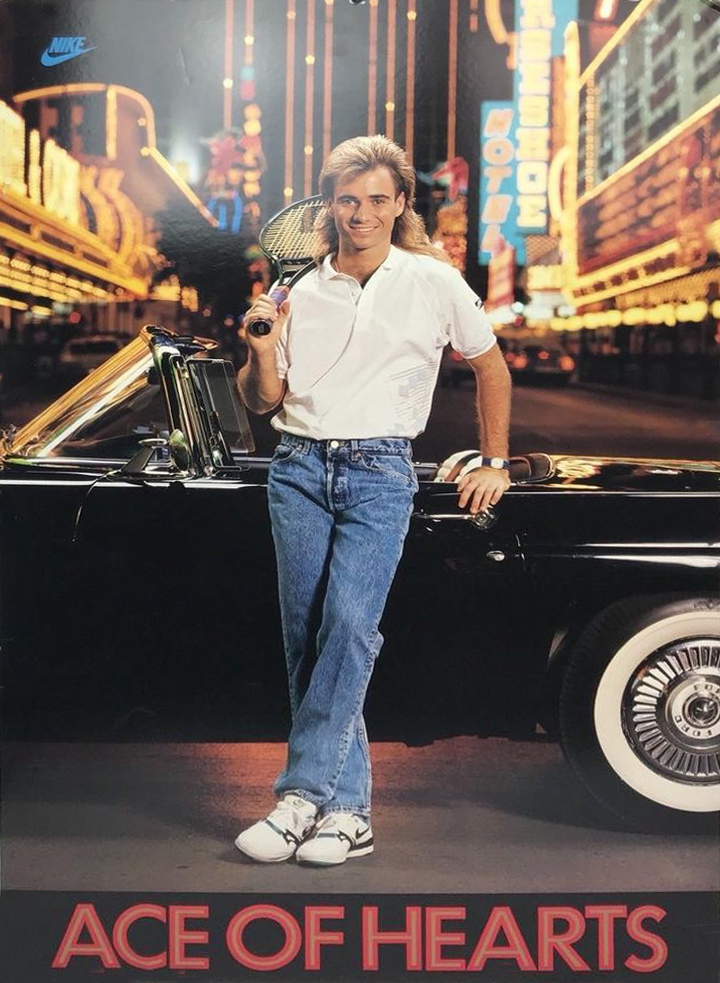 1990 
Ace of Hearts with Andre Agassi. He was so well-known at that time that there was no need to put his name on the poster!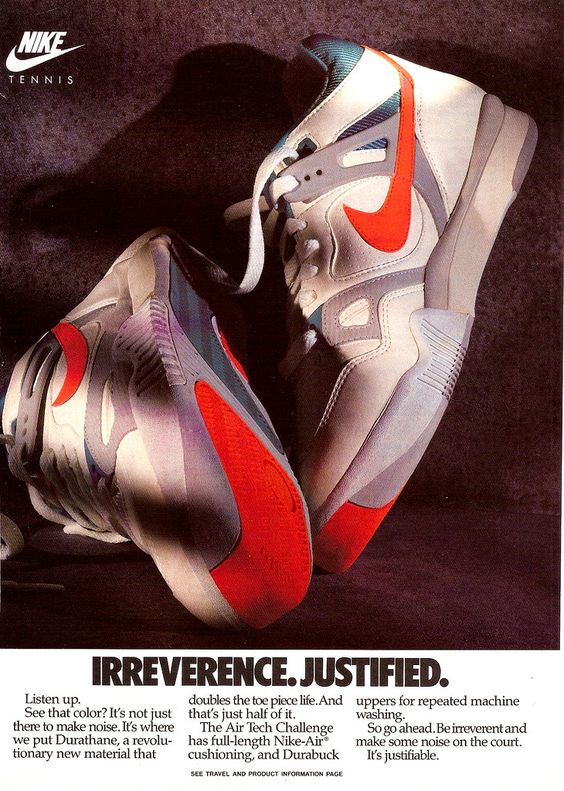 1990 
Air Tech challenge. Probably one of the most iconic and uncommon tennis shoes of all times. It looked almost like a
basketball shoe.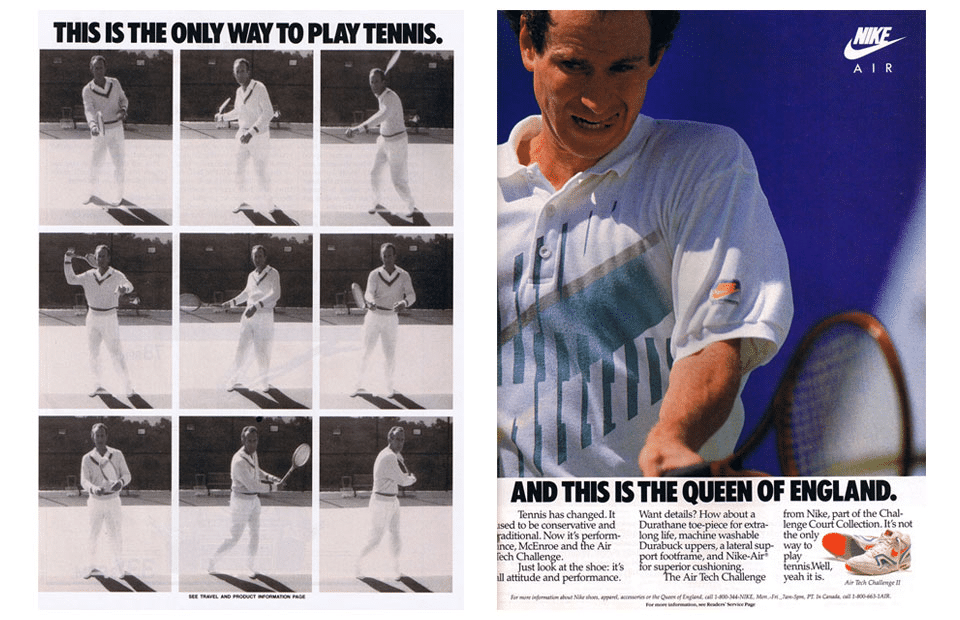 1990
Air Tech Challenge II. An irreverent comparison with the classic 'all white' tennis of the last century.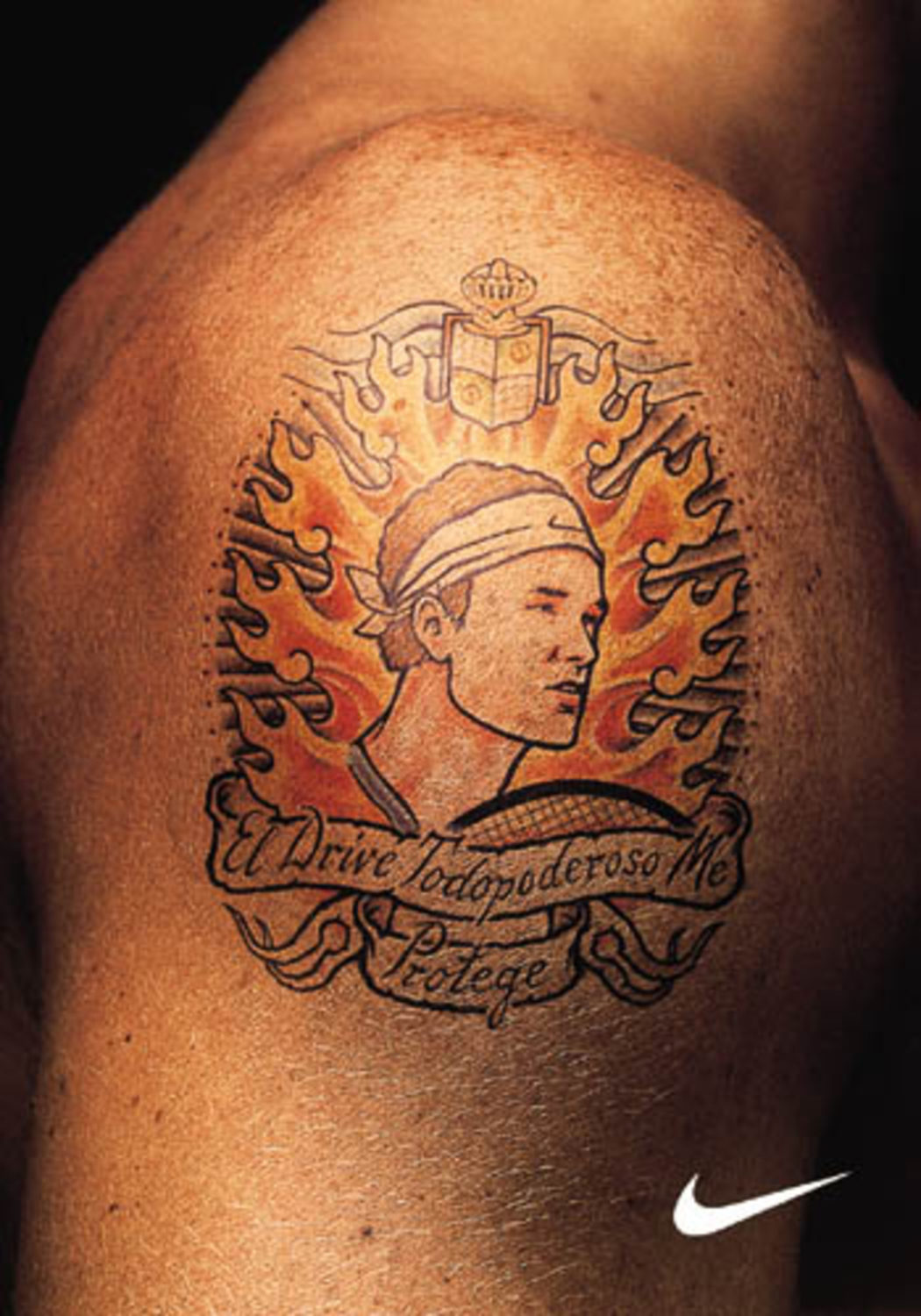 1998
Carlos Moya tattoo. The almighty forehand protects me.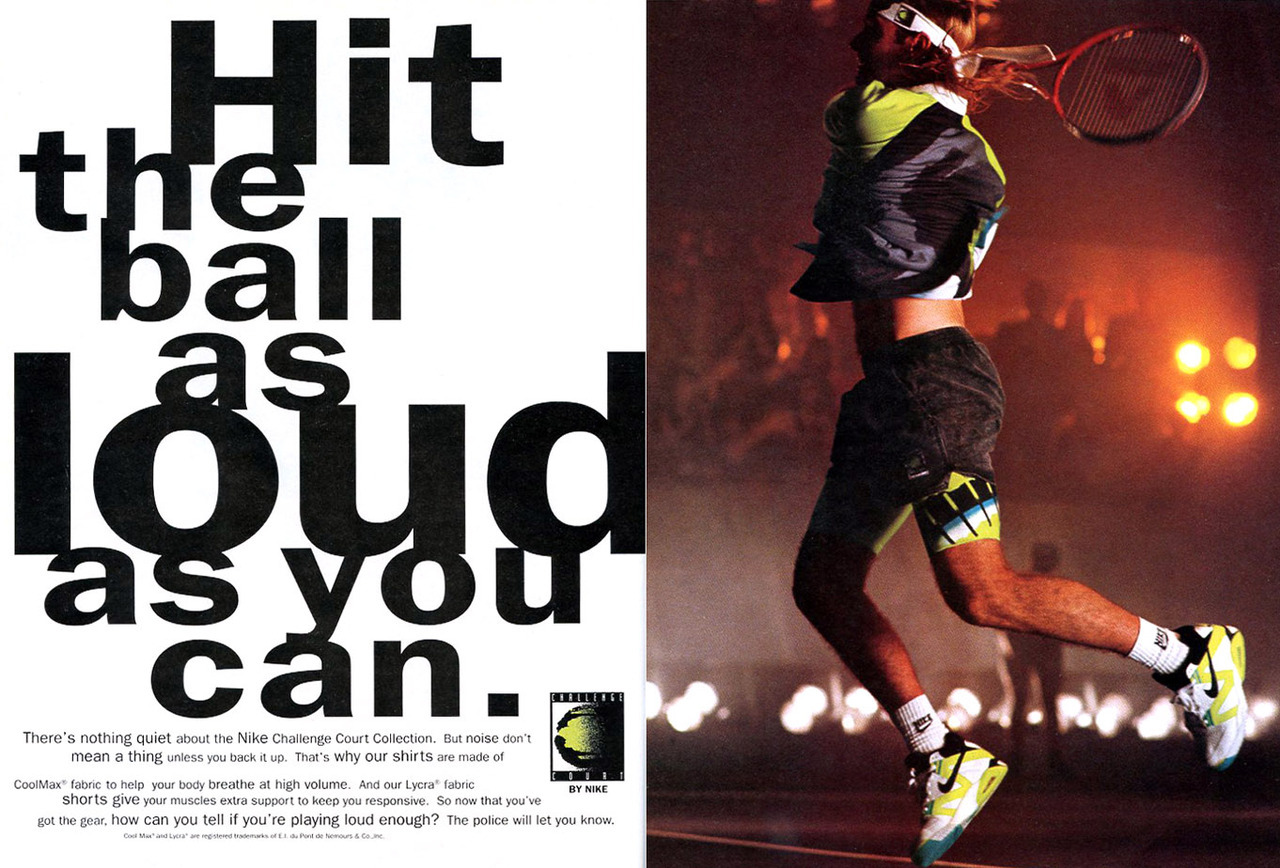 1991 
Challenge Court with a rock'n'roll graphic design. A collection that spread throughout the entire world (except at Wimbledon).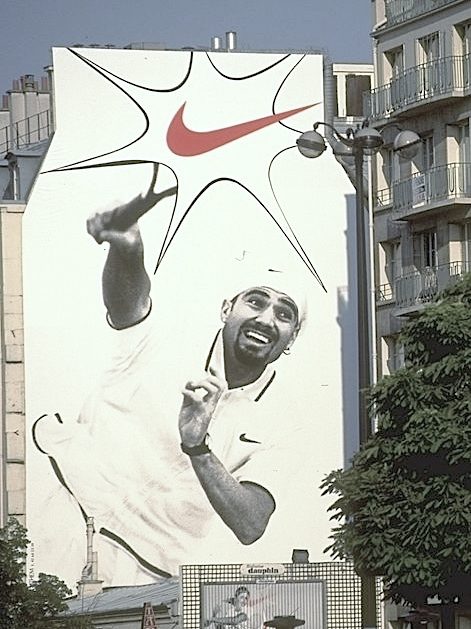 1996
Andre Agassi and Mary Pierce on a wall near Roland Garros in Paris. Simple graphic approach with no words needed. The swoosh is enough. Nike didn't even need to write down their name – a privilege few brands can afford.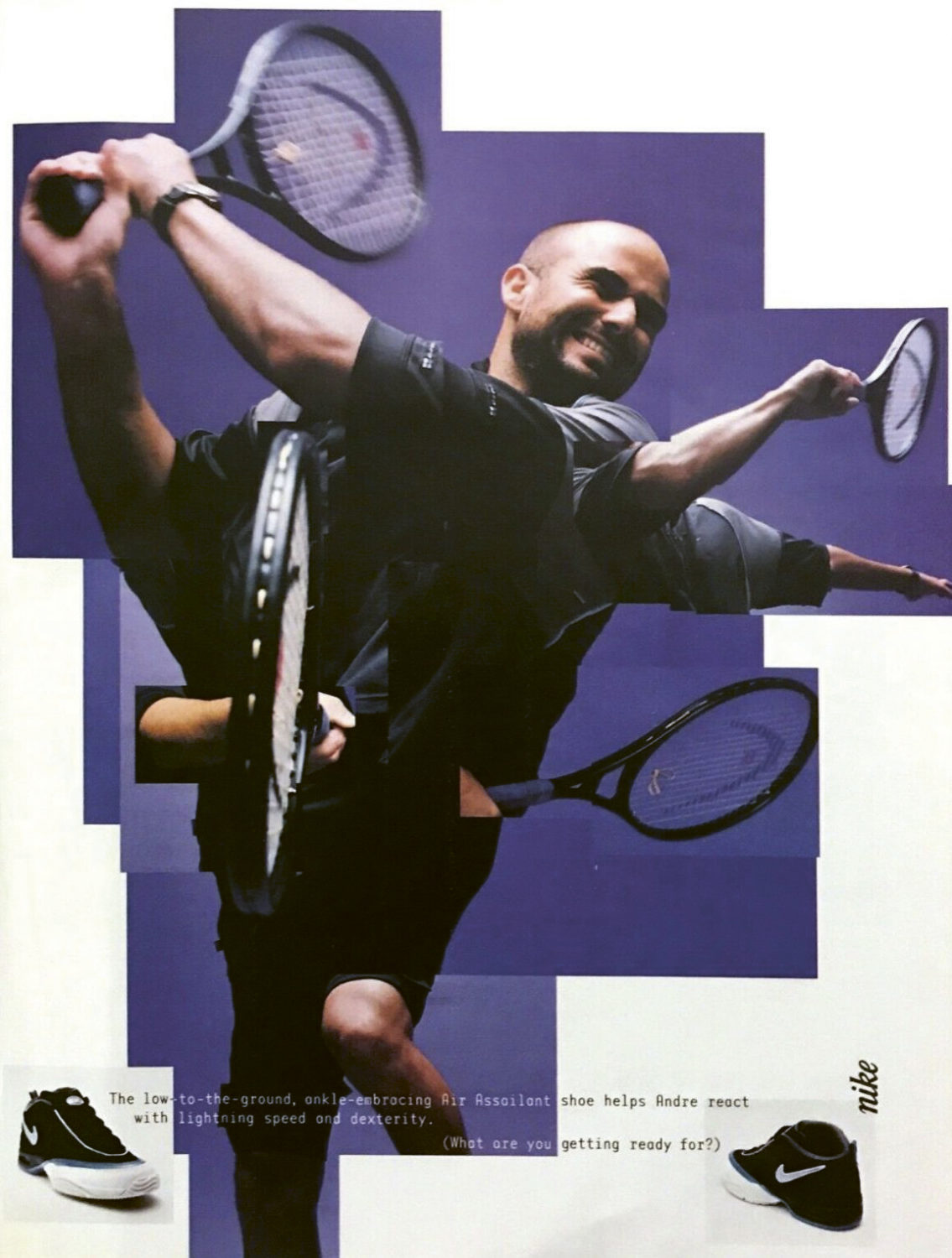 1998
Air Assailant Shoe. Andre Agassi was so fast at that time, it's like he was at the 4 corners of the court at the same time and this very graphic ad expresses it very well.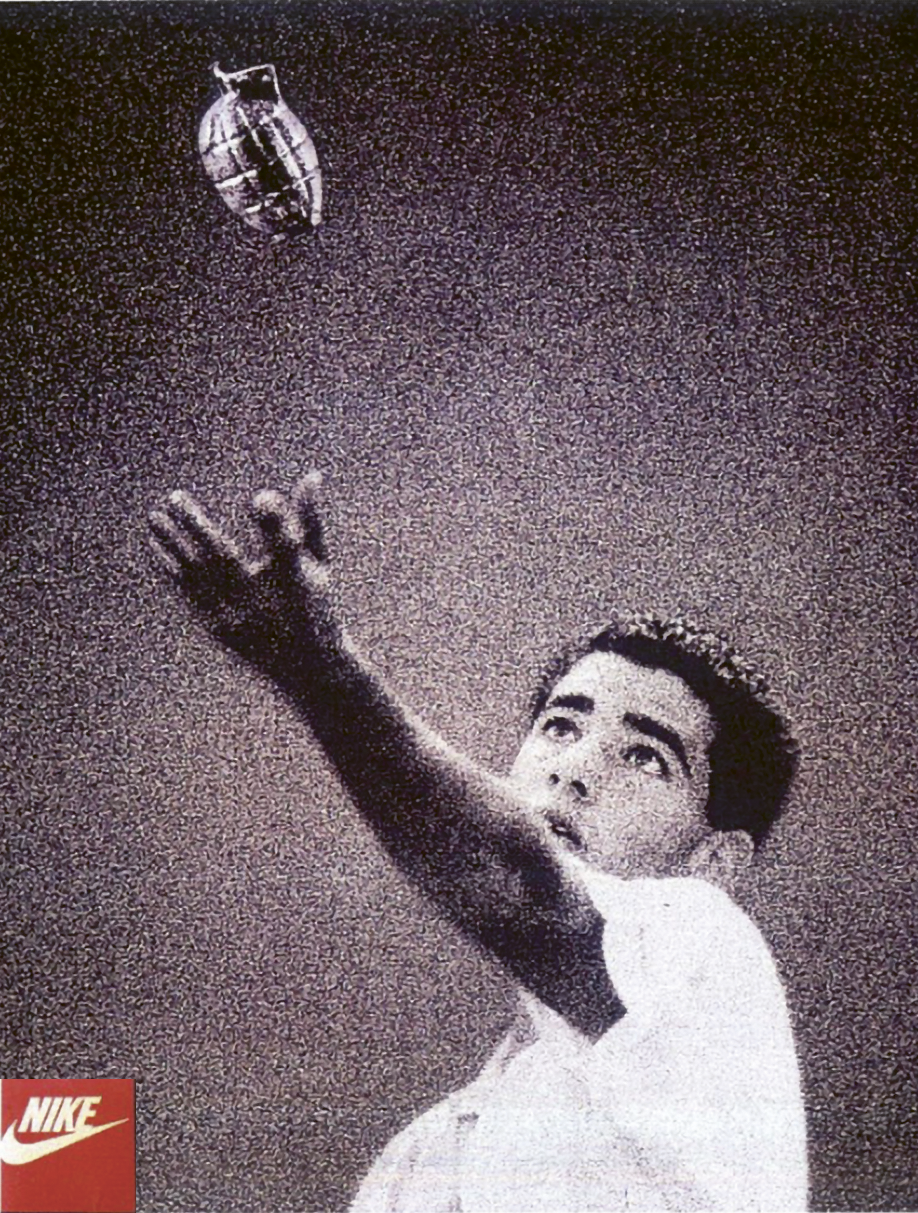 1995 
Advantage Sampras. This poster echoes the Big Mac and the flaming ball from more than ten years earlier. Pistol Pete in full action. He joined the Nike team in 1993.
2006 - Sharapova "I feel pretty"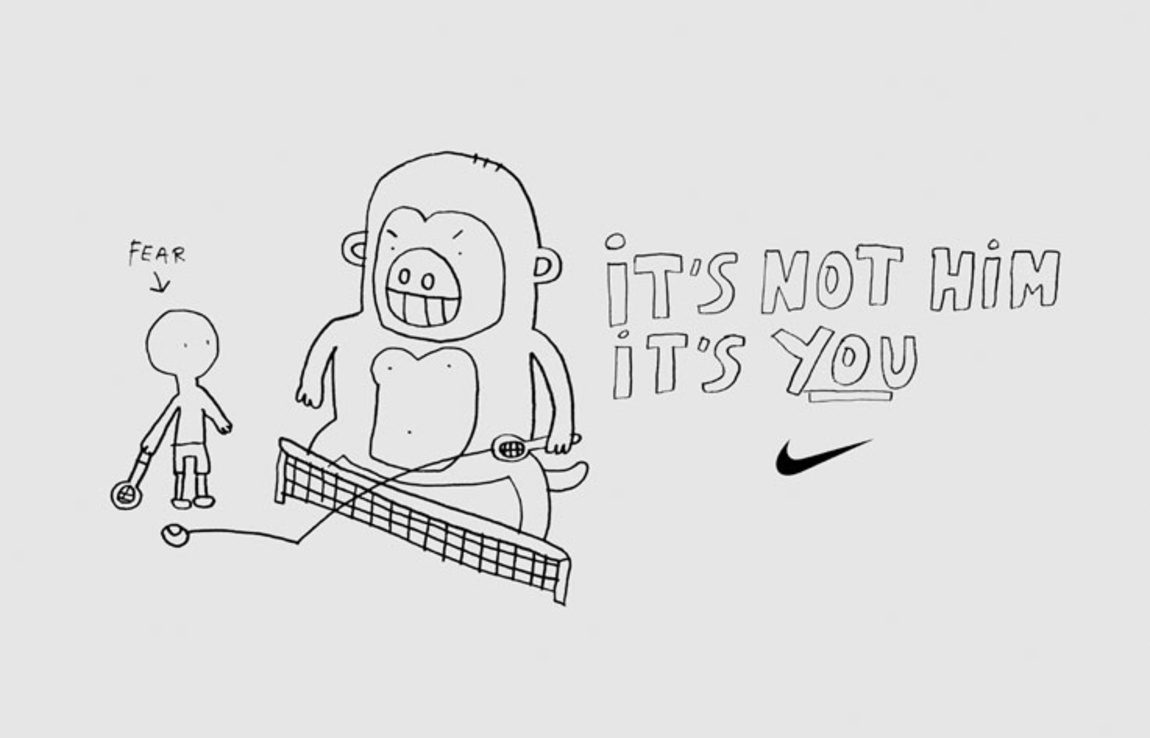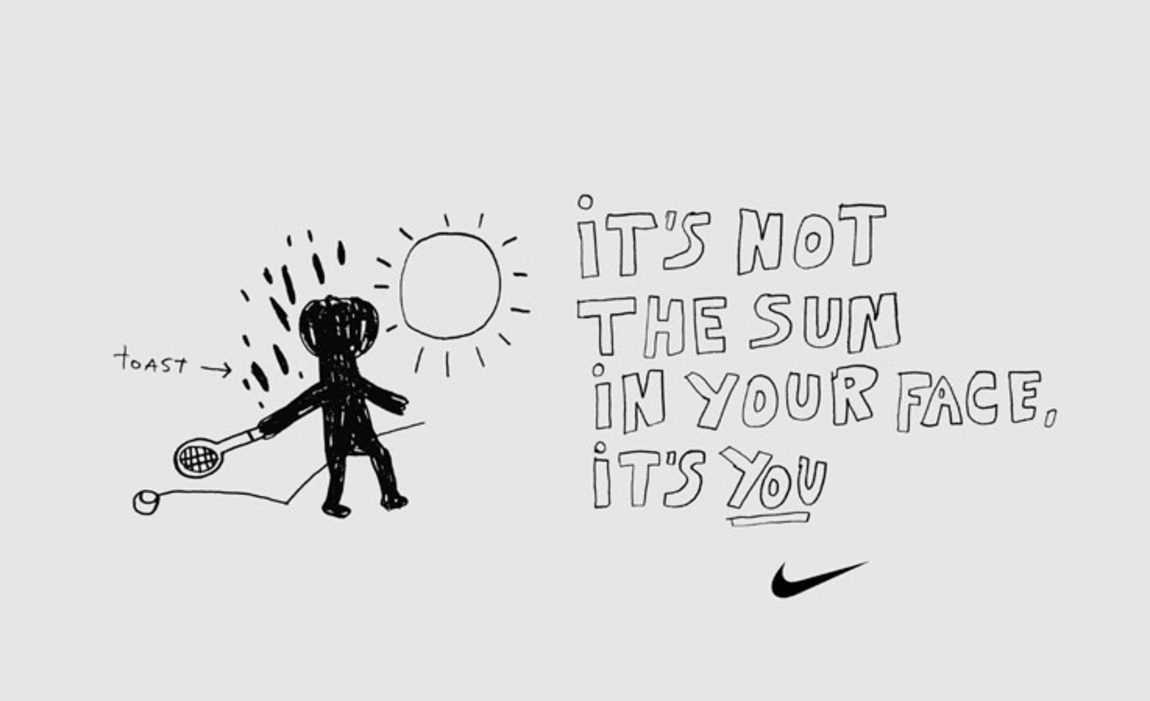 2002 
No excuses. Playful drawings that make fun of the excuses that players find to justify their losses.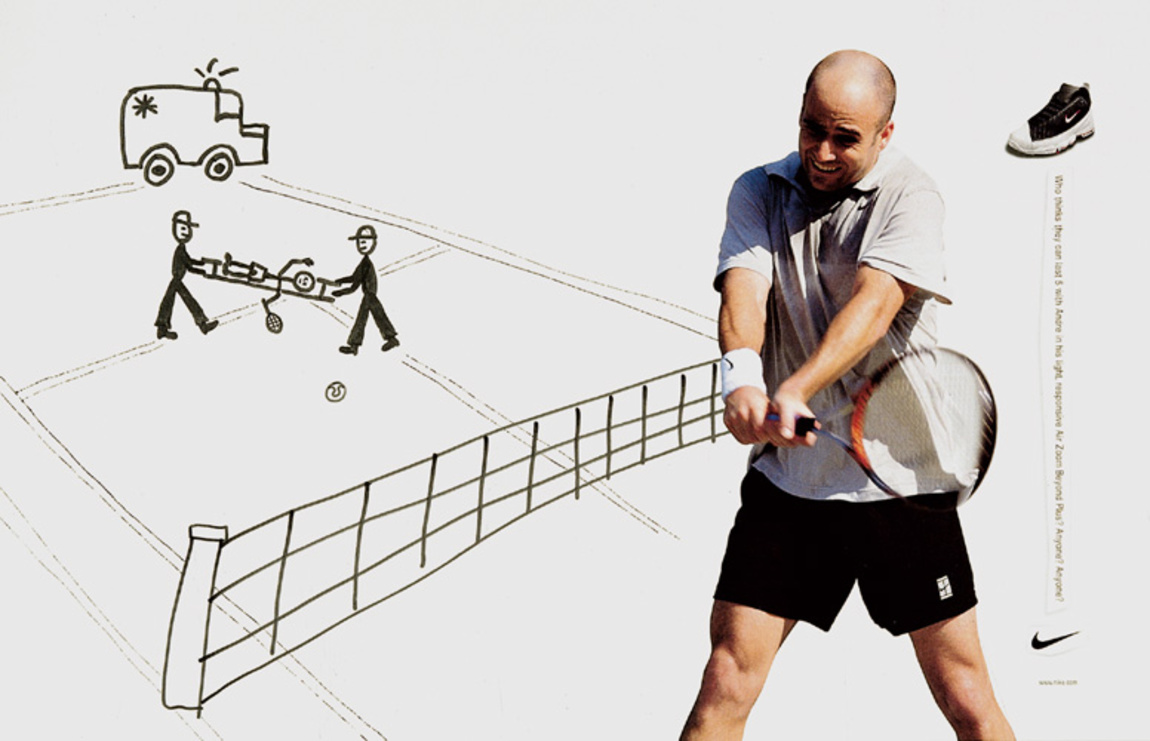 2001
Air Zoom. Andre Agassi is hitting the ball so hard that he's sending his opponent directly to the hospital.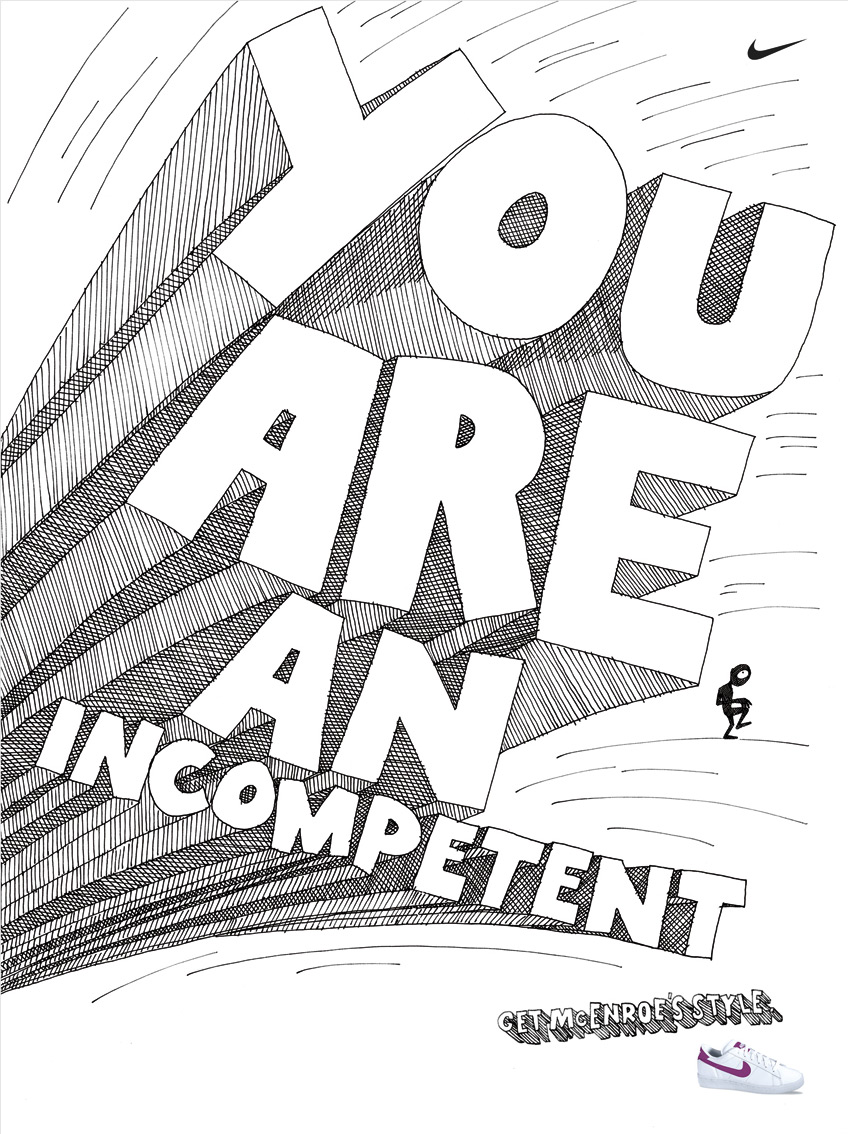 2006 
Playing with John McEnroe's imaginary quotes for a reissue of his famous shoes.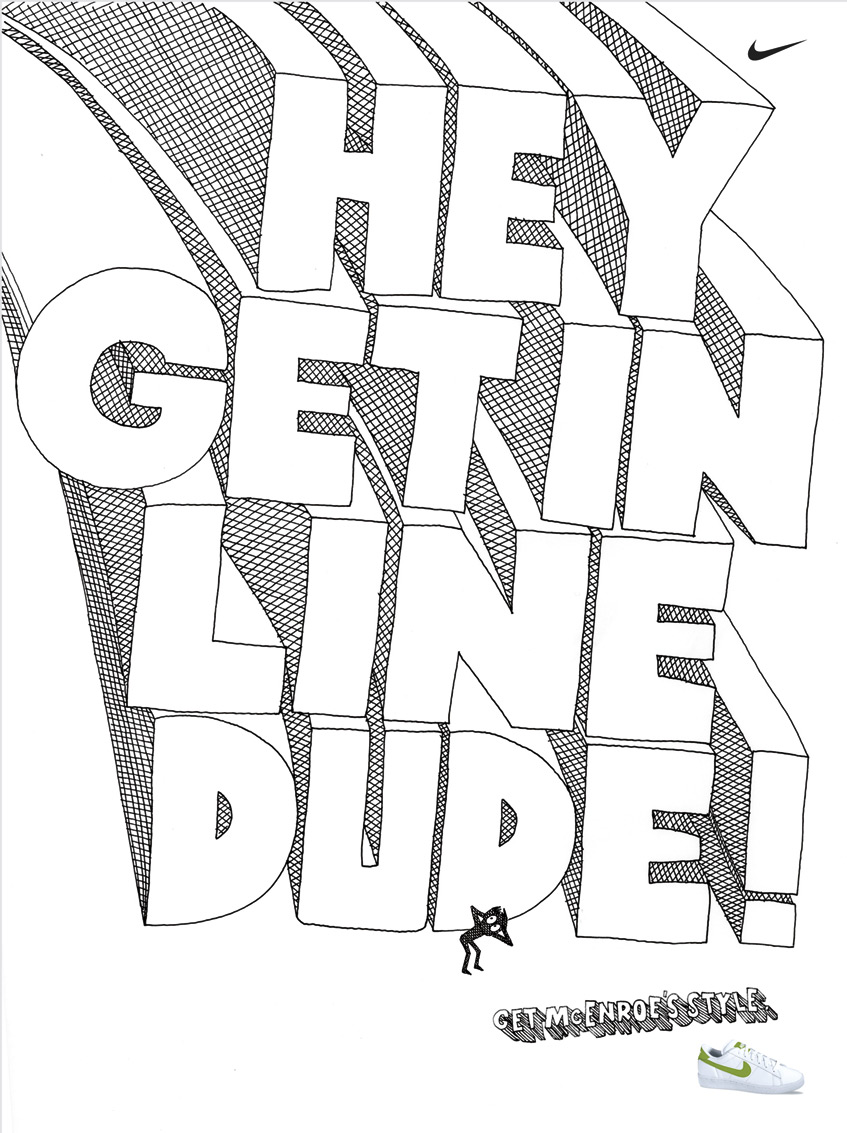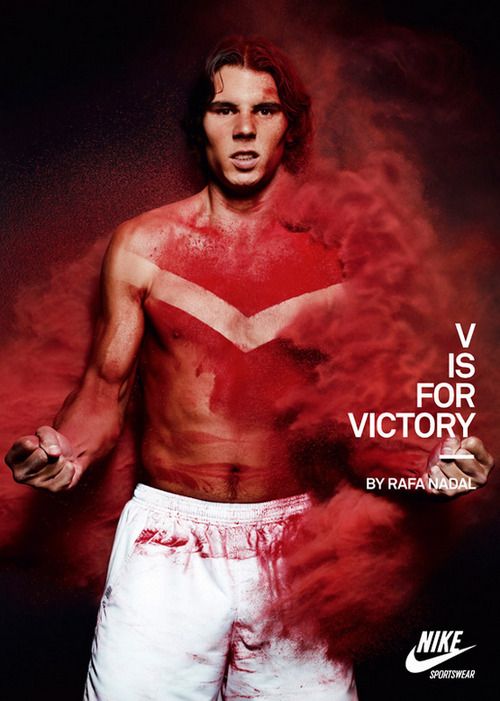 2009
V is for Victory. Rafael Nadal smeared with red clay.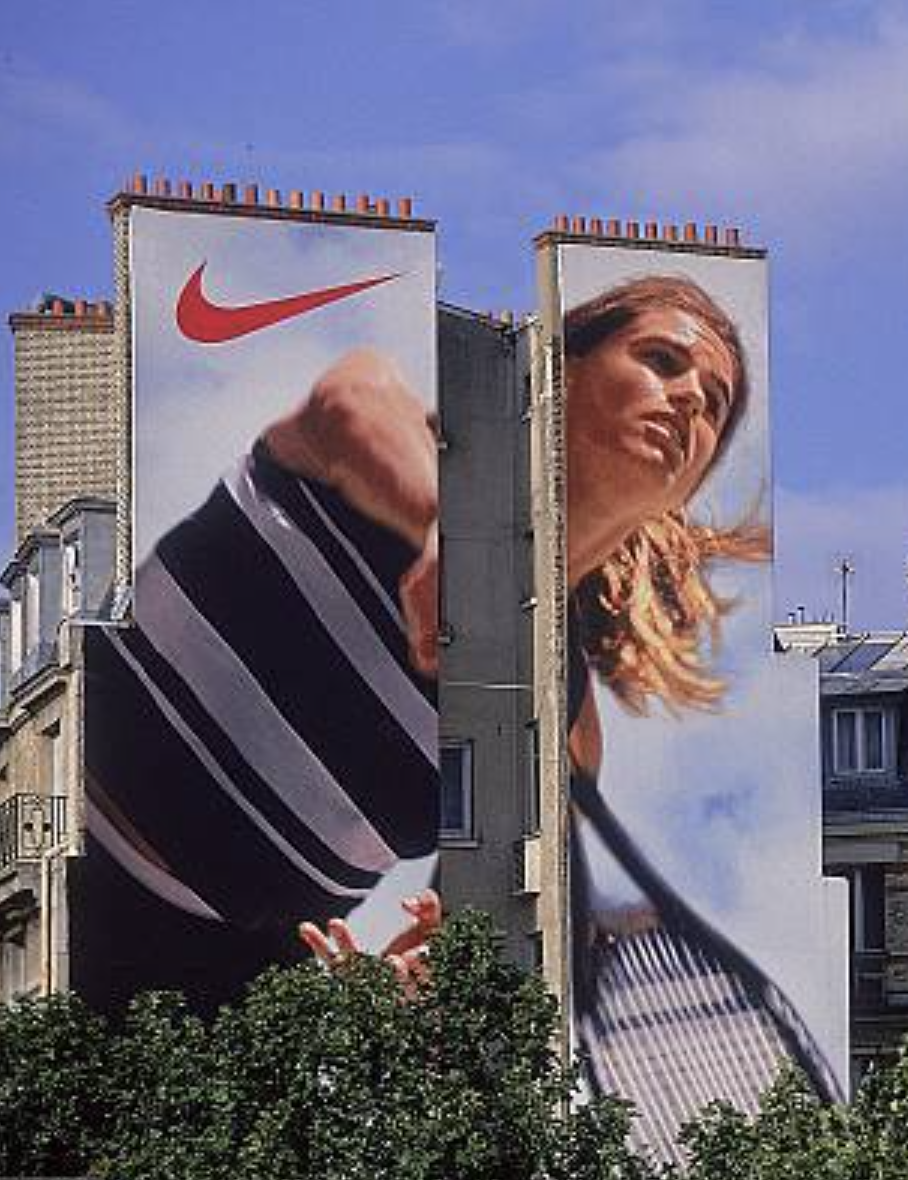 2000 
Amélie Mauresmo, French player (and future world number one) in action on a giant wall near Roland Garros.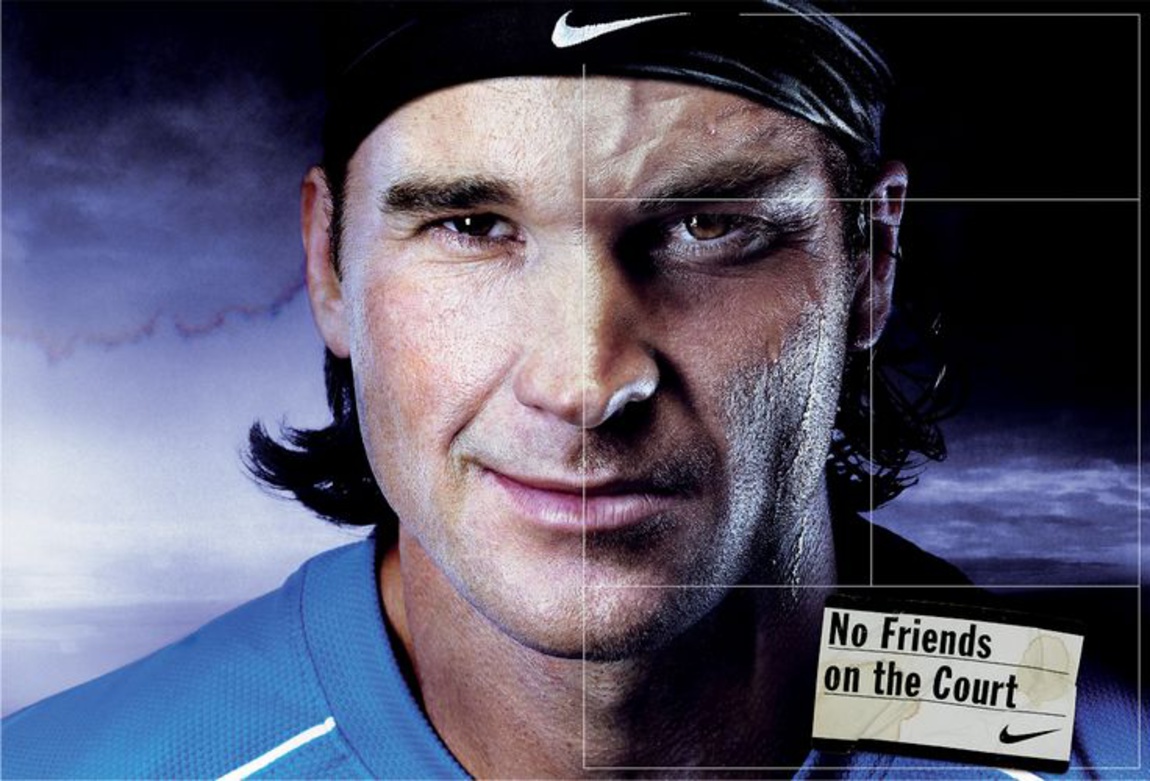 2005
Rafael Nadal and Carlos Moya. No friends on the court.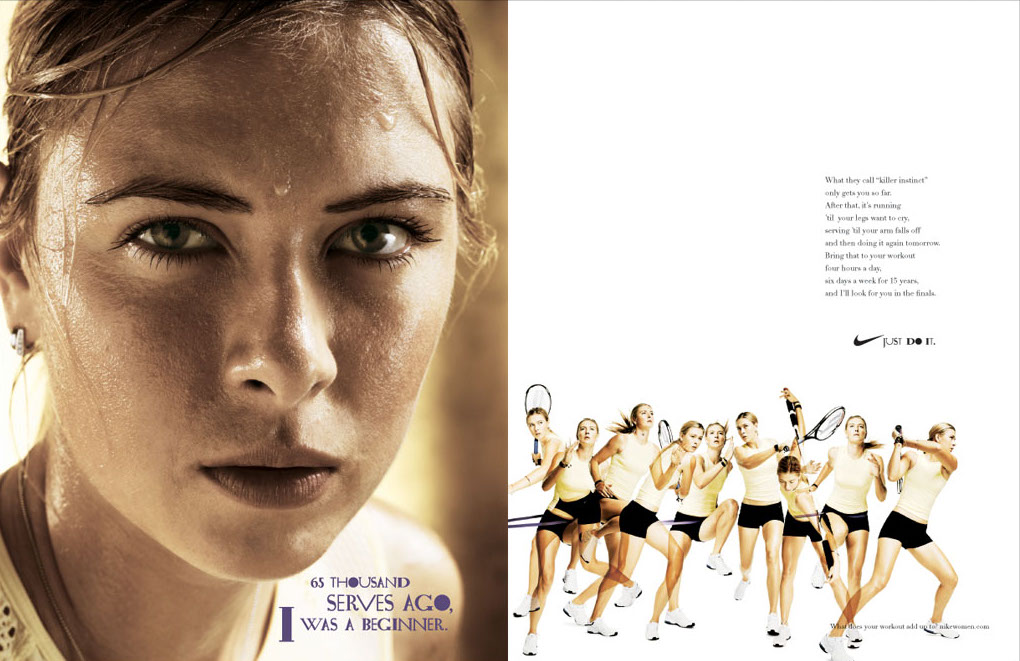 2007 
Maria Sharapova. 65 thousand serves ago I was a beginner.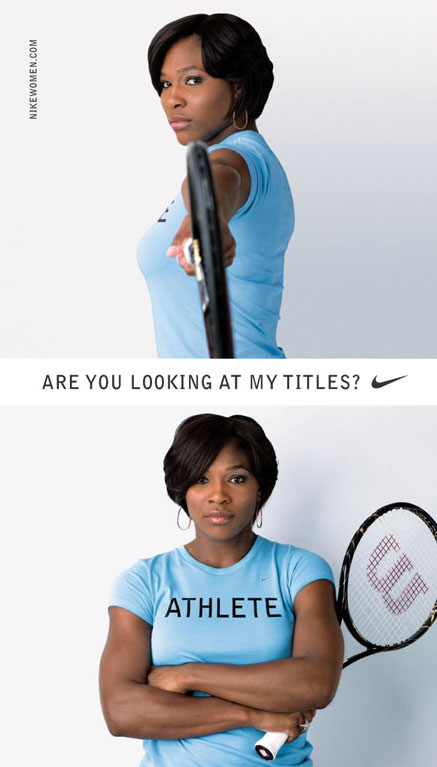 2007 
Nike Women. Stars a provocative Serena Williams who joined Nike in 2004.
2010 - Roger Federer & Wayne Rooney
2012 - Rafael Nadal vs Cristiano Ronaldo
2013 - Fly Swatter with Roger Federer
2020 - You can't stop sisters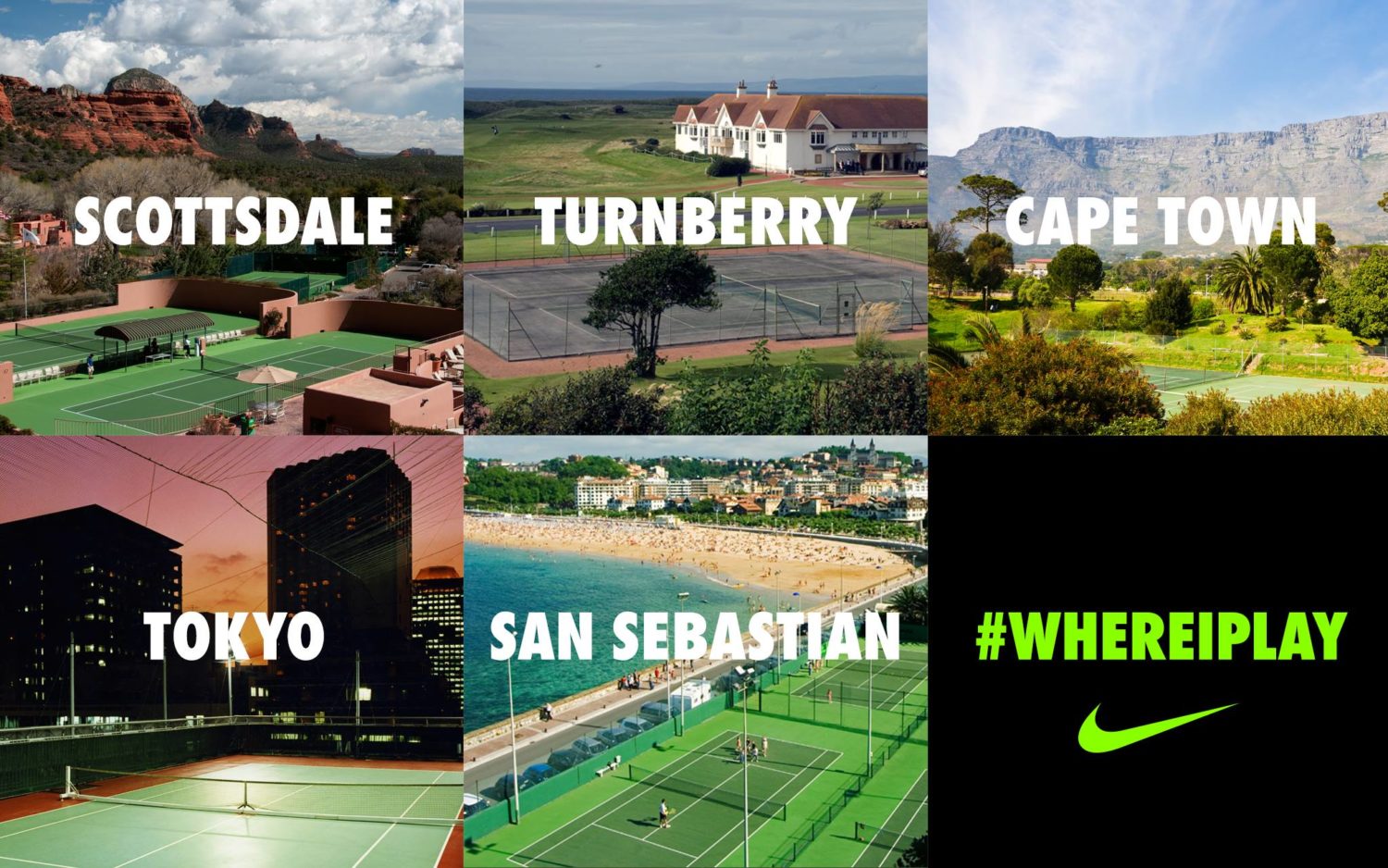 2013 
Where I play. Print and social campaign inviting people to showcase their own tennis court.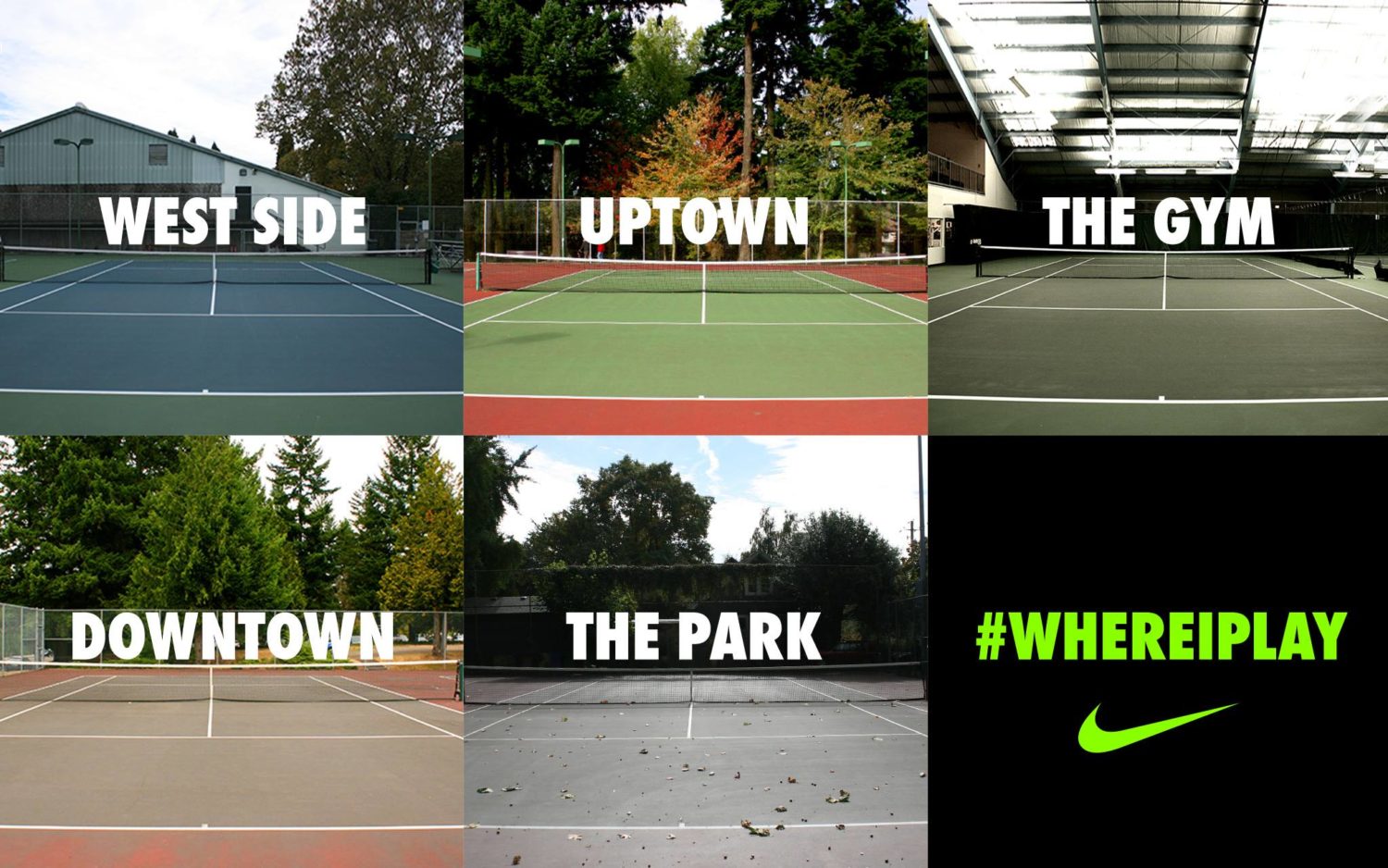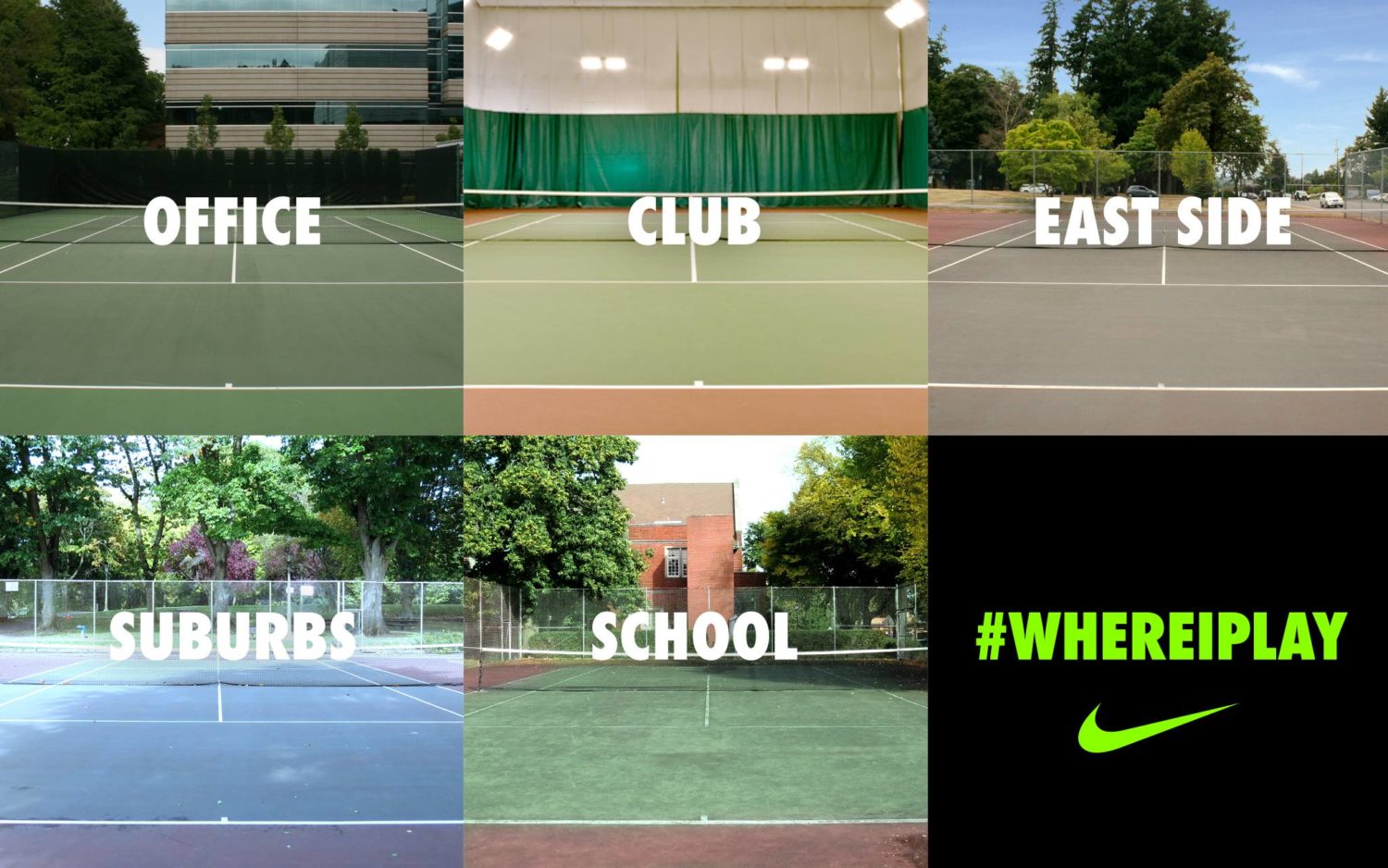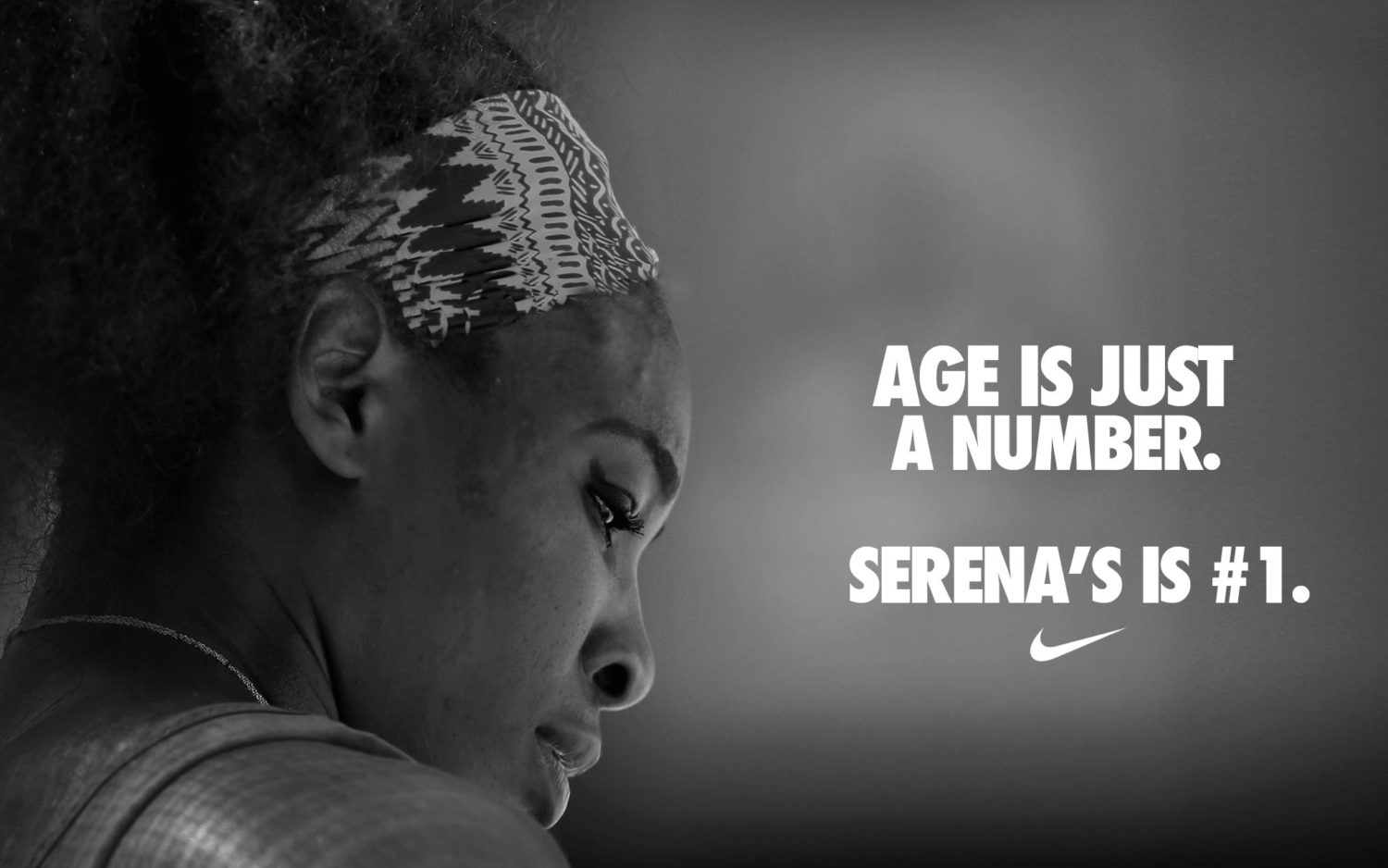 2013 
Serena Williams becomes the oldest female world number one, breaking a record set in 1985.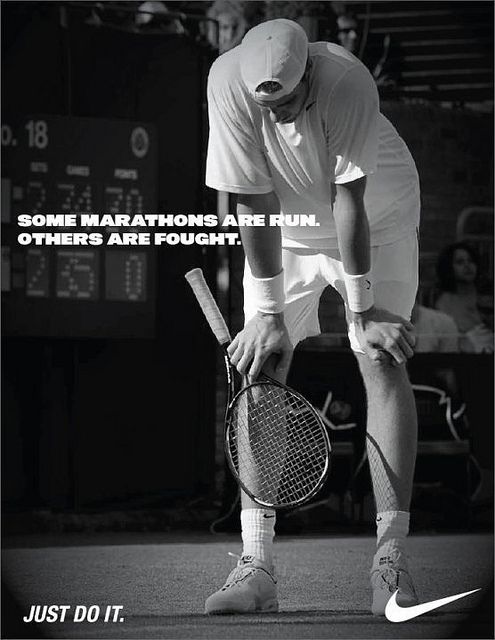 2010 
Homage to John Isner and the longest match in the history of the sport that he played against Nicolas Mahut. A match compared to a marathon.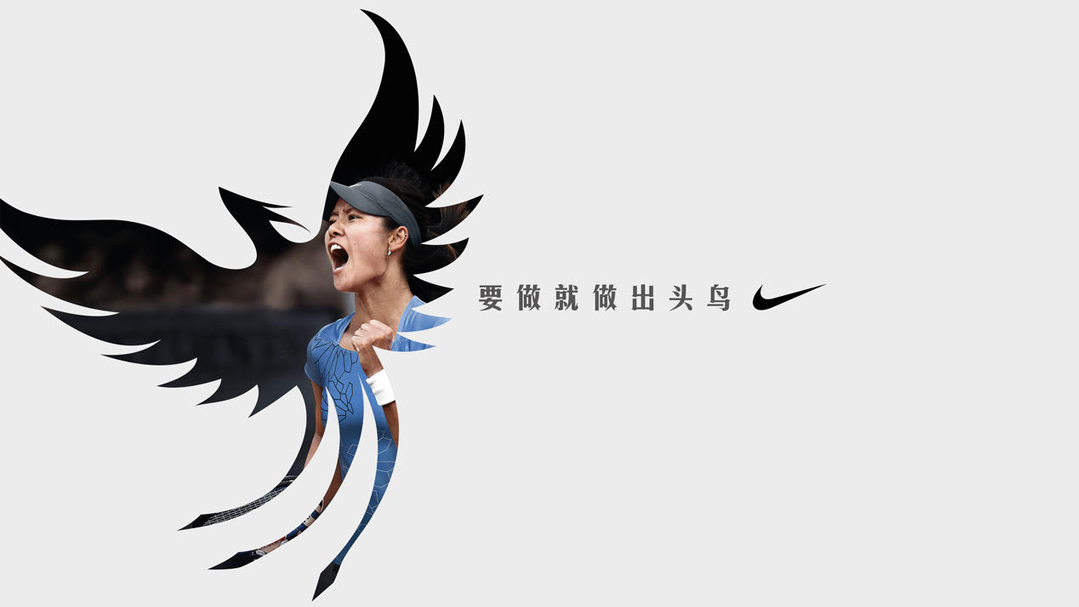 2014 
Be the bird that sticks out. Nike pay tribute to Li Na through the icon of a phoenix spreading its wings. She is the first Asian woman to win a Slam title. Nike launched a China-exclusive collection.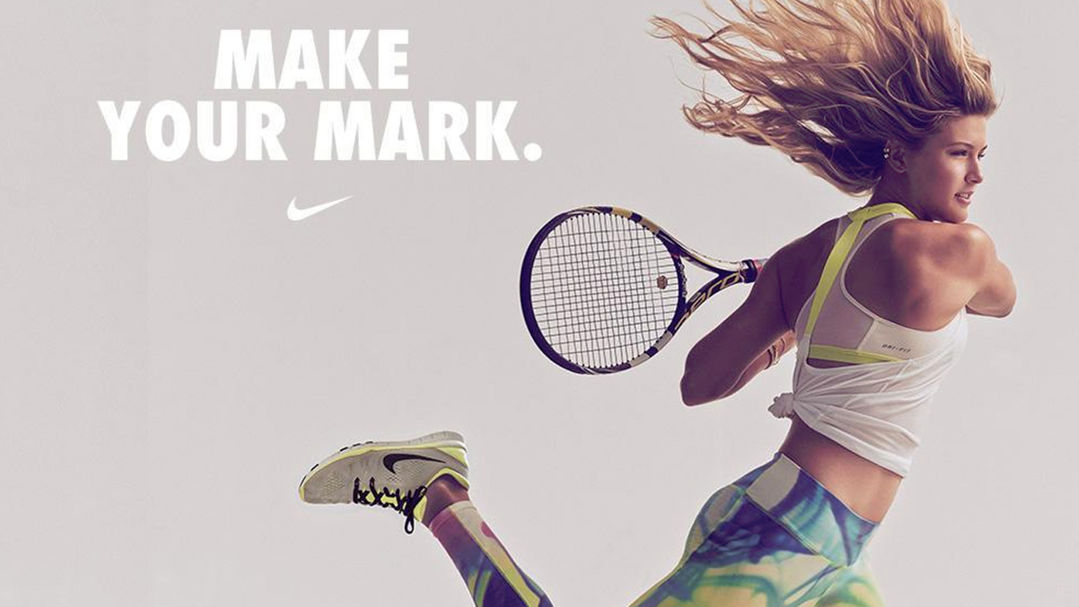 2015 
Eugénie Bouchard. One of the few examples of athletes sponsored by Nike who have not fulfilled their expectations.
2017 
Get off my lawn. Irreverent and funny commemoration for Roger Federer's 8th Wimbledon title.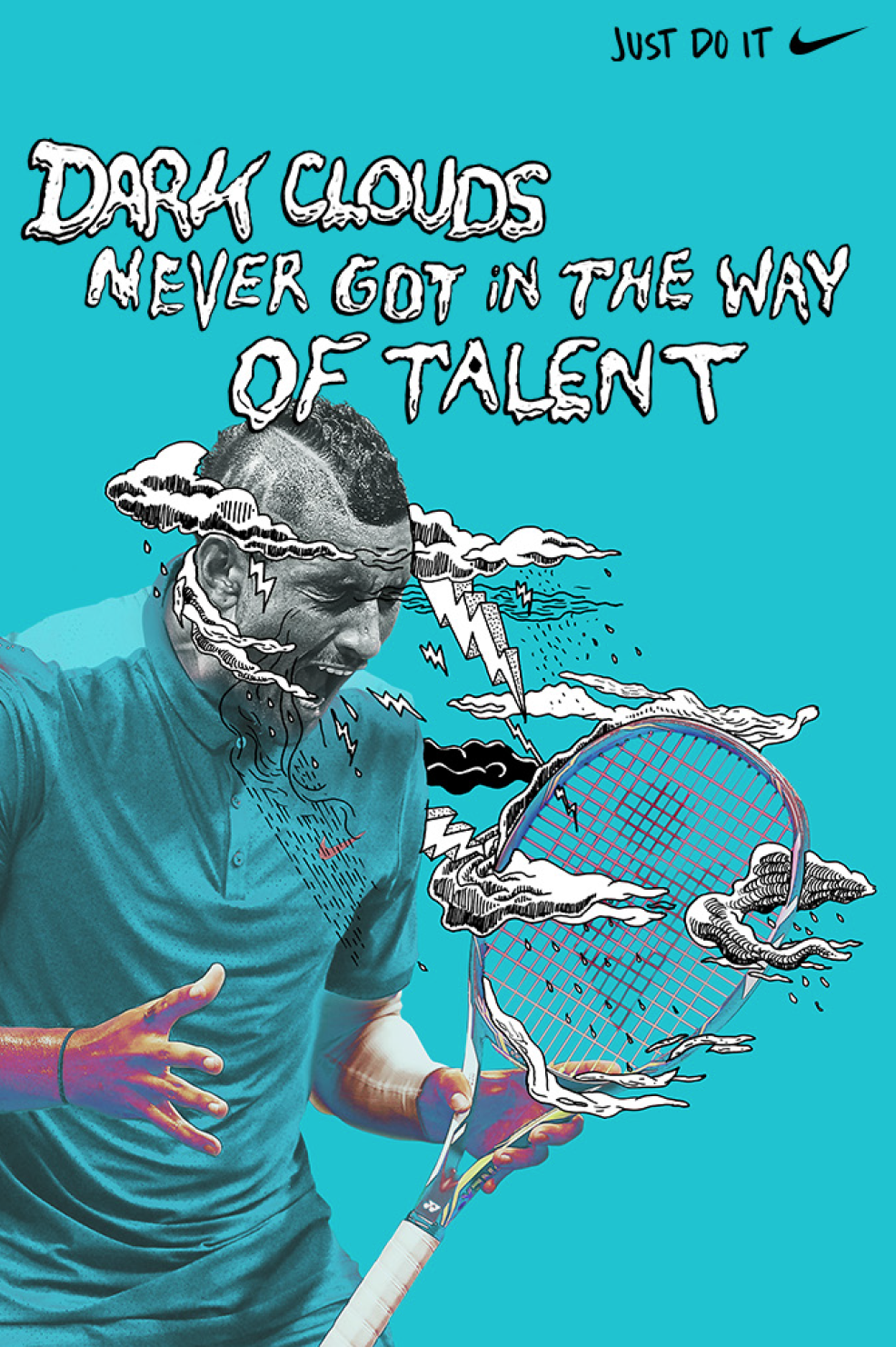 2017 
Nick Kyrgios, the Canberra-born 'bad boy', and the new, irreverent, and controversial face of Nike tennis.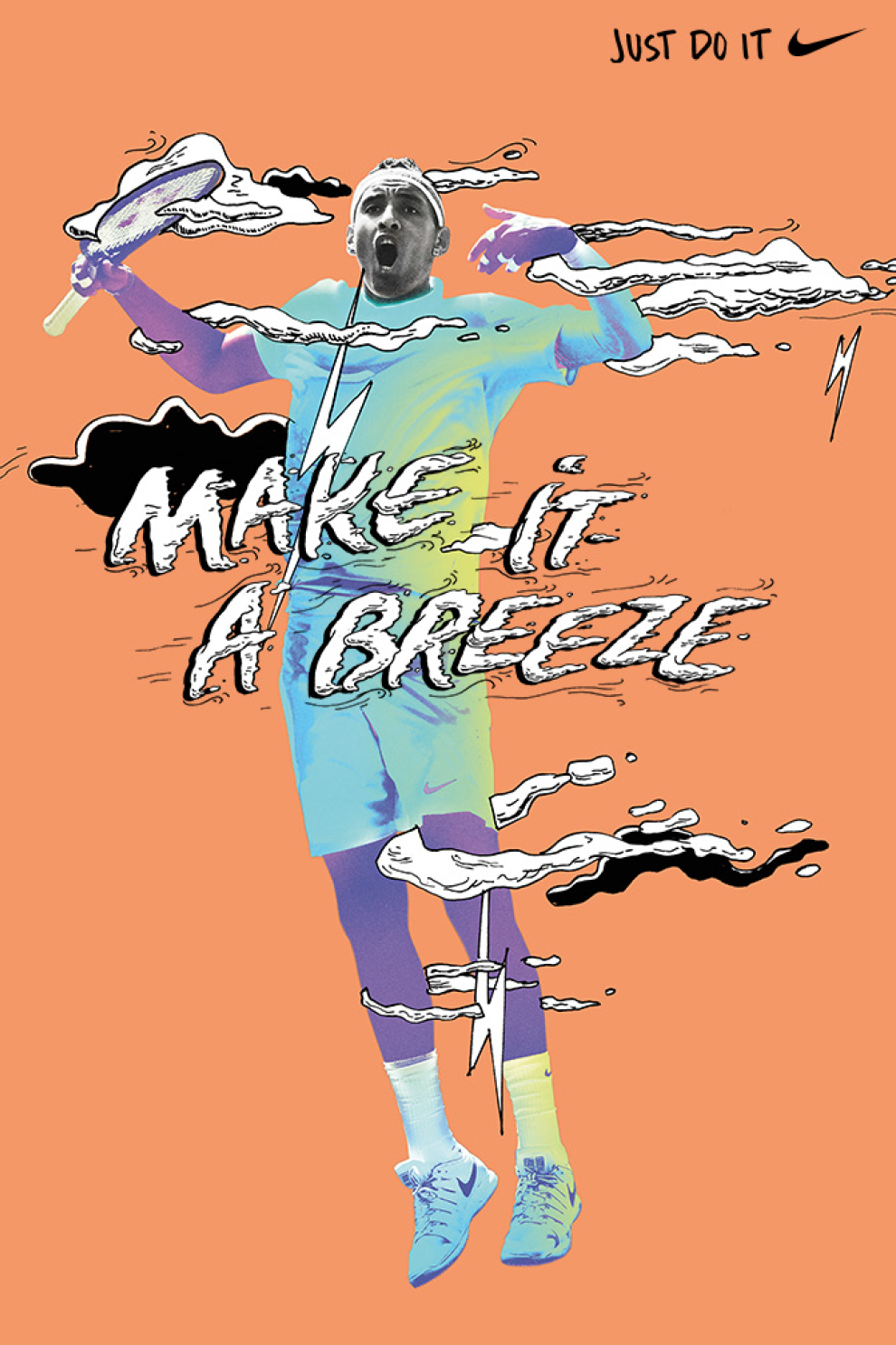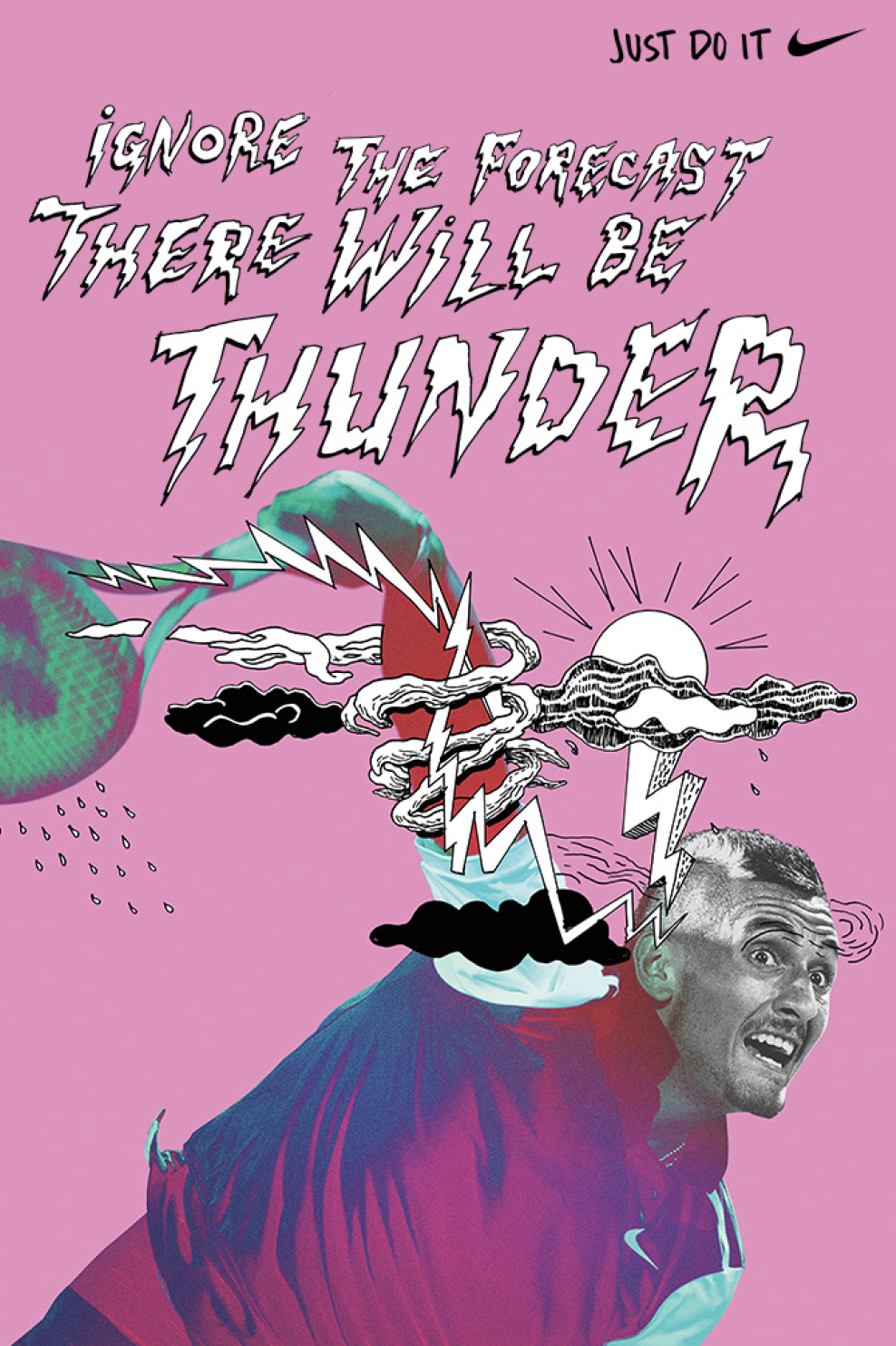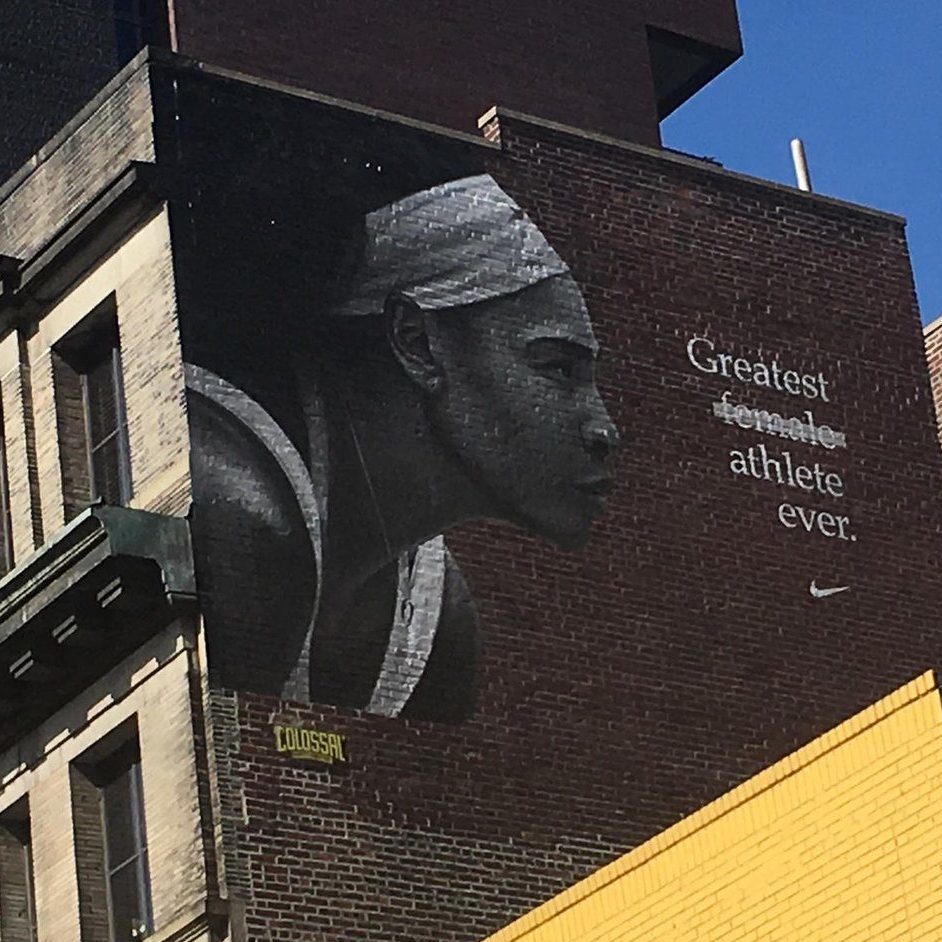 2016
Serena Williams Greatest female athlete ever. The claim seems to be a reference to a Wimbledon press conference in which a reporter asked Serena how it felt to be "one of the greatest female athletes of all time". "I prefer the word 'one of the greatest athletes of all time,'" she replied.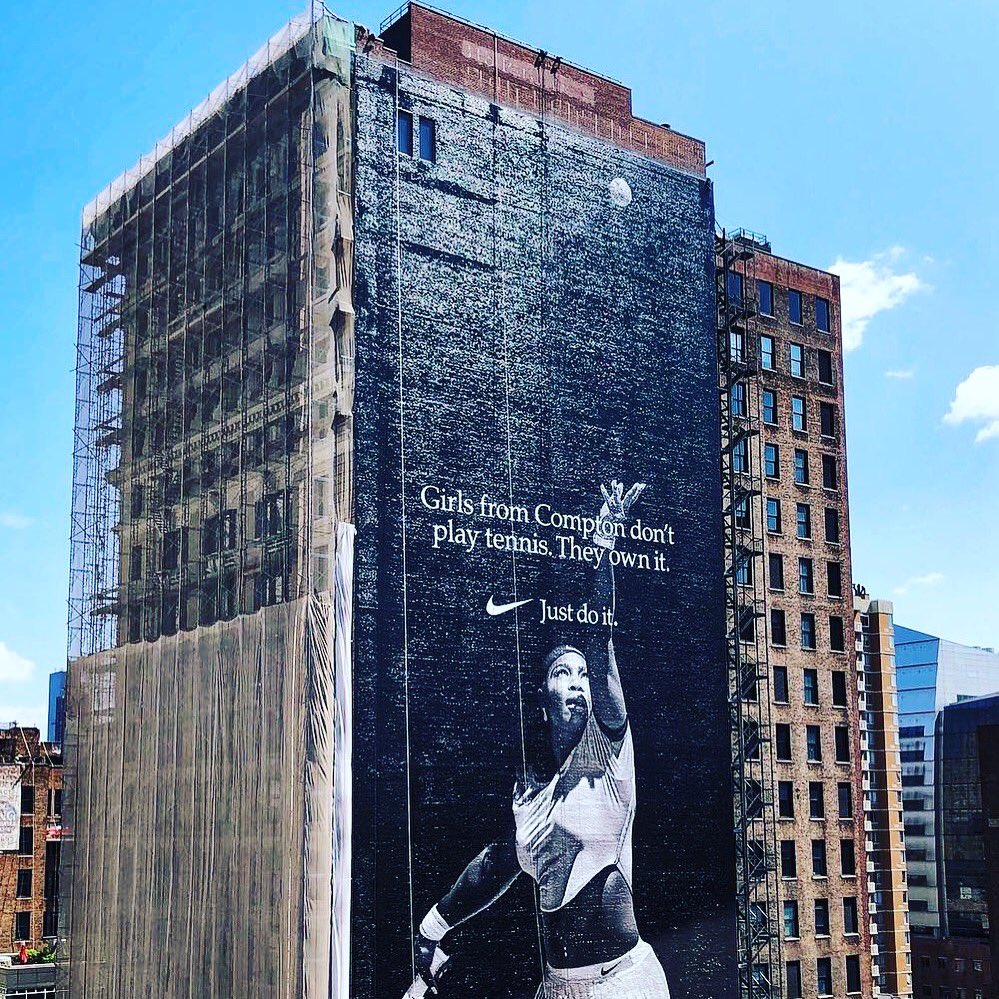 2018 
Posters that are part of a campaign to celebrate the 30 years of the Just do it slogan.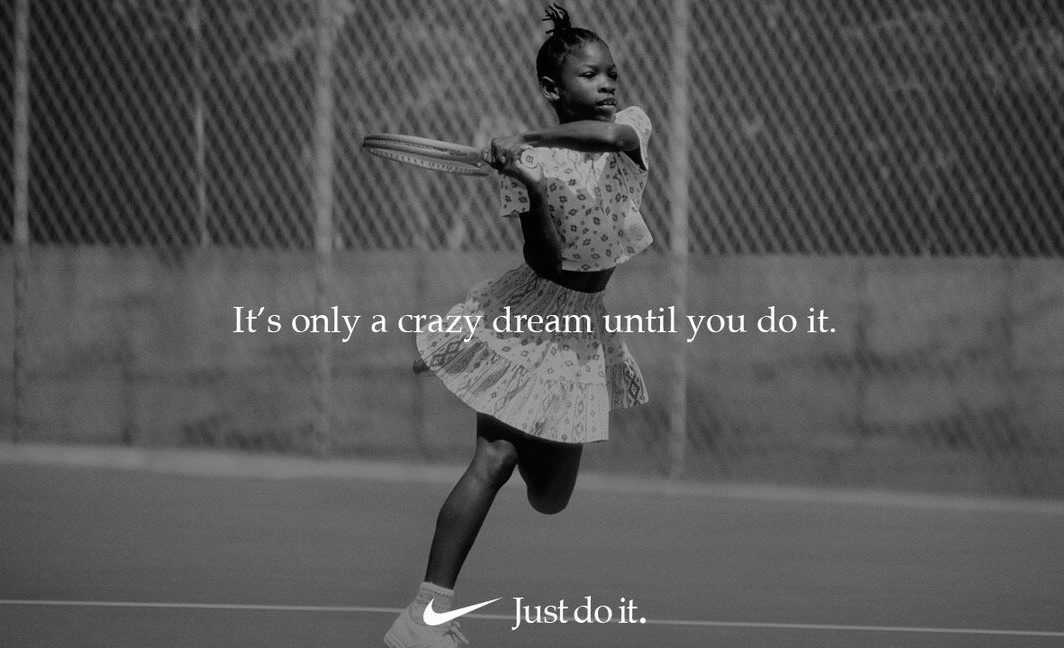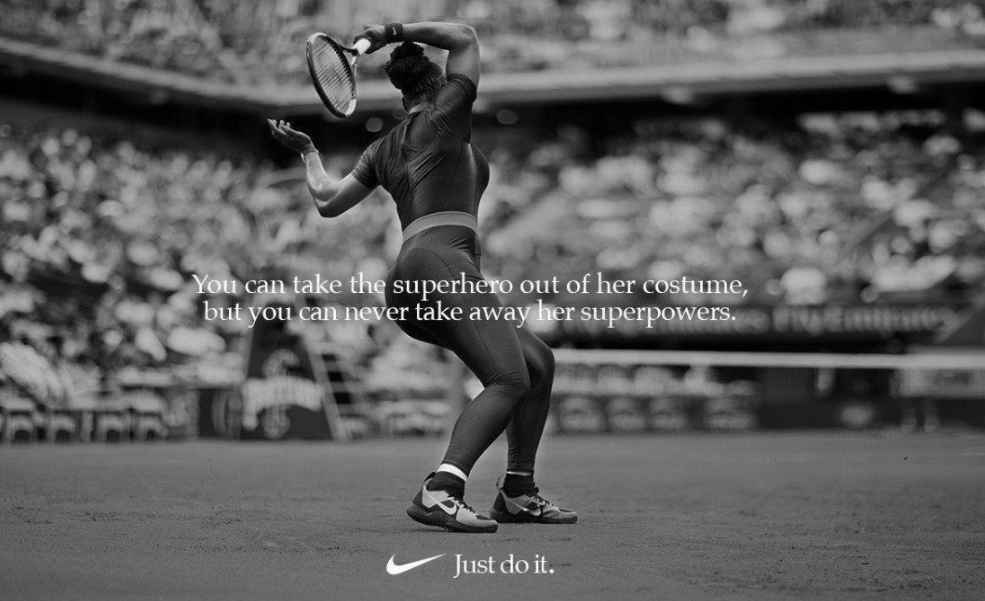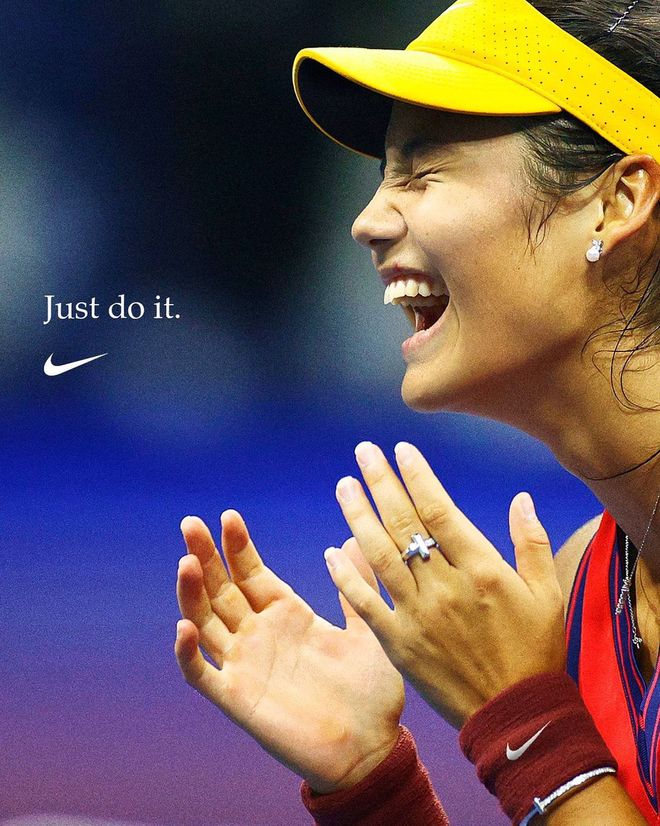 2021 
Emma Raducanu. Arrive Unknown. Leave Unforgettable. This ad was produced and shown on British walls just a few hours after her epic US Open win.
Story published in Courts no. 2, autumn 2021.