Matteo Berrettini's Brilliant Double Is a Sign of Things to Come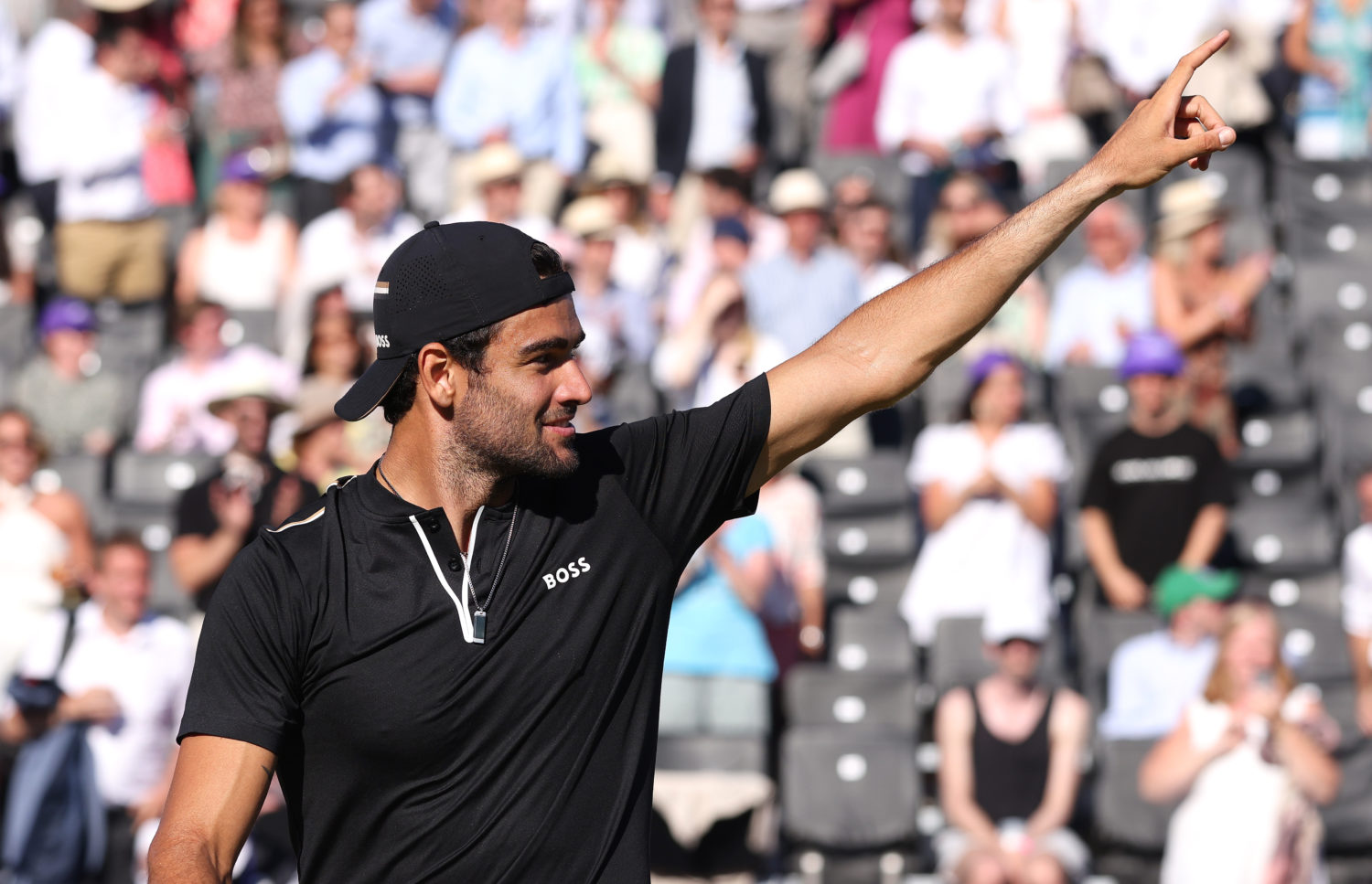 "There are moments when the racquet feels a little bit heavier", Matteo Berrettini confessed during his Queen's Club Championship run. 
"Sometimes in order to flip the match around, or the energy level, or your mindset, you have to scream, he said with a smile. You have to do something that gets into your body, into your mental mindset in that moment. I don't feel comfortable throwing racquets or throwing balls—it's not something I like to do. But sometimes screaming at yourself helps, because you, maybe, let the bad stuff out, and focus on the good and [the] today." 
Matteo Berrettini's handsome face and piercing, hazel-brown eyes beam with happiness, even if, at the end of a brilliant two-week run, they betray signs of fatigue. Having lifted two trophies within a fortnight, he is undoubtedly tired. But the wear is offset by a sense of relief, not only to be winning again, but to be competing. Flashing an attractive smile, Matteo Berrettini is happy to be back.
Following his fourth round loss to Miomir Kecmanović in March at the 2022 Indian Wells, Matteo Berrettini, feeling discomfort in his right wrist, decided to undergo surgery. An athlete's body is their most valuable asset—the equivalent of a Formula 1 race car, the more finely—tuned, the more of an advantage over their opponents. But unlike a McLaren or a Mercedes, it is non-replaceable, a lease of life with a limited capacity for strain and hardship. 
Even if modern medicine offers solutions to stave off the inevitable, with a tennis career compressed to a single 24-hour period, those solutions amount to mere, and uncomfortable, minutes ("He's number one in the world and I'm playing with a metal hip", said Andy Murray about facing Novak Djokovic at this year's Madrid Open). While most players hope to make it at least to dinner, with a few lucky ones able to grab a midnight snack, Matteo Berrettini worried when his wrist started to hurt just after lunch. 
"I think it was maybe ten days before Stuttgart, a week before Stuttgart, he said during a press conference after successfully defending his Queen's Club Championship trophy. My hand was hurting. Not the part that I got injured, but the rest of the hand—the callus, the wrist—the hand wasn't strong enough, Berrettini added. I wasn't used to hitting as many balls as I was doing, as I was hitting, and I was like: 'What if it's not going to hold? What if it's not going to be strong enough?'"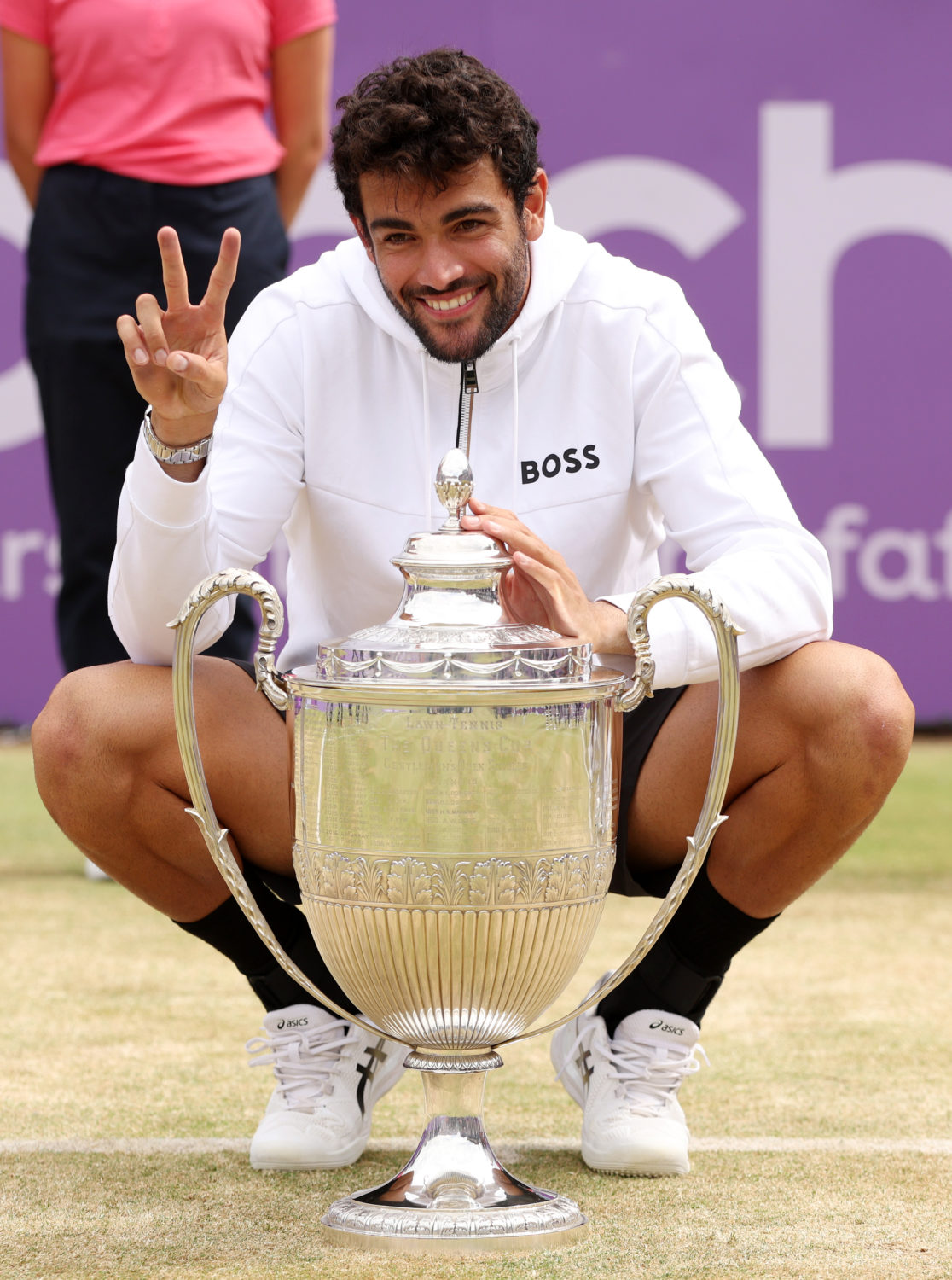 After the surgery took place, the long road to recovery meant that Berrettini had to skip the entirety of the European clay court season. The long layoff wasn't so much about the prospects of his ability to play tennis in general—although he did admit there were moments when "I didn't believe I could come back"—it was about how the injury would affect his game. It is difficult (impossible?) to find a tennis player who didn't have to, at some point or another, adjust their game due to the wear and tear inflicted by the physical demands of the sport. Over the course of their careers, the Big Three (and in this context, even more so the Big Four), accumulated months of moulding their games to fit their ageing bodies—a sign of the relentless march of time is that, back in their prime, they would impose their bodies onto the game, changing the way tennis was played, with their skills, titanic physique, and seemingly-endless supply of stamina ("Is he going to play every point like that?", John McEnroe cooed in the commentary box over 16-year-old Nadal upsetting then-world-number-4 Carlos Moyá in the 2003 Hamburg Masters).
For Berrettini, the questions he suddenly had to face came early in his career. "I actually thought, what if my technique has now changed because I had surgery on my hand? What if my service will not work as well as it used to?", he admitted. 
"When I was at home, and I was injured, I was doing rehab, I was watching the matches at tournaments, and I was hurting, Berrettini said after his round of 16 win against Denis Kudla. I told myself back then, 'When you're going to be able to play again, you're going to fight even harder,' and that's what I did today. And that's why I think when you get injured it's really bad, but it teaches you so much. Sometimes, you take it for granted that you can play, defend your points, win matches and lose matches. When you don't have that chance, you really understand what is missing."
Having recovered, Berrettini travelled to Germany for the start of the grass court season. The unfortunate timing of his injury and, as a consequence, not being able to defend his results from the 2021 clay swing, meant that, as he was recovering fitness, he was also losing points. Week by week, the hard-earned victories in Belgrade (win in ATP250), Madrid (final of a M1000), Rome (third round in a M1000), and Paris (quarterfinal of a Slam) dissipated into nothing. The ATP's decision to strip Wimbledon of points, where Berrettini made the final the year prior, was another gut punch. Asked whether he would prefer to face Nadal or Djokovic (why not both? Looking at you, Carlito) at the upcoming Championships, he made a level-headed assessment. "I'm not saying that it's going to be easy to beat Rafa there, but I think Novak will be tougher, Berrettini said before adding, but, anyway, to play against them I think I have to reach a certain result before. I don't know my ranking, what it's going to be in Wimbledon, whether I'm going to be seeded or not."
His comeback tour began on the grassy courts of Stuttgart at the BOSS Open, an event sponsored by Hugo Boss, which, incidentally (or not?) is a brand with whom Berrettini has his own fashion line. Stepping out on court to face Radu Albot, a tour veteran and former world number 39, Berrettini was undoubtedly nervous. What followed was a hard-fought win in three sets, then another one versus Lorenzo Sonego, a straight set win (albeit in two tiebreaks) against Oscar Otte, and yet another three-setter against the toughest opponent yet, ultimately injured, Andy Murray—a man who knows a thing or two about comebacks. "I arrived in Stuttgart, Berrettini said a week later, after lifting the Queen's trophy. I played just one set, practice, and there was a guy, a junior, so I didn't really have a lot of match training. It was a moment like, I'm going to be here in Stuttgart, maybe play a couple of rounds if I'm lucky, and let's see how it goes. And look where I am now!"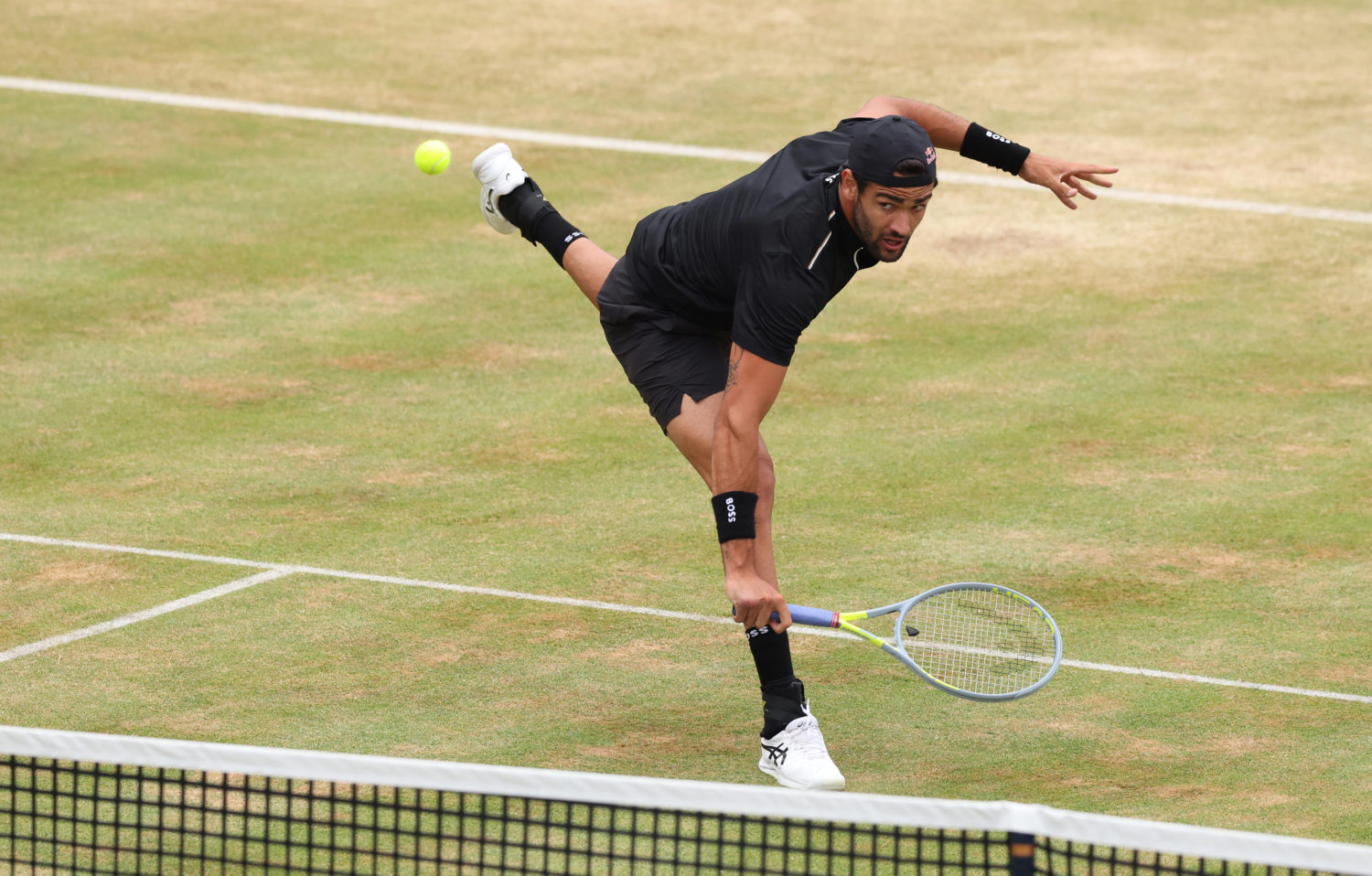 Winning back-to-back Stuttgart and Queen's trophies, Berrettini strung together nine consecutive wins in 12 days. It is an indication of readiness, if not an outright declaration, both physical and mental, for the demands Wimbledon places on a player—the mind gets just as rusty during prolonged periods of inactivity, and whereas the body can be checked for signs of rust, the mind less so without real-match pressure.
Berrettini's recent run of results, combined with his game's natural predilection for grass, mean that, once again, he is at the front of the pack heading for Wimbledon ("I figured that I could play good on grass in 2019 when I played the Davis Cup against India" he said when asked about fondness for the surface. We are still joking about it with [Rohan] Bopanna because they were like 'Okay, we're gonna play Italy on grass because they don't like grass.'"). His desire to do well, points or no points, is further entrenched by the loss to Novak Djokovic in last year's Wimbledon final. And while Berrettini may not necessarily feel like he has anything to prove to others, there are things he would like to prove to himself. 
"Probably beating him [Djokovic] in a Slam is one of the toughest things you can ever think to do, he said of that match. Last year, he won three Slams and made the finals in the fourth. So it's not easy to find a way. But one thing is for sure—every time that I play him, in a Slam, I feel I am getting closer and closer because, obviously, the more you play against someone, the more you learn about him. Also every time I play against these players, I am improving, even if I am losing a match. So I think it's about time."
Berrettini, like all his peers in the upper crust of tennis society, honed his game over years of ascetic devotion. The technique, chiselled from the marble of potential through endless hours of court time (and there is something of a Roman god in Berrettini—if he stood idly at the Foro Italico in Rome, you could easily mistake him for another statue), and the stamina, built up with a decade of brutal gym work, equip him with the required physicality. But the mental resilience his game shows today is something that he had to learn the hard way. 
"That's why I improved because I got burnt, he said after a bruising encounter with Denis Kudla at Queen's. I got hurt mentally in a way. I was able to digest the loss, but wasn't able to digest the fact that I didn't try to the very end. So I said to myself today, let's try to the very end so, at least, when you wake up in the morning, you will love yourself a little more."
Going into Wimbledon, Matteo Berrettini is ready to make a statement. But even more so, he is ready to hurt and suffer in order to improve. Over the course of his, still young, career he has learned to take the good with the bad and enjoy himself just that little bit more. At the end of the day, winning matches, or even playing tennis, is not something he can take for granted, and Berrettini, as if taking a leaf out of Rudyard Kipling's poem If, is ready to treat triumph and disaster, those two impostors, just the same. 
"I remember one of the change-overs, I look at the glass like [it's] half-full. I said, 'OK, you're here, a lot of people are watching you. Two months ago you were home doing your rehab, your pinkie wasn't even moving, so don't complain. Fight. Enjoy it. This is what you live for and worked for all your life.' So that's what I did."