Life in plastic, it's fantastic…
and feminist!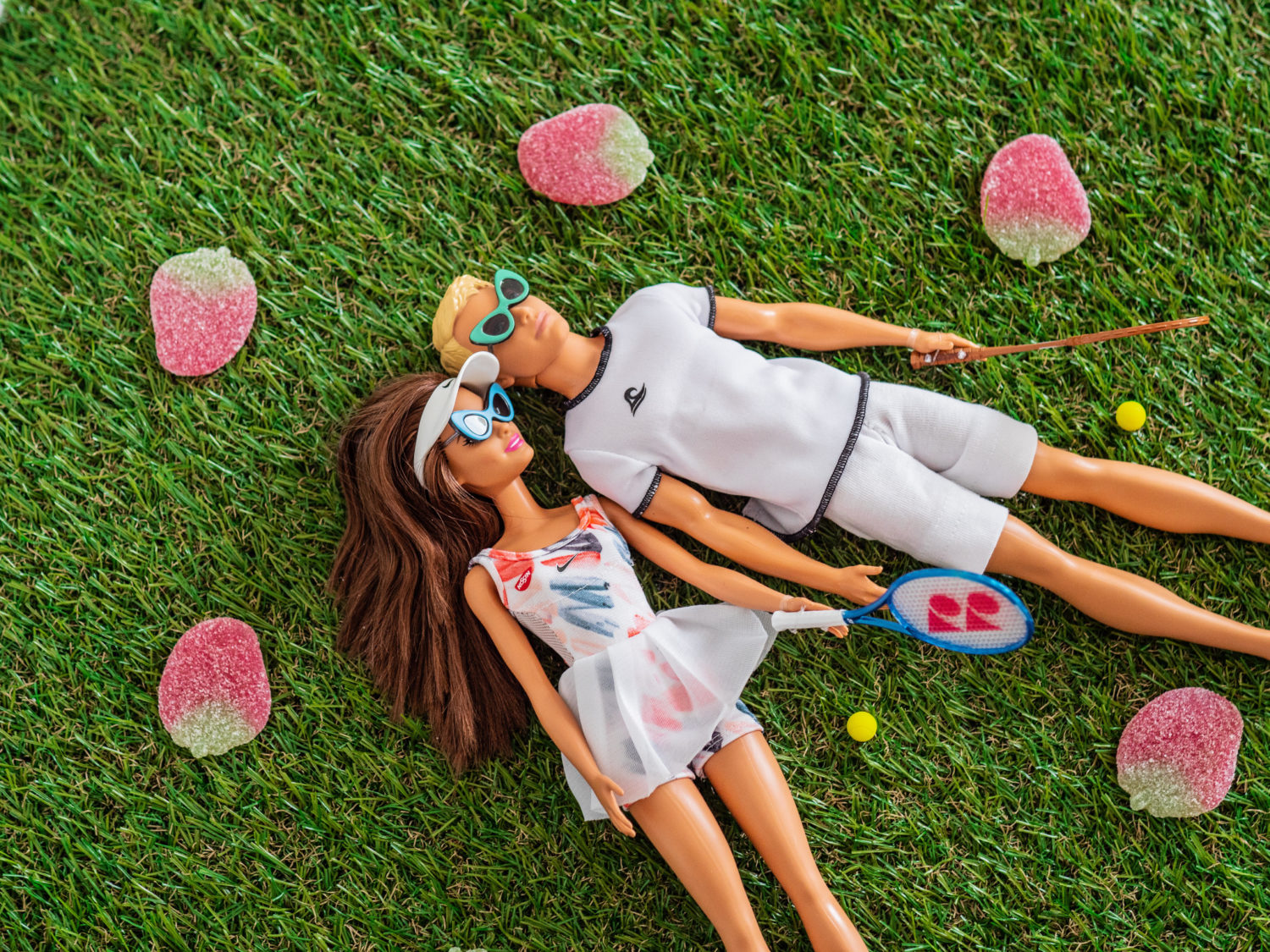 This little plastic effigy, with an adolescent face and an incredibly feminine silhouette, is now in her sixties. A true pop culture reference with fascinating symbolism, she is more than a simple toy. Indeed, Barbie embodies the evolution of American society since the fifties, but also, despite all the stereotypes she can project and with which she is associated, a certain progressive idea of women. The first Barbie was created by Ruth Handler, who was at that time vice-president of Mattel, for her daughter Barbara, nicknamed "Barbie", when she returned from a trip to Germany. There, the ingenious mother discovered "Bild Lilli", an adult wasp-waisted doll with a generous bosom and seemingly endless leg length. She was a doll straight out of a successful comic book series that was featured daily in the Bild Zeitung. She now represents the "ultimate Warholian motif" and the values of American society: eternal youth and opulence. The success of its dazzling commercialisation is a stroke of marketing genius, and its story is in a way a lesson in economic globalisation.
Feminism according to Barbie
If the immense commercial success cannot be denied over the years, it is because Barbie, with her "expression cast in plastic", has nonetheless been able to adapt to trends and evolutions, and in particular to the inevitable political inflexibility. Thus, she was transformed into an astronaut when it was necessary to calm down the feminist admonitions about the image of passivity that was given to her. "We girls can do whatever we want," she proclaimed in the 1980s. But, when we look closer, we realise that Barbie has always been free and independent, she "does not confine girls to a nurturing, caring function. Barbie is a woman of power who does not give in to Ken's advances", said the writer Marie-Françoise Hanquez-Maincent in her essay Barbie, Doll Totem. As Elisabeth Moet, marketing director of Mattel France and Belgium, explains: "Barbie was a failure at first. At the time, in the American society of the 1950s, the priority for mothers was to find a husband for their little girl, rather than for her to project herself into the world of tomorrow with a job.
"From the very beginning of the Barbie project, the idea was that, through this toy, the little girl would imagine herself becoming a woman with a certain amount of freedom and choice. Hence the multiple occupations she has. Today there is a Barbie judge, for example." Actually, before Barbie, the doll was used to teach the little girl how to become a good mother. But with the baby, the little girl learns to  be a mother… and with the dollhouse, she trains to do the housework or the cooking. With Barbie, no way! She has an emancipating role, and if she has to train somewhere, it is only on the tennis courts! In 1962, only three years after her birth, Mattel decided to coordinate Barbie and Ken with the creation of two tennis- themed collections: "Tennis for Anyone?" for Barbie and "Time for Tennis" for Ken.
Playing with the iconic tones of the brand and the white emblem of tennis at the time, a dozen pieces skillfully mix the universe of the mythical doll with that of the yellow ball. The complete list of their clothing and accessories:
White tennis dress
White cardigan with orange trim
Blue sunglasses
White cardigan with navy and red trim 
White short sleeve cotton t-shirt
Green sunglasses
White socks
White tennis shoes
Tennis rules booklet
White tennis balls
Yellowish tennis racquets with black handles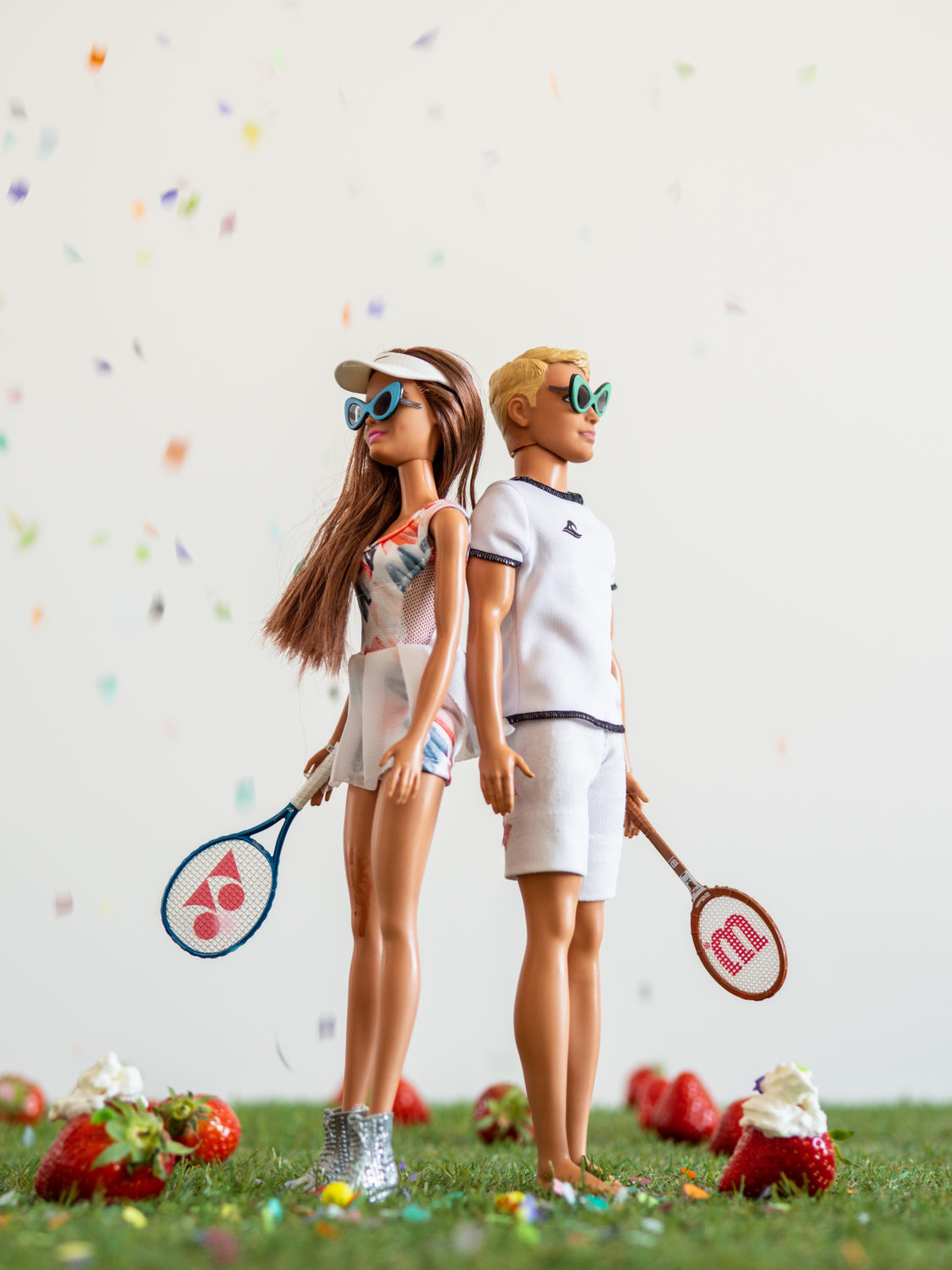 Real "Sheroes"
In the early 1960s, a large part of the United States still suffered greatly from racial segregation. However, society was changing thanks to the pressure exerted by the civil rights movement. An important and new legislation extending the rights of blacks was passed, and in 1967 the Supreme Court ruled that laws prohibiting intermarriage between people of different colours were unconstitutional. Unfortunately, Martin Luther King was assassinated the following year. To honour him and show support for the African-American community, Mattel created the first black Barbie. The company has always shown a certain activism, and today it still continues. In 2018, it decided to follow the feminist movement of the Me Too era, and engaged in the fight against gender stereotypes by funding a chair at New York University, around the Dream Gap program, raising awareness of the factors that prevent little girls from reaching their full potential. The same educational objective applies to her YouTube channel where Barbie gives advice to girls and addresses the subjects of depression and bullying at school.
That same year, to celebrate International Women's Day, the company produced a collection paying tribute to women who have made history in their respective fields. The collection includes American aviator Amelia Earhart, Mexican artist Frida Kahlo, and an African-American mathematician Katherine Johnson who participated in the successful Apollo 11 mission. Added to the list is the iconic Billie Jean King, whose doll in a two-tone blue and turquoise dress is an explicit reference to her legendary exhibition match against Bobby Riggs in 1973. This is significant. Beyond being a simple tennis match, it was also a real ideological battle. That year, King had just won three Slam titles, but the bonuses given to women were still much lower than those given to men. Outraged by the inequalities between the sexes, King shared her frustration with the world, and demanded new financial conditions. Riggs, in his ultra macho agitator outfit, more attracted by the money and the idea of betting than actually proving his theory, was challenged by King to win a match against her, and thus demonstrate who is stronger—man or woman. He was beaten in three short sets and two hours of play. This symbolic victory—and media—marked a turning point in the history of women's tennis. In the same year equal pay came into effect at the US Open—a decision strongly influenced, it should be noted, by the creation of the union of players, the WTA (Women's Tennis Association), created by Billie Jean King herself.
Naomi Osaka joins the group of inspiring women who are part of Barbie's "Sheroes" initiative—which includes gymnast Laurie Hernandez, fencer Ibtihaj Muhammad and model Ashley Graham. The player will collaborate for a second time on a new edition called "Role Model", in which Barbie wears a Nike outfit similar to the one Osaka wore at the Australian Open in 2020.
"It's such an honour to be a part of the Barbie Role Model series, and remind young girls that they can make a difference in the world. I want young girls around the world to feel empowered to dream big and know that, if they believe in themselves, anything is possible," she explained in a press release. "It's a powerful thing, because as a child I played a lot with Barbie dolls." Born to a Japanese mother and a Haitian father, the player said she was proud to "represent people who think they are not [represented].
"It's really an important goal for me," she insisted.
Like Billie Jean King, it is not only on the tennis court that Osaka engages in the exchange and imposes her style. This is illustrated by her strong act during the Cincinnati tournament in 2020, when she refused to play her semi-final in protest against police violence in the United States after the death of George Floyd and the shooting of Jacob Blake. She managed, for one day, to put the tennis world on pause, and forced the organisers to follow the movement by finally postponing the match to the next day. That same year, at the US Open, she was also seen entering the court wearing masks commemorating African-American victims of police violence. In 2021, she reopened the debate around mental health when she withdrew from the French Open following psychological distress caused by compulsory media duties. 
Barbie has never stopped evolving with the years. In the beginning, her activities were similar to those of teenagers: she babysat, went to discos, etc. Then she went to college in the 1970s, and had a career in the following decade. She has always practised sports and followed the clothing style of her time, fashion being one of the major threads of her evolution. Today, she is a reflection of the world that children—and adults—see around them, a world of diversity, and in which you can become whoever you want. In other words, Barbie is much more complex and useful than her simple image of a bimbo would suggest, so maybe it's time to take her seriously, and talk about things other than her body measurements. 
Story published in Courts no. 3, Summer 2022.