He Was Mac the Mouth
but Really,
He Was Mac-Nificent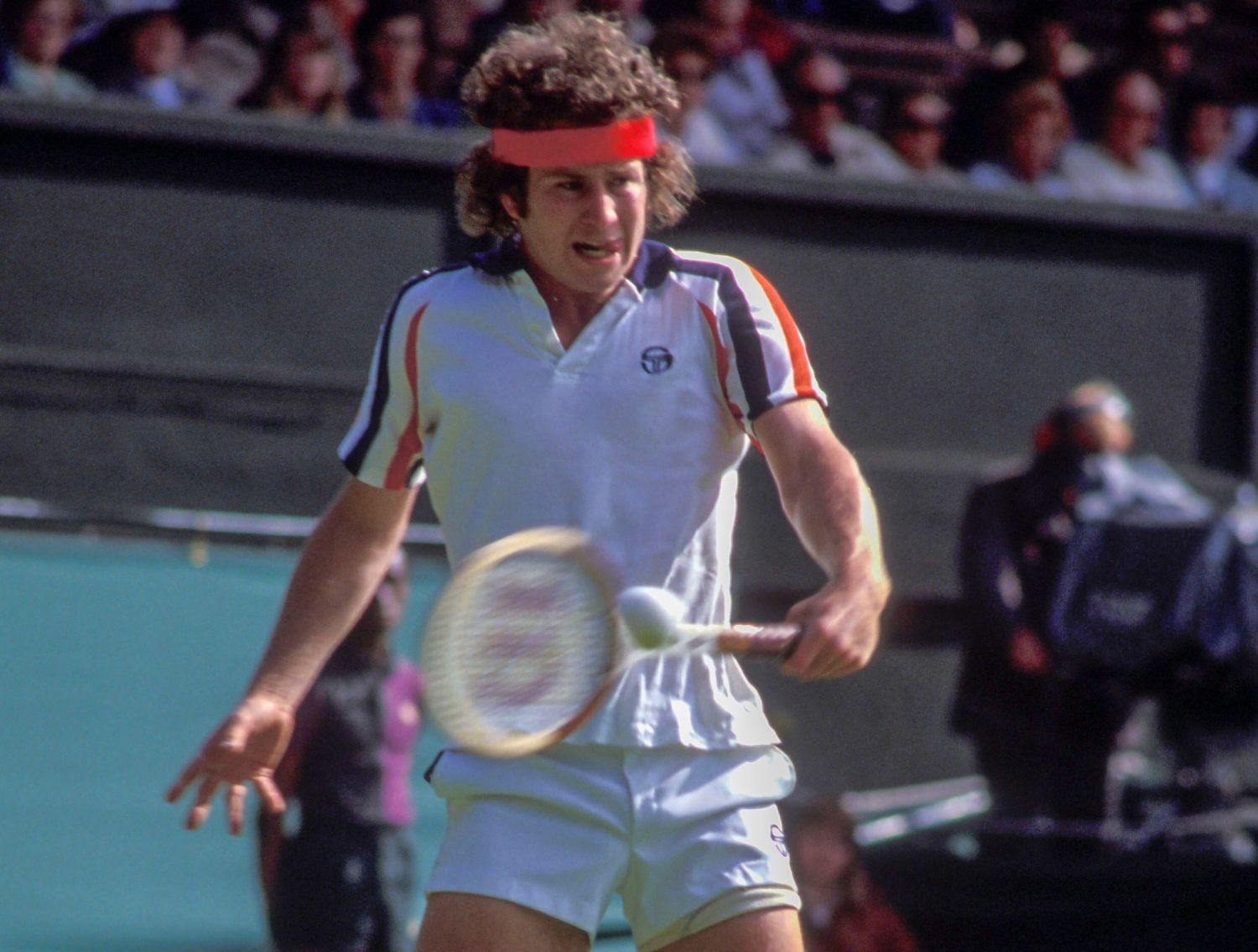 Tennis has seen some iconic figures over the years and many of them would very easily make lists of the greatest players who ever played the game, but only one player is iconic enough that even quotes he made in the heat of battle continue to identify him. No other player comes close to having that sort of legacy.
John Patrick McEnroe has to be the most colourful player the sport has ever seen. He was magnificent to watch when he was in full flight but on the other side of things, you just had no idea what was going to happen. He was and, to this day, remains an enigma and even though he has certainly become one of the elder statesmen of tennis, still he doesn't mince his words. John McEnroe continues to say what he thinks. 
Who could, or would, ever forget his earlier days at Wimbledon? In 1977 he played the main draw at Wimbledon for the first time; he came through the qualifying rounds and made the semi-finals and in that semi match played Jimmy Connors who was far from being a saint. McEnroe was starting to get a bit testy in the match and during one change of ends, Connors walked past him, wagged his finger in McEnroe's face and told him to behave because it was Wimbledon. 
Armed at the time with the Wilson Jack Kramer Pro Staff, the tennis world was getting its first look at what was to come from the brash New Yorker. In 1978 he was recruited to the Stanford University team, helping them to the NCAA championship as well as winning the NCAA singles title. 
Reaching semi-finals was now becoming a habit, where McEnroe honed his craft (and perhaps his enthusiastic use of the vernacular). His accolades included reaching the US Open semi-finals losing once more to Connors, and more importantly winning five titles which saw him rise to the No.4 ranked player that year.
His final year with his Wilson racket perhaps opened the door to the greatness and indeed flamboyant outbursts we would be accustomed to seeing over the course of his career. 
People were getting plenty of looks at his weapon of choice as it was the age when singles players also counted doubles in their schedule. In 1979 he and Peter Fleming won the Wimbledon Gentlemen's Doubles title and backed that up with the US Open doubles silverware. More importantly though, 1979 saw him lift his first US Open singles title and with it his first Slam title, becoming the youngest male winner since Pancho Gonzales in 1948. 
He reached his first Wimbledon final in 1980, ready to face down the inscrutable Bjorn Borg who was hunting his fifth straight Wimbledon title.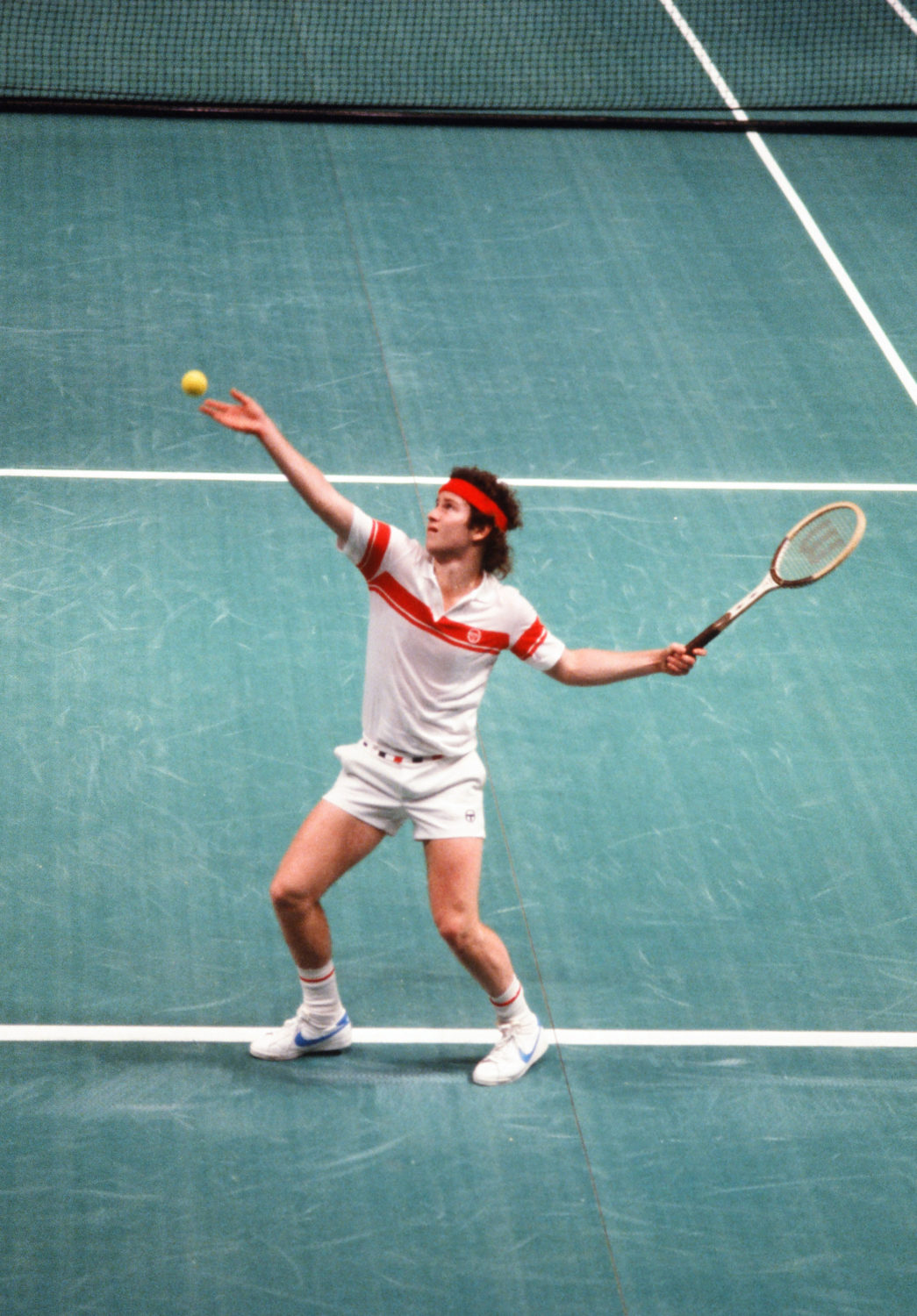 The crowd were vocal, booing McEnroe as he entered the court following (surprise, surprise) heated exchanges with officials during his semi-final win over Connors. The epic fourth-set tie-breaker will go down in history, lasting 20 minutes with McEnroe saving five match points and winning it 18-16. He would go on to lose the decider, but pushed Borg to 8-6 for the then historic fifth title. His final flourish that year was to beat Borg in another five-setter at the 1980 US Open, before making the finals of the season-ending finale, and winding up 1980 as the second-ranked player behind Borg. 
Greatness was coming. 
Say what you will about John McEnroe, but he brought a new audience to world tennis. He was a genius and any post-match media conferences he did were like sessions on a psychiatrist's couch as he would almost interject his own answers with additional comments. 
If he was to be likened to someone in the arts, Pablo Picasso would be the one who comes to mind and that would be right up McEnroe's alley as someone who loves edgy art and who has his own gallery in New York. "The greatest compliment I ever got was when people called me an artist," McEnroe once said. "I understand that solo aspect of being an artist, when you're in there by yourself, trying to do something great." 
Tennis talks lovingly about rivalries between Roger Federer, Novak Djokovic and Rafa Nadal but one of the most iconic rivalries was McEnroe's with Bjorn Borg. McEnroe played Connors and he played Ivan Lendl many times, but it was the one with Borg which is spoken of time and again. It led to books and a motion picture, which by the way he hated because the producers never consulted him. 
Incredibly they played only 14 times and the end result was a perfect 7-7. They were a perfect match, almost akin to the goodie v the baddie in a Western movie. Their two Wimbledon finals in 1980 and 1981 were tremendous with the first one arguably the best till the Federer v Nadal final of 2008. 
But while he was tempestuous on the court, his sense of humor never ceased to amaze. He was brilliant. He played his brother Patrick in the Chicago final when a phone rang mid-match: "It's mom, she wants to know if you're home for dinner." One time at the year-end Masters at Madison Square Garden, an early version of an electronic line machine kept going off when he served. Mac stopped, he had that look on his face and said: "I'm not paranoid, but that machine knows who I am". 
When McEnroe speaks you want to know what's being said and you are never left disappointed.