Happiness in Four Colours!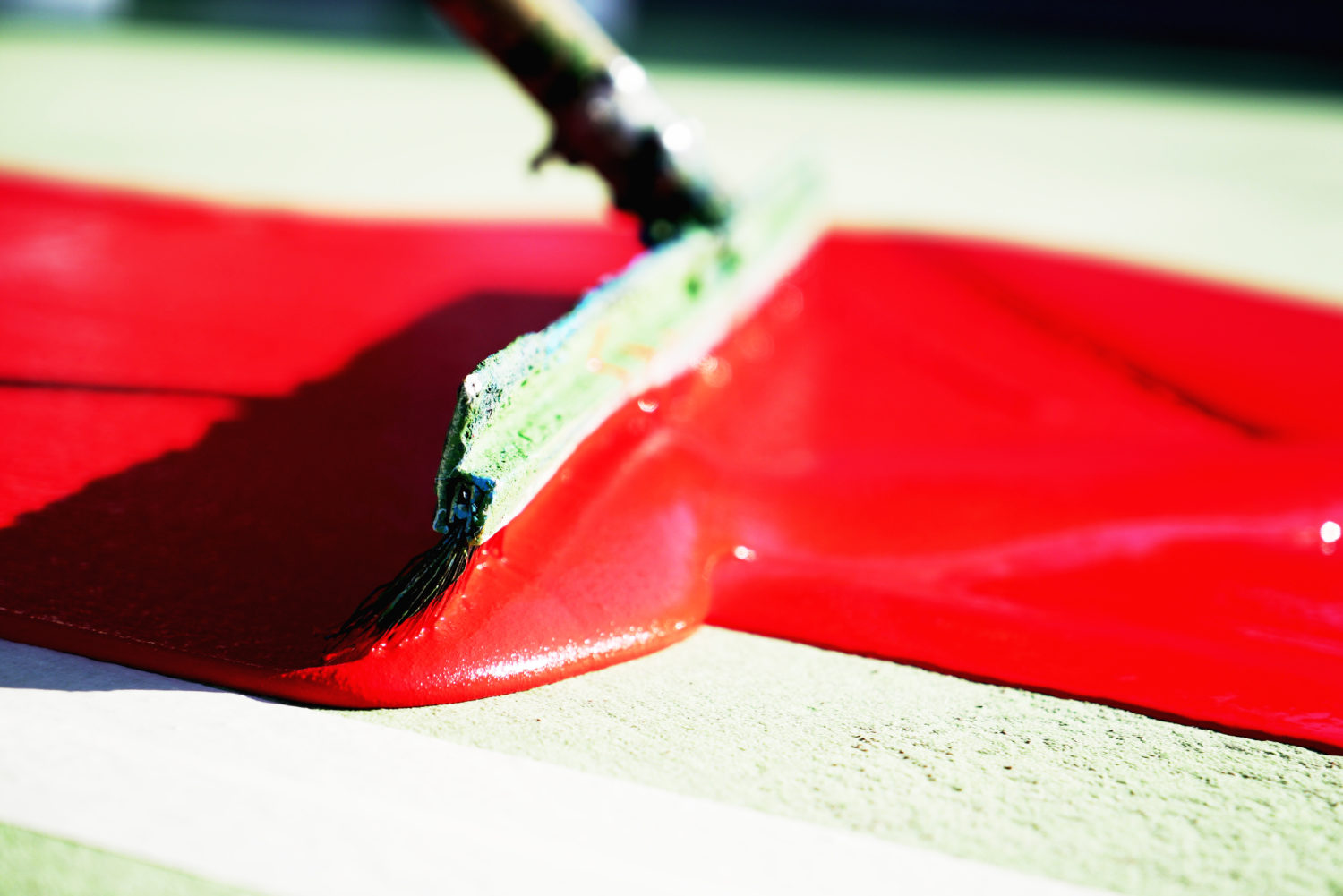 With System 4, Michel Russillon is reinventing the tennis court in order to bring back its adolescent soul. And to magnify what it exists for – to play.
"In life, what you love, you do well." In this simple sentence lies a proverbial truth. Not absolute, no – but the proven truth of a person who dedicated his life to tennis, tennis as a game, and as an apprenticeship – an allegory of the life we all pass through, tennis as a way of being and behaving: Michel Russillon.
A sports teacher by training, with emphasis on tennis, Russillon has developed a concept, System 4, which aims to put play and fun back at the centre of tennis education. 
"Remove three saucepans that stick to our sport," he explains the proposed transformation. "From a so-called elitist game, to make a popular game; from an individualistic game, switch to a friendly game; and, rather than suggesting that tennis is difficult to access, provide a learning method that is simple and understandable for all."
Elitism, individualism, complexity… Criticism that does not date to yesterday. And which today seems to manifest itself within various tennis federations as a decline in popularity. In France, at the national level, the erosion of the number of people holding a tennis licence has emerged as a fundamental campaign theme during the presidency elections of the French Tennis Federation. While in 2010, 1.1m licences were issued, now there are only 950,000. Moreover, ten years ago, when the number peaked, the Federation was already struggling to find ways to attract young players. 
"There is a disaffection with tennis among young pre-adolescent girls," observed Odile de Roubin, then in charge of tackling the problem at the FFT. A similar battle occurs in the United States, where the number of tennis participants only began to increase with the COVID pandemic, after having decreased from 19 to 17 million between 2010 and 2017. 
On the other hand, the public still longs for its champions, even as the typical tennis spectator has aged. The average age of a tennis fan has ballooned from 51 to 61 in the last 15 years, the cause of much hand-wringing within the sport. 
Perhaps new vision and new champions are what is needed to break this trend. 
"We need to touch and feel the ball!"
For Michel Russillon, the key is to focus not on the champions but the players and the teachers. 
"We messed up our approach," he analyses. "We did too many drills, the so-called Hopman method of hitting baskets of balls in repetition. People saw the coach send balls like that to Federer, Nadal, and company. But, for them, that's not a problem! For Roger or Rafa, the automation is done, they are just warming up. On the other hand, a beginner who receives a ball fed from a coach does not learn anything. He doesn't know if it's an attacking ball, a defensive ball… I'm not criticising those who prefer to use the basket, but I really don't think this is the right way to learn tennis." 
"Hit the ball and shut up!" reads an article in Le Monde written 40 years ago about Harry Hopman's Academy. An entire program! Should we play the role of a charlatan and let the trick be on those who wish to learn the sport properly? No. 
"There is this viral phenomenon among the generation Y, it is undeniable," says Russillon. "Being able to offer different types of tennis at a club, which is also very popular in the USA: pop tennis, touchtennis, pickleball, padel. For me, it is not a worry. There is no competition – these are just fashions, trends. Most of those who try something else pick up the racquet half an hour later." 
As time has proven, we don't drop our passion for the fuzzy yellow ball on a whim; we simply take a break from time to time to reflect on this strange relationship between the mind, the body, the court, and the racquet. 
"Obviously, you need to touch and feel the ball. There is something very specific about tennis," adds Russillon. 
It is perhaps this imagination that has accompanied us since the moment we struck the first ball. Those dreams that we've been chasing since youth. Those moments spent hitting alone against a wall, imagining ourselves in front of throngs of spectators, playing for a trophy against a legend of the sport. Visions of Slam finals, at the end of our idyllic little street, against the worn door of the family garage or the wall of our tennis club – maybe even inside the house, with the sofa fashioned into a net. 
Those euphoric wins we experienced, for the very first time, scoring a victory over a big brother, a friend, an older partner who had been schooling us for years… We mimicked the gestures of our tennis idols – the insouciant volatility of John McEnroe, the crisp, clean technique of Stefan Edberg, the joy of Guga, coolness of Borg, eloquence of Federer, and vibrancy of Nadal – and formed a mystical bond with this craziest of sports.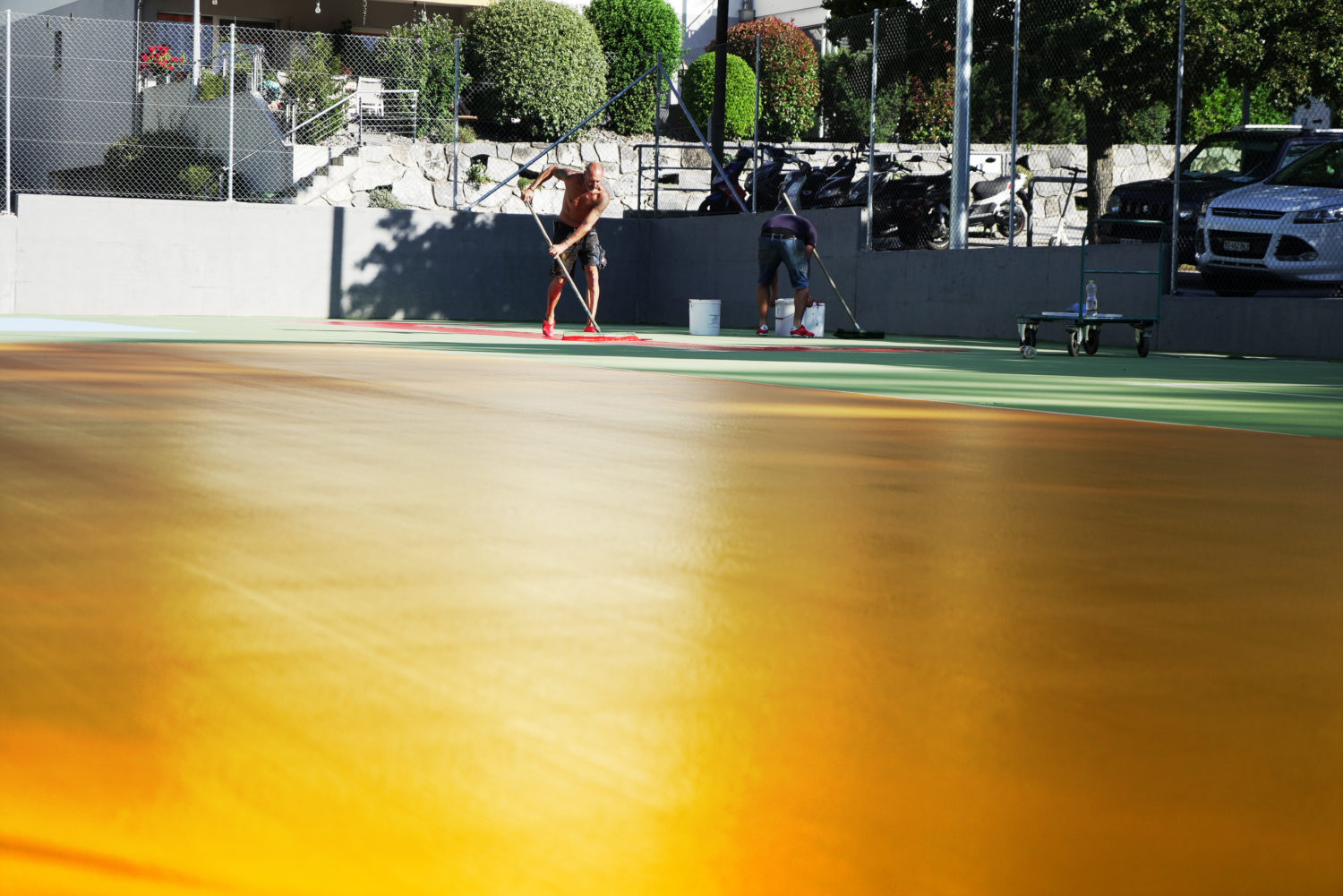 The pupil? A treasure that has all the talent in the world..
It is also for this reason that Russillon decided to implement his ideas. System 4 is a versatile concept, embodied by a new vision of the tennis court and a new educational approach to competing between the lines. On the surface, occupied by a traditional court within its, not always attractive, grid boundaries, 18 by 36 meters, Russillon has created a "tennis park" with four, quadricoloured progressive courts. 
Colour-coded, on the same surface, and with the doubles alleys eliminated so that the eye can focus on what's important, the player can become truly aware that they are playing on a rectangle. The four courts can either take this form for educational purposes or another one – a little different and less colorful, but with an associated racquet rental service on top, so that the club can make it a space dedicated to more than tennis, from pickleball to touchtennis.
"Our sport has been around for 150 years, and it never budged," Russillon says. "I believe it is time to change the infrastructure in order to learn better and have fun immediately. Suddenly, we have smaller courts, which allow us to hit more balls, a colour code reminiscent of traffic lights, and the different roles that I have to play during a game: server or returner, defender or aggressor. 
"In the red zone, I am behind the baseline – I am defending. In the orange zone, I start to take the initiative. In the green zone, I attack, and in the yellow zone, I finish – I volley, I conclude the point. It transcribes well the game that I advocate, a creative game and not a robotic one. If we look at contemporary tennis, we see that it is played a lot in the red zone. With the children, we try to start in the red in order to teach them consistency, but, then, we quickly go to the yellow zone where we take the initiative."
This colourful environment, that gives pleasure and breathes life into training sessions, must be accompanied by a thoughtful educational approach. 
"I am in favour of the active method, in which people play and draw the necessary resources from themselves," explains Russillon. 
And finally, System 4 comes with a credo: each child has all the talent in the world. 
"A student is a treasure, an essential person loved by their loved ones, the family, the whole environment," says Russillon. "It is the coach's responsibility to help the student find those resources that will lead to success. The player must therefore be able to analyse his game by asking the right questions in order to find the solutions: Did I react well? Did I play with the right pace? Was I well oriented and balanced? Did I play the right shot?"
Using this approach, the quadricoloured courts make it possible to get closer to the essence of the sport. 
"They maximise the stimulation of training. And this is important, because I believe that, if the children have difficulty concentrating, it is perhaps because I, as a coach, have not succeeded in offering them a training session that would lead them to concentration."
The four courts can therefore be broken down into four workshops, says Russillon. "On the largest court, training is individualised with a player and a coach. On the two intermediate courts, we practise improvement and play, free or with instructions. In all three cases, we are in a real match situation. Finally, on the smaller court, we work on coordination using balance balls and footwork ladders, to promote stability and equilibrium. The children are spread out over the four courts and switch according to a set timing.
The result? Satisfaction. 
"When they get home at night, they can say that they've perfected themselves, that they've worked out physically, that they played and had fun!" 
Last but not least, there is an essential aspect of the instruction: the use of the whole range of training balls. "We are aiming for immediate success," confirms Russillon. "It's better to start the volley with a soft ball and, if all goes well, move on to the heavier red ball, then to the orange ball, sharper than the yellow ball, or to the green ball, slower. If you fail, no worries, we go back to the soft ball – we adapt to the level of the child."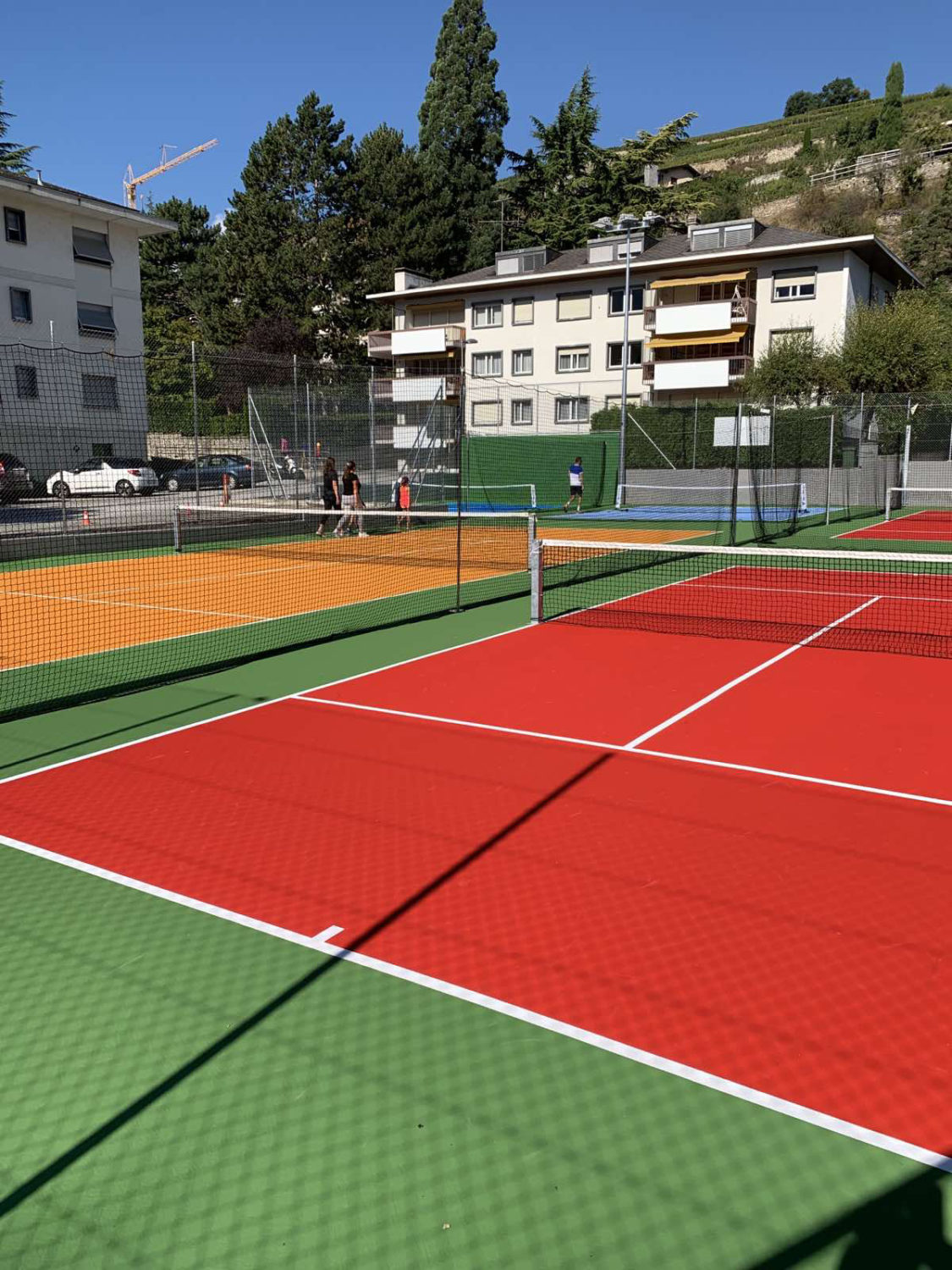 "Tennis is a way to feel good about yourself"
If tennis is a sport that feeds back after every point played, success or failure, the challenge of System 4 goes far beyond. For Michel Russillon, tennis is not a goal in itself. It is "a way to be good with yourself". 
"It's only for Roger or Rafa that it's a goal in itself," he jokes. "For us, it's a game, a pleasure, which allows us to develop qualities that we need throughout our lives: taking initiatives, contact with others, responsibilities – useful values ​​in everyday life that allow us to feel good in our sneakers and with our peers. There is no tennis without camaraderie! In short, it is a lifestyle from a young age, and until the most advanced level. It is still rare to find a sport that you can play from 4 to 77-years-old! You do singles, doubles, you can adapt and evolve."
"In short, it's the sport of a lifetime. On the physical level, on the play level, but also on the relational level. And that is essential with this painful period that we have been through." 
System 4 takes up this challenge. Creating bonds, bringing back conviviality in tennis clubs and in everything related to the fuzzy yellow ball.
"Absolutely!" Exclaims Michel Russillon: "When there are eight children who alternate between workshops, have fun, and succeed on these four quadricoloured courts, you have twice as many parents and grandparents around who join the discussion, and then, who knows, maybe play together. When you have the young and the old playing touchtennis or a game of pickleball on the courts, you have so many interested looks and people around who want to test it and maybe come to the club once more during the week." 
The project then takes on a formidable importance. For Michel, it is embodied in a true profession of faith: "My goal is to bring tennis to the city. In the city! Build city parks that make you want to hit balls rather than go for a run on the treadmill."
A non-prescription prescription of conviviality and shared happiness: "The game is all within us. And, at the end of the day, we'll have a drink together!" 
Story published in Courts no. 2, autumn 2021.