FILA Loves Courts
 50 Years of FILA on Open Courts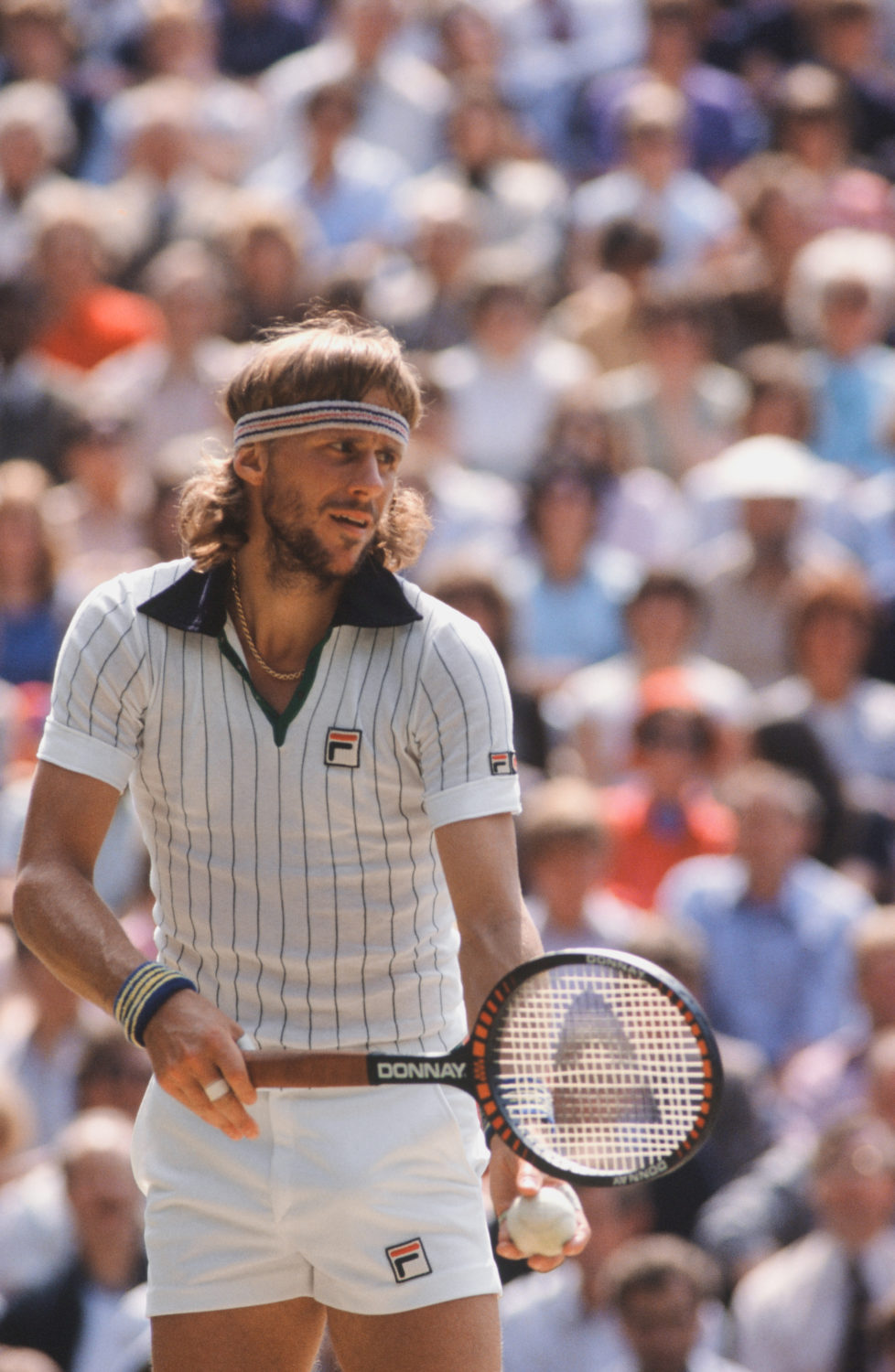 Into a new decade, out of the late 1960's and into the early 70's, emerged a young designer named Pierluigi Rolando. Fresh from a failed textile venture, Rolando set up a meeting with Enrico Frachey, one of the founders of the modern FILA. The "Doctor," as he was called, had an agenda, to turn the loom-making-turned-undergarment company into an international sportswear brand. Frachey instructed Rolando to "think of new horizons." 
"Frachey, who had by this time become Enrico to me… had noticed that tennis was becoming an interesting market for new kinds of clothing. Tacchini had just introduced a line of tennis wear, thanks to his experience as a champion in the sport," said Rolando. "We decided to do a tennis collection and it was the beginning of an extraordinary adventure that launched us into the firmament of the greatest planetary success of all time."  
And just like that, Rolando staked the FILA flag into tennis history with the "White Line," an enduring Italian riff on performance sportswear. The company found two players, Paolo Bertolucci and Adriano Panatta — rising stars on the Italian tennis courts —to wear its clothes, linking the FILA® brand with champions and introducing the world to the marketing strategy now known as endorsements. "The product… was there. The logo was there. The only missing element was the emotion connecting the product to the consumer," wrote Marco Negri who at the time was the Vice President Fondazione FILA Museum, as seen in the book Tutti in FILA by Pierluigi Rolando. "Having sportswear worn by the best players generated a particular reaction in consumers, as if by wearing them, they would have had the chance to 'walk in the shoes' of their sports idol."
In 1911, Giovanni Fila, a woodworker, got a new clientele: local weavers  who needed their frames repaired. Seeing the prospects and profits available in textile manufacturing, he decided to establish his own textile company. He created Fratelli Fila®, a spinning factory for carded and combed wool, the most typical and widespread among the manufacturers in Northern Italy at the turn of the 20th century. In 1926, the family began to manufacture underwear for men, women and kids before expanding into outerwear apparel at the end of the 60's. This expansion allowed FILA to grow and blossom through post-war social turbulence, political change and technical and economic innovation to revolutionise clothing design.
But patriarch Giovanni Fila could have never imagined how iconic his designs would become. By 1973, after five decades of building its business, FILA changed everything and entered the sports market with its "White Line" tennis collection — the discipline that would catapult the company to international acclaim. But the company didn't stop there. In addition to bringing colour and the red-and-navy "F-Box" logo to the world of tennis, which had been previously played strictly in white, FILA carried its zeitgeist to mountain wear, swimming, golf and other athletics. "Companies have traits in common with humans. In the same way as humans, companies are born with a specific DNA that, unlike the human one, may be changed throughout their existence," Frachey wrote. Since then, FILA has continued to create, pioneer and lead the way in modern sportswear. Through figures from Australia to America who would don the Italian brand while accomplishing some of the greatest athletic feats in history: Bjorn Borg's five consecutive Grand Slam wins on grass from 1976 to 1980; Reinhold Messner's legendary solo ascent of Mount Everest without supplemental oxygen; Ingemar Stenmark's 1978 World Cup in skiing in Garmisch-Partenkirchen, Germany; and 32 medals for FILA athletes in Los Angeles in 1984.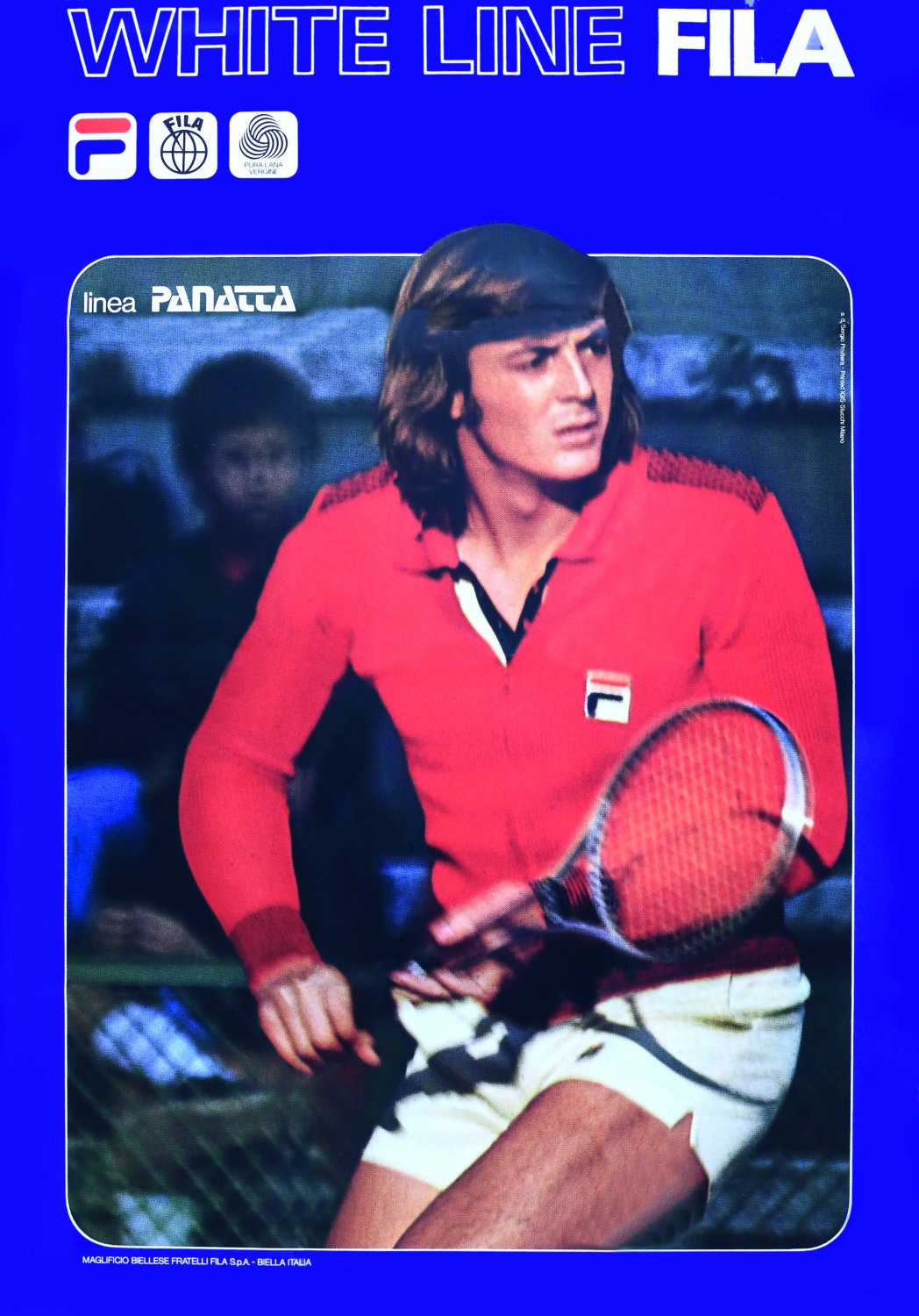 The Birth of Iconic Kit:
Pierluigi Rolando — the man who would reinvent FILA — was born in Ronco, a small town near the FILA headquarters in Biella, and grew up in Torino, a city he loved and hated. For this reason, when it came time for advanced education, he attended the University of Leeds, in England, where he learned not only textile engineering, but also the feelings behind fashion through the concept of "mood boards." Dr. Frachey and Giovanni's grandson, Giansevero Fila, invited Rolando for an interview at the end of the 1960s. After exchanging niceties, they immediately asked Rolando if he knew how to convert a set of underwear samples into knitwear manufacture. When he replied "yes," he earned the job. 
By 1968, the Fila family chose to split the company in two groups, the majority group included Maglificio Biellese MABY, which continued to specialize in underwear. But Maglificio Biellese soon began to experience  a sharp drop in the sales due to a change of lifestyles and tastes, thus resulting in a decline in underwear sales. MABY had to catch the new trend of customers' tastes. Giansevero Fila, the co-leader with his father Ettore, appointed new leadership from outside the family. One of them was Frachey, who was in charge of designing and implementing a renovation strategy in this challenging transition. 
Frachey and Rolando spent long hours brainstorming sketches, followed by interminable discussions outlining the execution of concepts. There was demand for a tracksuit, an item that would become part of every person's wardrobe — athlete or not — for after work, for relaxing and even for looking like the champions seen on tv and in magazines. The tracksuit would become that bridge garment between sports and leisure. The first tracksuit for tennis was created during one of these marketing meetings. 
"We had noticed that tennis was becoming an interesting market for new kinds of clothing. Tacchini had just introduced a line of tennis wear, thanks to his experience as a champion in the sport. In the USA, the sport was becoming widespread in the clothing market as well as equipment and footwear," Rolando wrote in his seminal book Tutti in Fila. "Ever since I was a young kid in Biella, I had been going to the tennis club near the soccer stadium. I played with my childhood friends… Enrico convinced Giansevero to consider getting into this market that had a lot of potential."
Rolando used existing machinery to create a line in which the undergarments, the shirt, the shorts, and the outer garments, the track suit or sweater, all worked together within a colour scheme based on the negative/positive dichotomy, or rather, light colours underneath and dark colours on top. "We understood that in the United States, and more precisely in California, people tended to avoid the colour white as much as possible because it was too bright for the television cameras… it was probably a good idea to introduce color," Rolando wrote. Rolando designed shirts with a very light shade of color as a base and something much deeper at the collar and the front snap openings, a dazzling white with a navy collar and a red snap flap, or an ècru base with the same combination. When confronted with a light blue or light green pastel, Rolando made the contrast with a deeper and more intense hue — the similar colours were then repeated on the outerwear. 
For the track suit, Rolando looked to the English Royal Guard and penguins for inspiration for added flourish. "We used the first for the faultless red chevrons on their sleeves and the latter, because dressing the tailcoat, they could not have been less elegant than anyone else," Rolando wrote in Tutti in Fila. "Over the years, I noticed that penguins and robins have a natural elegance thanks to their colouring, a black or a dark colour on the top and back and lighter colours under the arms and on the front of the body.  This, as well as the chevrons, helped me immediately conceptualize the first track suit that was going to overlap from sportswear to streetwear."
The revolution continued. The FILA "F-Box" logo needed an upgrade: Sergio Privitera, a marketing manager, showed the team an "F" divided in two, with the upper F-line disconnected from the lower half in navy and red — the fashionable colours of the moment. After the "White Line" had its initial success in Italy on the backs Paolo Bertolucci and Adriano Panatta — rising stars on the Italian tennis courts — FILA started casting further afield. 
FILA Crosses the Oceans
From the start, FILA's tennis White Line was enormously popular in the USA, despite the fact that Panatta was virtually unknown in the States. The American market rewarded a collection that had brought something new to the market, a combination of sportswear with a fashionable flair. During this time a young Swede was climbing the tennis ladder "by using his racket as if it were a cudgel," Rolando wrote. "Everyone wanted a piece of Bjorn Borg." Frachey had already procured Borg in an endorsement deal inked at the 1975 MIAS and told to work on a new collection for Borg. For that, Rolando needed to figure out how to put printing on tubular knitwear — something that was akin to "putting a tattoo on a boa constrictor… while it's moving!" 
As in all of Rolando's creations, there was the fundamental nod to the past and history, along with something new and up-to-date. Rolando looked to the 1920s and 1930s Brooklyn Dodgers for inspiration, whose uniform used a simple unremarkable stripe that became a symbol of its most famous player: Babe Ruth. Rolando measured the stripes exactly and then decided to avoid printing the stripe on both sides of the shirt for simpler mass manufacturing. Borg brought great success to FILA sportswear by winning titles in London five times. Through this radical change in sports apparel, FILA produced over  five million iconic  shirts. 
Borg retired for the first time in 1981 at age 26, but FILA was just getting started. In women's tennis, an Aboriginal Australian athlete named Evonne Goolagong arrived on the scene and FILA signed her, giving her a look that evoked the Burcina Natural Reserve, which she had admired in Piedmont. The Argentinian tennis player, Guillermo Vilas, had a strong and imposing physique, which Rolando symbolised with two navy or red horizontal striped motifs on the sides of the shirt, while covering the top part of the shirt with navy or red, juxtaposing the colour of the stripes. In 1987, Boris Becker joined, followed by Monica Seles, who created her own line of flowery, pastel tops and bottoms in 1993. During Jennifer Capriati's 2001 comeback swing, FILA  sponsored her and when she won her two Grand Slam titles, extended her contract three years. And Belgian Kim Clijsters signed with FILA just before making her first Grand Slam final in 2001.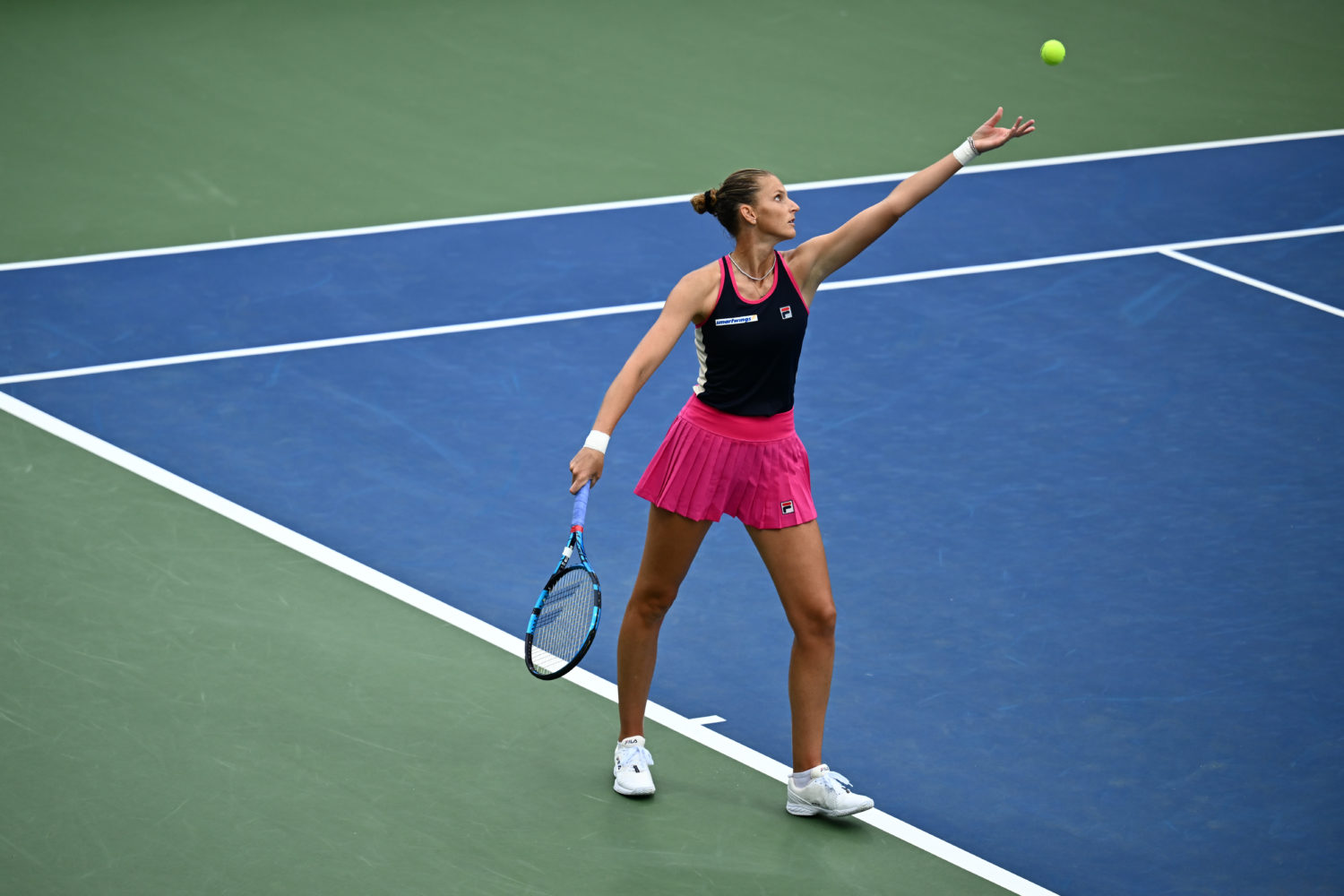 FILA Enters  Footwear
FILA Holdings in 1983, decided to diversify once more and granted a contract to the Lario shoe factory to make the first FILA shoe prototype, a red-and-navy sandal. From there, FILA created the white leather Original Tennis trainers with red and navy stripes on the sides and a small FILA F-box on the tongue. In the US, FILA gave artistic license to designers Kevin Crowley and Jack Steinweis to create the Take, Targa and Tennis 88 — a riff on the Original Tennis shoes. FILA then chose rising Detroit Pistons star Grant Hill for its first venture into basketball, selling nearly two million pairs of the Grant Hill 2. Soon FILA counted Nike, Adidas and Reebok as their competitors. 
More collaborations followed. Using the Borg pinstripe, FILA created the BB1 polo in colours from pink to yellow to navy to green. The tracksuit Settanta jacket that FILA Brand Ambassador, Bjorn Borg wore over his pinstripes in the 80s — the one with the classic navy colourway, gardenia detailing under the arm, the waistband with red stripes and baseball style collar — still sells in the millions. With Brooks Brothers, FILA came out with the FILA Milano Fit Performance Fun shirt featuring a button-down collar, contrasting sleeves, and a colour block design. The FILA x Brandon Maxwell crossed FILA's classic navy and green and Maxwell's playful pink and red in a quarter zip, a flirty flare skort and a two-piece polo tank. FILA x Mini Rodini blended whimsical with practical animal prints for kids and FILA x MSGM took the Axilus 2 Energized performance tennis shoe and customised them with MSGM patches in black/red and white/yellow colour combinations.
FILA didn't just settle for partnerships with tennis players, the company branched out into supporting major tournaments around the world, including the BNP Paribas Open, Infosys Hall of Fame Open, Western & Southern Open, Japan Open, China Open, National Bank Open, Argentina Open, amongst others.At the 2023 edition of the BNP Paribas Open FILA  brought artefacts from the brand's history, including archival outfits, from the Fondazione FILA Museum in Biella, Italy, to the company's on-site store at the Indian Wells Tennis Garden. There, FILA also debuted the "Tie Breaker" collection giving its current roster of players, Barbora Krejcikova, Karolina Pliskova, Reilly Opelka and Diego Schwartzman a fresh look for spring. 
This new era of icons included the recently retired Ashleigh Barty, who gave homage to the first indigenous woman from Australia to win a title in London, Evonne Goolagong Cawley. On her own run in London in 2021, Barty wore a tank top and with a laser-cut floral pattern, echoing the embroidered flowers and scalloped hemlines that appeared on Goolagong Cawley's 1971 dress. When Leo Borg decided to come into the FILA fold, he began to sport a new twist on the classic stripes — this time horizontal — and reignited its relationship with his 67-year-old father, who regularly wears a solid polo to most events. 
As FILA's celebration of 50 Years in Tennis continues, the company is reflecting on the past, while working towards the future with a plan to launch new products throughout the seasons that still push the boundaries of performance and style. "FILA has been a brand that has stayed true to itself and those are always the brands that withstand time the best," said Reilly Opelka, a current member of Team FILA. "I love the tracksuit, I think it's iconic FILA. When I am going to Milan for fashion week, it is the only tennis piece that ends up in my suitcase. I like its heritage. "