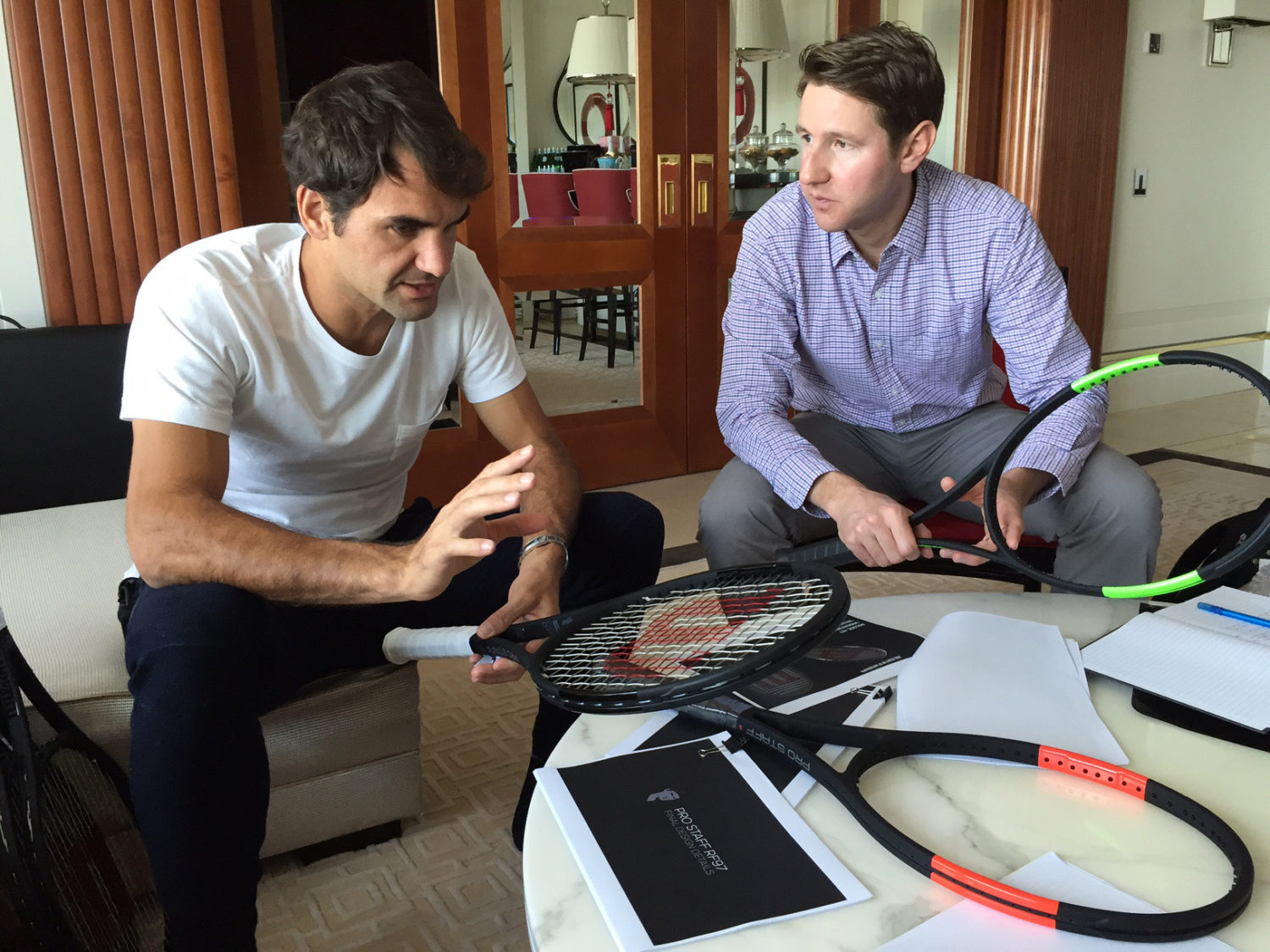 In a highly commercialized world where players try to monetize their value, there's one thing a top player will not change lightly–their racket. Clothes, yes. Watch (or modern-day computerised equivalent), certainly. Endorsements and corporate names on shirts, without question. But the racket–heck, that's an extension of your arm, it's almost like cutting your hand off at the wrist to see if a new hand works any better. 
That's why so few players have changed rackets during their career. Pete Sampras stuck loyally–or stubbornly–to his Wilson Pro Staff with a stringed surface area of 85 square inches (550cm2), admitting several years after retirement that he might have been better trying newer technology. But Roger Federer made the switch, and his decision to move from a 90-inch frame to a 97-inch one late in his playing career was a significant step. 
Federer had in fact already changed once as a pro. He started out with the same racket Sampras was using, but in 2002 he switched to a slightly bigger frame (90 square inches, or 580cm2). By the time he won his seventh Wimbledon title in 2012, most of the top players were playing with rackets with a stringed area of between 98 and 100 square inches, the attraction being that the bigger area meant a bigger 'sweet spot', and thus a bigger margin for error on shots not hit absolutely in the center of the string bed. 
Federer was asked a lot at that time whether he was being overly stubborn by sticking to his 90-inch frame. He made all the right noises but stuck with the stick he knew. Many put that down to stubbornness as a champion's quality, but unbeknown to most, in the background, things were happening. 
In the second half of 2012, Federer asked Wilson to offer him a variation on his existing racket that offered him a bigger frame. Wilson sent some of its best technicians to Switzerland to work with Federer during weeks without tournaments, sometimes making adjustments to prototypes from one day to the next after Federer had hit with them and offered feedback. 
Federer's shock defeat to Sergiy Stakhovsky in the second round of Wimbledon in 2013 offered a blessing–he suddenly had an extra 10 days in which to experiment with the bigger frames. "I've been very close on numerous occasions to change rackets," he told the ATP's website in a news interview. "But then, very often, time was the issue. Maybe also just the records of Grand Slams-I was always keeping on playing quarters and semis-so then it was also a bit more difficult to change it because of the time. This time around, all of a sudden, I just had the extra 10 days, two weeks I was looking for, and I really was very serious about it. Wilson flew to Switzerland, we went through the whole process, and I was very happy how things went." 
The result was that he added two post-Wimbledon clay court tournaments to his schedule, at which he tried out a larger frame. He wasn't completely happy with it, and he was back to his old racket when he lost to Tommy Robredo in the fourth round of the 2013 US Open after squandering a dozen break points (thereby missing the chance to play Rafael Nadal in the quarter-finals in what would have been their first meeting at the US Open). 
But the testing went on, and by the off-season at the end of 2013, Federer was down to two larger-size prototypes. He made the decision to commit to the 2014 season with one of them, a 97-inch frame (625cm2), and has never looked back. The racket he plays with has been rebranded as the RF97: the RF being Federer's initials, the 97 being the size of the frame. 
The biggest difference most tennis watchers have noticed is the greater ease Federer has on the topspin backhand. In fact, many commentators say Federer would never have beaten Nadal in the 2017 Australian Open final with the smaller racket because his backhand was so influential. A big part of that victory goes down to his coach Ivan Ljubicic, who convinced Federer that he could use the topspin backhand more, especially on the return of serve, but Ljubicic wouldn't have been able to get sufficiently into Federer's head without the greater confidence the 97-inch frame had offered. 
Federer has also admitted he needed to adjust a few shots to the bigger frame, notably the slice and his whipped forehand, but he says the biggest benefit is that the bigger frame allows him to play well every day, whereas the smaller frame was less forgiving on days when his feet weren't working so well. The larger frame made it "easier to play tennis" he said in an interview. 
The fact that players change rackets so seldom in mid-career allowed Federer to make a statement with his switch to the bigger head in 2014–he was effectively saying, "I'm not about to retire anytime soon," and five years later he's still at the top of the game. His shift to a larger frame in both 2002 and 2014 shows it can be done, but the player who makes a significant shift in the weapon they hold in their hand is still a rarity. The rule of thumb appears to be: if you've got to the top with it, it's very hard to change it.