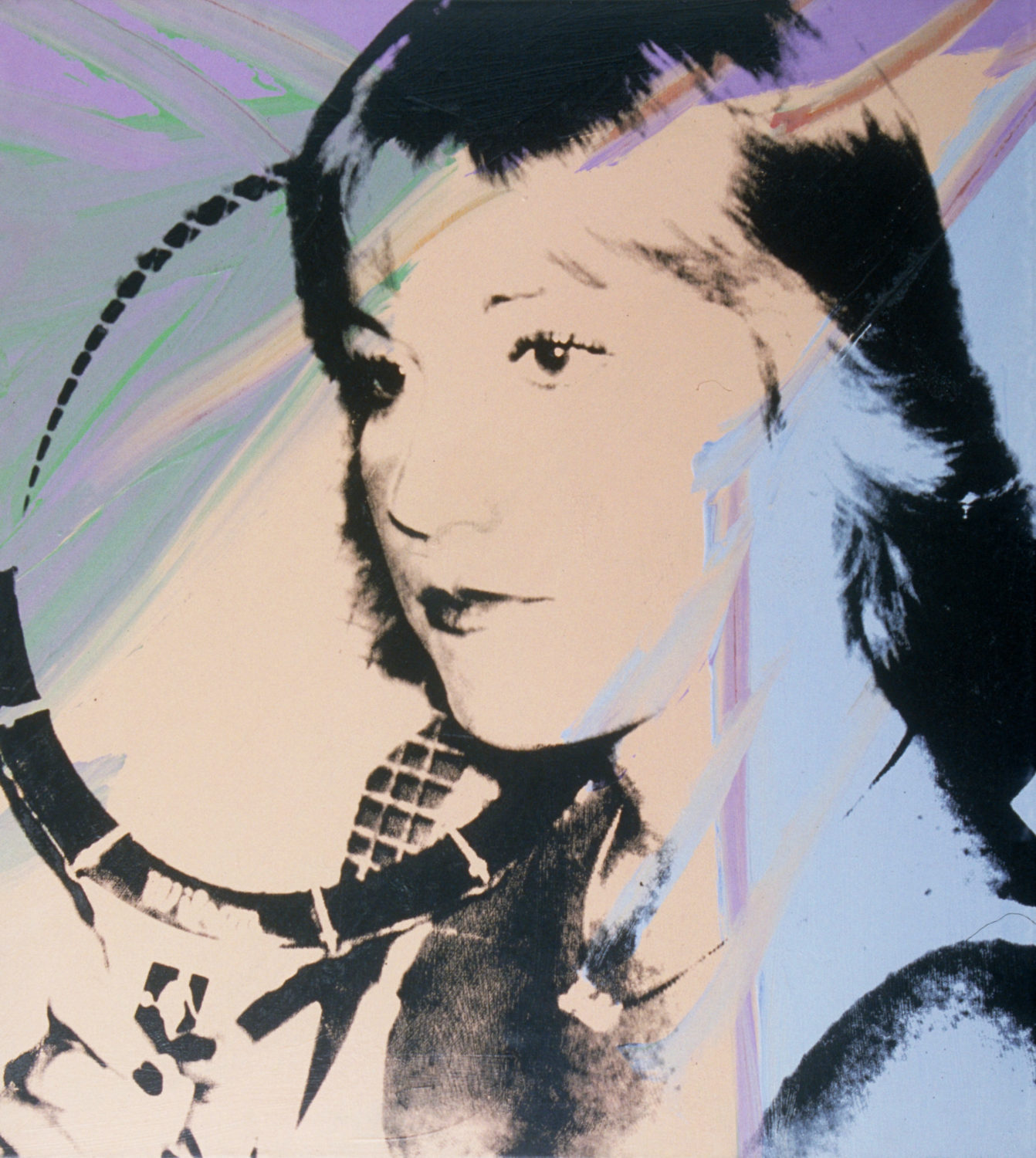 There she is: saturated in yellow and pink pastel, her signature Wilson racket cradled at her neck, like a pillow collar, or an instrument. A serious, blank look in her eyes. Lipsticked lips sealed. Farrah Fawcett hairdo neatly coiffed. 
Is a picture worth a thousand strokes? Or the tens of thousands it takes to develop a stroke to professional standards? What about the flawlessly-crafted forehand and double-fisted backhand of one Christine Marie Evert, who came to epitomize the sport of tennis for Andy Warhol's iconic 1979 Athletes Series? 
Warhol might have believed so, though there is little evidence that the heralded pop artist knew much about sport, or tennis, or Evert. What he knew was zeitgeist. "The sport stars of today," Warhol allegedly said, "are the movie stars of yesterday." 
In 1977, Evert posed for Warhol. She crystallized the tennis boom underway–an economic, demographic and cultural tsunami that swept up the once-stodgy and genteel game and carried it into the future. Celebrity, sport, media, fame, fortune–we take this mix for granted. It was considerably less comingled entering the last quarter of the 20th Century. 
Warhol's Athletes project germinated from his friendship with investment banker and art collector Richard Weisman. Weisman is credited with selecting the 10 athletes for the series, which ranged from boxer Muhammad Ali to soccer star Pelé to basketball's Kareem Abdul-Jabbar. 
[Full list: Jack Nicklaus, Chris Evert, Tom Seaver, Kareem Abdul-Jabbar, Pelé, O.J. Simpson, Dorothy Hamill, Willie Shoemaker, Muhammad Ali and Rod Gilbert.] 
Warhol snapped Polaroids of the posed athletes and silk-screened his preferred prints onto 40" x 40" canvasses, adding some hand-painted touches with acrylic paint. Six copies were made; each athlete received one. 
Evert and others, such as golfer Jack Nicklaus and figure skater Dorothy Hamill, were reportedly paid $15,000 for their efforts. Much like the contemporary art market, the paintings have soared in price since the original $25,000 valuation. Some are now worth well over $1 million. 
Evert, then 22, says fellow pro and Studio 54 regular Vitas Gerulaitis provided the introduction. Four decades later, Evert says she knew little of Warhol but was "flattered" by her inclusion. "Vitas was his friend, not me" she says. "The word I got was bring your tennis clothes, a racket, and a slight smile." 
Why Chrissie? Evert had already been pegged Sports Illustrated's 1976 Sportswoman of the Year–a rare honor for a female athlete. For the Floridian star–the reigning world No. 1, double Wimbledon winner and defending U.S. Open champion–the 1-hour shoot was a slightly inconvenient break from her preparation for the 1977 U.S. Open. Weisman later recalled that Evert and Nicklaus "were very suspicious about it." 
The session took place at Warhol's studio in New York. Gerulaitis accompanied Evert. It was not a garrulous sixty minutes. "He didn't say a word the whole shoot" says Evert of Warhol. "He was very shy. Very, very shy. He just took pictures."
Evert says she did her own hair and makeup. "He didn't want anything all dolled up. He wanted natural," she says. 
While the likes of Jimmy Connors, Bjorn Borg and Evonne Goolagong were also making tennis headlines, Evert reasons she was selected because "I was dominating the sport like no other man or woman was." 
But dominating it with a new self-awareness and ownership. The landmark Title IX legislation guaranteeing equal access in federal funding for any activity had been enacted four years earlier. Billie Jean King had vanquished Bobby Riggs in 1973's mega-hyped "Battle of the Sexes." The growing women's movement, especially in sport, was starting to coalesce in popular consciousness. 
Whether Warhol's Athletes Series represent great art is open to debate. Critics have questioned if they are celebrations or parodies. Certainly, they helped pave the way for what seems commonplace today: stars like Roger Federer and Serena Williams on the cover of fashion magazines and presenting at A-list events like the Oscars.
The collaboration helped solidify the notion of athlete-celebrity in the mainstream cultural vein. This connection between the maestro of Pop Art and the female darling at tennis' modernizing moment signalled visibility, freedom, accountability.
"Gone are the days when the closest a girl could get to organized sport was the cheerleaders' bench," wrote Sarah Pileggi for the Sports Illustrated story that accompanied Evert's cover selection. 
What else do we see in this portrait? The racket tucked between Evert's chin and shoulder like a violin, her instrument of creative domination. Piercing eyes that stare dead on. Compressed lips, shapely but sly. Nothing very revealing in her countenance. Warhol's colors are bold and sweeping, lending an almost abstract quality to the portrait. Was he pushing it forward, just as Evert was nudging the idea of women and sports into a new realm? 
To Evert, it often reminds her of a cloistered time in her life. "It's like secretive" she says of her expression. "Holding everything in. Like I did at that age."
But any subject of Warhol is by definition tapping into that uniquely American craving to rise from obscurity into the glitzy sphere of celebrity–whether they like it or not. Today the silkscreen portrait hangs in Evert's dining room. "I think it's beautiful and the most valuable piece of art in my house" she laughs. "I'm not like John McEnroe, who studies art. I'm not a big art connoisseur. But I feel very privileged about it." Or as King, the women's rights trailblazer and WTA founder, could have said: Privilege is a pressure.