Breaking Barriers
Beyond Tennis' Color Line
An exhibit highlights the association that helped make Arthur and Althea household names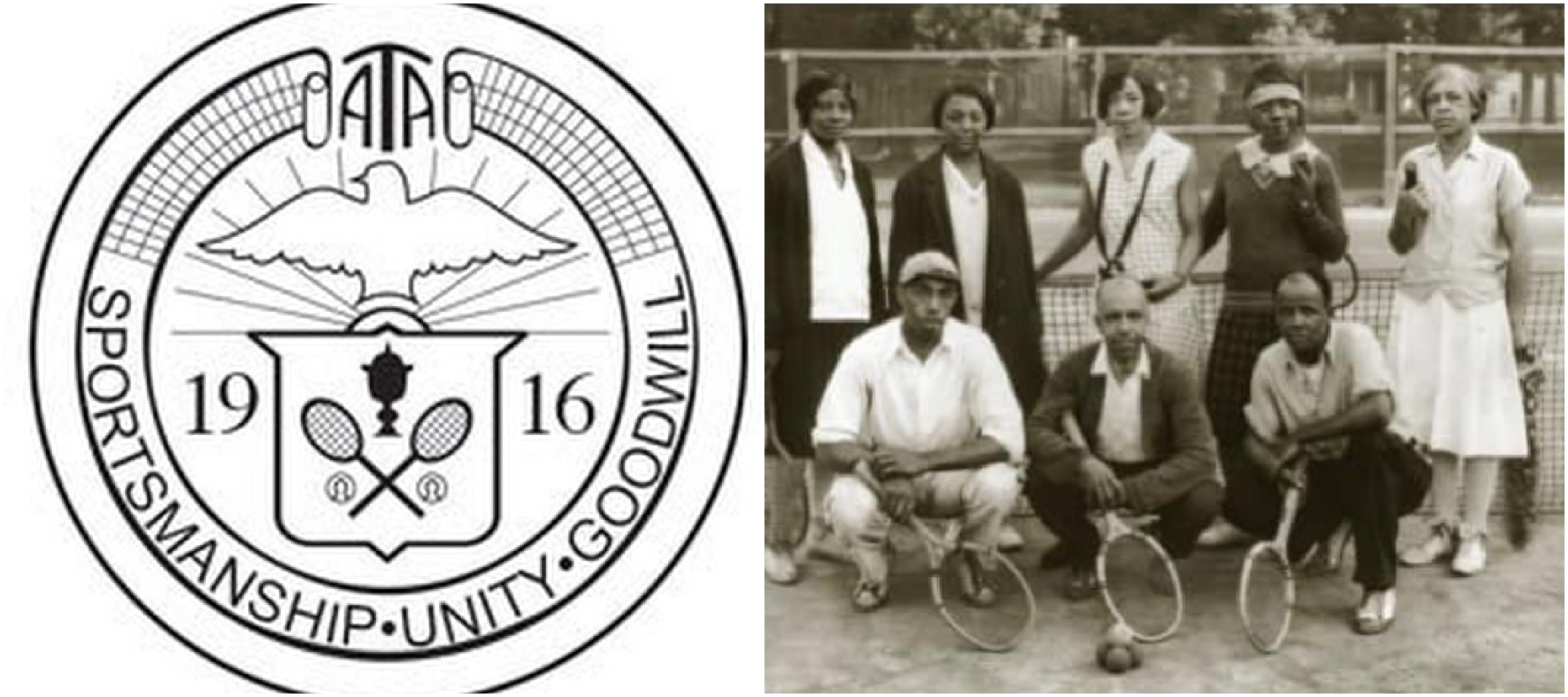 In 1944, two Black physicians, Dr. R. Walter Johnson and Dr. Hubert Eaton, watched a street-wise Althea Gibson lose the junior Girls ATA (American Tennis Association) championship title to another young Black girl named Matilda Peters. The score was 6-4, 7-9, 6-3. Matilda, who with her sister, Margaret, were affectionately known as D.C. dynamic duo "Pete" and "Repeat" Peters, had taken Black women's tennis to new heights from their local Georgetown courts. 
But after the match, the doctors, who would go on to train and elevate the career of Arthur Ashe, offered Gibson a chance to train in Wilmington, NC during the school year and tour the ATA tournaments in the summer. Three years later, Gibson won the ATA Women's Singles Championship — the first of her 10 consecutive ATA National titles, which she gained alongside her Grand Slams. Meanwhile, the Peters sisters were recruited by the Tuskegee Institute to play basketball and tennis. 
After graduating with degrees in physical education, both sisters went on to New York University for graduate school. The continued to compete in ATA tournaments. But by the time Gibson integrated tennis, the Peters were considered too old to compete. Each sister contributed to the advancement of Black advancement of tennis, however, in her own way, especially Matilda, who taught physical education at Howard University in the 1950s and tennis to underprivileged children through the D.C. Department of Recreation.
""I knew that Venus and Serena were not the first successful Black female tennis players," said Camille Riggs Mosley. "They stand on the shoulders of great people…Althea Gibson and Arthur Ashe were great because somebody enabled them to be there. They didn't create the game; they stood on the shoulders of others."
Although Althea Gibson officially integrated tennis at the U.S. National Championships at the West Side Tennis Club in 1950, just as every institution in post-Reconstruction/Jim Crow America, the United States Lawn Tennis Association (USLTA) — the precursor to the USTA — had a parallel Black organization: the American Tennis Association (ATA). Set up in 1916 with the union of three smaller Black tennis clubs, the ATA held its first ATA National Championships in 1917 and since then, it has been the premiere institution for promoting the sport to minorities in the U.S. The online exhibit Breaking Boundaries in Black Tennis at the International Tennis Hall of Fame (ITHF) in Newport, Rhode Island, tells the story of the ATA, as well as the worldwide effort of Blacks to play tennis, with a focus on the individual stories and successes of the first Black athletes who blazed a trail for the champions of today.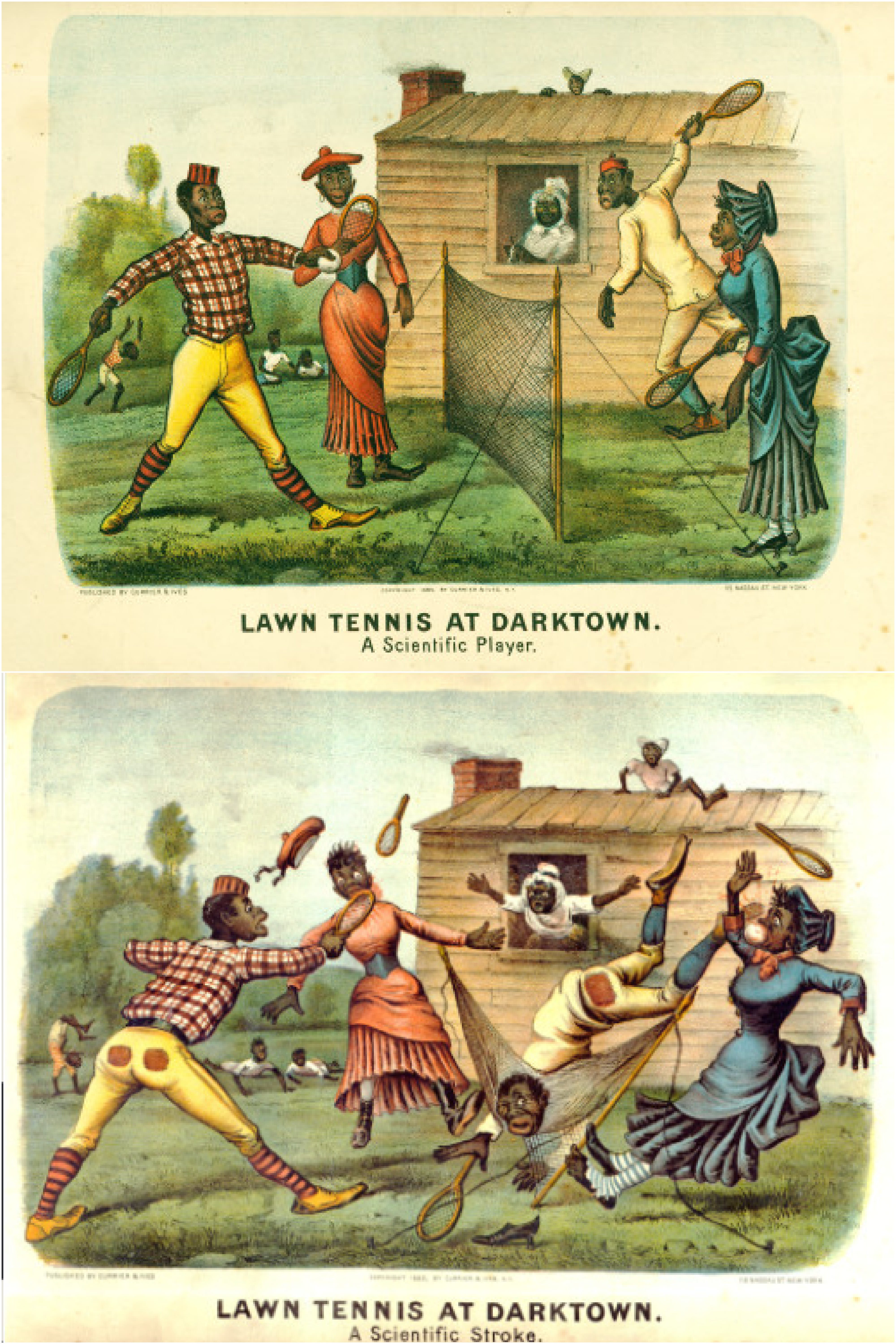 Battling for Acceptance
In post-Reconstruction, if freedmen and former slaves playing wasn't lampooned, it was generally ignored. Prior to the Open Era, local and state ATA tournaments results went largely unreported in the white press. Rather, the Black newspapers, such as the Pittsburgh Courier, the New York Amsterdam News and the Chicago Defender put tennis tournament results on their front pages — a section that might place an article detailing lynchings, burnings and the activities of the Ku Klux Klan alongside such achievements.
Blacks also still took significant abuse from the white public for trying to play tennis, considered an elite spot. In 1885, Currier & Ives, a high-end printmaking business, distributed lithographs that perpetuated racial stereotypes regarding Blacks plating tennis: that Blacks possessed speed and strength, but lacked the coordination and intelligence to master the "skill" sports. 
Yet, Blacks kept coming to Black tennis clubs, such as the Chautauqua Tennis Club in Philadelphia (established in 1890), and others throughout the Northeast, and they excelled at the sport. At the inaugural ATA Tournament in Baltimore's Druid Hill Park in 1917, 39 competitors came from thirty-three different Black clubs across the country to rally, volley, chip and charge for the title. Tally Holmes, a 1910 graduate of Dartmouth College, became the first ATA Men's Singles Champion and teamed with Sylvester Smith to win the Men's Doubles title. A native of Washington, D.C., Holmes would win the championship four times and claim the doubles crown eight more times. That same year, Lucy Diggs Slowe at age 32 captured the Women's Singles event, thereby becoming the first Black woman to hold a national championship in any sport.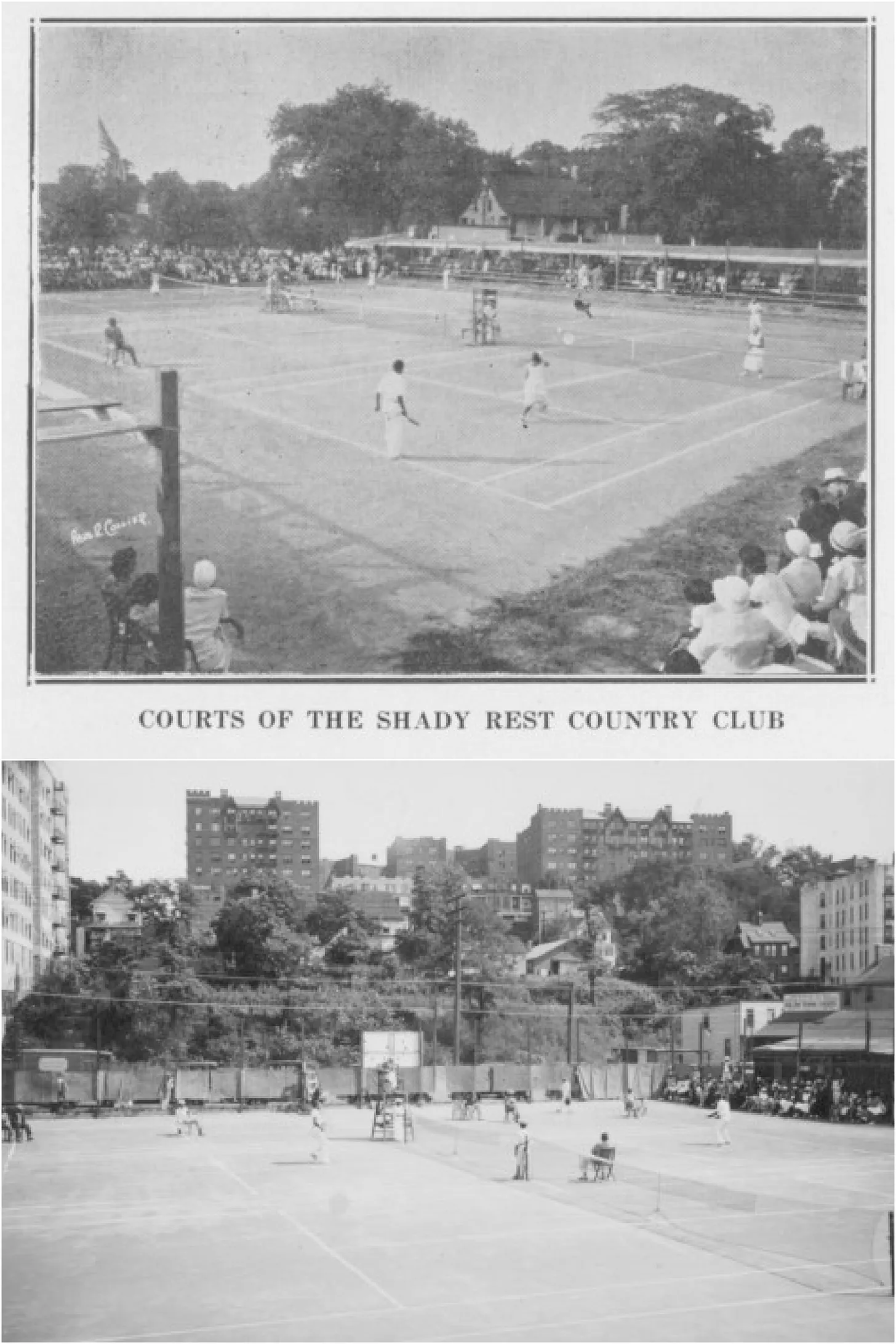 The ATA's Wunderkind
The first steps toward the integration of tennis took place in 1929, when Reginald Weir, the tennis captain at City College of New York, and Gerald Norman, Jr., a high school champion, paid to enter the 1929 USLTA Junior Indoor Championships at the Park Avenue Armory on New York's Upper East Side. When they showed up, the USLTA denied them spots in the draw, giving the NAACP a chance to file a formal grievance against the USLTA. The governing body of tennis was forced to publicly defend its policy of denying Black players the opportunity to compete in its tournaments.
But that didn't stop Black players from setting world records. One of the ATA's early female standouts, Ora Washington, had the height and reach to tame opponents into submission, and could chip and chop at the ball until it landed where she aimed. After starting her athletic career as a center for the Philadelphia Tribunes basketball team, Washington won more than 20 ATA titles during her two-decade career on the court, even beating Althea Gibson's record. "She was nice, but she was mean on the courts," said fellow player Robert Ryland, the first Black man to play professional tennis and coach Arthur Ashe. He claimed that Washington was one of the best players who ever lived,
Likewise, before Arthur Ashe, there was Bob Ryland. Learning tennis at an early age from and "Mother" Seames, as the matron of  Chicago's all-Black Prairie Tennis Club was known, Ryland won the Illinois state high school championship in 1939, beating Jimmy Evert, Chris Evert's father. He went on to Wayne State University in Detroit where he and Delbert Russell, would become the first Black men to play in the NCAA tournament, advancing to the quarterfinals in 1945. Ryland turned pro in 1959, joining Jack March's professional tour which included Pancho Gonzalez, Lew Hoad, Bobby Riggs, Pancho Segura and Don Budge.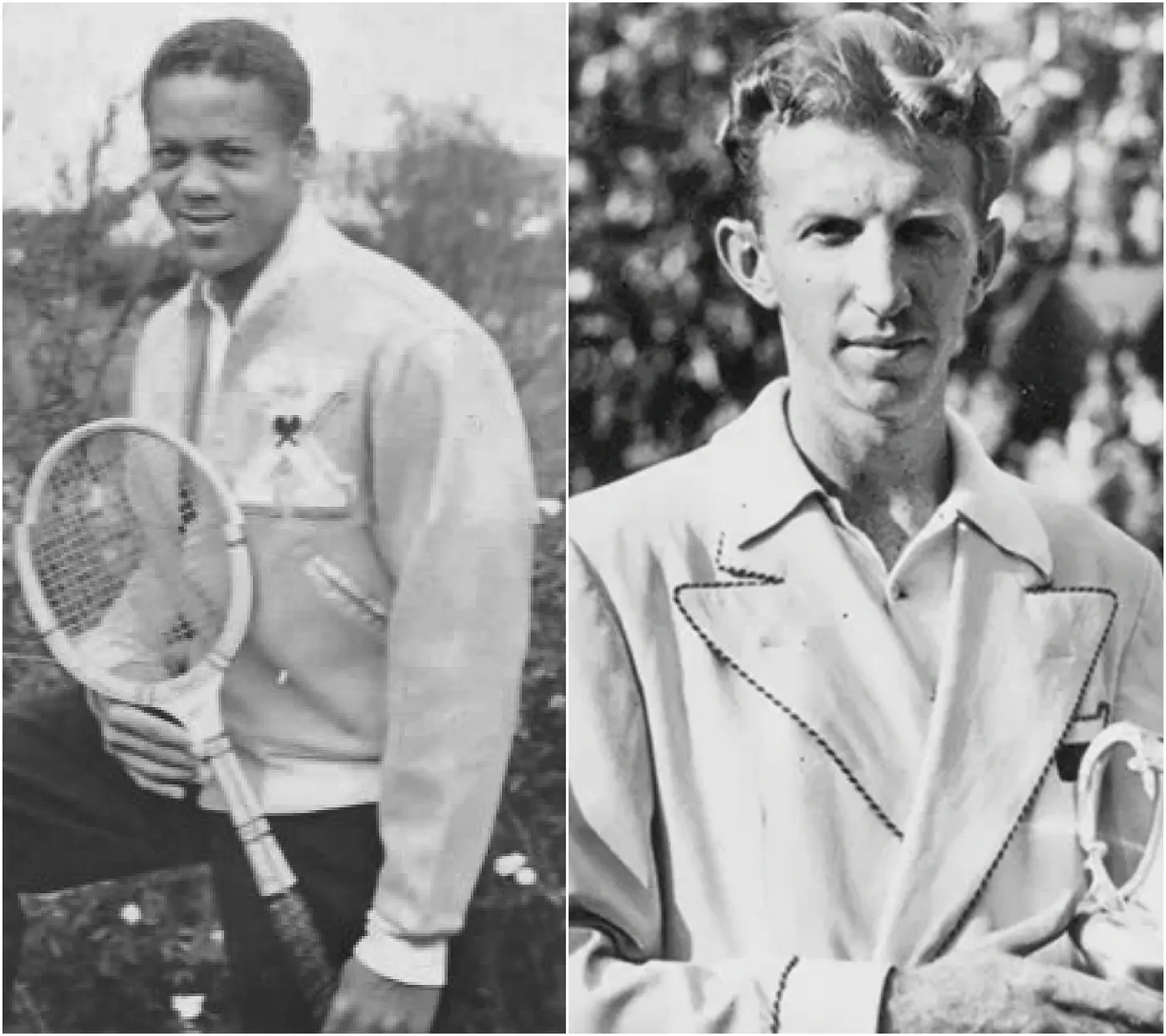 Finally, after 23 years of "separate but equal" tennis tournaments, on July 29, 1940, at Harlem's Cosmopolitan Club — the new ATA headquarters — U.S. National and Wimbledon champion Don Budge played an exhibition singles match against Jimmie McDaniel, the ATA champion and possibly the best Black player at the time, in front of a crowd of 2,000 people. Budge ultimately won (6-1, 6-2), but the tennis world would be forever transformed. "Jimmie is a very good player. I'd say he'd rank in the first 10 of our white players," Budge said. "And with some more practice against players like me, maybe someday he could beat all of them."
Four years later, two Black physicians, Dr. R. Walter Johnson and Dr. Hubert Eaton, set their aim on Budge's divination. Although they watched Gibson lose the junior Girls ATA championship title to Matilda Peters, they offered Althea Gibson a chance to train with Eaton in Wilmington, NC during the school year and tour the ATA tournaments with Johnson in the summer. Three years later, Gibson won the ATA Women's Singles Championship — the first of her 10 consecutive ATA National titles, which she gained alongside her Grand Slams.
One of the ATA's early female standouts, Ora Washington, had the height and reach to beat Gibson and all of her opponents, but had to choose between an athletic career in tennis or in basketball. Despite playing as center for the Philadelphia Tribunes basketball team,  Washington won more than 20 ATA titles during her two-decade career on the court. Yet, in 1956, Gibson turned up at the French National Women's Singles Championships and made history by becoming the first Black person to win a Grand Slam. A month later, Gibson teamed with Angela Buxton to become the first Black person to win a Wimbledon Championship title in women's doubles. She reached the U.S. National Women's Singles Championship at the West Side Tennis Club in Forest Hills in the fall, but fell to Shirley Fry. However, Gibson left Forest Hills, increased her training and came back the following year to dominates the U.S. National Championships, taking home both a Women's Singles and Mixed Doubles trophy. She would ultimately win five Grand Slam singles titles and five women's doubles titles.
Gibson, who was born in 1927, had her entire career before her, while Washington —28 years Gibson's senior — was winding down hers. Before leaving the game, Washington reportedly challenged Helen Wills Moody to a historic exhibition match. Moody never replied. History left undone, Washington spent her post-tennis life working as a maid in Germantown, Pennsylvania, leaving Gibson to take up the Black mantle. Their memorials reflect the historic weight given to each: Gibson has a statue outside Ashe Stadium at the USTA Billie Jean King Tennis Center in New York, while a statue inspired by Washington went up in Philadelphia's Fairmount Park in 2019.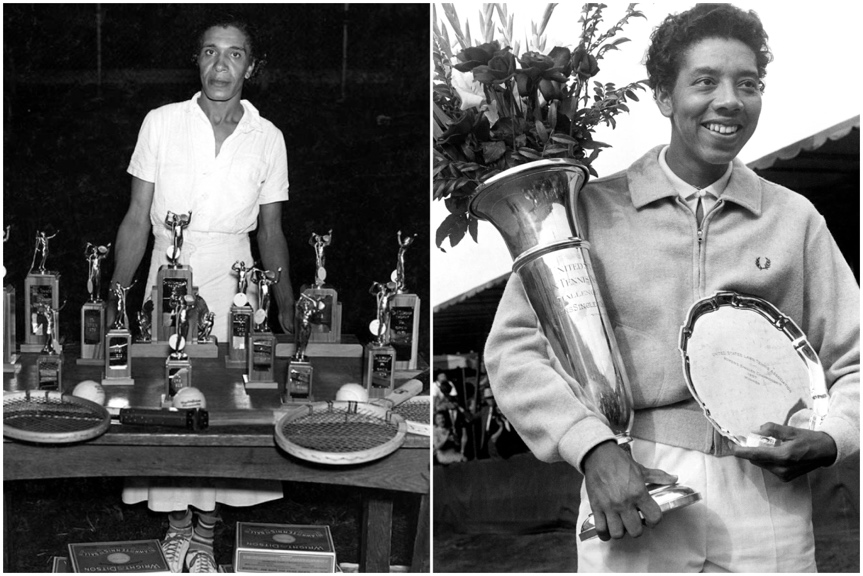 By the early 60s, another named would dominate Black tennis: Arthur Ashe. By 1960, Ashe had climbed his way to the top of the ATA and won a scholarship to UCLA thanks to the patronage of Althea Gibson's own benefactor, Dr. R. Walter Johnson. The "it" factor for Johnson: Ashe's coolness in the face of defeat. Routinely trounced on "Dr. J"'s backyard court by older players, Ashe would come out of each encounter losing by a lesser margin than before. His body soon caught up with his mental game and at UCLA, Ashe became the first Black man to join the U.S. Davis Cup team. In 1965, he won both the NCAA singles and doubles titles, while leading UCLA to the NCAA team championship. Ashe would win three Grand Slam singles titles and two doubles titles in his career.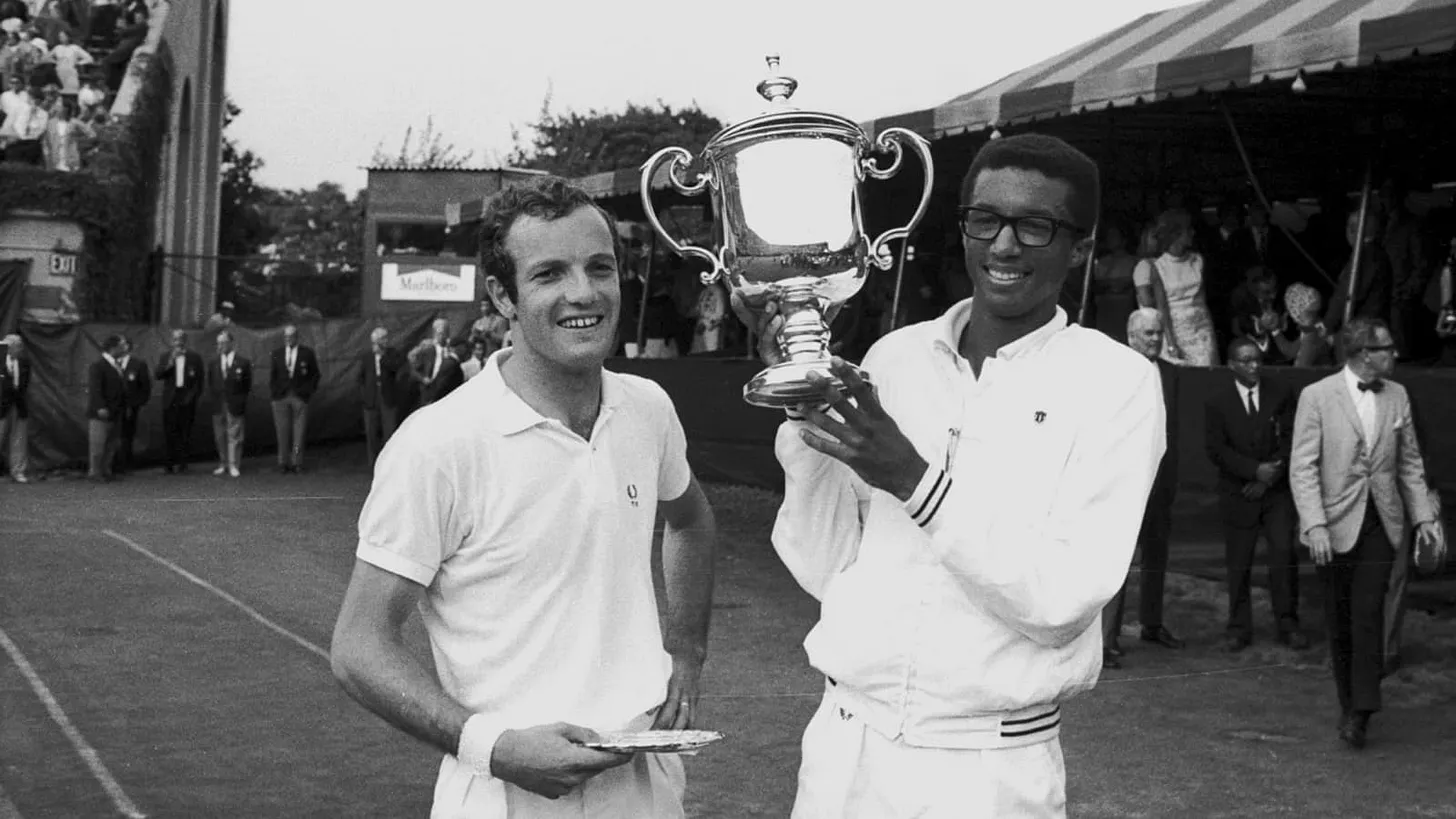 Tennis' Civil Rights Movement
Through the 1970s, Ashe continued to blaze a trail through the tennis world, integrating the South African Open and attempting to set up a professional tennis tour in sub-Saharan Africa. While touring on an exhibition in 1971, he also discovered 11-year-old Yannick Noah who would become a French Grand Slam champion. By then, Gibson had long left the tennis scene. In 1958, she realized that "when I looked around me, I saw that white tennis players, some of whom I had thrashed on the court, were picking up offers and invitations," she wrote in her first memoir, I Always Wanted to Be Somebody. "Suddenly it dawned on me that my triumphs had not destroyed the racial barriers once and for all, as I had — perhaps naively — hoped. Or if I did destroy them, they had been erected behind me again," Gibson repeatedly applied for membership in the All-England Club, based on her status as a Wimbledon champion, but was never accepted.
It would be 20 years before another Black female player to follow in Gibson's footsteps. In 1981, Leslie Allen, an ATA champion from Cleveland, Ohio, joined the University of Southern California's (USC) tennis team as a walk-on in her junior year and played No. 6 on its 1976 championship team. She went on to reach a career high ranking of No. 17 in the world in February 1981 and became the first Black woman to win a significant pro tennis tournament since Althea Gibson.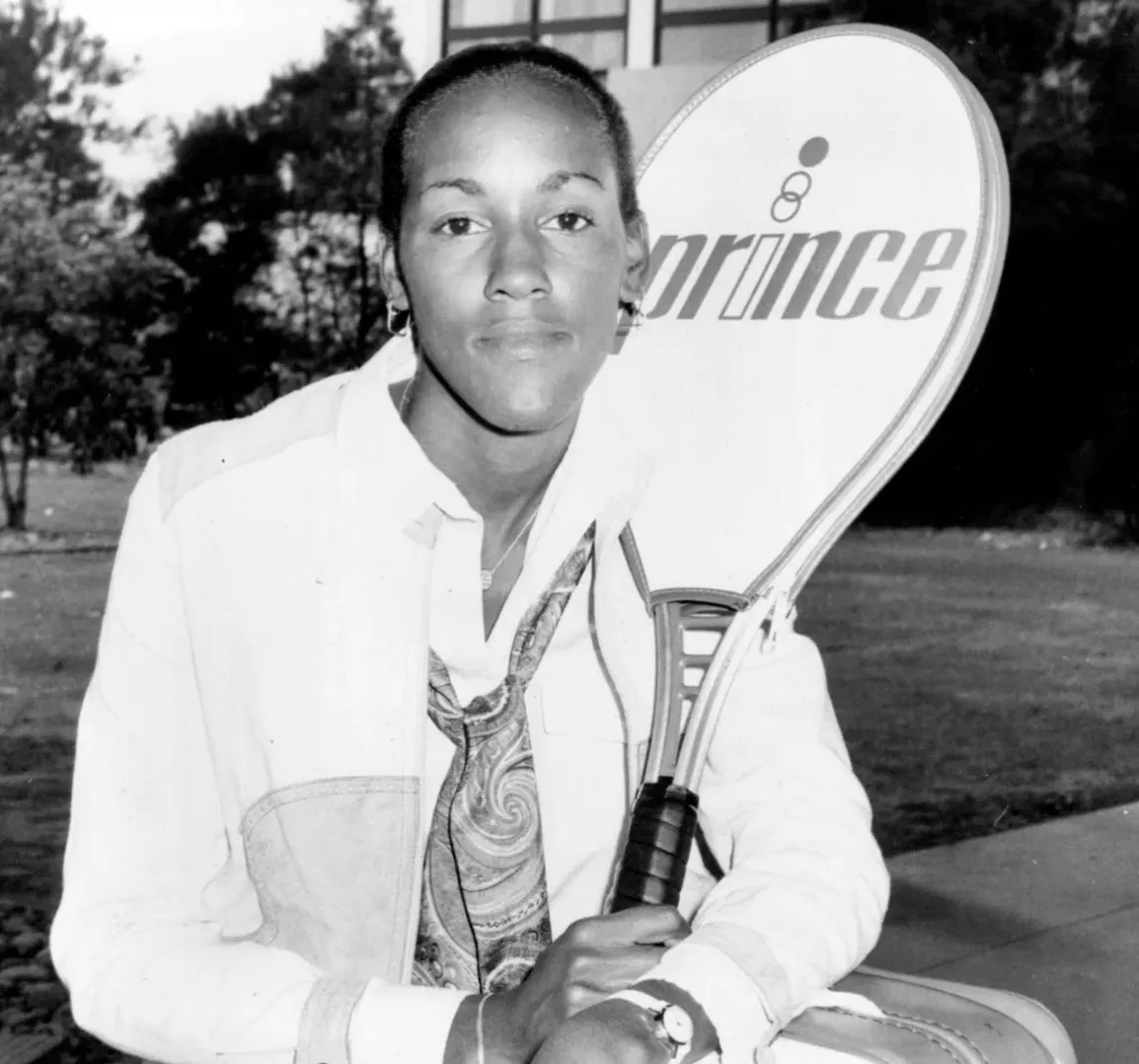 In 1986 Lori McNeil and Zina Garrison made tennis history during the Eckerd Tennis Open when they become the first two Black players to meet in the championship match of a major professional tennis tournament. McNeil prevailed 2-6, 7-5, 6-2, but Black women in the U.S. had already become a force. Garrison and McNeil — joined by Katrina Adams and Chandra Rubin — would spend the next four years trading historical milestones on the women's tour, with Garrison becoming the first Black woman since Gibson to reach the finals at Wimbledon. On the way, she notched wins over Monica Seles and Steffie Graf, but fell to eight-time winner Martina Navratilova in the Championship match.
On the men's end, in 1992 Bryan Shelton, a graduate of the tennis program at Georgia Tech, won the Miller Lite Hall of Fame Tennis Championships and became the first Black man to win a professional singles title since Arthur Ashe in 1978. Shelton seemed on the verge of a significant breakthrough at the 1994 Wimbledon, where, as a qualifier, he upset Michael Stich, the 1991 Wimbledon champion, in the first round and advanced to the fourth round, his career best result.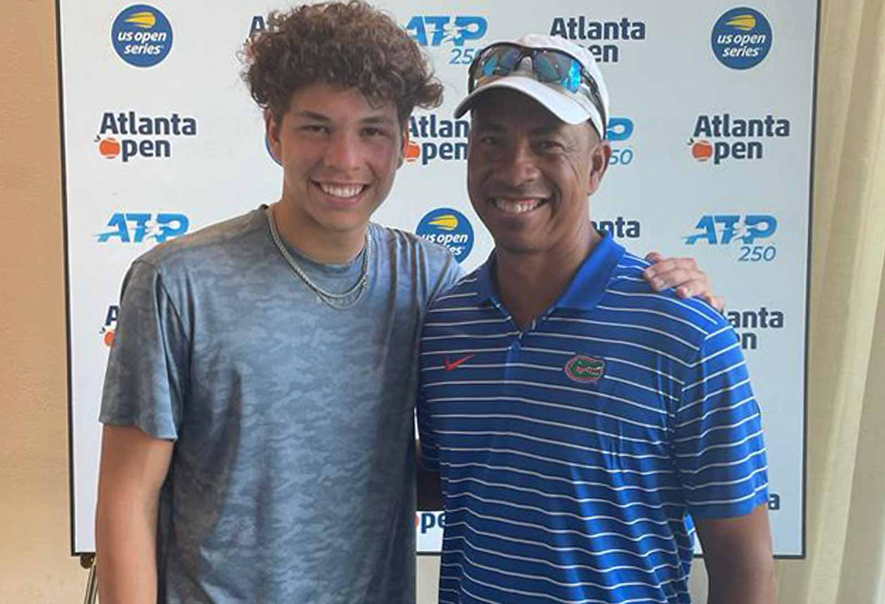 MaliVai Washington would surpass Shelton's accomplishment in 1996 by reaching the Wimbledon men's singles finals. In the same year, Washington, a native of Jacksonville, Florida became the first Black tennis player named to the U.S. Olympic Tennis Team. A recurrent knee injury ended his professional career in 1999, but following Ashe's example of giving back, Washington established the Malivai Washington Youth Foundation, which provides academic assistance, mentoring and tennis instruction to low-income youth in his hometown."What I took from Arthur (Ashe) over the years is, as human beings and certainly as athletes, we have a responsibility to do more than just hit a tennis ball," Washington said. "In one of his books, (Ashe) said, and I'm paraphrasing, 'If I'm just remembered as a tennis player, I failed.'"
The Future of Black Players in Tennis
During the last 20 years, the reigning surname in tennis has been Williams. But to illustrate the efforts made before Venus and Serena took over, in 2008, a group of players, coaches and supporters established the Black Tennis Hall of Fame on the grounds of the Historically Black College and University (HBCU) Virginia Union. Inductees include all the aforementioned players, in addition to ATA champions throughout the past 100 years. Future inductees are sure to be James Blake, Donald Young, Madison Keys, Sloane Stephens, Frances Tiafoe, Naomi Osaka and Coco Gauff, among others, if or when the organization gets funding for a permanent facility.
In 2018, the 100th ATA National Championships took place in Orlando, Florida. Rodney Carey, from the Bahamas, won the Men's Singles title while Isabelle Porter, a native of Fairbanks, Alaska who currently plays for Division II Stonehill College, in Massachusetts, brought home the Women's Singles title, as well as the Mixed Doubles trophy. Aysha and Azaria Hayes, high-schoolers in the tradition of Pete and Repeat Peters won the Women's Doubles title.
The year 2020 and the global upheaval over the unfair treatment of Black people in society have the tennis world pause over the need to bring more diversity and equity to the sport. After 104 years of operation, the ATA now works hand-in-hand with the USTA and other governing bodies of tennis and has called 4,700 people members and hosted 95,000 players in its various tournaments. Boundaries still exist — mainly financial — but tennis is well-poised to enter the next decade with fewer milestones to reach.