"Beating Nadal on clay is the ultimate test in tennis"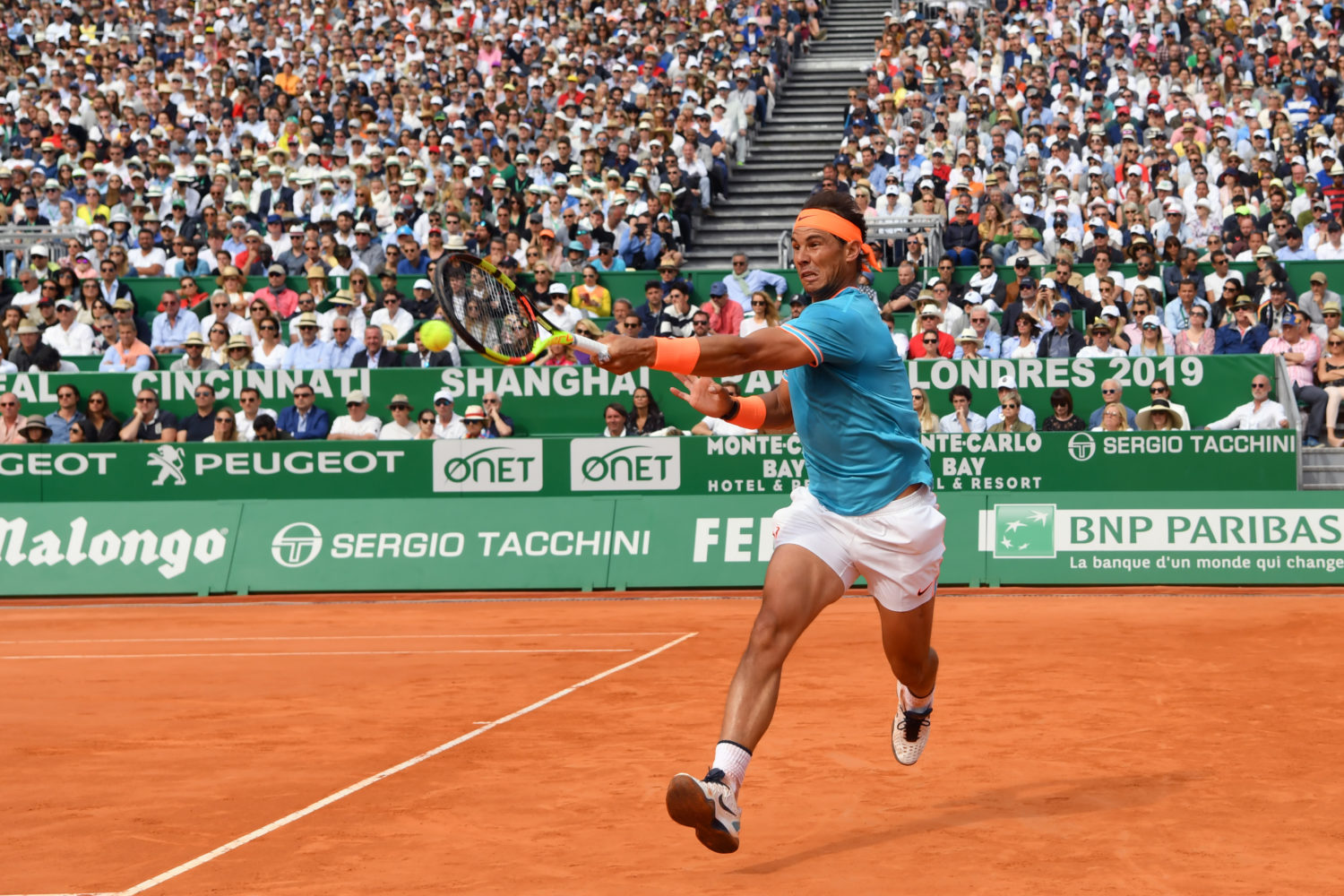 Tennis fans often jostle for the identity of the G.O.A.T, sniping at each other to get the verbal K.O. If there is plenty to spar over regarding the best male player of all time, the title for clay is less uncertain. For most, Rafael Nadal has floored the competition. He has almost claimed invincibility on the surface thanks to his abilities.
Hercules, in order to do his twelve labours, needed to accomplish some inhuman tasks—to slay the Nemean Lion, and slaughter the hydra of Lerna with its regrowing, doubling heads, and to capture Cerberus, the gigantic polycephalic dog-monster guarding the entrance to Hell—lucky he was born half-deity. In contemporary tennis terms, it is comparable to asking Nick Kyrgios to stifle his volcanic temper after a referee errs against him, (or to praise Casper Ruud's tennis.) If the Greek hero went from myth into reality to live now, we could have fun finding him a pensum to match his legend. Could he rival with the trick shot and sheer spectacle of Kyrgios? Harder still: beating Rafael Nadal on clay, a fortiori claiming all three winning sets. 
"What does one feel when one confronts Nadal at Roland-Garros? It feels like you're in the Sahara and you just see the hills and there's no ending." In 2006, Kevin Kim, former 63rd in the world, squashed 6/2, 6/1, 6/4 in the second round, burbled this mythologising image after having faced the man nicknamed "Rafa" on the crushed Parisian clay. 
And yet, at that moment, the myth was far from the monument, only then beginning to be built in the stadium of the Porte d'Auteuil, which it was going to become. Kim's words are only a chapter. When he said this, the Spaniard, who was celebrating his twentieth birthday the next day, had only the one Grand Slam title, winning as a debutant last year at the French Open. His results, though, were already making him the 'ogre de l'ocre' with a gargantuan appetite. 
After his defeat against Gaston Gaudio in Buenos Aires in February 2005, he won 11 out of 12 tournaments fought on the surface, while coming out on top all four times in the Masters 1000. Only Igor Andreev, who appeared to make playing a faultless game his absolute goal, managed to stop him in Valencia. Over the years, the native of Manacor has written many annals full of triumphs and records. Of course, not only on the orange staining courts. He enters history as being more than a specialist on this terrain. But it is on here that he has established a domination without precedent.  To such a point that the rankings on the sandy surface have nearly become a list of his name, including in the eyes of his most prestigious rivals.  
'It is difficult to manage the topspin of Nadal, it demands a little more to adapt to it'
Novak Djokovic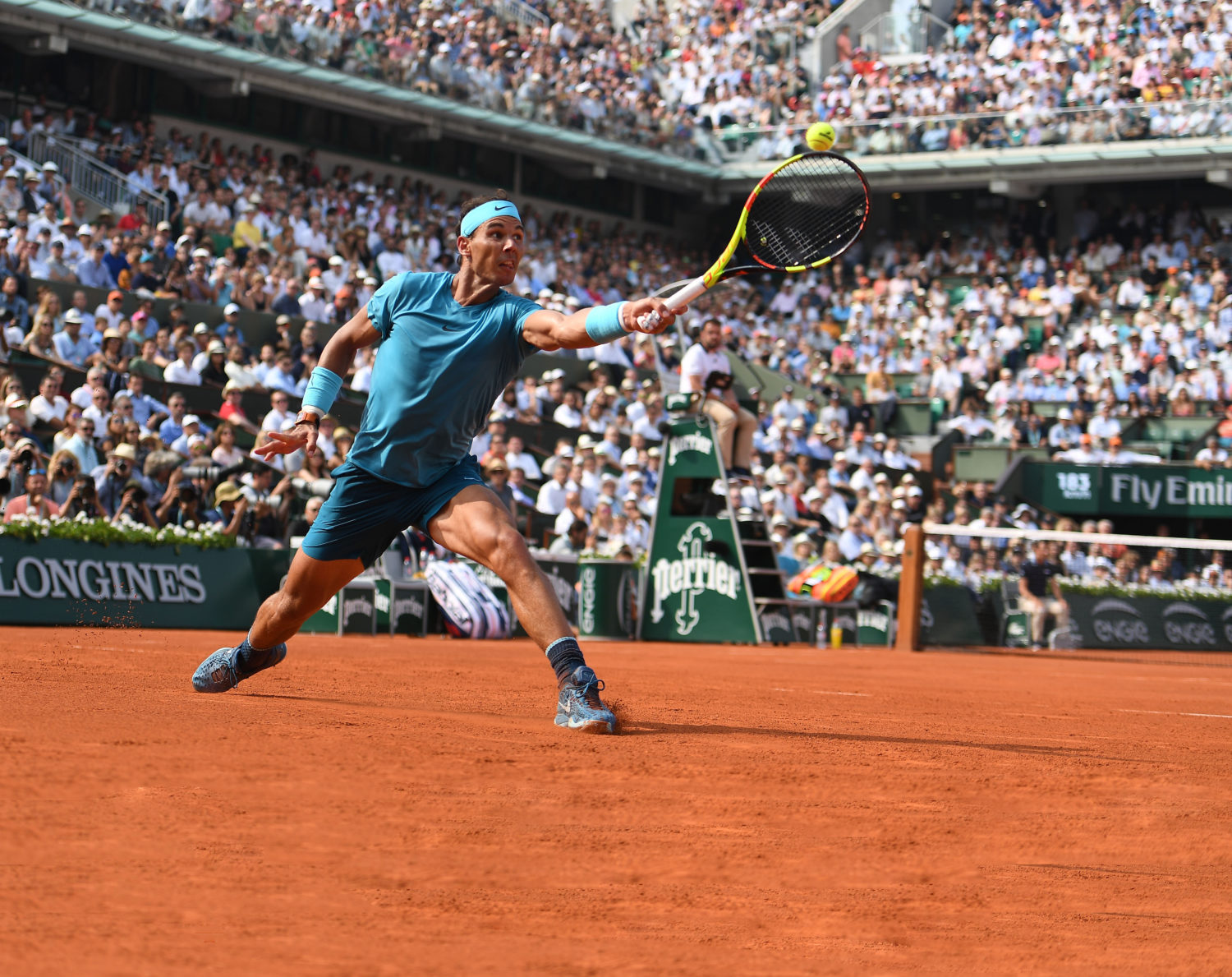 "Beating Nadal on clay is the ultimate test in tennis," Andy Murray has affirmed in several press conferences. An expression that he has not been the sole to repeat. "To confront Nadal on the central court of Roland-Garros, where he has had so much success, is the greatest challenge which exists," declared Novak Djokovic in 2021. "On clay, it is still difficult to compete with him and to win some games," analysed Stan Wawrinka after his defeat 6/2 6/3 6/1 in the final of the RG 2017. "It is less frustrating to play against Federer on grass, even if you no longer stand any chance of winning." Dominic Thiem – who knew a fate similar to the Swiss, 6/4 6/3 6/2 – went a little further, "To play against Rafa on this court, it is always the ultimate test, one of the most difficult to overcome in sport in general."
Before the 2023 season opened, the Majorcan of 22 Grand Slam titles has 474 victories for 45 defeats on clay since his debut on the main circuit. A win rate of 91.3% according to ATP's data. A record in the Open era, in front of Roger Federer with 86.9% on grass and Bjorn Borg's 86.1% on clay. In the best of 5 sets—Roland-Garros, Davis Dip., Masters 1000 finals and ATP 500 from 2006—he established a ratio still more astounding: 137 duels won, 3 lost. No one has done better, evidently. The three falls took place in Paris, opposite Robin Soderline in 2009, then Novak Djokovic in 2016 and 2021. And, at the Bois de Boulogne's edge, he has won 112 meetings, succeeding 97.4% of the time. The highest percentage in the history of a major, in front Borg—who had a career much shorter—with 96.1% at Roland-Garros and 92.7% in Wimbledon.
His ability to spin the poor felt ball to delirium must be one of the greatest trumps that Nadal has in his winning hand on clay. The Balearic left hand, a maternal gift, has given power and topspin to his strikes creating a shot never seen until his arrival at the highest level. "From the first point of the match, he hit with such intensity, such enormous topspin," explained Djokovic for the ATP, ahead of the Rome Masters the year past. "It is difficult to manage his shots, there is little time to adapt oneself." If that absolute master of control admits that he needs several games to come to terms with the 'bounce' of Nadal, imagine the scale of the difficulty for others. 
Scaling down the ladder to average mortals, a non-professional player, although being very good, would have all the difficulties in the world to return his full topspin. This is exactly what Olivier Carlier, chief of tennis expert group Babolat, has experienced. "In November 2009, just before Bercy, Rafa came to Lyon for a first test of the RPM Blast strings," this former 0 at the French ranking remembers. "There were three of us from Babolat each doing a session of 20 minutes with him. I have played against some players who have a beginning rank ATP, but against him, I truly had a sentiment of total powerlessness. The times where he put a lot of topspin and really powered through to the test the cord, he put me back two metres with no difficulty. The ball lept enormously. I felt crushed by the heaviness in the racquet. I was constantly cornered while taking the ball. I have a onehanded backhand, and it was impossible to hit."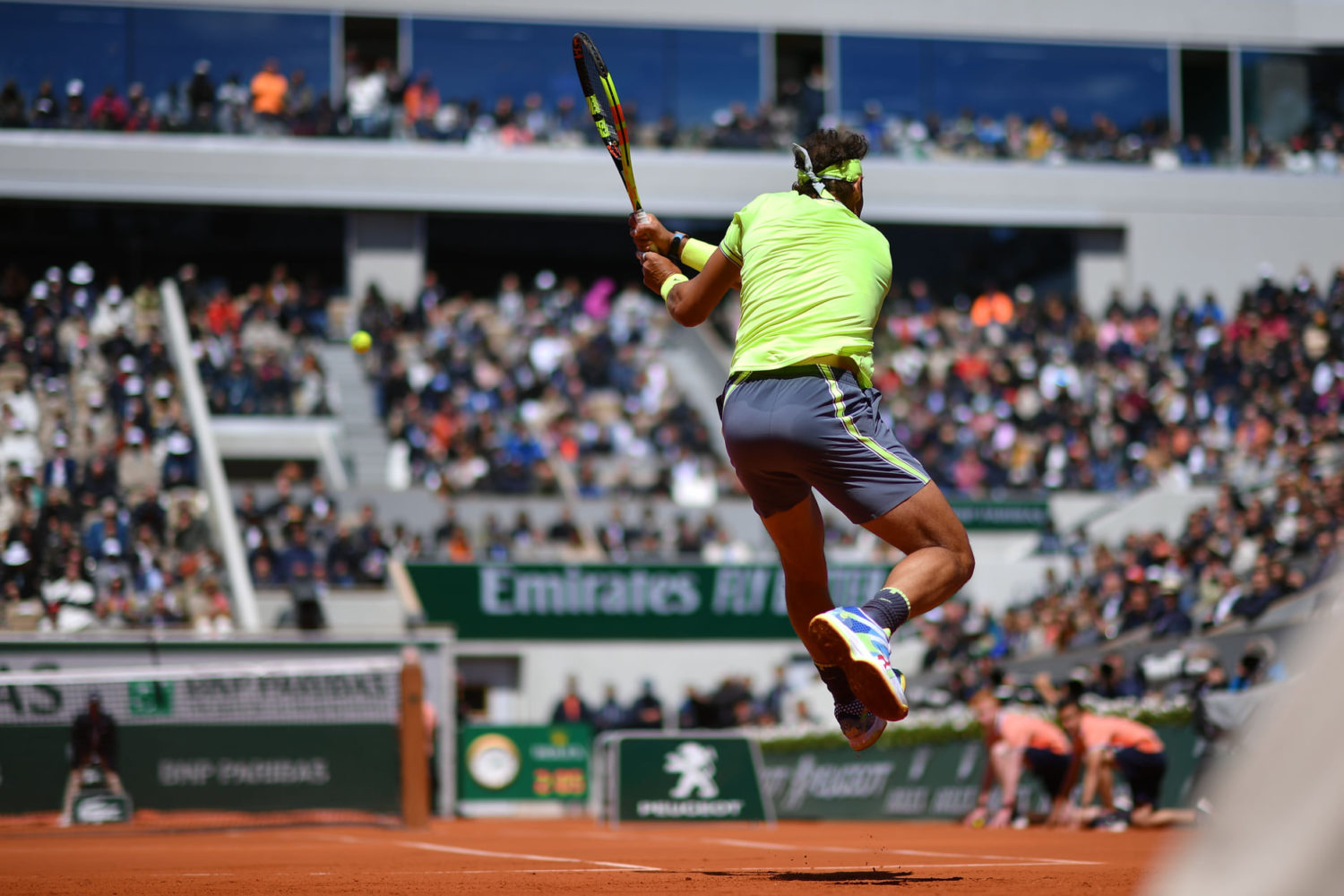 'He (Rafael Nadal)
 

remains the best mover on clay'

Roger Federer
Following further tests, the 'bull' like other of his colleagues adopted the RPM Blast of Babolat. Characterised by power and impact, it also brings him still a little more on his angles than his Pro Hurricane Tour that he was using formerly. According to Data Driven Sport Analytics, which Fabrice Sbarro (performance analyst working with some members of the top ten and top twenty) provided us, Nadal has flayed the ball with his forehand, in his three last years, by subjecting it to 2973 rotations per minute at least. Only Casper Ruud is higher on the tour, with 3081 rpm. Matteo Berrettini (2893 rpm), Federico Delbonis (2886 rpm) and Félix Auger-Aliassime (2863) complete the top.  On the backhand side, the former world number 1 is sixth in this ranking, with 2183 rpm. Behind Ruud (2353 rpm), Stan Wawrinka (2327 rpm), Marco Cecchinato (2310 rpm), Richard Gasquet (2221 rpm) and Stéfanos Tsitsipás (2200 rpm). Note that only the Norwegian managed to get ahead of those hitting with one arm in this area.
This washing machine of a forehand, spinning his opponents until the last drop of sweat, was acquired thanks to a peculiar technique. A gesture nearly iconoclastic for the purists of which his mentor is one. "I didn't like the lasso forehand of Rafael, I always preferred the classic style," declared Toni Nadal during a conference at the university of Vigo in March 2019. "He began to play this way young, to annoy the adversaries who were older than him, he won some titles and it is for this that we continued to use this shot. But I have never encouraged it. I have not tried to form it. If I was able to choose, I would prefer to see it hit like Federer." Even now, he has not change his opinion. "If you watch Rafael in training, he does a classic forehand, without finishing above his head," he told us. "Yes I prefer this. But the truth is that, in order to play at Roland-Garris (and on clay), it is better to put more topspin. Which is easier to do with Rafael's style." 
Being left-handed also played its part in the impact of this weapon with its unbelievable bounce on the back-hand of righthanders. A living nightmare and above the shoulder for those who hit onehanded. For the two-handers, it is the lesser reach on the cross-court shots which can pose problems as they escape towards the sides thanks to the lateral effect of Nadal's shot. Furthermore, he has been able to count on a little more technology to optimise his impact. The racquet Babolat Aeropro Drive that he began to use at 17 has been conceived especially to give extra whip on his lasso, as related in the article Pure Aero : une raquette qui fait effet, published in Courts 13. 
He is not alone in creating this bending effect (which among righthanders falls on the forehand). One does it by hitting the ball a little on one side (brushing it) his uncle has told us. It opens up a little the court. On clay, it is common knowledge that the cross-court shot is more efficient than on other surfaces. "Thus you try to repeat it very often to do it a little better each time," explains his uncle. To become "the king of the earth" the protégé of Carlos Moyà has been able to rely on another aspect of his game. "He remains the best mover on clay," analysed Roger Federer in front of journalists at Indian Wells in 2018. "He will most probably always be the best player in history on this surface." From the first, he appeared to have escaped from a video game. A character playing in cheat mode, such is his velocity, succeeding from unhopeful defence.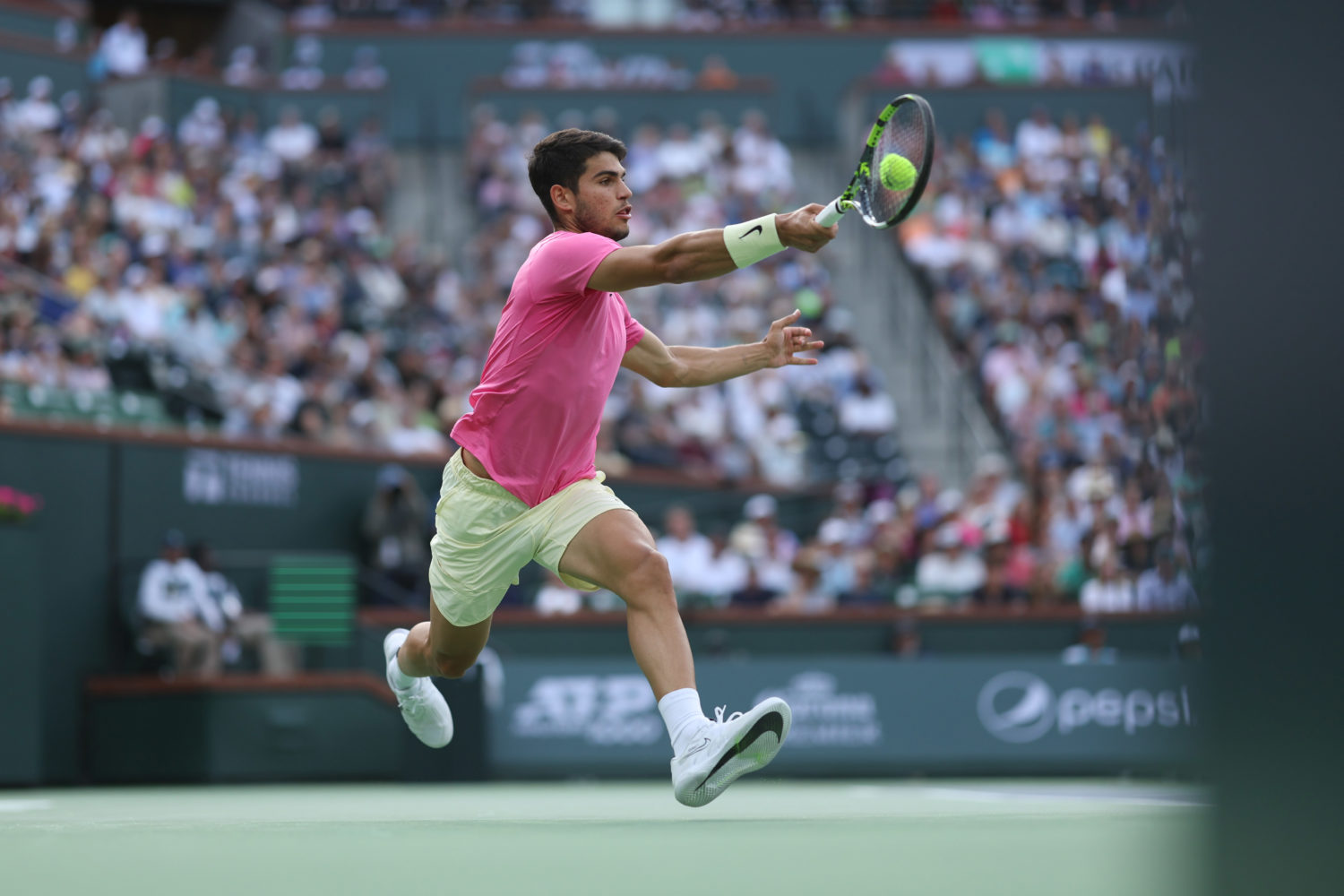 Rafa voit quand je vais faire une amortie, avant même que je tape 
Carlos Alcaraz 
When watching the conclusion of his final in Rome against Guillermo Coria in 2005, for example, one needed to verify that the footage was not sped up by 1.5. Even double. A remark equally true for the Argentine and his spinning legs capable of producing as much as energy as a field of wind turbines. Though, as the years have passed, the man who relaunched the fashion for sleeveless t-shirts has begun to slow. But, although being in his 37th year, he conserves an uncommon mobility. Thanks to his sense of movement on clay, his balance and his anticipation, what one has taken to call "the eye". For Tennis TV in February, Carlos Alcaraz, questioned on the drop shot, one of his favourite shots, observed this:
"I would say that Tsitsipas has been the one against whom (the drop shot) has functioned best," he responded. "I won the point nearly every time. On the other hand, against Rafa, and also Djokovic, it has been difficult to surprise them. I believe that they see it before I go to hit it. They are always there." It is really something to continue to be excellent on the most physically demanding surface despite the hands of time weaving an inevitable shroud over his career. But his skillset and his mobility have not been the only standout elements to explain his reign on the red. "It is all a whole," 'tio Toni' told us. "The topspin, the ability to run lots for many years, his skill at sending back the ball in a bad position also. Because, on clay, it does not always arrive perfectly like on hard court (there is a flat bounce notably)."
"Now, Rafael runs a little less" he continued. "But he gets out of place less also (able to switch to his backhand)." Because when one looks at his first games, one can tell that he has known how to evolve his game. Now he has much more strength in his backhand and as a result he does not need so much to move to his forehand (thus reducing his movement on his forehand). A great benefit for the amount of legwork. Especially in comparison to his two first wins at 'Roland'—2005, 2006—he has become more offensive. Hitting nearer to his line, being more enterprising, he knew that by improving he would  make his opponents run more inversely. "If you watch closely, from Roland-Garros 2008, you can see that he was not so defensive, if so he would have not been able to win so 'easily' (no set lost, 6/1 6/3 6/0 against Federer in the final), nor be able to assert himself at Wimbledon," added Toni Nadal. "In 2005, 2006 he was passive. Because he was young, still not totally formed, he needed to improve his shots. Federer also knew how to evolve. If you play the same way for 20 years, it means that you have not progressed."
An analysis shared by Gasquet, who has been defeated 18 times in as many contests facing Nadal. It is the record in the open era in the men's game, equal with his fellow countryman Gaël Monfils—also losing in 18 duels against Novak Djokovic. Vive la France! "Nadal has always strove to progress, to become more and more complete," analysed Gasquet in his autobiography, written with Franck Ramella, published in 2022. "6 or 7 years ago, I was discussing (him) with Francis Roig, one of his trainers. Rafa appeared to be waning, and Roig said to me: 'It is finished, Rafa will win no more.' To my astonishment, he continued: 'If he does not advance, hit the ball earlier, he will win no more. In my very core, I was saying to myself: 'But what is he saying? He is mad, this guy…' Three months after, Nadal began taking the ball earlier. He had done what I had not succeeded to put in practice.'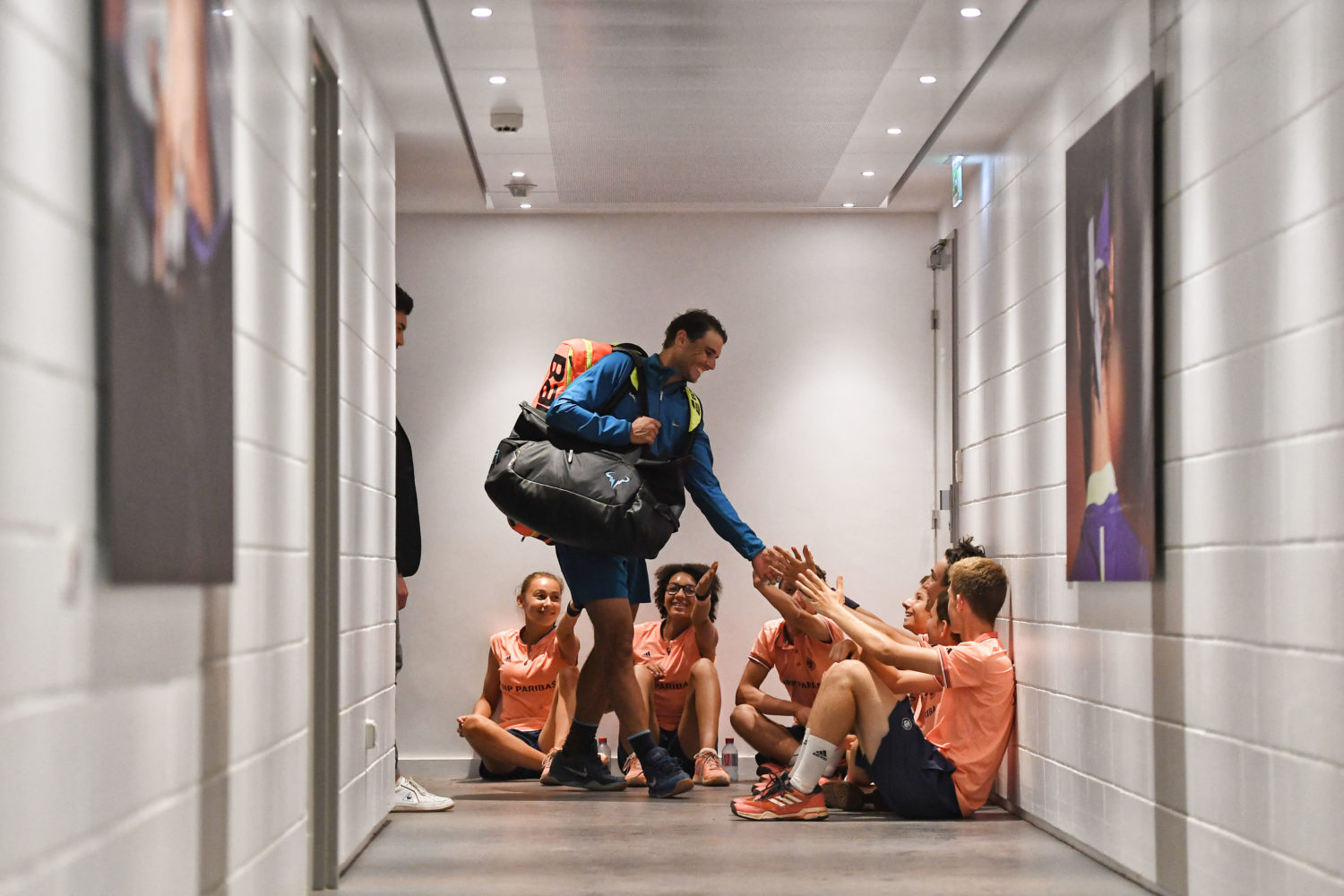 One must improve endlessly Because you are always losing something along the way
Toni Nadal 
"One must improve endlessly, even when one is at the top, because with time you lose something along the way: a little freshness, the legs don't move so well etc.," concluded Toni Nadal. "It is what each player tries to do, wanting to stay at the top for many years." We asked Toni Nadal if the desire to be more offensive was also due to managing the left foot, which had been causing problems since the spring of 2018, and was later diagnosed as Müller-Weiss syndrome. "Yes" responded the uncle. "But, he was already offensive, he was taking the initiative," he continued. "He arrived very young on the circuit at 16. He needed to confront some older players, stronger physically, with maturer games. Thus he needed to adapt himself. He needed to run more and lost a little aggressivity. But daily, he tried to progress. And it is not been difficult to make him understand this. I repeat to him since he was a child: 'each day, it is necessary to do more.'"
On this surface of long exchanges, knowing how to construct the point is essential to success. What the quattourdecuple winner of Roland-Garros—we learn new multiples thanks to him—has incorporated into his game since the age where he still had a bowl cut. "If you observe the world number 10 and the number 100 training, you will not see distinctively who is the highest ranked," Nadal observed in his autobiography written with John Carlin. "Outside of competition and the pressure which accompanies it, they are going to move and hit the ball very similarly. However, it does not suffice not to hit the ball well to play well, it is necessary also to make good choices, to know if it is necessary to make a drop shot, to hit hard, high, deep, flat, cut or topspin, and what zone to aim at. Since my youth, Toni had made me reflect lots on the fundamental tactics of tennis."
"If you make the wrong selection, Toni asked me: 'why is it an error?'" he revealed. "And we'd discuss it, we'd analyse my errors in breadth and depth. Far from trying to make me his puppet, he tried very hard to make me reflect by myself. Toni said that tennis was a game where it was necessary synthesise lots of information very rapidly; in order to win, it is necessary to think better than one's adversary. And in order to think well, it is necessary to keep his calm." If the mentor planted the seed in his mind, it took someone else to water it to allow it to finally bear fruit. And not just anyone: the man who, before him, had the longest unbeaten streak on clay, with 53 consecutive wins. A series that ended against Ilie Năstase in the final of Aix-en-Provence 1977. He retired, losing  6/1 7/5—it was the best of five sets—to protest against the monstrous tactics the Romanian was using. The story of the "spaghetti racket" is relayed in Courts number 10 thanks to Hassan Hamini's documentary.
"In 2004, Rafael played the Sopot tournament (where he won his first ATP title)", retold Toni Nadal during an interview given to Radio Villa Trinidad in 2020. "Guillermo Vilas was there. He went to greet him and he said to me: "I can say to you something?" I have asked him to be patient two minutes while I run to find Rafael. I wanted him to hear what Guillerma was going to say. He gave this advice: 'All the players of the world know to move sideways easily. But if you make a ball short, another high, another here, another there, they are completely rattled. It is necessary to vary your game a little more." It was a decisive moment in the career of Rafael. Certainly, I have repeated this to him since he was little, but this had a lot more impact coming from a four time Grand Slam winner (Roland-Garros and the US Open in 1977, the Australian Open 1978 and 1979)."
In part thanks to these words, the pupil has surpassed the master by winning 81 victories in a row on clay between his defeat against Andreev in Valencia in 2005, then against Federer in the final of Hamburg two years later. Finally, if Rafael Nadal has grown to the point of being considered the best player of all time on this surface, it has been, also, thanks to sheer effort. "What is necessary for being so strong on clay? A good mentality, knowing how to suffer," Toni Nadal declared. "This is the most important." Without this characteristic, it is impossible to bear the strain on the most physically demanding surface. "I fought so hard to win Roland-Garros once, and this man has won it ten times,' commented Andre Agassi after the Parisian decima of Nadal in 2017. "He pushed this sport to a completely new level. Ten Roland-Garros… You understand, we believed this impossible, but he has done it."
Five seasons later, he has four more. "The greatest exploit in the history of sport in general", claim some such as Guy Forget in Le Parisien. "Try to find, in a discipline as popular as tennis, not one which has only 25 members, a champion capable of winning the toughest tournament on the planet 14 times, the most difficult thing which exists. There is nothing like it. When Borg won 6 times, we said never will a person do better." In the Open era, in the men's game, only Nadal and Borg won more than 3 times at the Porte d'Auteuil. At Wimbledon, four have surpassed the triple crown: Federer (8 titles), Sampras (7), Djokovic (7), Borg (5). Five at the US Open – Connors (5), Sampras (5), Federer (5), McEnroe (4), Nadal (4) -, and three at the Australian Open, which was neglected by the world's best until the mid-1980s: Djokovic (10), Federer (6) and Agassi (4). "For me, he (Rafael Nadal) is above Ali, Pele or Jordan," Forget even said. To contradict or support the opinion of the former 4th in the world, one would have to compare different eras and sports, whether individual or collective. An investigation that is probably unfeasible, except perhaps for one person. Another Hercule(s). Poirot.
Story translated from Courts no. 14, Spring 2023.