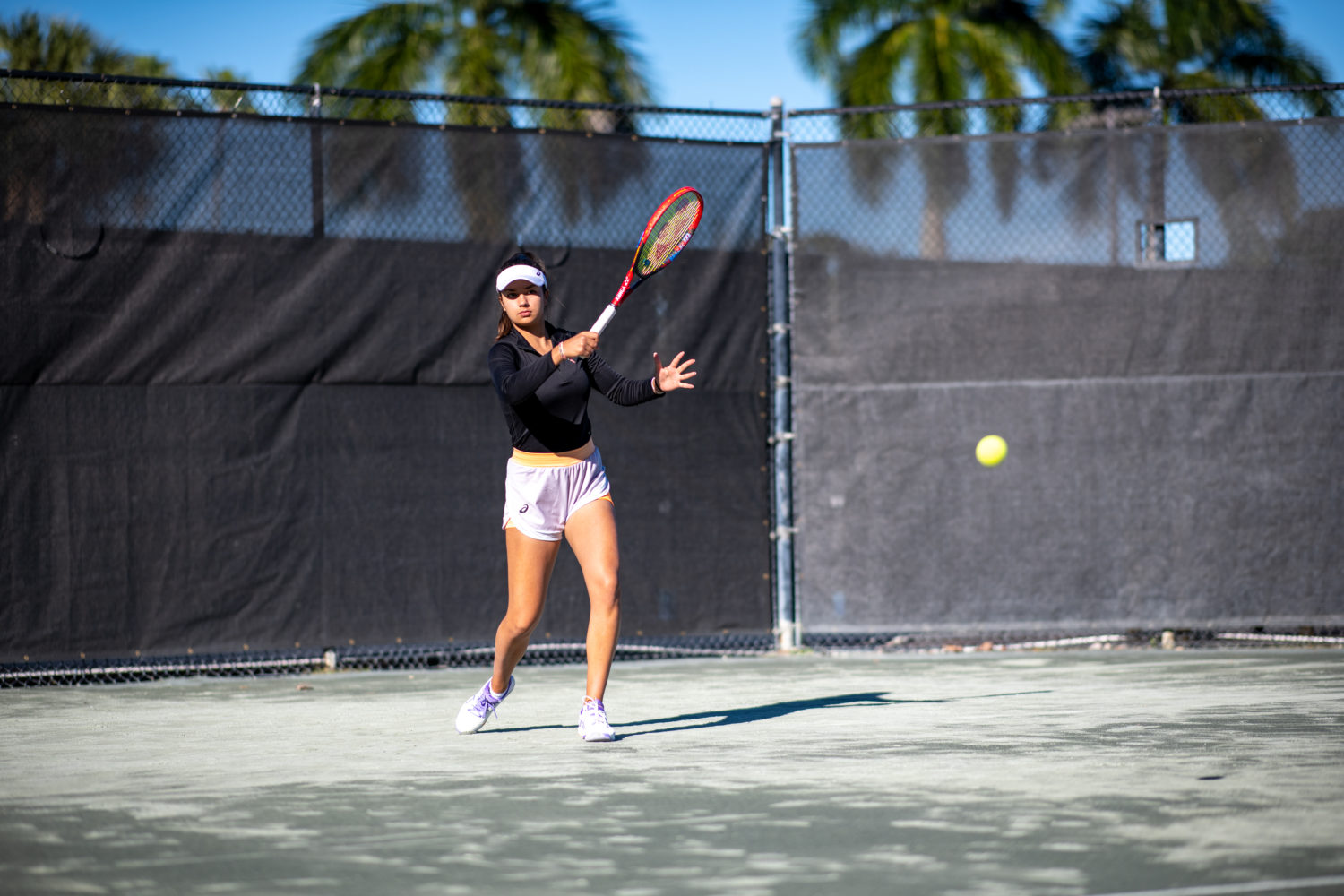 Like most of you reading these lines, I didn't embark on a professional tennis career. The reasons? An inability to raise my game, a predisposition to defeat attributable to a faulty mindset and a taste for sauce dishes incompatible with performance. Even in an alternative world, where my rage to win would have prevailed over an attraction for Béarnaise Sauce and where my forehand stance would have been nourished by Prime Rib, nothing says that I would have succeeded in breaking through. This is because, even if you have that little extra something, places are so hard to come by in an increasingly competitive tennis world where only the top 10% benefit from adequate coaching and preparation. Tennis is a struggle for recognition. 
The Top Level, an Impossible Equation 
In the same way that it's difficult to find a home without a job and a job without a home, the professional circuit – because of its international nature – is like an equation with fourteen unknowns for newcomers. How can they manage to earn enough money to finance a strong structure when they precisely need that structure to hopefully join the Top 100 and finally earn money? Twenty Nobel Prize winners in economics, brainstorming behind closed doors, wouldn't be able to answer this riddle. 
The message regularly heard from tennis connoisseurs is that, at a time when the level is becoming more homogenous than ever, it's the little streams that make the big rivers. Adequate physical preparation, access to statistics, professional advice on rackets and strings (including the presence of a professional stringer at major events), the possibility of participating in competitions via wild cards, the presence of a coach and a sparring partner during matches, media preparation: so many seemingly insignificant elements that, when put together, make it possible to gain confidence, to participate in more tournaments and, incidentally, to make oneself known and earn a better living. 
So far, only a happy few have been able to benefit from such support. This is especially true in women's tennis, which is suffering from a lack of appeal that is felt in terms of financial manna. Admittedly, the prize money for the Grand Slams and Masters 1000 tournaments has gradually been brought into line with what the men earn, but it is the tree that hides the forest: aside from the great champions supported by federations or private projects, hunger looms. 
It was time for things to change. And the good news is… they're changing!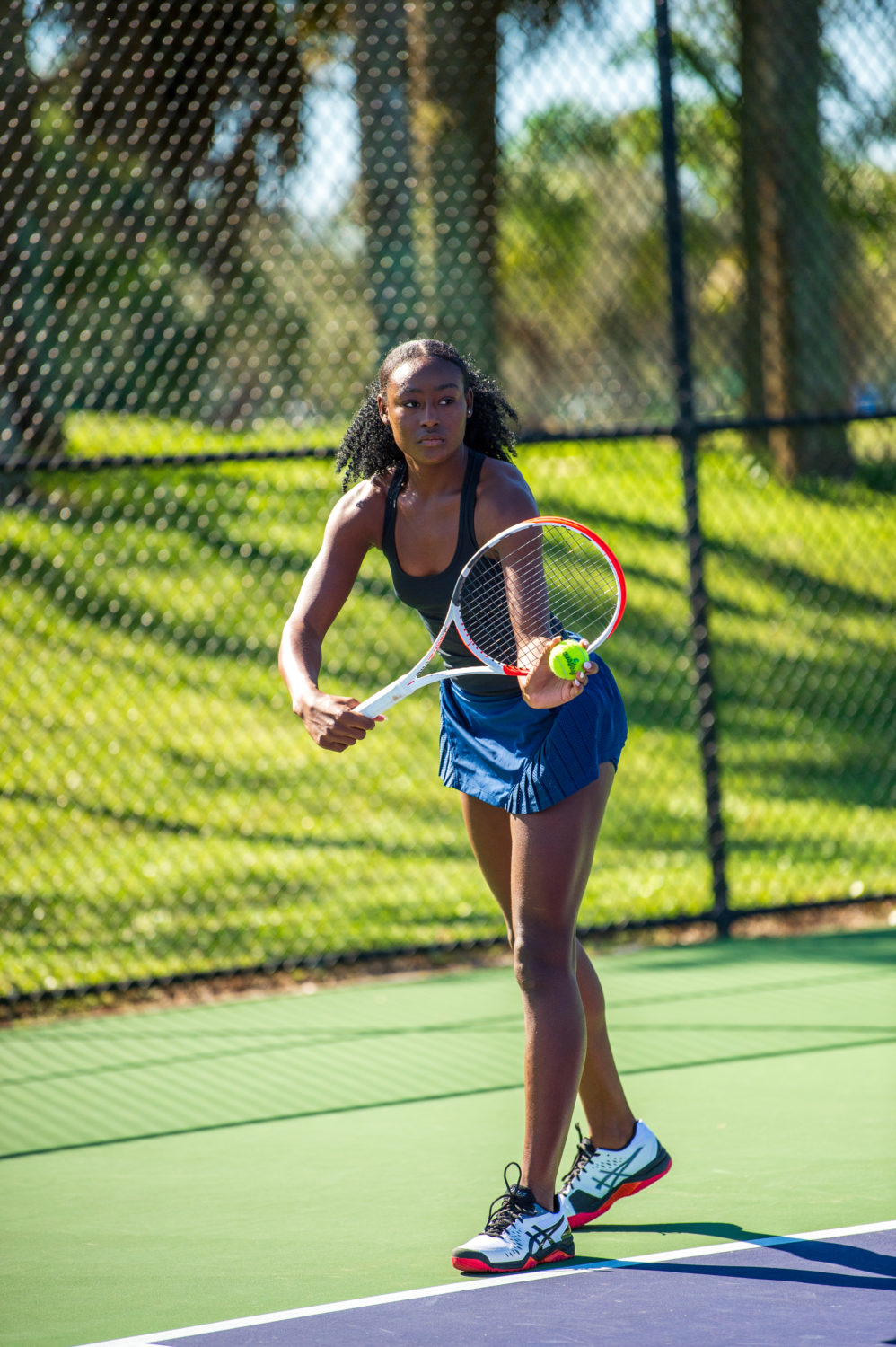 Player Incubator 
A new form of player support is emerging. As mentioned in a previous issue of this magazine, the pioneering EDGE agency was born out of an encounter between two entrepreneurial friends, Daniel-Sacha Fradkoff and Clément Ducasse, both tennis enthusiasts, and coach Rick Macci, who is now considered by the viewers who've seen King Richard as the greatest American coach "they had never heard of". 
Macci has always regretted not having a real follow-up in his relationship with the players he helped shape, from the Williams sisters to Kenin, Capriati or Roddick, because he couldn't leave his Academy to coach in tournaments. Daniel-Sacha and Clément worked with him on a new "all-inclusive" model for player support in which a limited number of young players benefit from all the tools and know-how – both sporting and extra-sporting – they need to reach their full potential. Rick Macci would take care of the tennis side of things, while Daniel-Sacha and Clément would manage the overall structure. The EDGE agency was born. 
The Best, Anywhere, Anytime 
Imagine you had to hire an agent to manage the image and sponsorship issues of your players. Imagine you wanted them to be well represented and sign profitable contracts. 2 
Imagine you knew an American lawyer who acted on behalf of the star running back of the Dallas Cowboys, for whom he negotiated a $100 million contract, as well as of Conor McGregor, Mike Tyson and various female stars from Hollywood. It's likely that you would choose him. That's what EDGE did when it secured Frank Salzano at the company's inception in 2018. 
Franck Salzano's legal expertise and US sponsorship (outside of tennis), combined with Rick Macci's extensive technical know-how, were a prelude to the arrival as investor and partner of Luca Bassi, Managing Director at Bain Capital in London and one of the best connoisseurs of the sports, technology and media fields. To meet the growing demands of professional tennis, EDGE also on-boarded Fabrice Sbarro, a pioneer in tennis statistics who has been accompanying several ATP and WTA Top 10 players for years. Today, he heads EDGE's analytics department, which includes two experts in physical preparation. 
The agency also called on Guillaume Ducruet, a former Global Marketing Director of Tecnifibre-Lacoste for over a decade, who brings to the players his technical expertise in rackets and strings, his knowledge of sponsorship and his network in the tennis world. The same goes for Dieter Calle, a racket specialist who adapts the tools of the trade for the players represented by the agency to optimize their racket feel and performance. 
EDGE has also set up an exclusive partnership with one of Europe's most prestigious clubs, run by a former WTA Top 50 player and her husband (a lawyer who is also serving as Vice President of the German Tennis Federation), to offer players on the Old Continent the equivalent of what the agency proposes in Florida at Rick Macci's Academy. Not to leave anything to chance, EDGE is even involved in the construction of real-grass courts (similar to those found at Wimbledon) so that its players can prepare for the grass season in the best possible conditions. 
It would be unimaginable for an individual player, a traditional agency or an investor to bring under the same roof all these specific skills. While women's tennis is becoming more and more professional, it usually boils down to a player-coach hydra where the latter is often the father. But for all his qualities, a father is unlikely to know about the specific physical work involved in tennis, the intricacies of equipment and strings, player and match preparation statistics, and the potential benefits that adapting rackets can bring. Add to that horoscopic views peppered with approximations gleaned here and there, and you can be sure that the player will end up in a dead end where the chances of success are slim. 
This is precisely what makes EDGE so appealing: The agency reinforces the tailor-made package available to players by adding experts whose skills cannot be questioned. No witchcraft, just expertise. And it's all for nothing – or almost nothing.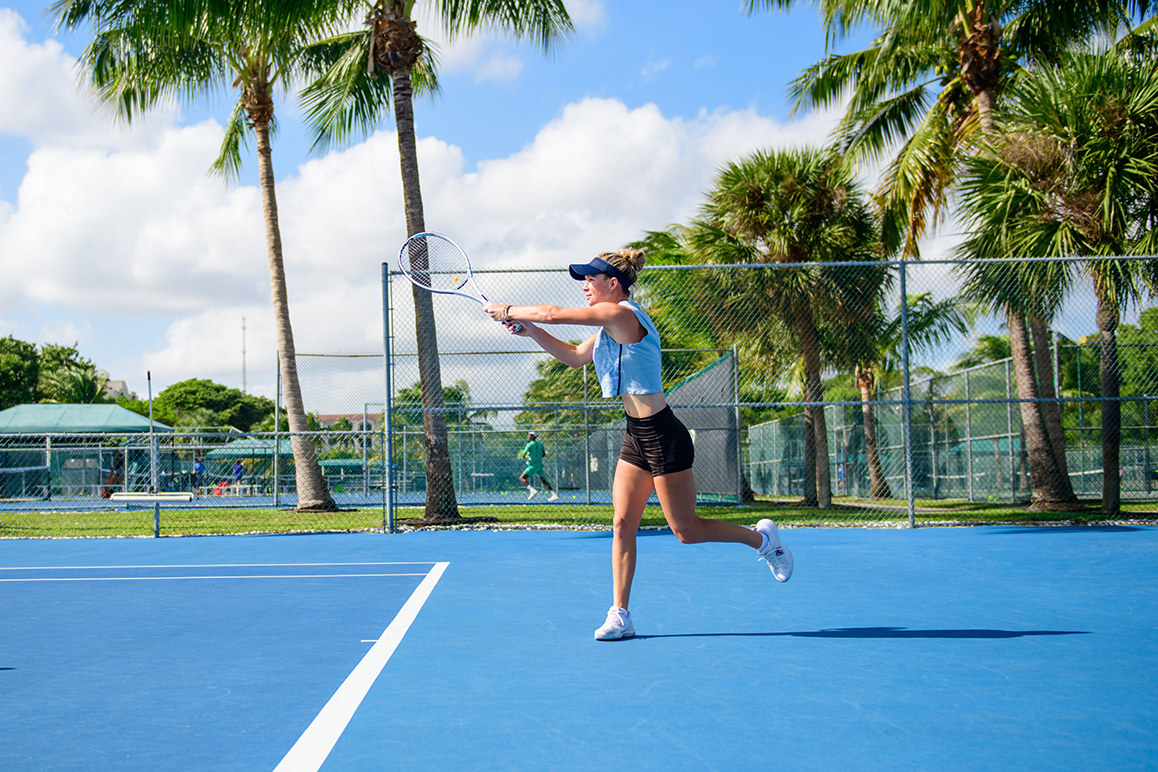 A New Business Model 
EDGE doesn't charge for these services. On the contrary, the agency provides financial means for each of its players to travel to tournaments and pay their own private coaches, hoping for a potential return on investment by partnering with them. If the agency is successful in helping players get to the top level, it receives a limited share of their earnings when they reach the finals of the biggest tournaments. But not right away, and not if the prize money doesn't cover the players' career-related expenses. A business model that is poles apart from the classic representation contracts in which players are only worth what they bring in immediately. A deeply human philosophy. 
For the female players, whose horizons have long been marked by their families, it's necessary to create the conditions that will allow them to progress by combining human warmth, proximity and excellence. This is another feature of the agency: the managers and experts are dedicated to the players, they know them and take good care of them. 3 
During a tournament where a girl was wearing the wrong shoes because the surface looked to her more like grass than clay, one of EDGE's founding partners didn't hesitate to drive hours to bring her one of his own pairs (a miracle of matching sizes). This anecdote speaks volumes about the relationship between the staff and the players. It isn't uncommon for the latter, and sometimes even their entourage, to spend a few days at the home of one of the managers when the location of a tournament lends itself to such an arrangement. 
Another sign that EDGE is like an ideal family is the absence of any conflict of interest in the players' results. No misplaced competition, no favoritism. One player's success benefits everyone by drawing attention to the overall structure. In selecting the players to whom it offers its services, EDGE is of course betting on the future, which is inherently uncertain. Although some players won't reach the highest level, either because of a change in career path or due to poor results, they won't have to pay back anything to the agency. 
Paradoxically, this risk doesn't weaken the overall concept. On the contrary, it strengthens it by allowing each of the champions to flourish in their private and professional lives, at their own pace, without the added pressure of having to return the favor (and the money) if things don't go as planned. 
Statistics and Customization: the Future Is Built on Hard Facts 
Fabrice Sbarro explains it best: 15 years ago, when he started his company as a tennis statistician, his proposal looked a bit like a UFO. Since 2017, things have changed. Today, nearly 25% of all Top 100 players take advantage of analytical tools, which are used both to better understand the opponent's game and to identify one's own strengths and weaknesses, away from preconceived notions and magical thinking. 
The strength of data lies in the fact that what they say is "true", even if analyzing the raw numbers in detail remains essential. Although such tools aren't yet able to measure the physical effects suffered by the opponent during repeated low-slice hits, they can tell whether these hits have won or lost points. They're great in helping players get to know themselves better, talk about tactics and progress. Sadly, coaches often neglect this tactical approach and, worse still, base their advice on impressions which numbers could easily contradict. Hence the need to work hand in hand with them, not against them. 
At several hundred dollars for a personalized report, not to mention the cost of an annual subscription, few female players can afford such a service. Yet, EDGE's young guard can use it for free. A definite advantage over the competition, both in the short and long term. Statistics provide valuable information about each opponent and thus increase the chances of winning; at the same time, they allow for better training and lead to improvement. Like all the other tools, statistics are made available to the players and their coaches to help them better prepare training sessions and matches. A virtuous circle. 
Similarly, the small lead circle that Dieter Calle places on the frame of the EDGE players' rackets is also virtuous. It's fascinating to see how a mere tweaking can change the balance of a racket, the resulting ball strike and ultimately the feel of the player. Again, this helps to improve performance and to dispel the magical thoughts that become truths when repeated often enough. 
As Guillaume Ducruet explains, you don't get more top spin with a head-weighted racket; to get more top spin, the wrist must be able to rotate; and for the wrist to rotate, it must have enough strength to do so quickly. With a heavy frame, the maneuver is more complex. Here, elementary physics is hit hard by biomechanics. 
This customized work on the equipment isn't just a whim, nor is it simply about optimizing rackets: it allows for physiological and biomechanical work to be done and in turn identifies areas of work that will benefit the players and improve their performance. Not to mention the self-confidence that comes with it.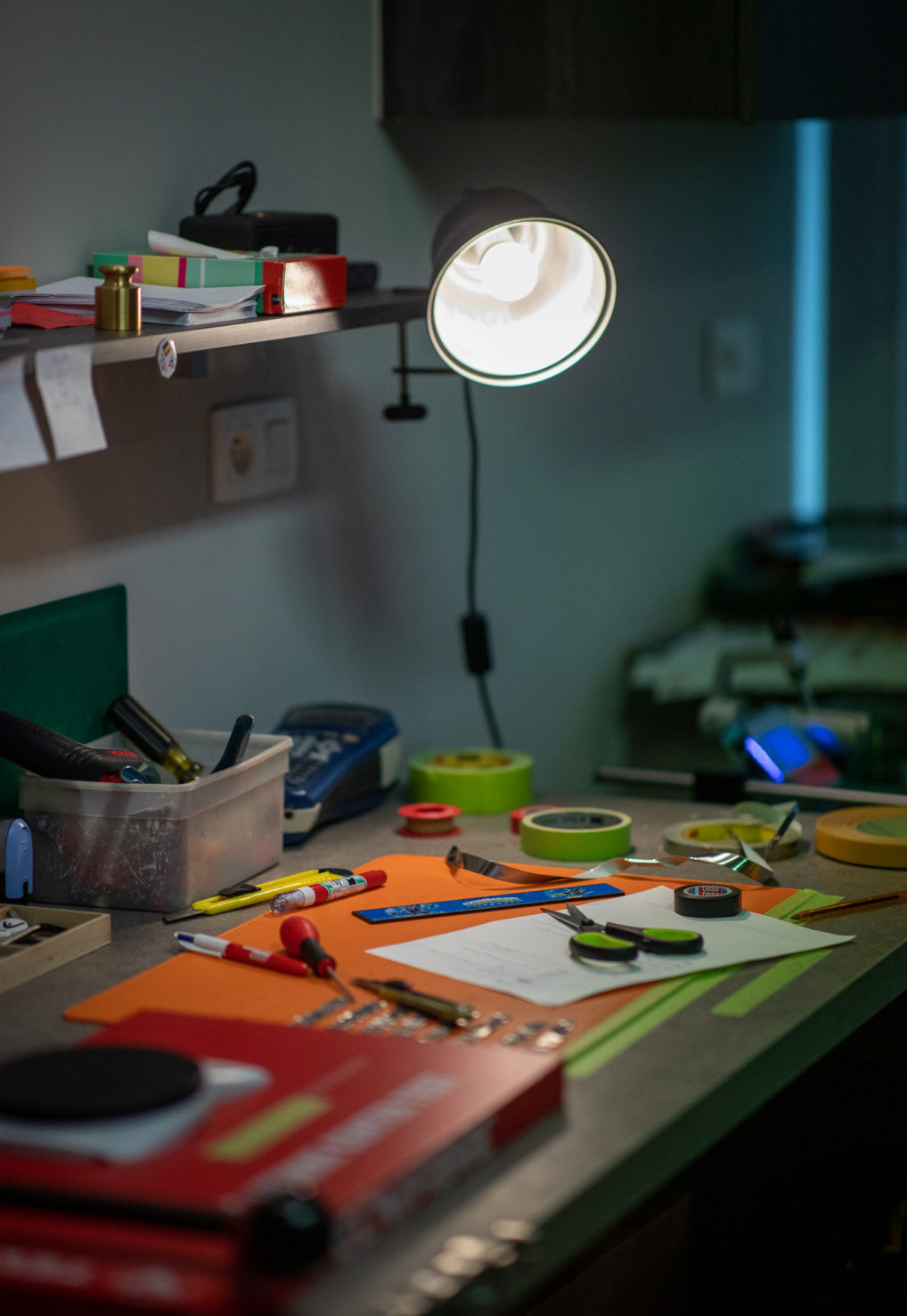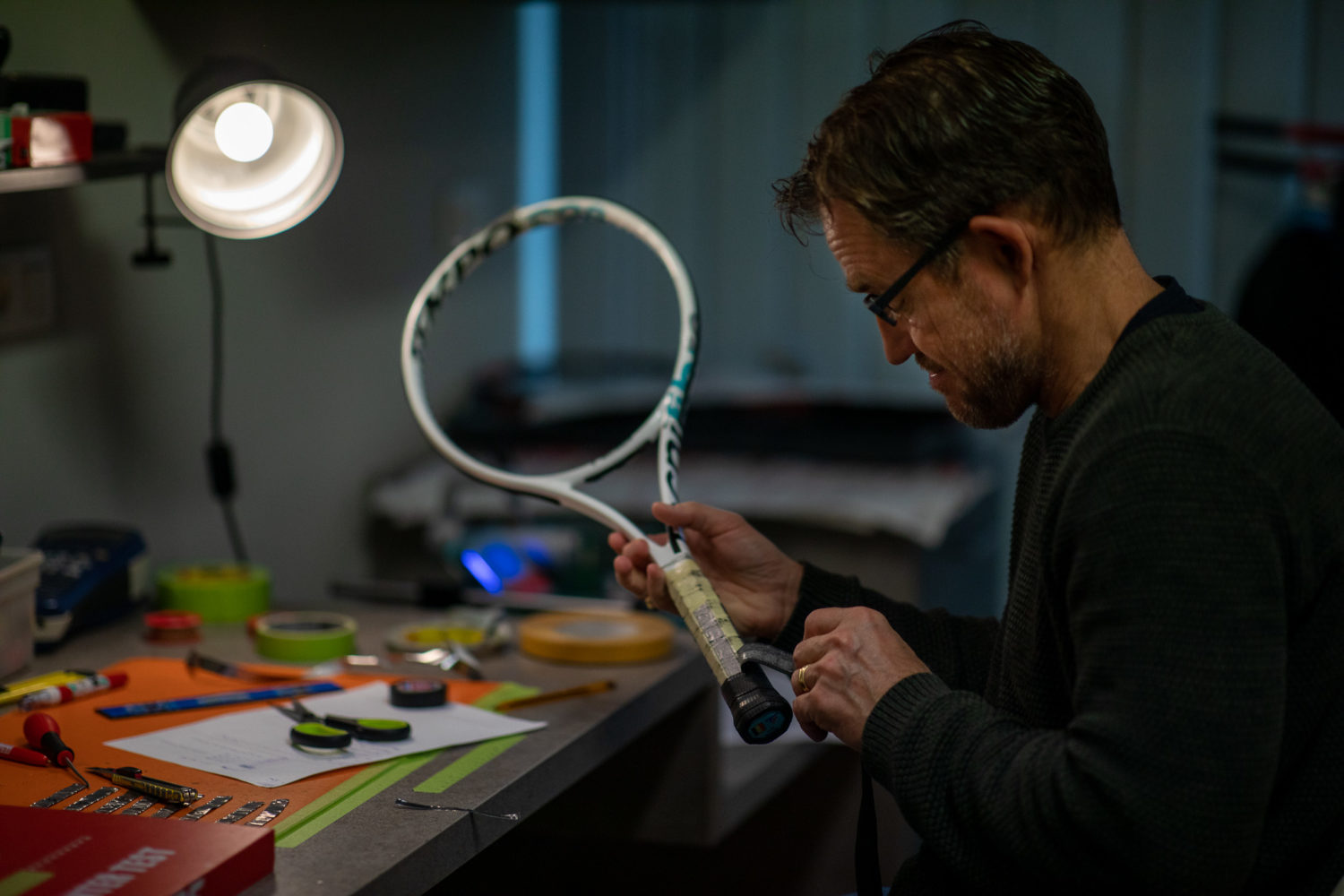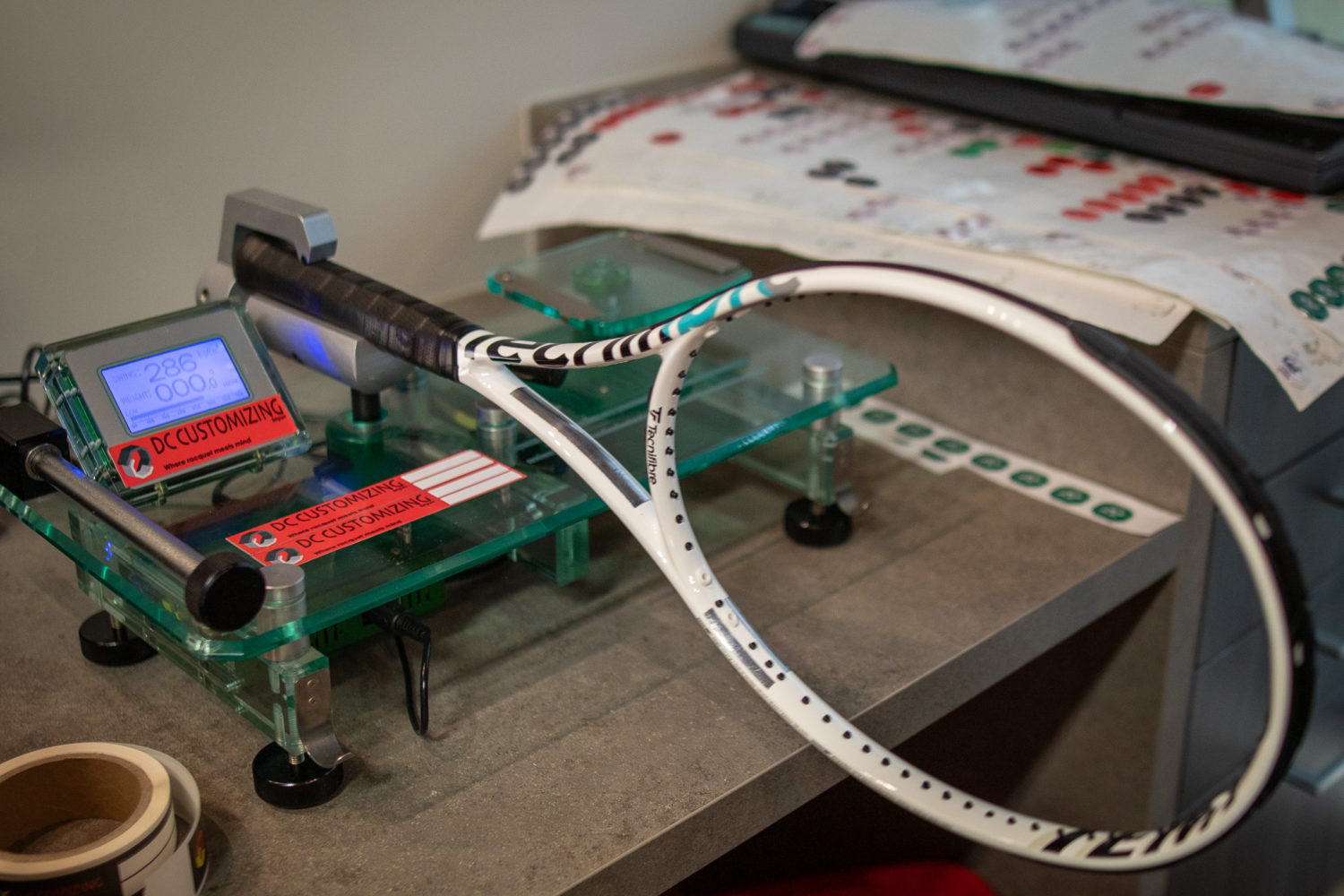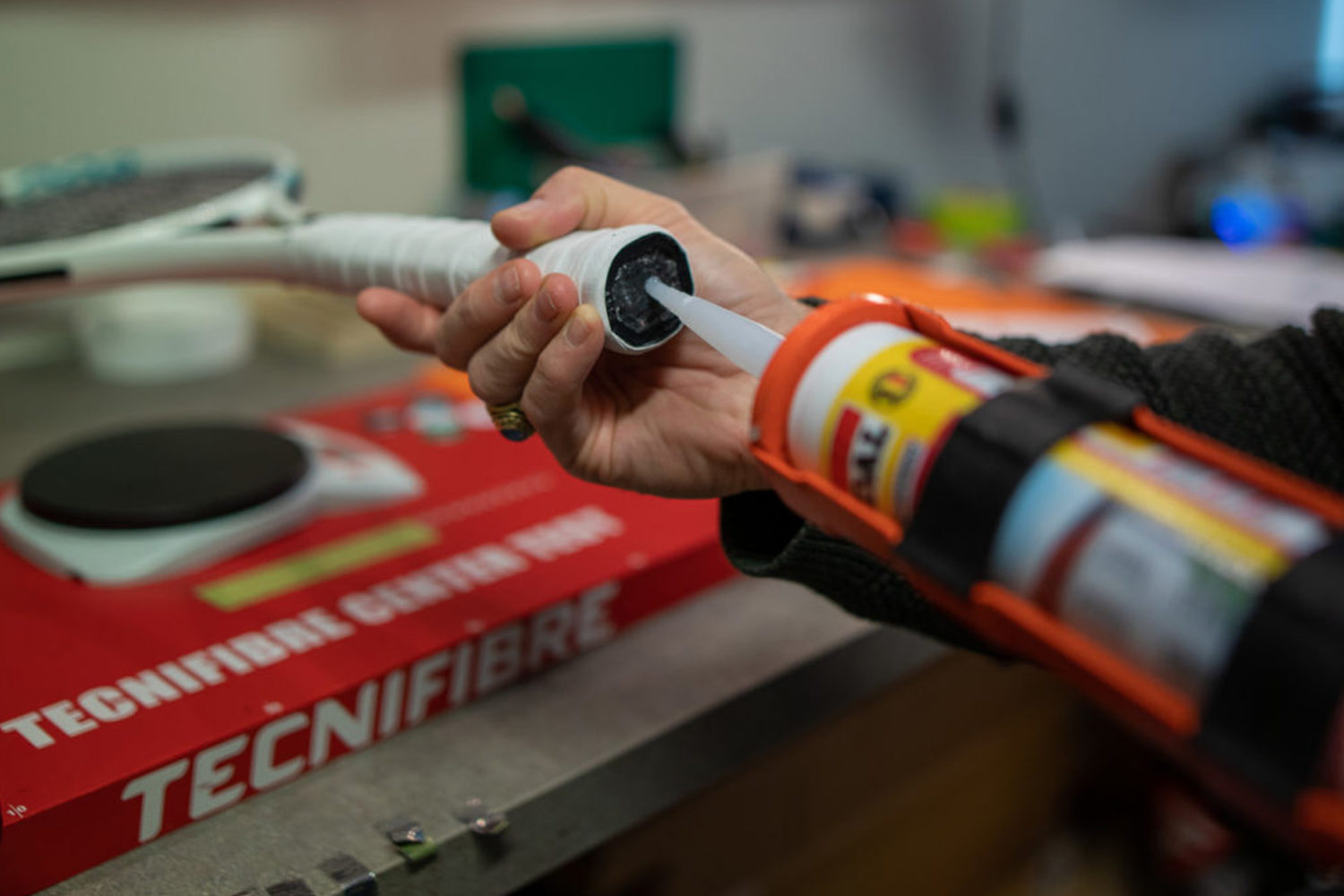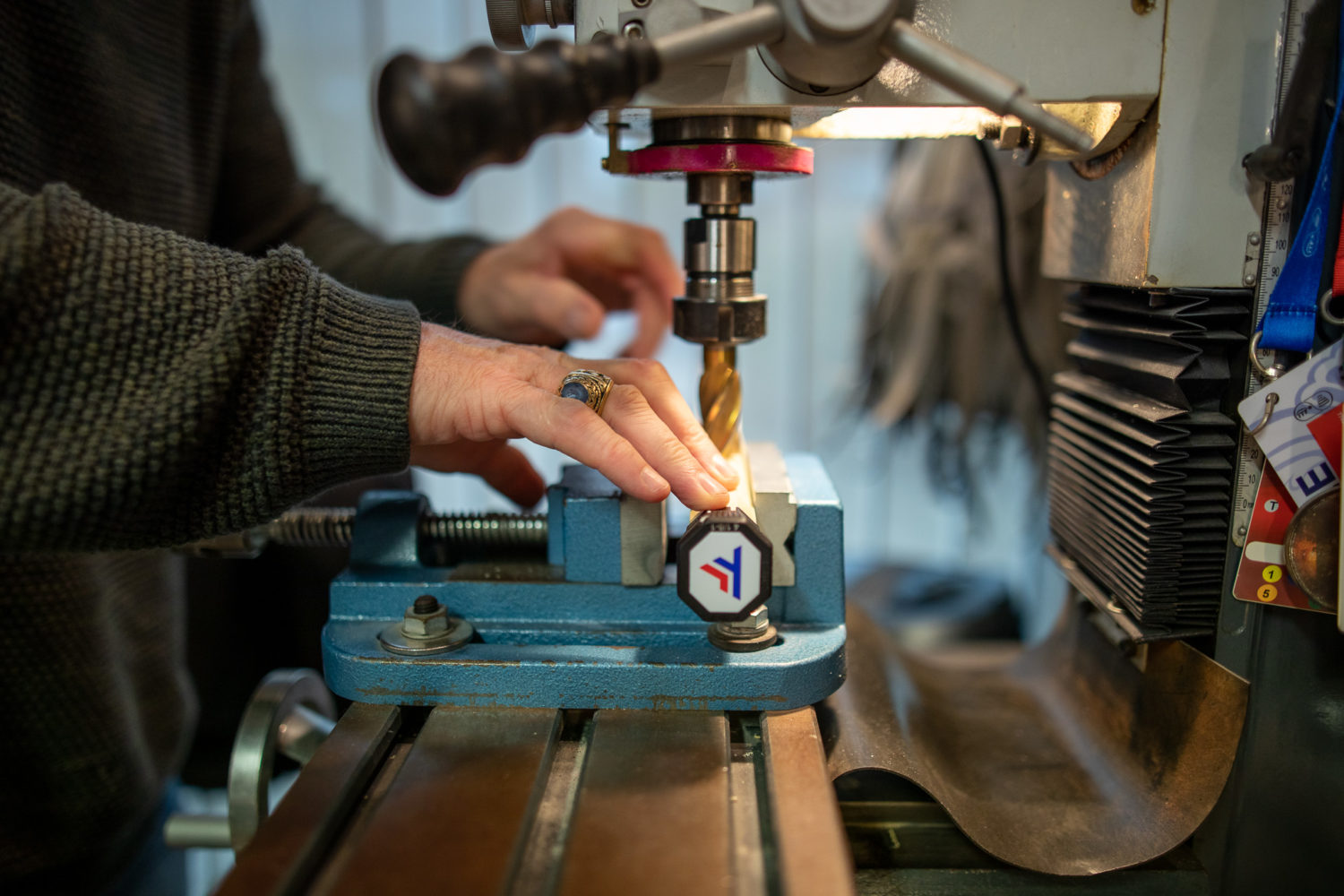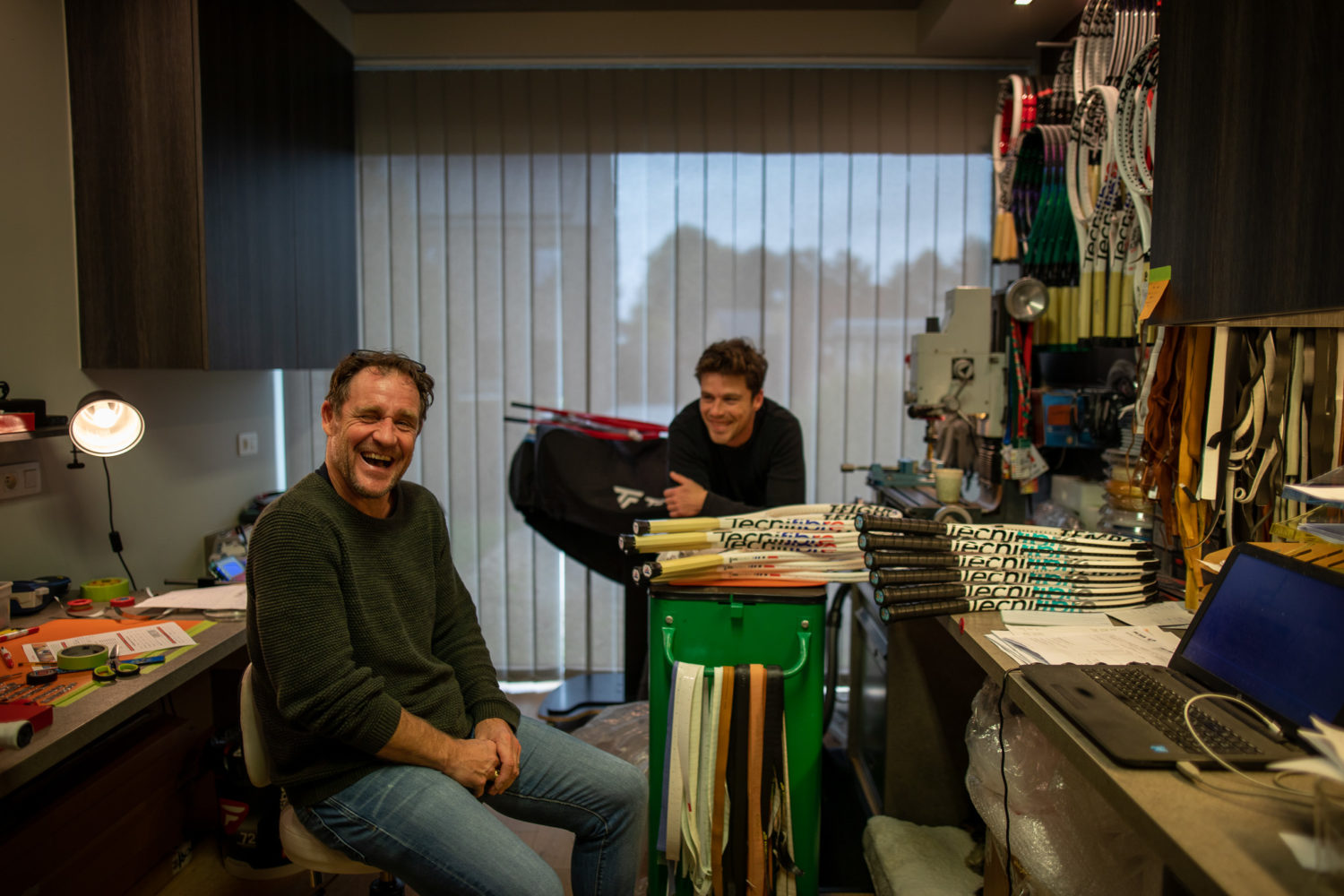 Making the Women's Circuit Attractive Again 
Whether or not people agree on the current level of play in the WTA, the fact remains that Świątek and Sabalenka attract fewer spectators than Alcaraz and Tsitsipas, despite similar rankings. This is due to many factors that have little to do with each other, from media coverage to a style of play which often lacks fantasy and variety, latent sexism, tour leadership… and double faults. 
A global problem which is all the more heartbreaking because the average level today compares favorably with the great hours of Williams-Henin or Graf-Hingis who moved the crowds in the late 1990s, early 2000s. Recently, Sorana Cîrstea confided to a Eurosport journalist that her equipment supplier had said to her that, to "succeed" as a tennis player, it was better to be pretty and ranked #20 in the world than ugly and ranked #1… 
But let's talk about tennis! The EDGE model is based on the idea of striking the right balance in the 360-degree support it provides. First of all, the diversity of profiles: The players who've joined EDGE come from all walks of life and all countries. This obviously implies working on their image, without any concealment, by emphasizing their story and background, and by providing more interesting date than those dished out during the traditional macho-plastic presentations. It's also necessary to work on the players' specific game, so that their personalities can express themselves on and off the court. 
With this in mind, EDGE has set up a partnership with the Tennis Legend media and Max Zamora, whose podcast is well-known to tennis fans, to allow them to follow the behind-the-scenes careers of their idols. This challenges the cliché of the successful Eastern European player who just plays hard without thinking. It's a comprehensive effort to prepare for long-term careers, which encompasses the entire life of the player and requires both care and respect. 
To promote women's tennis in general and its protégées in particular, EDGE has also joined forces with Noah Media, an award-winning production company specialized in sports documentaries (including 14 Peaks, Arsène Wenger: Invincible and others on Manchester United or Formula 1, produced for Netflix, Amazon, the BBC, Canal+, FIFA or the IOC). Noah Media has been following several of the agency's players on and off the court since early 2022 as part of a documentary series for one of the biggest streaming platforms. 
While costly, all this cocooning yields undeniable results, as EDGE can attest. Elli Mandlik, the daughter of Hana Mandlíková (a Grand Slam laureate as a player and then as a coach), has progressed from WTA #500 to #120 in 2022, beating Top 25 players at major tournaments and coming within two points of victory against the world #3. Petra Marčinko, who became the world #1 junior at age 15 towards the end of 2021, was the first-ever player to win the Orange Bowl in both singles and doubles. She followed that up with an Australian Open junior title and victories against Top 100 players, before winning the Poitiers ITF in late 2022. She was the first girl to be victorious in an ITF 80k tournament in her age bracket for over four years. 
Kristina Dmitruk was the world #2 junior at the end of 2021 and won Wimbledon in the girls' doubles, before reaching the US Open final in singles. Alycia Parks, who claimed her first WTA 500 doubles title, is now ranked in the Top 75 in singles after beating Karolina Plíšková (former world #1) and Sakkari in consecutive rounds, prior to winning two of the last three WTA tournaments of 2022 in a row. 
Although many other examples of success could be quoted here, it's important to mention that the fifteen girls backed by EDGE (aged between 15 and 21) have all made steady progress since joining the team. 
In the NBA, the Los Angeles Lakers won everything in sight during their "showtime" era. It would seem that history is repeating itself.