A Champion Poster for "Champions"
The Finals have Panache and an Honor Titus Poster to Boot

Andrey Rublev chose black. His explanation: "With black you never miss, everything black. Simple." Jannick Sinner went for blue. "Because everything is blue in the Finals," he told the artist Honor Titus. Alexander Zverev liked something a bit closer to his Adidas kit, as did the two-toned, Lacoste-sponsored Daniil Medvedev and Novak Djokovic.
Holger Rune, however, went all out, making the male figure in Titus' official ATP Finals poster green first, according to the Birkman Color Chart — the psychological assessment of personality based on colour choices — meaning that he is very persuasive. Titus approved.  "You're like a green man," Titus complimented Rune, in an ATP behind-the-scenes video. "I think you've done a great job."
Maybe Rune should have stuck with the green, instead of experimenting with other colours. and settling on black and red, as this week's season-ending Nitto ATP Finals didn't exactly pan out on court for him as they have on paper. The blue-choosing Djokovic actually played more green, convincing fans — and everyone else — that he deserved his record-setting seventh ATP title on Sunday.
Despite some injury switch-ups, however, with Hubert Hurkacz ultimately filling in for both Stefanos Tsitsipas and Taylor Fritz, the players made the most of their time in Turin, donning the finest in men's fashion for the imposing Palazzo Reale, hamming it up with the Carota Boys and other fans, and generally admiring the overload of art and culture that is the capital of Italy's Piedmont region.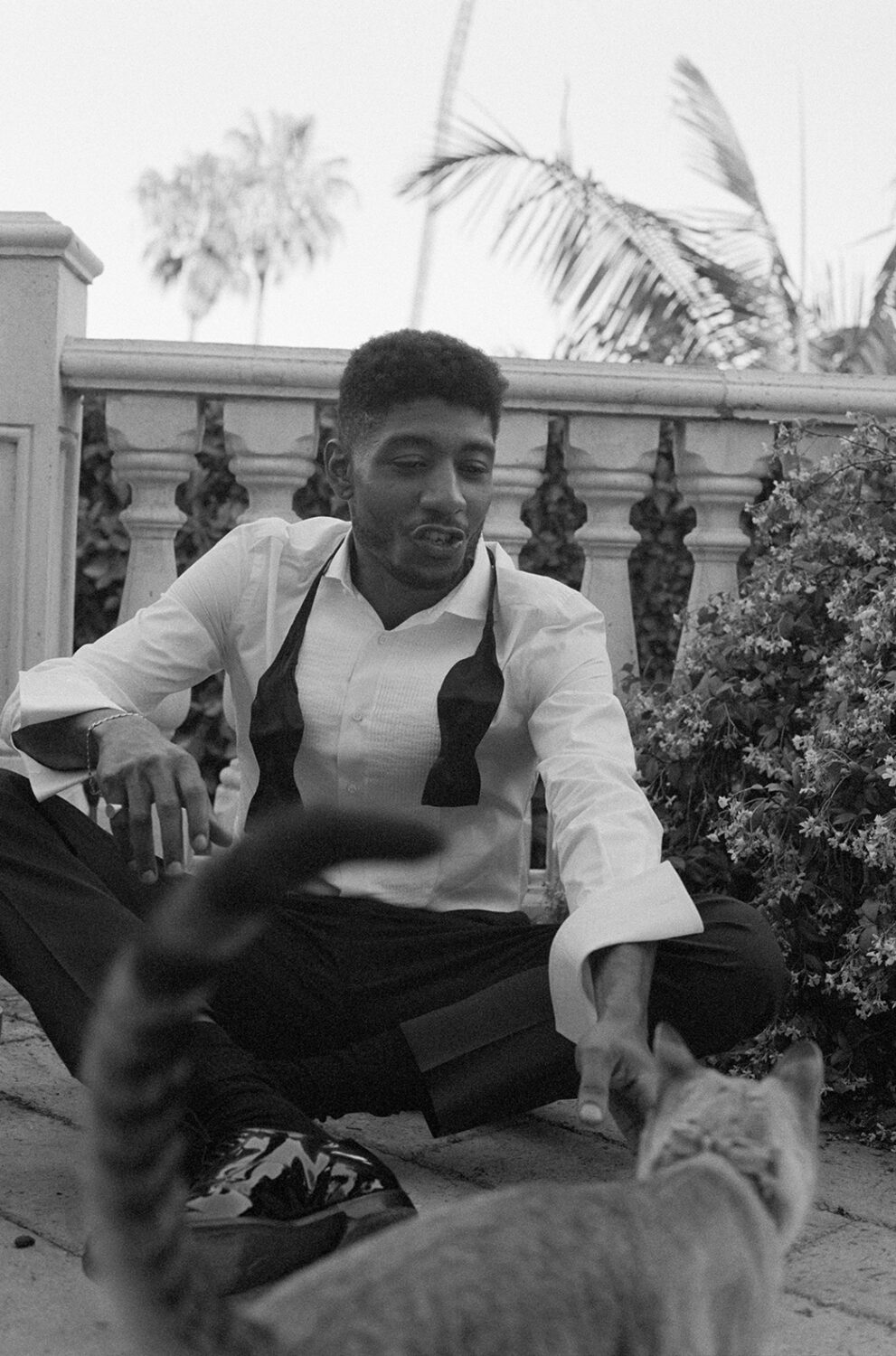 In the spirit of the latter, the ATP fostered the players' finer tastes with its choice of graphic art to represent the event. Building on a longstanding tradition of iconic sporting posters collected across generations, yet giving a wink to the digital art and NFTs of modern art, it chose international-artist-on-the-make, Honor Titus, to commission a colour palette and sketch for tennis fans  to customise, download and potentially buy as their own collaborations,  as well as the official poster, for $50 each — a steep discount from the six-figures the LA-based artist and tennis buff commands for his original work. An auction to buy all eight of the Titus-player collaborations ends tonight.
"I'm a big fan of poster design… Italian and French poster design, you know, guys like Jules Cheret. I've been thinking about tennis wall paintings for a while. The idea of the tennis wall where one practices—just to play with the perspective, those lines, that idea," Titus told John McEnroe in an Turin meet-and-greet. "I took a photo of a friend of mine who I play tennis with to get the backhand stance, you know, to get the angle right… So that was based off of a photo. Also, the colours of the ATP Finals are so vibrant and bright, and the lighting of the arena.
"I hope that through my work and through my efforts, I introduce people to various things… I love to learn, I love to ruminate on things that I love, I love to obsess about things. I obsess about tennis, I obsess about French literature… All I do is revel in my obsession. So, if I can introduce someone to something they're obsessed with, that's what I hope to do."
The ATP's choice of Titus not only plays homage to the unique poster-per-tournament  hallmark of tennis while throwing a bit of shade on last year's less accessible "LOVE collection," a series of unique digital artworks that used in-match sports data to create iconic illustrations by pop artist Martin Grasser. "It was very popular within web3 community, but not so much with the tennis fan," said ATP spokesperson Mark Epps. "This year, we took a big name artist who has never done a digital collectible before and without sacrificing the technical capacity pushed to keep costs as low as possible for the fans."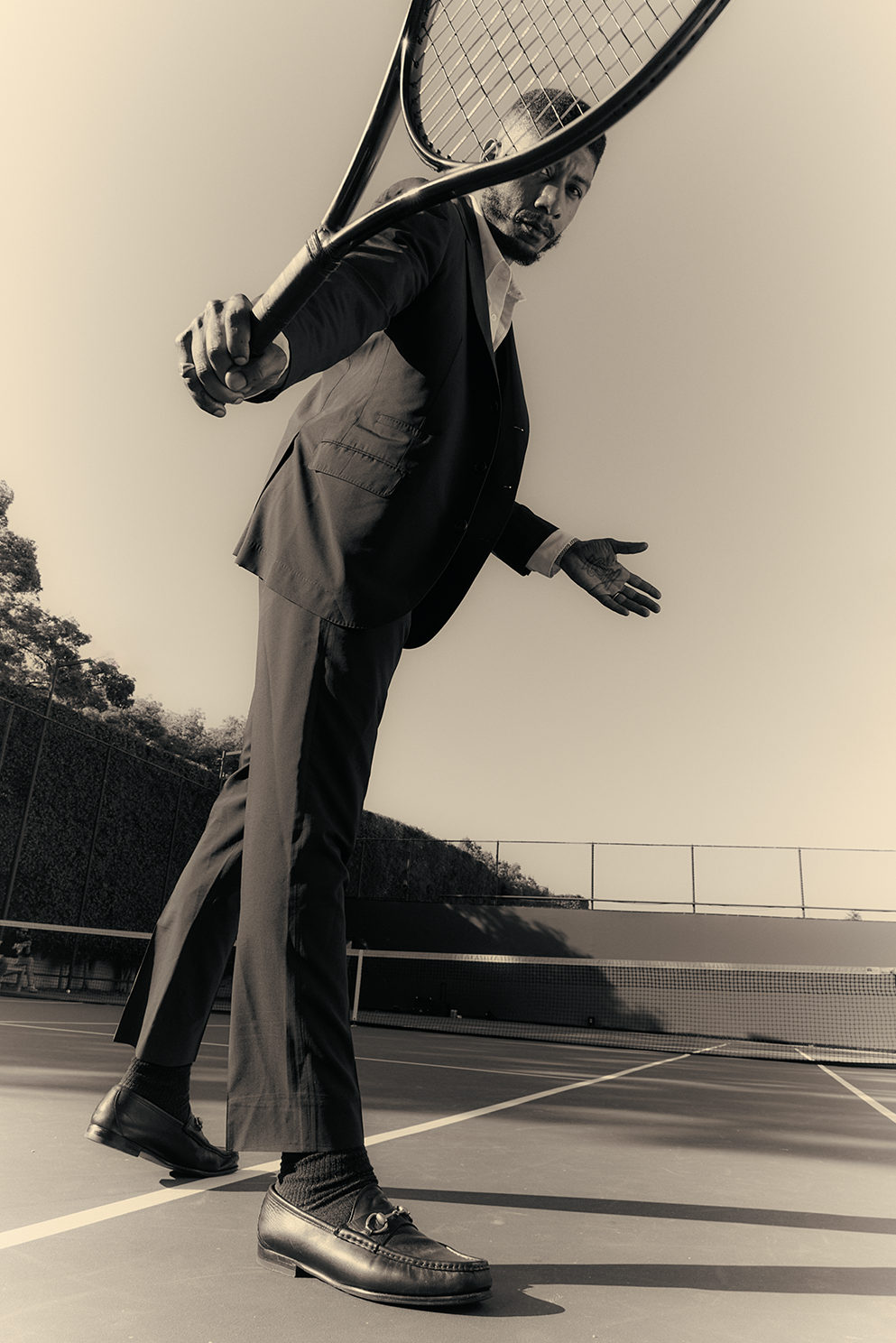 The poster also jibes with Titus' metamorphic ability to shed one medium for another — and play decent tennis on top of it all. Based in Los Angeles, California, the native Brooklynite — and son of a first-generation Haitian mother and  Andres "Dres" Vargas Titus, a member of the seminal rap group Black Sheep — started his career as a musician, in the Lower East Side punk band, Cerebral Ballzy. But while listening to underground punk and New York "downtown cool guys," as well as informally sketching, Titus still religiously watched and played tennis. "I was always following the sport," Titus said. 
"I think tennis has a very nuanced and elaborate culture. It's always been in my purview. I will also say I've always played it. I follow it," said the 6-foot-4 Titus, who attended Catholic and Christian schools and played point guard on the basketball team. "I love sport. It excites me just like music does."
A punk in theory, Titus is a sentimentalist at heart. At the same time as playing with the Strokes, Black Flag and other New York early aughts bans, Titus hung around the Metropolitan Museum of Art and absorbed such work as Edward Hopper's "From Williamsburg Bridge" and Bertold Löffler's "Youth Playing the Pipes of Pan." His work now harks back to the long skirts and cricket sweaters of the swinging F. Scott Fitzgerald 1920s, while riffing off the iconic representational art of Kerry James Marshall or the painter Toyin Ojih Odutola, who portrays Nigerian elitism through her character-driven paintings. Although Titus has painted such moneyed pursuits  as horse racing, garden partying and military parading, tennis has been his primary lens for exploring the parameters of access. 
"…What I like to do is create and conjure images that that converse with those ideas, with that idea of access," Titus told McEnroe. "I've created black figures in all white. The moneyed class were the ones that were able to wear white. That's why these things still appear in our culture. 
"I don't mean to harp or take the pulpit in any way, but I do like to play with those ideas. That's all I'm doing, is introducing ideas and conversing with those ideas."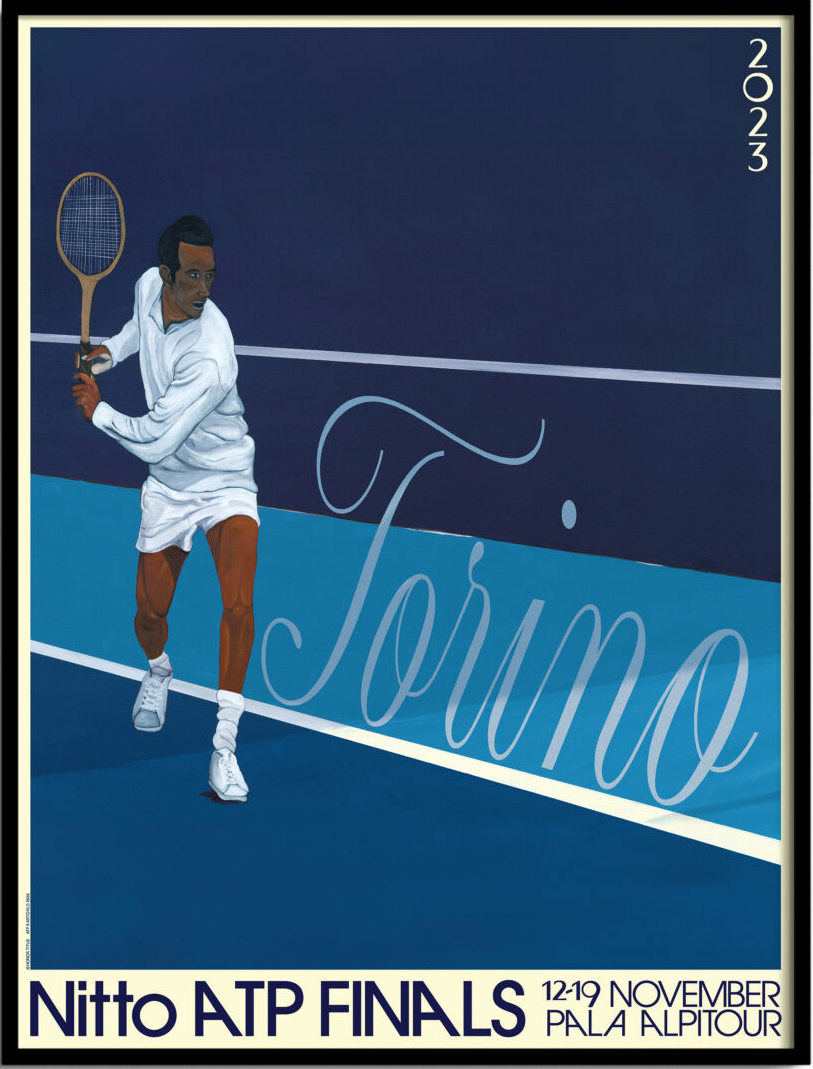 Although he left Pace University before leaving to tour with the band and never received any formal training,  in 2020 the artist Henry Taylor gave him a solo show at his former Chinatown studio in Los Angeles. From there, it's been a whirlwind three years with his work picked up by the gallerist Timothy Taylor (no relation to Henry) who started representing him in 2021, followed by a commission by King Charles III to create portraits celebrating the Windrush Generation and a summer show of tennis work "Advantage In", at the Gagosian gallery in LA. 
At a time when young Black artists, such as Sydney Vernon and Miles Regis, wrestle with themes of racial injustice and legacy on their canvases, Titus uses a lighter touch for his social critique. Hence, the official poster of the ATP Tour Finals is a black figure, practising tennis alone, against a wall most likely in an urban setting. Yet, the figure is, again, in all white, swinging a wooden tennis racquet in a classic one-handed Bjorn Borg takeback. 
"I want to steer the conversation in certain directions, through design and through ideas, and then have the viewer connect the dots," he said. "The contemporary Black art and the Black art boom, which I'm all for, is a bit heavy handed and overt. I'm not interested in that. 
"I like to slide in ideas, you know, under the radar and in subtle ways." Yet, as a young Black male, he feels "like I had to take every opportunity. It's been such a whirlwind — I just look up and keep going."