Lacoste, Kontaveit and Leitmeritz:
The Crocodile's razor-sharp fusionof sport
and fashion is an astute move.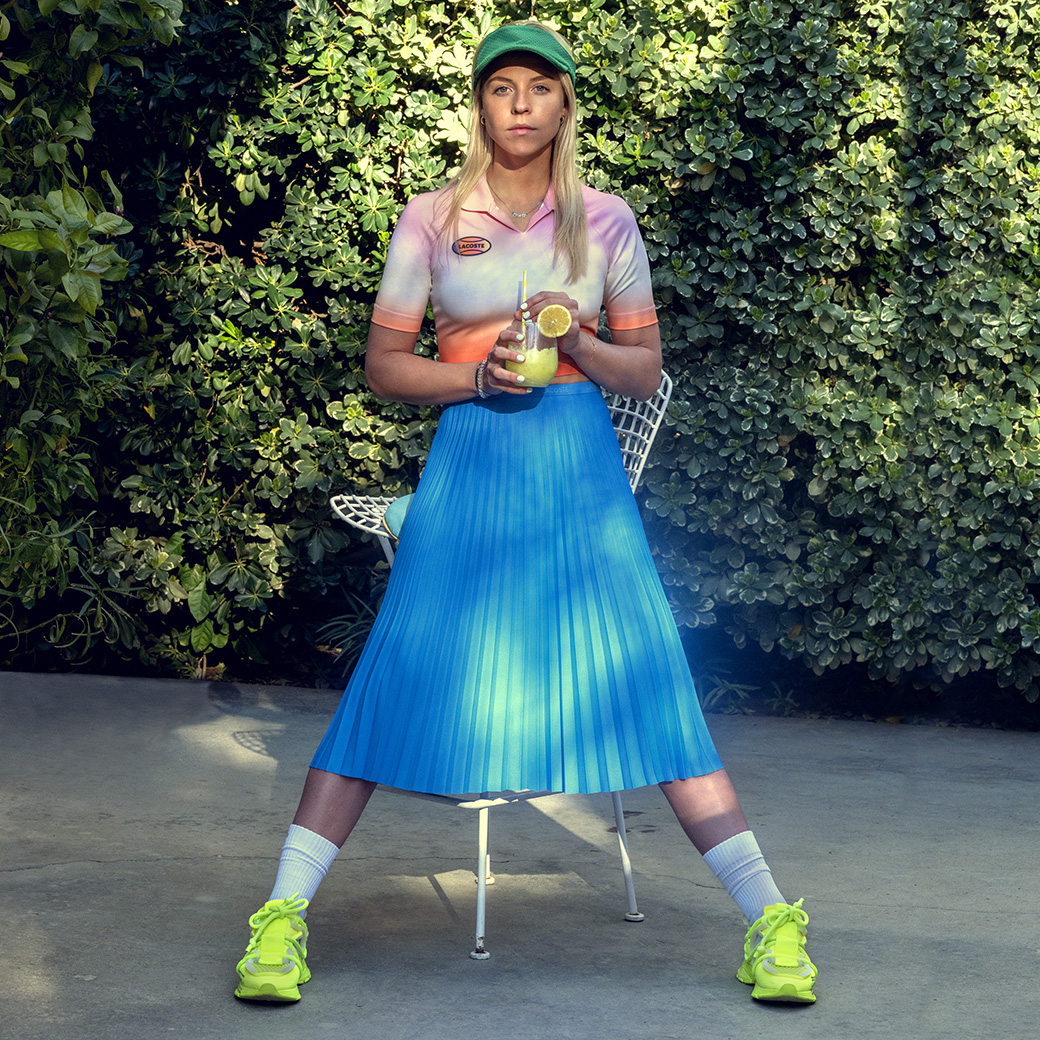 Interviewing the player of the moment, Anett Kontaveit couldn't have been more perfectly timed. After a meteoric rise, Kontaveit has risen to a career-high WTA singles ranking of world No.2 on 6 June 2022. She is also the highest ranked Estonian tennis player in history. A perfect muse, therefore, for Lacoste to launch their new Fashion Sport silhouette range via a photoshoot with world renowned fashion photographer Radka Leitmeritz. The shoot location was Indian Wells Tennis Garden, the self-named 'Tennis Paradise', a spectacular oasis in the Californian desert, where Kontaveit was competing. Leitmeritz and I met months later, at the 2022 French Open. 
2022 marks a creative shift for Lacoste, redesigning the feminine silhouette around fashion and sport to create the Fashion Sport range. Thanks to technical crafting, fashion pieces have been created with sports-inspired features. It is not only a lifestyle range merging the two cultures of sports and fashion, but also a collaboration between retro and modern. René Lacoste would undoubtedly be proud of his brand's evolvement, by continuing his legacy of innovating, yet remaining true to its tennis roots.
The shoot photographs are galvanizing, even if for the colours alone. In homage to Lacoste's ethos, they showcase high-end fashion in a setting that could be from a bygone age. Kontaveit is presented with minimal makeup—the perfect canvas to showcase this colourful, bold collection, against an exotic backdrop of bougainvillea, and an ageing private clay court. The clothes are in vogue with their androgynous, oversized cuts. A chunky cable knit V-neck sweater in the collection is a nod to the past, but with a quirky twist: both sides of the V have contrast-colour stripes. A plum-coloured jacket plays with tones and textures, and is paired with chunky fluorescent sneakers, brown knee-high socks and a bright green sun visor. Colour is big: whether playing with ombré or colour blocking, pieces can be mixed and matched. Anything and everything goes, so throw away the rule book! This range is tailored for both the fashion-savvy and athleisure buyer. Designed to make a fashion statement, yet comfortable enough to exercise in—what more could anyone want? 
Having been sponsored by Lacoste since 2019 and with her love of fashion, Kontaveit is the right choice to showcase the range. We spoke about the Lacoste launch, and life both on and off the court.
Courts: Firstly, congratulations. You are the highest ranked Estonian tennis player in history. Your ranking continues to rise above the top 10, and now you are about to shoot this very special Lacoste Fashion line with world-renowned fashion photographer Radka Leitmeritz. Life is looking very exciting for you right now. Tell us more!
Anett Kontaveit: Thank you! The end of last year was very special for me, especially making the top 10 for the first time! Shooting with Radka Leitmeritz for Lacoste is a dream come true and such an honor. To say I am excited is an understatement. 
C: You are about to play at the aptly named 'Tennis Paradise' (Indian Wells). What a perfect place to launch this range. What piece from the range do you think encapsulates these surroundings, and which is your favourite?
A.K.: It's tough for me to pick just one item because I genuinely love them all. The collection really matches the landscape at Indian Wells, it's a beautiful complement to the setting we are in. Tennis Paradise really takes the athletic apparel to a new level. 
C: Your endorsement with Lacoste began in 2019. Before that you were with Adidas. Two very different brands, with very different silhouettes. What does the Lacoste brand mean for you?
A.K.: I am definitely very happy that I joined the Lacoste team in 2019. I love the clean lines and refined styles of their tennis apparel and have always been a big fan of their ready-to-wear collections. I grew up wearing the brand, and when I first started working with them, they made me feel like I was part of the team from the first day. I am very grateful for our partnership; we've been having a lot of fun. 
C: 2022 marks a creative shift for Lacoste, with the feminine silhouette completely redesigned to make sport more fashionable. What are your thoughts on this increasing trend of fashion in sport?
A.K.: I think it's great! It's important that we also look good and feel confident in what we are wearing. It's obviously not the most important part of my on-court performance, but it certainly helps. 
C: Rene Lacoste was a true visionary. He was the first to feature a logo on the brand's clothing. He also patented a shock absorber for the strings on his racquet in 1960 and called himself an "inventor". If he were here today, how do you think he would view the visionary aspect of the brand?
A.K.: I hope that he would feel very proud! I think Lacoste has done a great job staying true to the original vision and look of the brand, whilst continuing to innovate and create a product that meets the current trends that we are seeing in athletic apparel today. 
C: Lacoste is associated with elegance and exclusivity yet is also fashion forward. There is the classic line (e.g. the polo shirts), but there is also a line that continues to attract a younger, fashionable clientele. Lacoste often has limited edition collaborations with brands of the moment, such as Opening Ceremony, Keith Haring and Supreme. How do you feel this new range embodies the Lacoste brand?
A.K.: I love that Lacoste has been doing collaborations. It keeps the brand fresh and exciting, while also attracting a lot of younger people who may not have considered Lacoste otherwise. It's good to push boundaries and try new things! Of course, their polos will always be elegant and a staple piece in my wardrobe. They are a classic and something that I enjoy wearing too. 
C: In a 2019 interview with Lacoste, you said that you were into popular music with an upbeat vibe, like the song Levels by Avicii. What is your go-to song these days to energise or relax you before walking on court?
A.K.: My music taste is honestly all over the place, I listen to different music from Avicii to RnB. Songs remind me of important people in my life and special memories that I carry with me. It all depends on what mood I am in, and what I feel like listening to that day. Before matches, I usually listen to something more upbeat. It helps to get me in the zone and pumps me up! 
C: I understand that you have a creative side and enjoy pottery. What other artistic talents do you have, and can you see yourself designing your own range of tennis clothing one day?
A.K.: I wouldn't say that I am a super creative person, but I do really enjoy pottery! I like studying, reading, and learning new things. Truthfully, I do not see myself designing my own range, I will leave that up to the professionals. I am happy to wear clothing designed by others!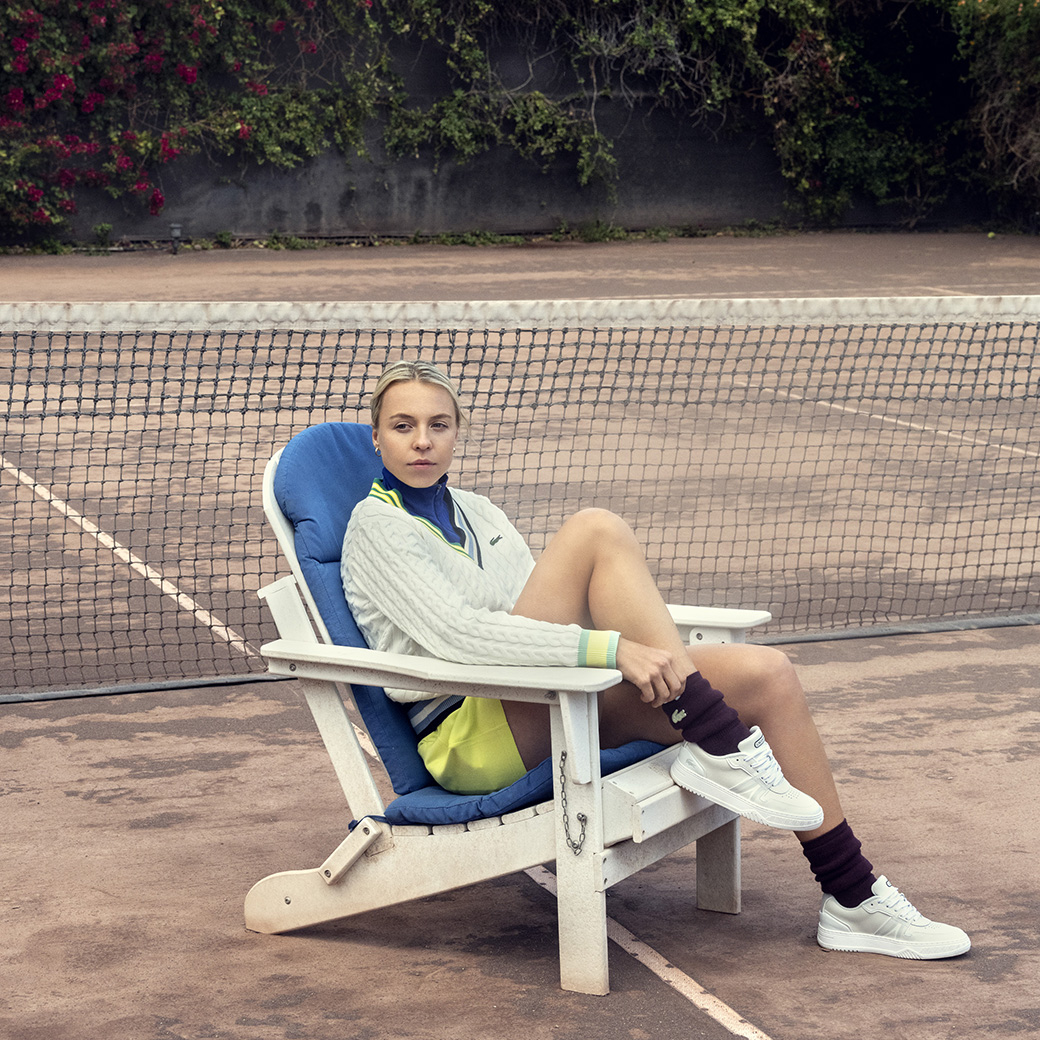 C: Luxury fashion brands are beginning to incorporate tennis into their collections. I know you like to wear some of them when off-court. Chanel, Prada, and Saint Laurent, for example, have branded tennis racquets. What is your view on this—do you think there is a market for luxury end tennis racquets?
A.K.: Tennis is growing all over the world! It's a classy sport to play, so it does not surprise me that fashion houses and customers would gravitate towards luxury, high-end tennis racquets. I like seeing how the culture of tennis is infiltrating into popular fashion! 
C: The Lacoste Fashion Sport range blurs the boundaries between sport and fashion, making it versatile to wear both on and off court. What is your off-court style for daytime and evening?
A.K.: Much like my music, my style changes with my mood. Sometimes I like to wear jeans and a baggy T-shirt, and sometimes I like to dress up for no reason at all. It's really whatever I am into at the moment. 
C: Which player, either from the past or present has best portrayed fashion and culture in tennis?
A.K.: Maria Sharapova is a good example. 
C: You have a positive happy outlook, always smiling. Your best friend Heidy once said in a WTA interview that you were always "kindhearted and upbeat". What do you think is the secret to happiness?
A.K.: I don't have the secret to happiness, but I know that the things that make me happy or that I seek out for myself are my freedom. Having good people around you that lift you up, encourage and support you, and make me laugh always help too! 
C: What has surprised you most about your career?
A.K.: It has taken me time to realize how strong I can be, and how much more I am capable of. I surprise myself every day. 
C: Who were your style icons, growing up?
A.K.: I didn't grow up with a style icon or a tennis icon actually! I've always tried to remain true to myself, doing what feels right, wearing clothes that I like and make feel good. There isn't one person in particular that inspired me. 
C: If you could help yourself to someone's wardrobe, whose would it be, and why?
A.K.: Probably Blake Lively! Her red-carpet appearances have been amazing, she has amazing style. 
C: Tell us one thing about you that people would be surprised to know.
A.K.: I love cooking and my favorite meal to make for myself, friends and family are fish tacos. They are really good! 
C: What are the upcoming tournaments in your calendar that most excite you, and why?
A.K.: I am really looking forward to tournaments in Europe, I love the summer there. I've always enjoyed Stuttgart and Rome is one of my most favorite cities to visit, it also has one of the most beautiful tennis venues. And, of course, the slams in Paris and London are always very special. 
C: Can you walk me through your typical day routine, from breakfast to bedtime.
A.K.: Routines for a tennis player look different on training, versus tournament weeks. So, on a training week at home for example, I wake up, make myself coffee and a good breakfast and then head to tennis training right after. I typically have lunch at the courts and then either go to the gym or hit again. After training, I go home and rest a little, and take some time for myself. Sometimes I go out to dinner with friends or catch up with people I haven't seen for a while, catching a movie afterwards, if possible. I make sure to always get a good night's sleep, so I can wake up and do it all over again the next day. 
C: Many tennis players are superstitious. Are you, and if so, what superstitions or rituals do you have on court?
A.K.: My biggest ritual would be a braid that I make for every one of my matches. It's like a lucky charm, I guess. But no, I don't think I have any on-court superstitions. 
C: Looking to the future, tennis has entered the metaverse. The Australian Open released NFTs for the first time, Nadal, Osaka, Svitolina and Wawrinka are also endorsing NFTs. As the metaverse continues to narrow the gap between digital and physical reality, and art and tennis start to embrace this, what are your thoughts on the metaverse, for your own career as well as future showcasing of new Lacoste launches? 
A.K.: Technology and metaverse are definitely not my strong suit. But I do think the Lacoste Minecraft collection is very cool!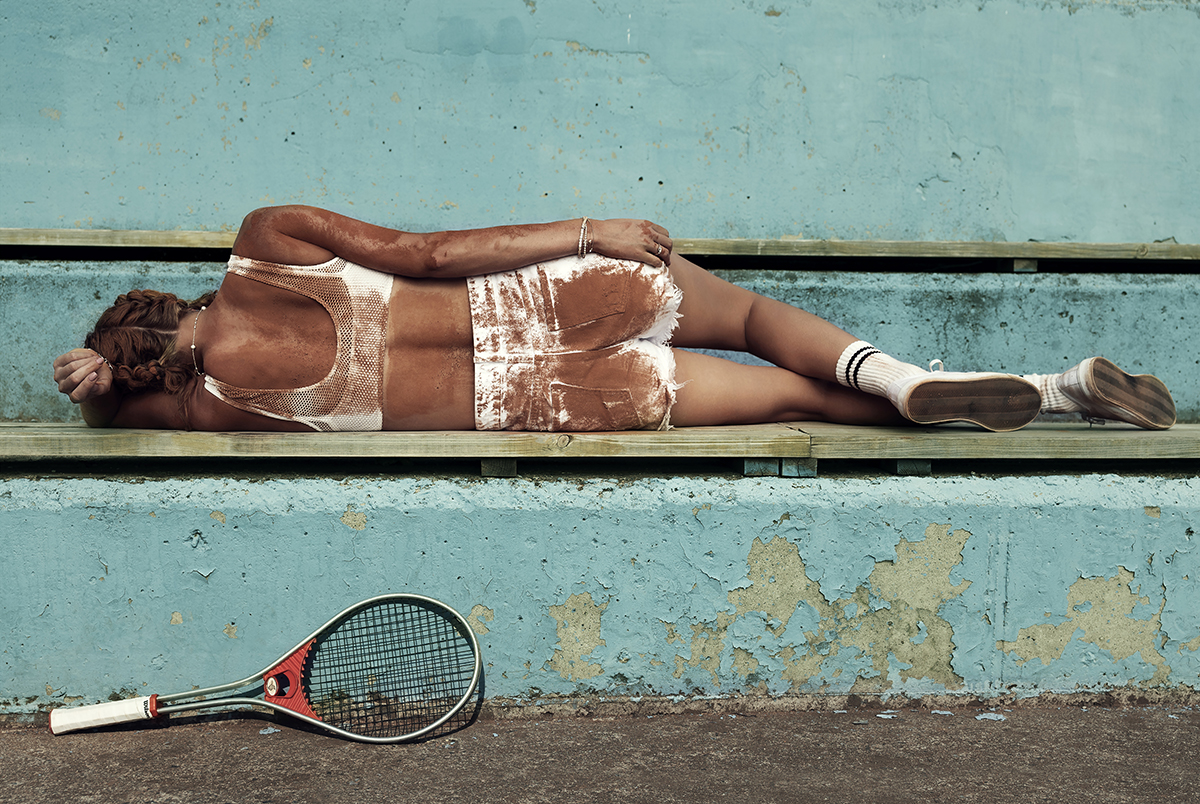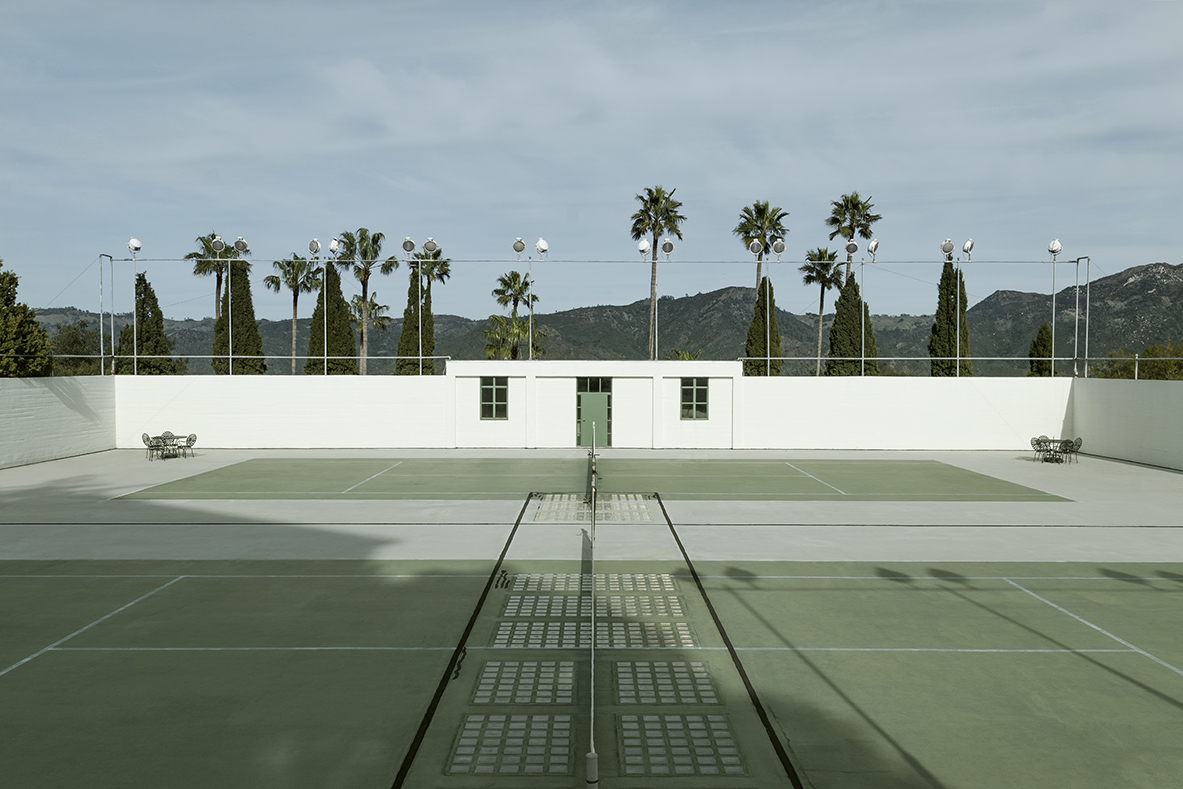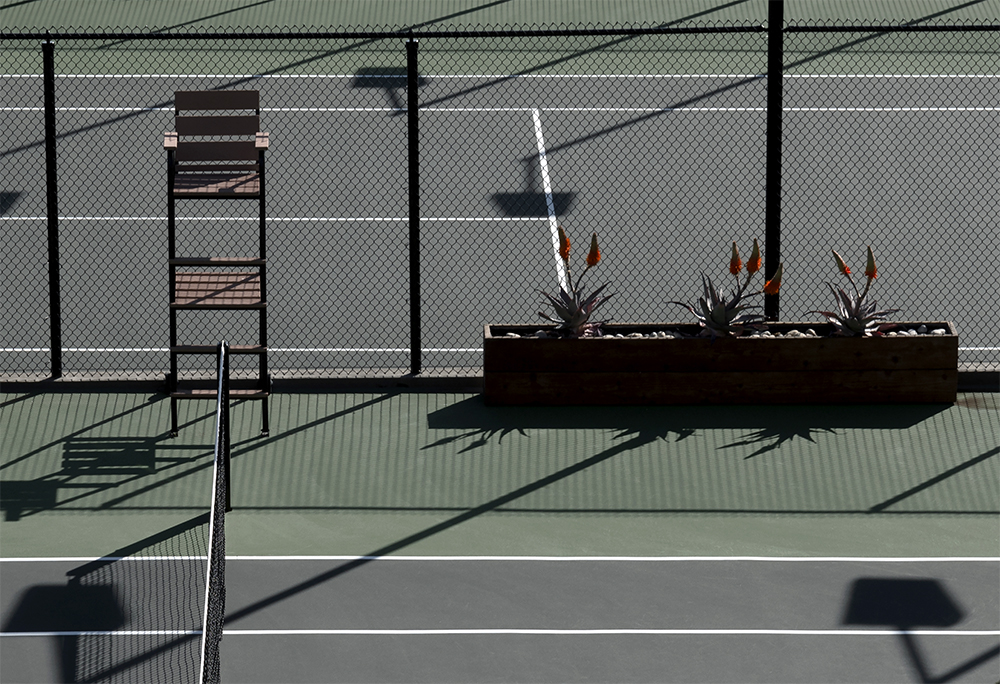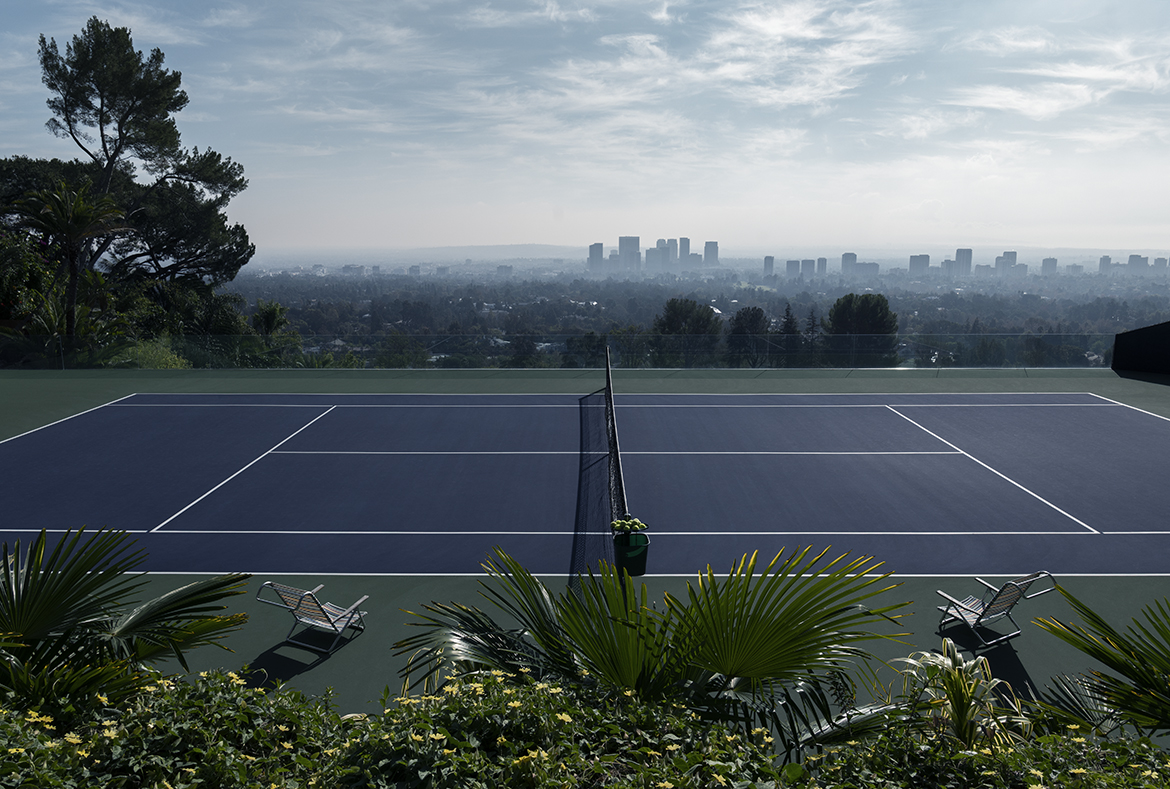 Radka
Leitmeritz
A few months later, I interviewed Radka Leitmeritz at the 2022 French Open. Lacoste's selection of photographer couldn't be more suitable. Leitmeritz's foray into tennis photography has presented a unique lens through which we see tennis players. Her background is in fashion photography, having impressively shot for publications such as Vogue, Elle, and Harper's Bazaar. An example from her portfolio is that of Petra Kvitova. Lying with her back to the camera, Kvitova is covered in red clay on a bench with faded, peeling paint, a vintage racquet propped up against the wall beneath. The photograph's muted colours add to a timeless feel. Lacoste's choice of Leitmeritz, was therefore a shrewd one. Together with her fashion and tennis credentials, Leitmeritz's forte is to juxtapose vintage with modern. Much like Lacoste. 
Leitmeritz arrived at our meeting wearing a cap and t-shirt from her own brand Court Supremes (the name of her upcoming book, sponsored by Porsche). A stylish accessory paid reverence to her surroundings: a tennis-inspired silk scarf tied in a French knot around her neck, which she untied to show me the tennis racquet print across it. During our conversation, it became obvious that this is a woman in demand. Despite being interrupted by incoming calls and emails, the generosity of her time speaks volumes about how she does business. Leitmeritz's openness and positive energy was infectious, even at the end of the day.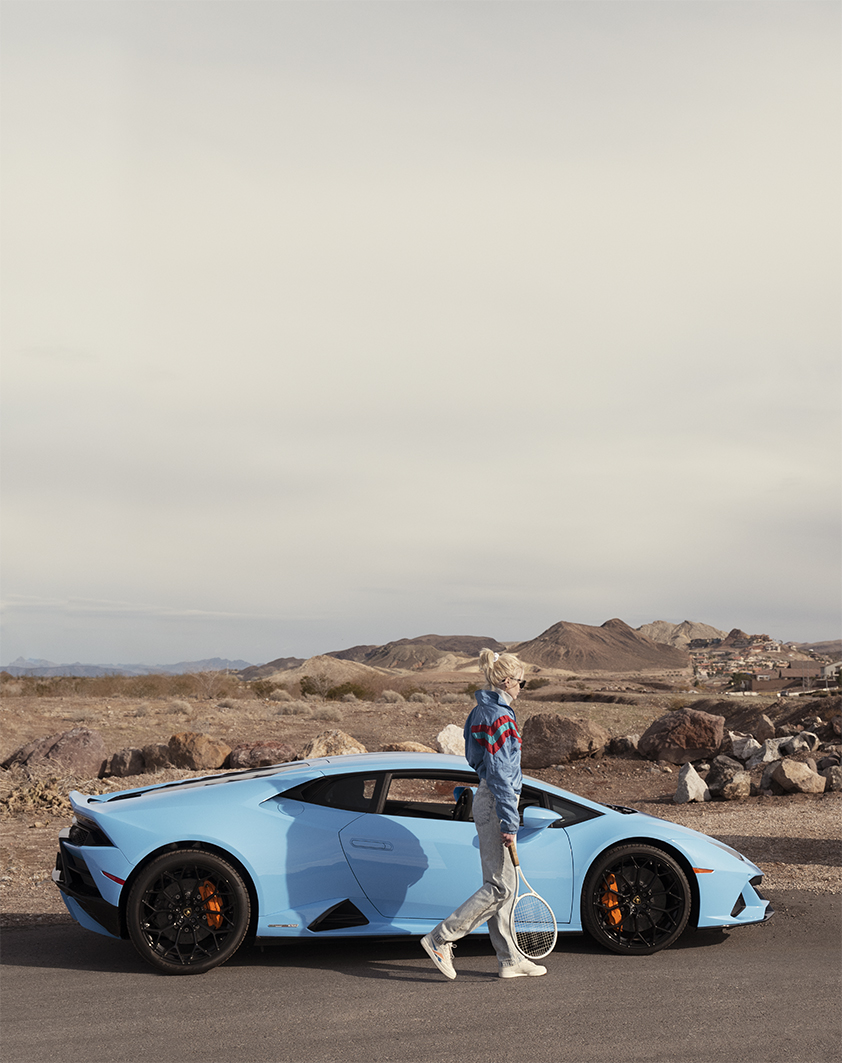 Courts: Your background is in fashion photography, with an impressive portfolio of supermodels and Hollywood A-listers as your subjects. You transitioned to tennis photography a few years ago, after taking an interest in playing tennis yourself. You have turned tennis's superstars into magazine icons. What attracted you to tennis from fashion?
Radka Leitmeritz: I signed up for a tennis lesson in a park and got addicted, falling in love immediately. As a photographer, I see the world's beauty through my camera. I took photos of people playing on public courts and was visually inspired. My first tennis assignment was to shoot Petra (Kvitova) for the cover of Elle Magazine. Elle knew that I had started playing tennis, so they called, saying, "we have something for you—with Petra. And you can do what you want". I was very happy with this unique opportunity to bring a player into my world and treat it like a fashion shoot. 
Watching tennis, I noticed that nobody else was photographing the players in the way I envisioned. I see something totally different to what a sports photographer sees. Tennis players have such interesting characters, and the courts are a beautiful location. I began shooting old tennis clubs and courts, before collaborating with Racquet magazine. The WTA then approached me for a collaboration. We agreed tournament portfolios, portraits, and backstage photography—unlike anything that had been done before. But suddenly, the world was hit with Covid. My first series was when Indian Wells got cancelled, and everything was suspended for 2-3 days. The WTA and I decided to turn this into an opportunity, given the unusual situation where players had time, and nobody knew what was going on. Coming from a fashion background, I'm aware of styling shoots, so I started to bring props, like vintage racquets, or skirts, being careful not to clash with the players' sponsor endorsements. Depending on the sponsor, I would bring some vintage Adidas or Nike, or even an unbranded item. I got great feedback!
C: From a fashion photographer's perspective, what has been the main difference/challenge with shooting tennis players? Models and actors are used to being in photoshoots. But this doesn't come naturally to a tennis player.
R.L.: It wasn't that different. I found many similarities in these two worlds. Tennis players, like models and actors travel a lot. Many players have good fashion sense, with even better physiques than models because of their profession. But when attending my first tournament, I'll never forget one major difference. In the players' lounge at lunchtime, I saw female tennis players eating plates full of protein, carbs fruit, and they looked great, which was amazing. On modelling shoots I was used to seeing models snacking on carrots! There is a strong link between tennis and fashion. When I've styled a player for a shoot, they have appreciated that I will make them look better, as my approach is so different to the typical sports photographer's approach. I gained their trust fairly quickly. 
Some actors are more comfortable with a moving camera, so still photography doesn't always come naturally to them, either. So, the difference between the subjects isn't actually that great. I just wish I could move better around the court to take my pictures. Tournament photographers have fixed allocated areas for shooting, which means that I can't always shoot with the perspective I would love to, like lying under the tennis net! It's hard to create something different. But it's the 'backstage' access where it becomes more interesting, where I have more creativity outside of the tournament.
One-on-one moments with players are not easy to get. It took time to build trust and rapport, travelling with them for tournaments, becoming the familiar face at the breakfast buffet every morning. They understood that I was with the WTA and on their side, rather than a press photographer, so I was able to spontaneously photograph moments on a day off, or in-between matches. It makes a difference to have such unprecedented access to their life. But it wasn't easy, the tennis world is difficult to penetrate. I had no tennis contacts, so I didn't have immediate access. Thanks to the WTA's support, it was made possible. They understood my vision and supported me. So, I was very lucky.
C: Your photos of tennis players are unique, merging tennis with art, often taken outside of the player's normal surroundings. I love your photos of Petra Kvitova, covered in red clay, which you mentioned earlier. How did you manage to convince her to do that?
R.L.: Thank you! I guess because we were both crazy Czech girls, and we were in the oldest club in Prague, like home. And it felt like a sisterhood! I said, "hey Petra, I have a great idea. You're going to hate me for it, but I want to roll you in the red clay". And she's like "alright, if you want, let's do it!" You have to be lucky that it's the right moment, the player's in a good mood, open to experiment. Because not everybody is. 
C: Still on the subject of merging tennis with art, which players do you see as the best in portraying fashion, art, and culture in tennis and why?
R.L.: This is an interesting question because I don't necessarily go for high-ranked players, or those who look like models. For me, every player is an interesting challenge because all have different characters. My job is to make everybody look good in front of my camera, whether it is a tennis player, or a lady working in the player's restaurant, I'll make my subject look good for a portrait. That beauty has to be personal, and different. It's great if a player is open to being photographed. But I find players that are camera shy equally interesting and can often get something intimate. I had a great moment with Ons Jabeur. She had just lost a match but was happy for me to photograph her. These are precious moments because we are used to seeing smiling tennis players photographed with a trophy in their hands. But you rarely see photographs of players who have lost, and tennis is all about losing, only one person wins. For me, the challenge is to capture the losers too. I don't just want to shoot the beautiful happiness of the tour. 
C: What does Lacoste mean to you, and how do you feel Kontaveit captures the brand?
R.L.: I'm truly excited about Lacoste. It's hard to find a tennis brand with such good taste. Most brands today don't have the same exclusivity or consideration for the physiques of all the players like Lacoste does, so we see so many players wearing the same outfits on court. Lacoste is selective about who they sponsor. Louise Trotter, Lacoste's new designer has done an amazing job. She has really managed to turn a very conservative, posh brand with a little crocodile into a really cool brand. 
Lacoste is classic but with a modern touch. I follow fashion and love the fashion range. I was very happy when Lacoste approached me to shoot Anett, because I was able to choose looks from the fashion show and mix them with tennis. Anett looks like a model and understands fashion. Whatever I had wanted to do with her worked, but we weren't so lucky with the weather on shoot day. There was a storm in Palm Springs which took out the light. Of the 2—3 hours we had, we only had 15 minutes of sun to utilize.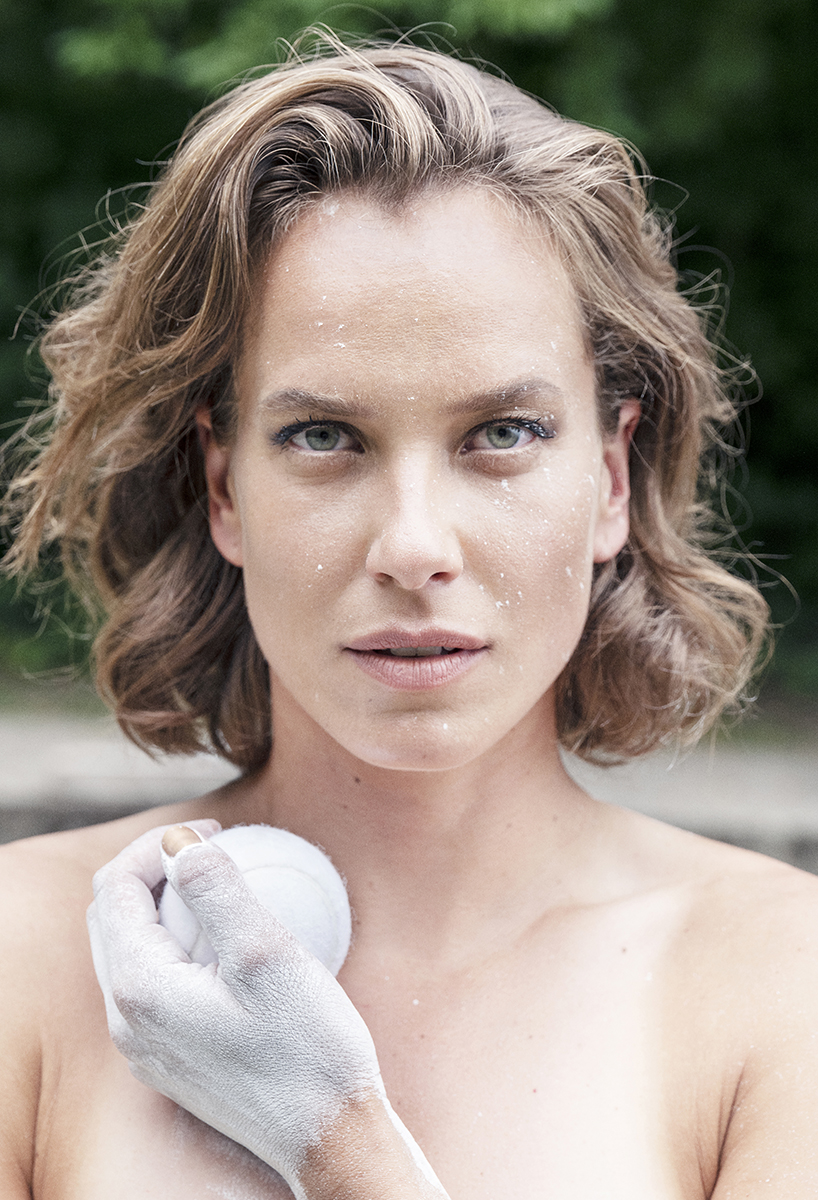 C: Looking at the photos, it's hard to imagine those conditions that day, with the colourful bougainvillea in the background, and the muted colours of the court! Take us through the process for how you approached this shoot—can you reveal your brief?
R.L.: The muted colours were due to the storm and lack of light. We were praying for beautiful light which we had for 10 minutes when we arrived on location, until the wind and clouds appeared. Everything was flying! So, when you see the photos of Anett standing in front of a parasol, it was literally used as an umbrella and reminded me of Tim Walker's work (British fashion photographer), as he uses big, oversized props. So, although this look was unplanned, it was cool in the end, and we did a good job. We had lots of fun running in the storm, trying to make something from the situation that we had. You often have to improvise like this and work with what you have. I wanted to do something colorful and really bring out the retro aspect, and the location helped. I did a mood board for Lacoste, putting together some ideas and we chatted a bit, but it was basically really organic.
C: What are your favourite outfits in this new collection? You have previously said you wanted to bring out the romantic, visual, stylish side of tennis. 
R.L.: I love the knee high socks, which remind me of vintage Prada from the late 1990's. I love the big chunky sneakers, the oversized jackets and the crop tops with the big, high-waisted shorts. And I love the technical materials which Lacoste have used, which you would normally think wouldn't work, but it looks amazing. I wish people would wear this collection around tennis—perhaps before or after tennis. It would work in the lifestyle of the tennis world. 
C: I agree – we need more creativity in today's tennis collections, which brings me naturally to my next question. Many sports photographers like something with movement during play (like a pleated dress or skirt). What are the best types of tennis outfits that provide the most dramatic results? 
R.L.: As a photographer, I never appreciate heavy patterns or crazy prints, which can hide the player. Some brands are too creative with their cuts for tennis players on court. They don't understand the context or court surface that the dress will be in. Plain colours and a good cut are so important. I have said this in so many interviews, but I really wish the brands would work more closely with female players to develop a more individual style suited to the player, in the same way they do with the men. Rafa and Novak have their individual styles. Serena has had her outfits made for her. Sharapova had her 'Maria dress'. But I wish that every female player who is endorsed by a big brand can create a little personal version of that brand's collection. There's nothing worse than watching two players on court wearing the same thing! It takes the personality of the player away, and you really have to pay attention to who is who if watching from afar.
Psychologically, it's important for a player to feel good with what they're wearing during a match. Imagine playing the semi-finals of a slam wearing something that doesn't fit well or is not to your style. There are many elements to consider when designing for extreme athletic movement. A brand should elevate the personality of the players, which is missing on the women's tour, so players often look like an army of athletes in identical clothes.
What Lacoste has produced is classy, chic and looks great on court. The colours work with the surface. It's important for brands to understand that not everyone is lucky enough to watch tennis live. The majority will see the outfits through broadcast cameras or photography.
C: You did something very resourceful during the pandemic: a lockdown series, photographing tennis players via FaceTime on your iPhone. The results are impressive. Where did you get this idea from and how did you convince your subjects?
R.L.: Thank you. Many of us tried to be creative during the Covid pandemic. I follow players on social media and remember seeing their posts from their hotel rooms in Melbourne during the Australian Open hard lockdown. They were isolated for 2 weeks, unable to leave or open their windows, yet they had to prepare for the tournament by hitting a ball against a mattress propped up against the wall or biking in their bathrooms – crazy! So, I contacted the WTA, convincing them of this one-time opportunity in sports history. They liked my idea and contacted a few players who were happy to oblige, as they had nothing else to do. It was very special to be allowed into the intimacy of a player's room, even remotely. Because not everyone that I had shot had met me before, until we FaceTimed. 
The WTA were initially concerned that the photographs would be a depressing depiction of isolation and loneliness, but the outcome was much more fun. I posted videos on my social media showing how we set up the shoots. We were laughing so much. Sometimes the players were alone, having to tape their phone using an overgrip against foam rollers if they didn't have a tripod, with me directing them according to the light. When they had somebody with them in the room, I would direct that person like a DP!
C: From what you've just said, it's clear that your job is as much about soft skills as it is about the technicalities. In an interview for Porsche Bucharest, you discussed bonding with Maria Sakkari over the Porsche design. How do you get the best out of people and what do you do to make a player you have never worked with feel comfortable?
R.L.: It's an interesting question. I have the same approach for all my subjects. I try not to familiarise myself, so as to know as little as possible about the people so that I can make my own vision and picture. When you research too much, it can influence how you see them. I just go with my instincts and feeling, but I'm also very adaptable and open to work collaboratively. The player has to like what I do and feel comfortable because it's about them. The clothes are a little touch to make the photograph visually organic. But I don't want to change their personality or make them into creatures of my own vision. So, it's important for me to try to help dress them in the way that suits their personality and what they're comfortable with. I am honest, natural, and open with them in the same the way I'd be with a friend. 
Maria and I connected because she is a Porsche ambassador. Porsche is one of my project sponsors, so we both had an amazing experience together with the cars. Sometimes you connect with some people more than others. If you do portraits, you just have to find a connection. The subject doesn't have to love you. But I do like to find something within my subjects that inspires me and helps me connect with them.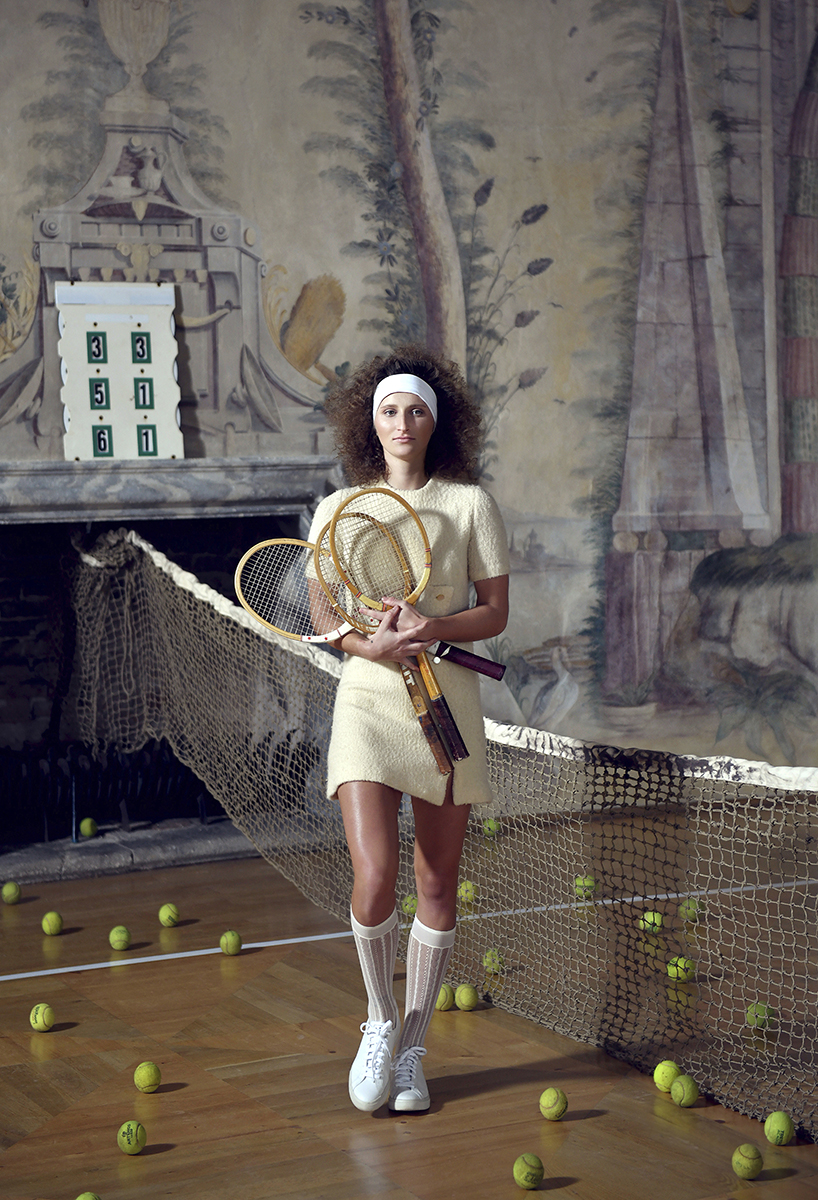 C: I understand you are very particular about certain colours like the Porsche red, or Neptune blue for example. What colours do you like in this collection?
R.L.: I like the browns, Bordeaux, dark greens, yellows, and the weird, unexpected combinations. This is a very photogenic colour palette. It works with my colour treatment, which has been the same for many years because I come from the analogue photo generation. So colours for me are very important.
C: You often mix vintage with modern in your photographs. I've seen today's players pose with vintage wooden racquets, or outfits. Is that why you think Lacoste chose you for this shoot, as the brand manages to retain its classic lines but also be fashionably progressive?
R.L.: I don't know. I don't think so, but I don't think it's about the vintage. I just think that certain things were just more beautiful in the past. Or maybe it's the nostalgia of it. A white or wooden racket in certain contexts works better as a prop than a new racket from a modern brand, sprayed with weird colours. But a wooden racket can also be a cliché: sometimes it works and sometimes it doesn't. Looking at the locations that I use and all the backdrops from an aesthetic point of view, sometimes old things just look better on camera than the modern stuff. Vintage props often tell more of a story. I'm attracted to retro in general. But we are living in 2022, so I don't want to be stuck in retro and shoot people with vintage racquets. It's important to bring modern aspects to it.
C: Your approach and style is very different to regular tennis photography, capturing the emotion rather than the action. How challenging is it to capture the right emotions and expressions on tour?
R.L.: Very challenging! It depends on many things. I'm not looking to shoot a player's backhand, but I'm looking to have a moment with the player. Those moments can be during the changeover when the player grabs a towel, or on the bench deep in thoughts, for example. So, you have to be patient because maybe the moment never happens, or the light or positioning is poor. At the French Open, the location of the photographer's pit on court is great because you are so close to the players. But you have to be lucky because the emotion has to come from a moment you're trying to capture, which doesn't happen on command.
C: You've previously said that your work is inspired by movies. Which film, book or artist has inspired you the most?
R.L.: The 1960's film Blow Up has an inspiring pantomime scene in a park full of tennis courts. There is something fascinating about abundant tennis courts. I love clay courts, as they look like a battlefield: a 'before' and 'after' battle scene, which has a very specific energy. The film Belle de Jour, has a beautiful scene with Catherine Deneuve, wearing tennis whites, with a headband, in the 1960's in a posh tennis club, it's a great look.
The fashion photographer (and tennis lover) William Klein is also an inspiration. In the 80's, he created a documentary about tennis's golden age called The French. It's beautiful because it was made with all those iconic players and beautiful tennis looks of the 80's, and shot in 35mm film, so everything has a cinematic quality. The camera angle access he had would be unachievable in today's broadcast tennis, which has specifically allocated camera angles. Klein was able to film wherever he could on court, so the sound is unbelievable. Back then, you could interview or photograph players in their locker rooms, with their coaches smoking cigarettes whilst speaking to the player and journalist!
C: What is your best court surface to photograph, and which tournaments are you looking forward to shooting at this year?
R.L.: The French Open has been my dream court surface to photograph for two years, so it's exciting to be here! The next one will be Wimbledon which I'm also excited about, because we need some green also and some tennis white!
C: How do you think the metaverse will affect tennis and fashion photography? The Australian Open and Roland Garros have released NFTs for the first time, Nadal, Osaka, Svitolina and Wawrinka are also endorsing NFTs. As the metaverse continues to narrow the gap between digital and physical reality, and art and tennis start to embrace this, do you see yourself branching into this new world?
R.L.: It's a very interesting question because this is a topic that I'm thinking about a lot. My Court Supremes book project will incorporate NFTs in some form, but I don't want to speak about this just yet, other than to say that it gives sense to everything digital, especially for art collectors. As for the metaverse, it is far away from the reality, so I still don't know how to approach it. I have mixed feelings about it because I still want to be in the real world. 
C: Finally, tell us about your soon to be published tennis photography book, Court Supremes?
R.L.: Court Supremes is a book sponsored by Porsche, which we are hoping to publish in 2023. It will be the first book dedicated to the beauty of women's tennis, including tennis courts and player portraits. I'm hoping that it will be a beautiful coffee table book. It will focus on women's tennis, because I feel that the men's tour has enough attention, and that equality between men's and women's tennis is still to be achieved. Women still have less tournaments than men, some tournaments still don't pay equal prize money, so I want to support women's tennis. The book is a gift to women's tennis and its beauty. 
There are still very few female tennis photographers on tour. Right now, we're in the Media Centre at Roland Garros. How many women do you see here? Very few as it's a male-dominated profession. I wish there'd be more women. Photographs and editing would look different taken from a female point of view, with a little more sensitivity around some of the angles and expressions that women would not want to show. I'm not trying to change the world of tennis sports photography. I appreciate that I am stepping into somebody else's world, so I'm just trying to bring my own angle to it. It's a sports journalism versus fashion art world—two worlds that cannot be compared.
As we wrap up, and before Leitmeritz leaves, she says something unprompted that leaves me on a positive high, staying with me for the rest of the day: 
"Since I was 19, I've learned that I got into photography intuitively because I attracted to it with all my heart and loved it. It was not calculated. I really believe that whatever you choose to do in your life, no matter where you come from, you can do it if you are inspired. I had the same approach when I went from fashion to tennis photography, and doors opened for me. Everything is possible. What you choose, wherever you come from, whatever you do, it doesn't matter. When I started in tennis, many people questioned my choice. My answer was always the same: I felt inspired. Do whatever inspires you, whether it be photography, writing a book about tennis, flowers, dogs, or animals. Follow your inspiration with your heart and doors will naturally open for you because people feel that positivity. I'm saying this right now because I'm reminding myself about it!"