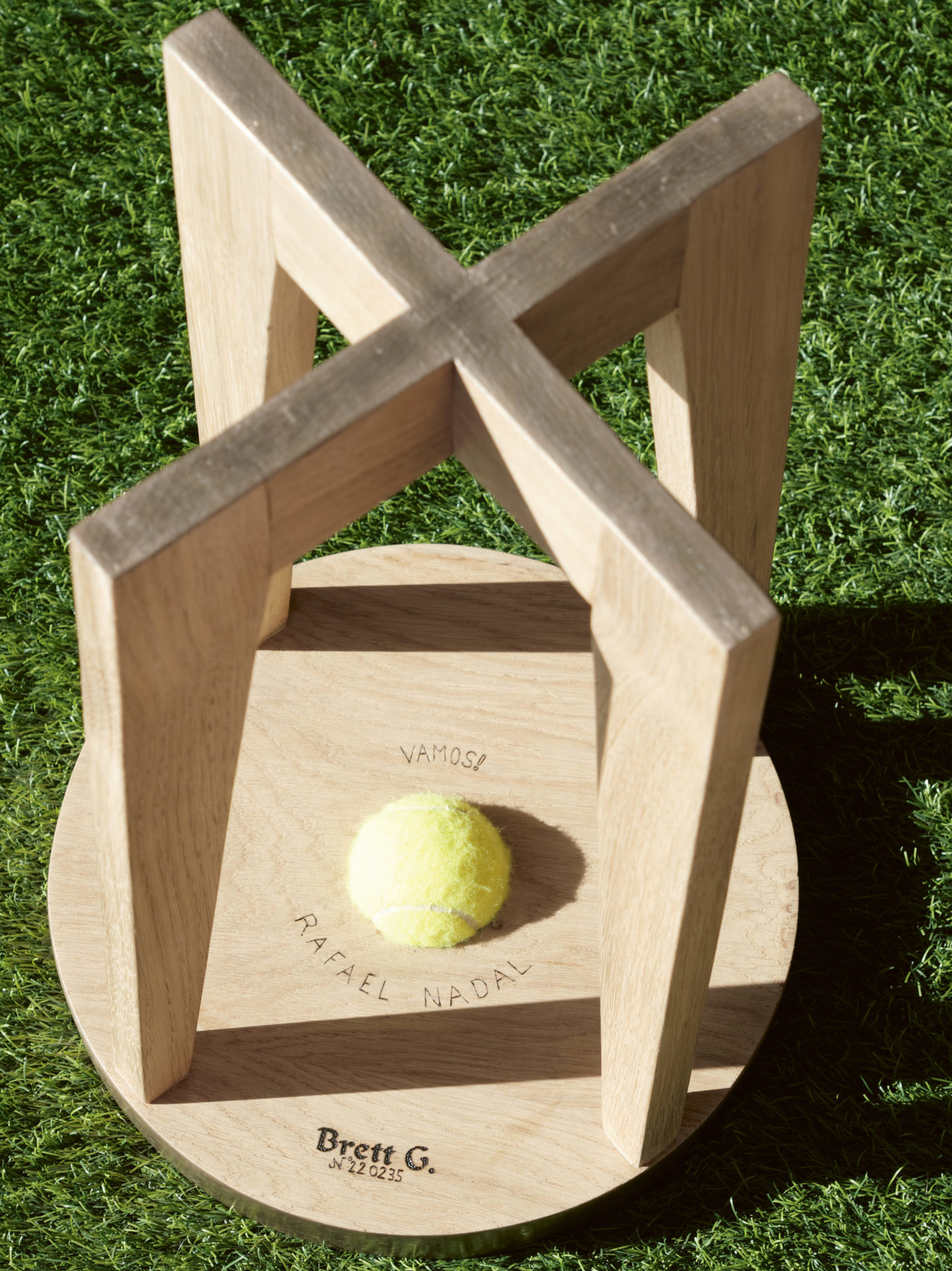 🇬🇧 "Have a seat Rafael !"
Stool made especially for Rafael Nadal whom I admire for his tennis prowess and his immense humility. The beauty of tennis is timeless. It is for me a warm game. The exchanges and ball percussions make the shadows dance on the warm colors of the courts.
Between the white lines, out of time is the present moment, the serenity of the place where only the sound of the hits seem offensive. Despite the power and strength of Rafael Nadal's game, I wanted this portrait to be soft and luminous in the image of his personality and of this sport.
The seat is composed of precious woods: Sycamore for the background, oak for the player's skin, speckled maple (tinted) for his t-shirt, Sycamore (tinted) for his headband, rosewood for his hair, teak for the shadows, pear and maple for his racket. The outline is coated in bronze. The legs are in solid oak.
Diameter: 30.4 cm height: 47 cm
Only one in this world.
🇨🇵 Entre Monaco et Manacor…
Après son parcours de titan, l'ogre de l'ocre mérite une pause. « Asseyez-vous Rafael je vous prie ! »
Tabouret réalisé spécialement pour Rafael Nadal que j'admire pour ses prouesses tennistiques et son immense humilité.
La beauté du tennis est intemporelle. C'est pour moi un jeu chaleureux. Ses échanges et ses percussions de balle font danser les ombres sur les couleurs chaudes des terrains.
Entre les lignes blanches, à l'abri de l'heure et du calendrier, l'instant présent, la sérénité du lieu où seul le son de la frappe pourrait sembler offensif.
Malgré la puissance et l'agressivité du jeu de Rafael Nadal, je voulais que ce portrait soit doux et lumineux à l'image de sa personnalité et de ce sport.
L'assise est composée d'un assemblage de bois précieux :
Sycomore pour le fond, du chêne pour la peau du joueur, de l'érable moucheté (teinté)pour son tee-shirt, du Sycomore (teinté) pour son bandeau, du palissandre pour ses cheveux, du teck pour les ombres, du poirier et de l'érable pour sa raquette.
Le contour est revêtu de bronze.
Les pieds sont en chêne massif.
Diamètre : 30.4 cm hauteur : 47 cm
Only one in this world.